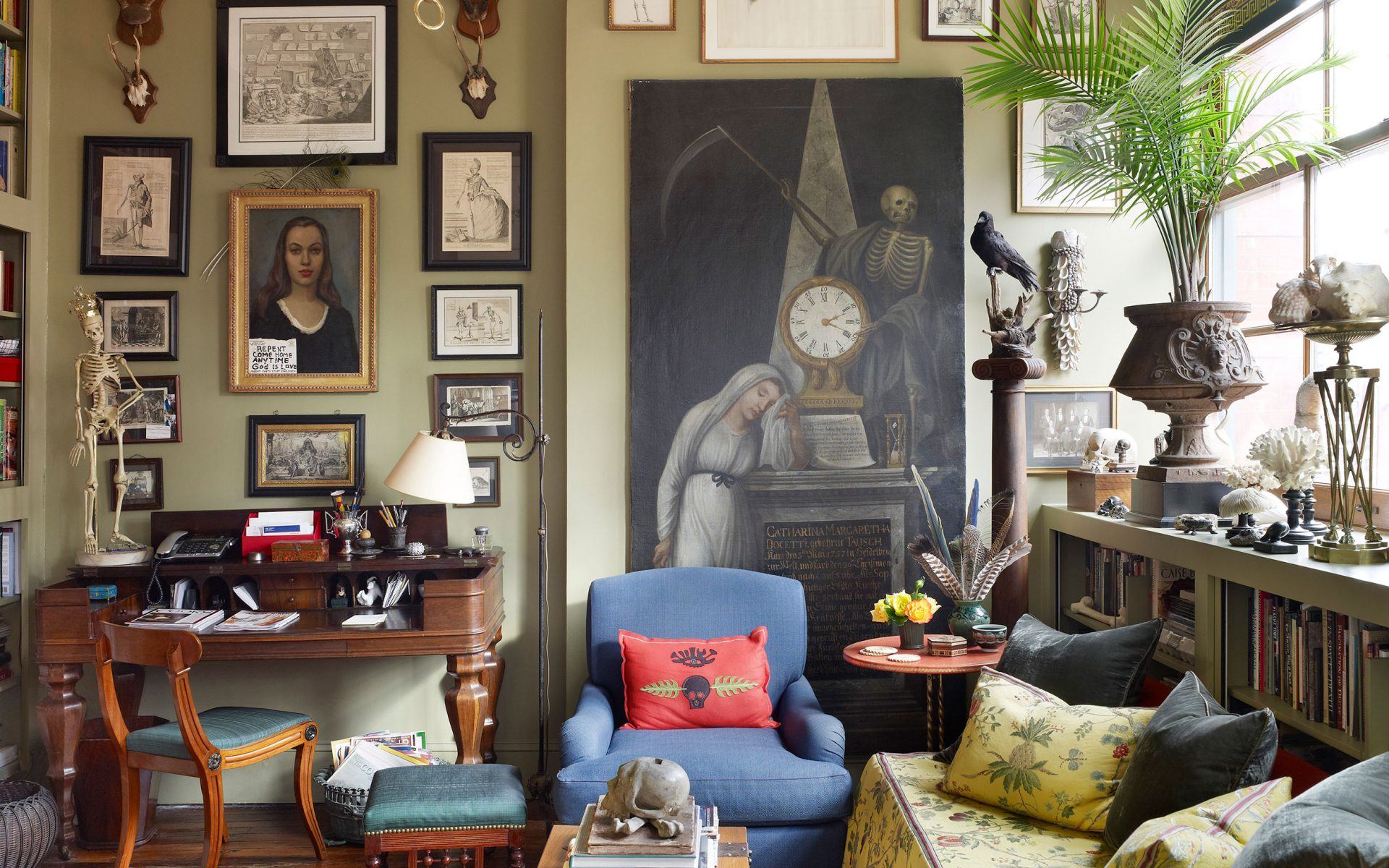 Love Letter to My Home: Thomas Jayne in New York
The accomplished designer sees the SoHo loft he's shared for over two decades with his partner, Rick Ellis, in a new light
Over the past two decades, decorator Thomas Jayne and his husband, Rick Ellis, have carved out a very special world for themselves in a sprawling SoHo loft filled with an impressive collection of art, antiques, and books. Revered for his ability to conjure the intricacies of history in his projects at his firm, Jayne Design Studio, the aesthete connects eras and styles with his ocean-deep knowledge of design that speaks to his career's beginnings at Parish-Hadley and is on display in his most recent and third book, Classical Principles of Modern Design: Lessons from Edith Wharton and Ogden Codman's The Decoration of Houses (The Monacelli Press, 2018).
Here, he reflects on spending the past several weeks at home and how spaces change with time.
My life's work as a decorator is imagining rooms in use in various times of the year and seasons. What will a place look like in winter with the low eastern light that typifies this season or how will a space look when its windows are shaded with a canopy of green leaves from the high noon sun is a constant stream of thought for my designs. This is now more noticeable and on my mind now more than ever, at a time when we are all at home to see the days pass in full.
These thoughts continue to transpire at the SoHo loft I share with my husband, Rick Ellis, where we have plenty of time to ruminate over our space. Light was a high priority when we searched for this place, and we were gratified to find windows on three sides and two skylights. Light is a huge luxury in a dense city, and as is almost a guarantee in New York, we had to compensate by embracing the five flights of stairs that lead here—something of a reimbursement for illumination, if you will. Staying here almost 24/7 lately, and largely in the daylight, has literally opened my eyes and allowed me to see where I live in a new light. In the last two months, I have probably seen our rooms in the daytime more than that all the other daylight hours of our two decades in residence combined.
In this recently observed light we have a large table arrayed with objects that I informally call the the "collector's table." There is a large stone mask for gravitas, flanked by a pair of sphinxes and a group of carved statues representing the four seasons. Mixed in are random items such as an air-raid shelter sign, a watercolor of the Bay of Naples, and a Robert Laughlin piece. I have seen all of this in many shades and shadows, and it is akin to getting to know old friends better.
As the sun shifts I continue to look at our treasures in the changing light. I have a confederate in this examination with Rick, who is, among other things, a great chef and food/interiors stylist. Besides dishing up great lunches and dinners each day, he constantly arranges our possessions in artful ways—often to catch the light as he juxtaposes the shapes, forms, and textures of things. I like the analogy of our loft being a huge collage that he often rearranges in response to our bountiful light.
One of our great "arrangements in progress" during this protracted time at home is the gallery on our north wall. Recently, Rick added a rococo bracket with a porcelain bust and a photograph of a Father Time–like figure to a grouping that includes a shrine, a torso for displaying clothes, and two 18th-century mezzotints. A mixture that might challenge those with a lesser eyes or taste, but he has made it work.
This spring has brought beautiful days to contrast with the quarantine. This has been particularly noticeable in the impromptu garden that a few neighbors and I have assembled in the medians of Houston Street. We have achieved great masses of flowers, a few of which have graced our loft. For weeks now we have had the benefit of garden flowers that animate our rooms in a way nothing else will. I always admire how flowers can improve a simple room, as well as one more furnished such as ours.
I can't say that our life has been all sunshine and flowers, especially now, but these days both have certainly improved them. Being in our loft in the bright of day with the spring flowers reminds me of the importance of considering your surroundings and taking care to display things you love in darkness and in light.
Next Post