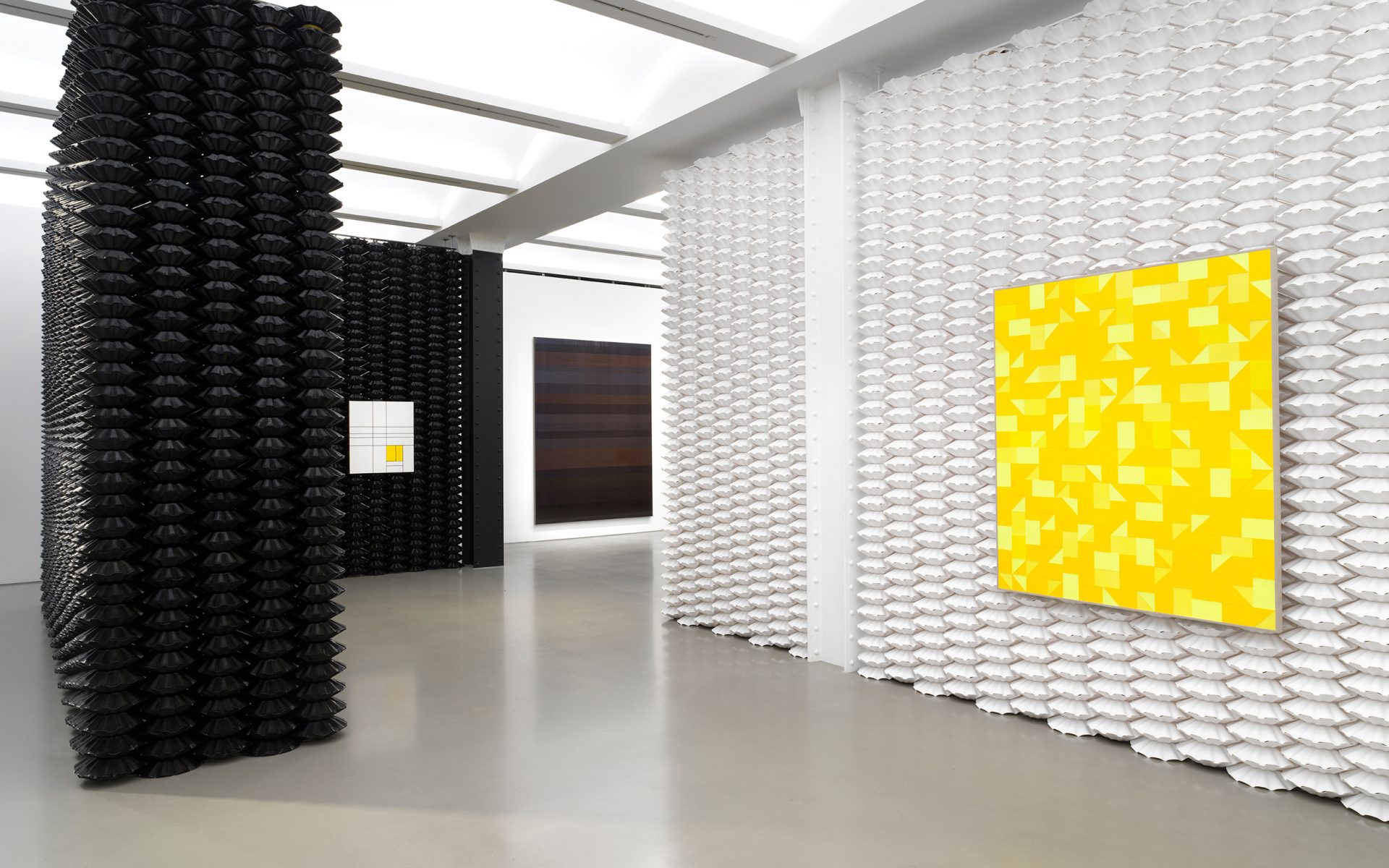 Discover the Hidden Music in Artist Gregor Hildebrandt's New Show
At Perrotin, viewers are invited into the German artist's mysterious predigital world
Analog music and near- obsolete recording technologies make up, quite literally, Gregor Hildebrandt's monumental paintings and cutting-edge installations.
For an ambitious new show at Perrotin on New York's Lower East Side, visitors are invited to enter Hildebrandt's highly conceptual world, where the tape from inside cassettes has become intricate collages and vinyl records have been molded into hypnotic floor-to-ceiling walls. Each work is embedded with secret music that's often revealed only in the piece's title, such as "I Miss the Kiss of Treachery" from the Cure or "And I Laugh as I Drift in the Wind."  The rooms are silent but pulsating with musical memory, visual remnants of another time.
Titled "Gregor Hildebrandt: In meiner Wohnung gibt es viele Zimmer," which translates to "In my apartment, there are many rooms," the show runs through December 22. The artist's fifth show with the gallery, the exhibition is laid out like a metaphorical blueprint that walks viewers through a number of unique pieces. "I wanted to show there are many different aspects to my work," Hildebrandt tells Galerie over coffee at Good Thanks café.
Recommended: Gallery Launches at 200 Lex With Andreas Emenius Show
While mixtapes and vinyl have become markers of "hipness" in recent years, the Berlin-based Hildebrandt has been working with them since the early 1990s. "What interests me is that there's something inside the material that you can't hear," he says. "A secret."
The large quantities of the materials Hildebrandt sourced by scouring the Internet and flea markets are dispersed throughout his massive Berlin studio, then are meticulously rendered into works of art that can take weeks—even months—to complete in conjunction with a team of assistants.
At Perrotin, a sculpture by the entrance is crafted from delicately stacked vinyl pieces to form a totem-like pillar. Along a wall by the entrance is a new series of works inspired by Piet Mondrian, who was also intrigued by music, finding the syncopated beat and irreverent approach of jazz music akin to his painting style. But in Hildebrandt's version, the black lines on the canvas are not made from paint but glued strips pulled from the start and end parts of the inside of audio cassettes. "I am giving a voice to Mondrian because they are all recorded with something, even if it's just emptiness," Hildebrandt says.
Elsewhere in the gallery, there is a series of large-scale abstract works in yellow, red, blue, and gray comprised of intricately woven ribbons of cut vinyl records, acrylic, canvas, and wood. "I like that I can make art in my language and choose the songs and tapes I wanted for this piece," says the artist. They riff on the graphic design of artists like Annie Albers, the German textile artist and printmaker who blurred the lines between craft and art.
Once in the heart of the show, viewers leave behind any sense of the familiar and are instead encased in walls of glistening black and white vinyl records—a direct intervention in the room's architecture. Says Hildebrandt, "They are walls made of music."
The show is also intensely personal. Every piece is handpicked and offers a snapshot into what Hildebrandt listens to, the parts that resonated with him, and ultimately his unique view of the world. There are hidden messages throughout if you know what to look for: There's a sign, for example, from the original room at the Berlin Academy of Art, where he studied and where he met his girlfriend, the buzzworthy Polish artist Alicja Kwade. The lengths of his canvas frames are often 1.74 or 2.74 meters, because he was born in 1974, or 1.19 meters, because that was his ZIP code.
Recommended: Francesco Clemente's Illuminating Survey Opens at The Brant Foundation
Another major inspiration for the exhibition involves a young student at the Academy of Fine Arts in Munich, where Hildebrandt teaches. For Ly Nguyen's final-year exam, she suggested performing a song; Hildebrandt was instantly obsessed. "The song was so killer good!" he exclaims. "I decided to launch a record label with my girlfriend, Gregorski Productions." He also flew Nguyen's whole band, named PAAR, out to play at the gallery's private after-party at Casa Mezcal in New York.
This spirit of collaboration is at the heart of Hildebrandt's practice. Last year, he produced an exhibition of his friend Robert Schmitt's wildly eclectic newspaper collection at his newly launched independent exhibition space, Grzegorzki Shows. Also obsessed with the analog, Schmitt, an eccentric mathematician, amassed a collection of thousands of newspapers over the past few decades, which Hildebrandt saw as a fascinating conceptual artwork. "It's true we both collect the analog, but for me it's about making new works. It's about the act of creation."
"Gregor Hildebrandt: In meiner Wohnung gibt es viele Zimmer" is on view at Galerie Perrotin through December 22.
Next Post