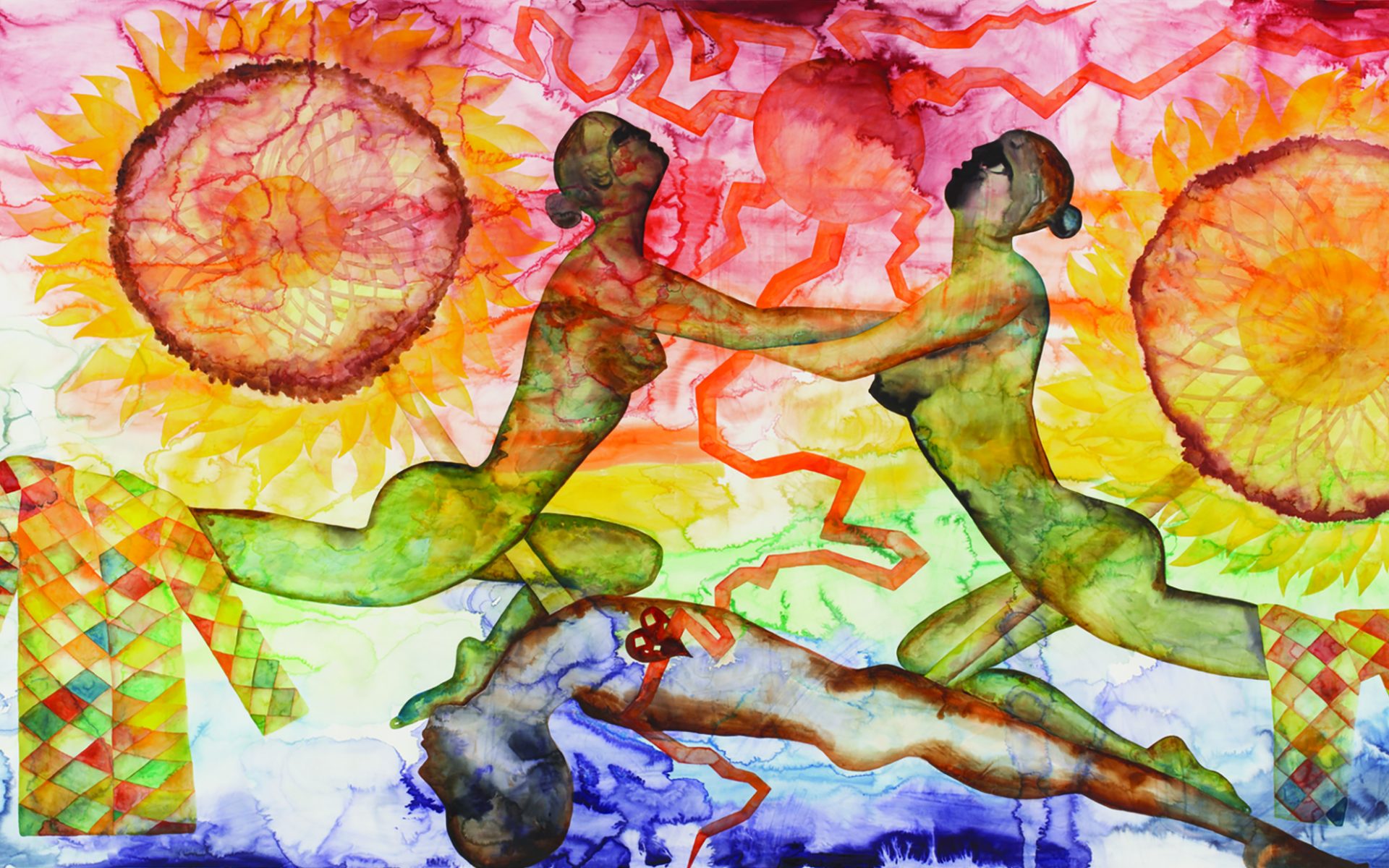 Francesco Clemente's Illuminating Survey Opens at The Brant Foundation
Galerie spoke with the celebrated artist at the opening of Francesco Clemente: Works 1978–2018, a new survey of his 40-year career
A famed globetrotter whose travels have informed his oeuvre, Italian painter Francesco Clemente spent this past weekend in a renovated barn in Greenwich, Connecticut, celebrating his new career survey at the Brant Foundation.
The exhibition—an illuminating survey of his multifaceted body of work—weaves together grotesque, erotic, and spiritual elements inspired by the diverse cultures Clemente has encountered, whether that means long-held Buddhist traditions or Beat poetry.
The works are divided between paintings and frescos and organized by subject matter, standing in contrast to that of his early teachers, Arte Povera artists like Mario Merz and Jannis Kounnelis. Their work is emblematic of a time that many considered "the end of painting," Clemente tells Galerie. "I said, 'I don't think so.'"
Recommended: Julian Schnabel on the Life of Vincent Van Gogh and His Sweeping New Film
Clemente decided he would use the medium in his own work. In the Foundation's spacious galleries, monumental oil paintings and frescos contend with the painted tent dubbed Standing with Truth, one of six that the artist has created since 2011, a nod to his nomadic nature. (These days, Clemente splits his time between residences in India and New York.) Two of these tents were shown at his 2014 show at Mary Boone Gallery.
"It's hard to do a survey without it being a retrospective, and they've managed to do that," said Boone at the opening party. "Something about a retrospective," she clarified, "deadens the work."
In one of the property's smaller galleries, paintings of Sanskrit characters surround a glass case of hand-stitched poetry manuscripts, which Clemente illustrated in collaboration with New York poets including Allen Ginsberg and Rene Ricard.
A contender for the show's pièce de résistance is A History of the Heart in Three Rainbows—a monumental watercolor spanning 11 mural-scale panels.
"It's my contrarian nature, just like the tent represents a nomadic artist," says Clemente. "I've spent my lifetime trying not to be confined. Besides, I spend my time with people who are crazier than I am."
"Francesco Clemente: Works 1978–2018" is on view through March 2019 at The Brant Foundation Art Study Center, 941 North Street, Greenwich, Connecticut. 
Next Post