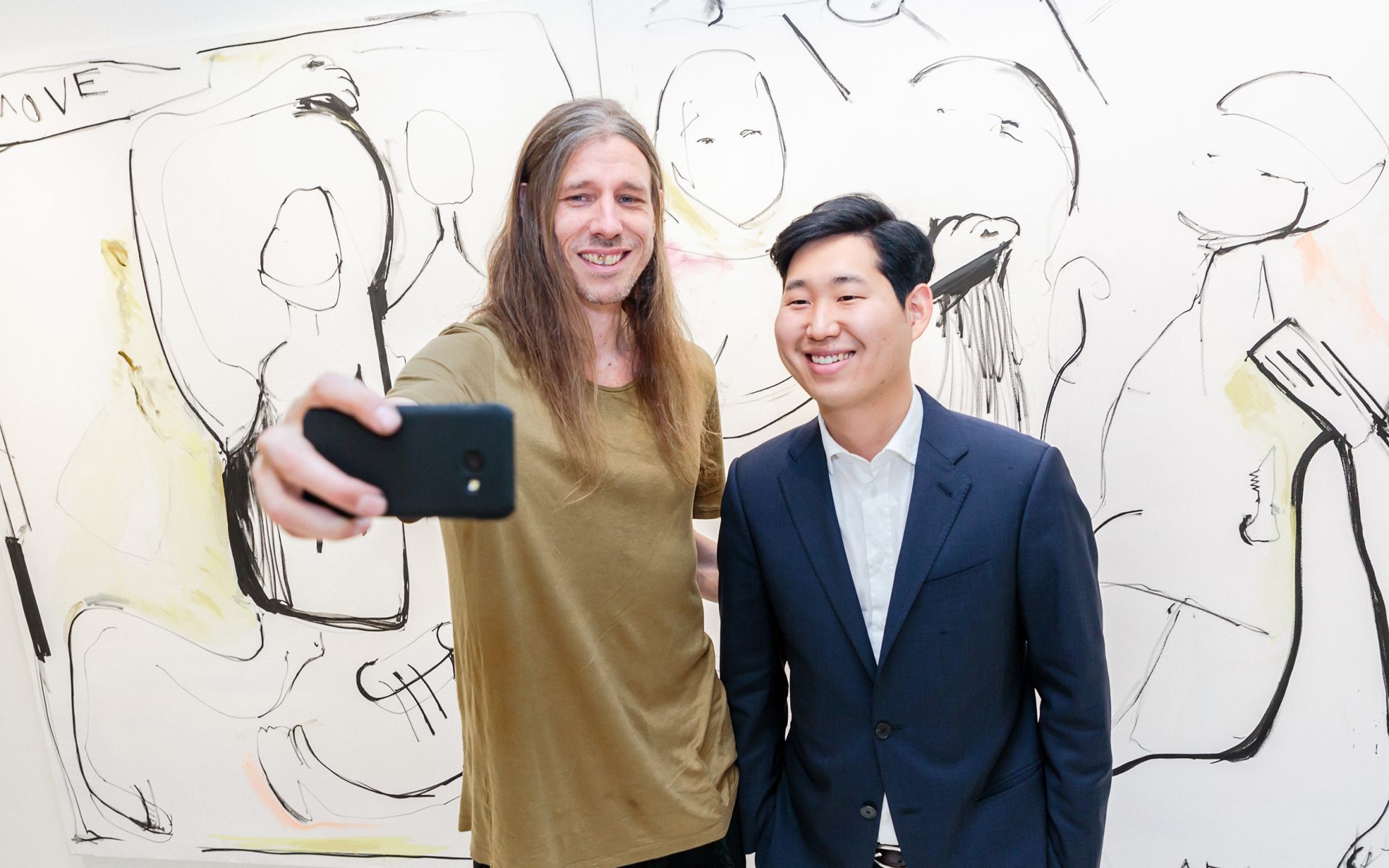 Gallery Launches at 200 Lex With Andreas Emenius Show
Paintings by Andreas Emenius mix with high-end design at InCollect's new, 33,000-square-foot space
This week, Galerie hosted the launch of an exhibition of the work of artist Andreas Emenius at the New York Design Center to honor the recent opening of a new space, The Gallery at 200 Lex, powered by InCollect. At the event, dubbed Gallery x Galerie, guests were invited to explore the works in the show, "Muscle Memory," a group of paintings and sculpture by the Swedish artist.
The gallery, which is on the tenth floor of the iconic New York Design Center (built in 1926, it's the oldest furniture and design building in the country), is a unique space, as it's at the heart of a 33,000-square-foot hall of antiques and furniture dealers (both 20th century and contemporary) geared toward interior designers, architects, and collectors. So as guests enjoyed the show, they could also meander down the aisles and check out the dealers in this curated marketplace. (There are over 55 of them.) Sellers will be featured on a soon-to-be-released app and on Incollect.com.
Installation view, "Muscle Memory," at the Gallery at 200 Lex, powered by InCollect.
Emenius's show is an extension of an exhibition staged this past spring at Manhattan's Shin Gallery. The spare canvases, rendered in oils and markers, depict a mix of abstraction with organic forms and pop culture motifs.
Recommended: At the Menil Campus, a Striking New Drawing Institute Joins the Hub
"I'm more concerned with limbs than I am eyes," Emenius tells Galerie. "That's where the movement is. It's also—if I'm brutally honest—about being between human and animal. There's a sense of the primal in all of us, right? There's power, energy, and presence in that."
Emenius grew up in Stockholm and was drawn to London in the 1980s, where he attended the prestigious Central Saint Martins art school before decamping to New York for several years. Since then, he has traveled between the U.S. and Europe, showing work at institutions such as the Viborg Kunsthal and Moderna Museet in Malmö, though the paintings on view last night were created with a New York audience in mind.
"I love the cars here and the infrastructure," he says. "Cups, milkshakes, things that are almost generic but still fascinate me." Many such images pop up as motifs in his paintings, he notes, along with coffee mugs and sneakers (or "trainers," as the ex-Londoner refers to them). "Whenever I work, I bring my background in, and there's a certain way of looking at the world through that."
"Muscle Memory" is the first of many that the Gallery at 200 Lex has planned for the future, with other upcoming events including InCollect's annual Art of Entertaining event and a "Masters" lecture series.
"Muscle Memory" will be on view at the Gallery at 200 Lex through December 14.
Next Post