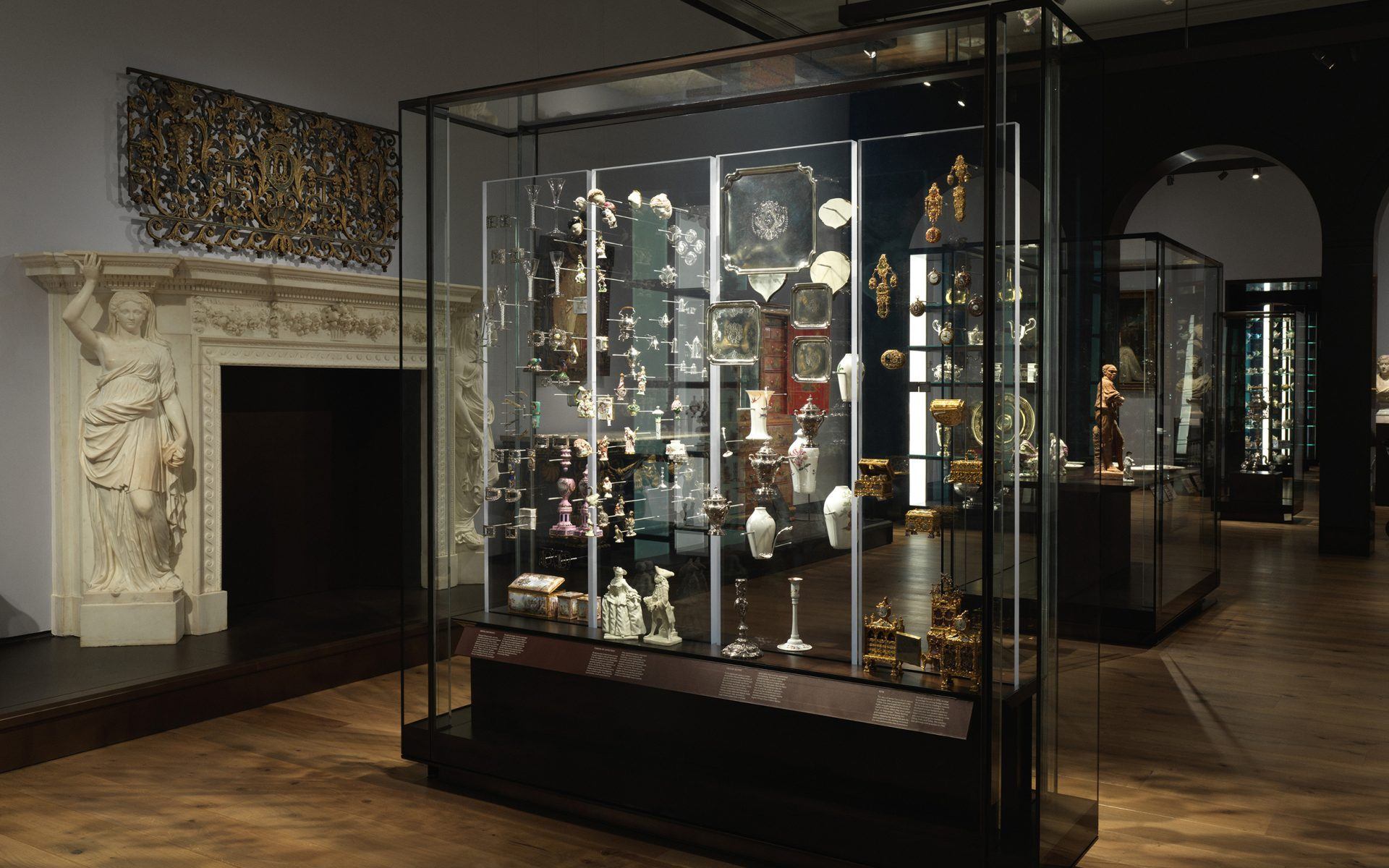 A First Look at The Met's New British Galleries, Designed by Roman and Williams
The $22 million refurbishment showcases four centuries of decorative arts in a dazzling immersive environment
Sunlight streamed through the soaring glass ceiling of the Metropolitan Museum of Art's American Wing as the institution's director, Max Hollein; president and CEO, Daniel Weiss; and other cultural luminaries prepared to give eagerly awaiting visitors a first look at the newly refurbished British Galleries, following a $22 million, multiyear renovation. Open to the public on March 2, the new, 11,000-square-foot space is still devoted to British sculpture, design, and decorative arts between 1500 and 1900—from the Tudor period to the Victorian—but with a fresh perspective and a bold new look.
First opened in the 1980s, the galleries were rather old-fashioned, and as a result, said to be among the least visited. To remedy that, the museum recruited an unexpected but clever choice: Roman and Williams, the design firm led by husband-and-wife duo Stephen Alesch and Robin Standefer. Celebrated for crafting timeless interiors with a dose of modern glamour, the pair are behind such projects as Le Coucou and Verōnika at the new Fotografiska.
Marking their first museum project, the renovation presents an updated narrative through the 700 objects on view, bringing a new understanding and perspective in an immersive environment. "It was a six-year process, and every single piece was discussed as to what was the best way to present it and light it," Alesch tells Galerie. "We found in the curators and team here a real kindred spirit."
To display the museum's 100-strong collection of teapots, for example, the pair crafted two glowing ten-foot-tall glass towers. Tablelike displays are used to foster intimacy with everyday objects, like tableware and silverware. A vast acrylic case—which alone took a year to install—was designed to give a feeling of being in a mercantile and offers a 360-view of intricately crafted decorative pieces. "Far too often we forget that the decorative arts, in addition to being practical or beautiful, are also supposed to be fun, quirky, and a little eccentric," says Wolf Burchard, associate curator of British furniture and decorative arts.
Other highlights include a luxurious peacock blue canopy bed that was upholstered by Huguenot craftsmen for a member of King William III's court. There's also a stunning 17th-century sculptural staircase from Cassiobury Park in Hertfordshire, which came to the museum in 1932 and, at the request of the designers, is now possible to climb for first time in The Met's history. 
New acquisitions were also an important element in retelling the history. "The aim was to present a really comprehensive story, to move away from just the story of royal and aristocratic patronage and to think about creativity," Buchard says.
Recommended: 11 Major Art Museums Opening in 2020
Visitors will find gilt-bronze candelabras from the Duke of Richmond's collection and a Thomas Hope bench that has been reupholstered in a vivid red wool, as well as a number of tapestries, a mahogany table, and an array of silverware. These join objects that have been brought out of storage, where they were tucked away during the extensive renovation.
The wood floors were intentionally left unsealed to eventually show wear, and the bronzed arches, a significant design element used to link 18th- and 19th-century galleries, are intended to develop a patina over time. Many of the rich wall colors, ranging from an earthy aubergine to a soft gray that Standerfer dubs "enlightened lavender," were culled from Roman and Williams's recent collaboration with Farrow & Ball.
The new British Galleries are just one part of The Met's 150th anniversary celebrations, and it signals an exciting new direction for the museum. "It's a very rich and complex story that we're laying out here—one that celebrates the arts and the objects but also lays out in the open the complex histories, narratives, the multiple perspectives that we can have with these objects," Hollein tells Galerie, "and I think that's something we will do in a major way moving forward."
Next Post