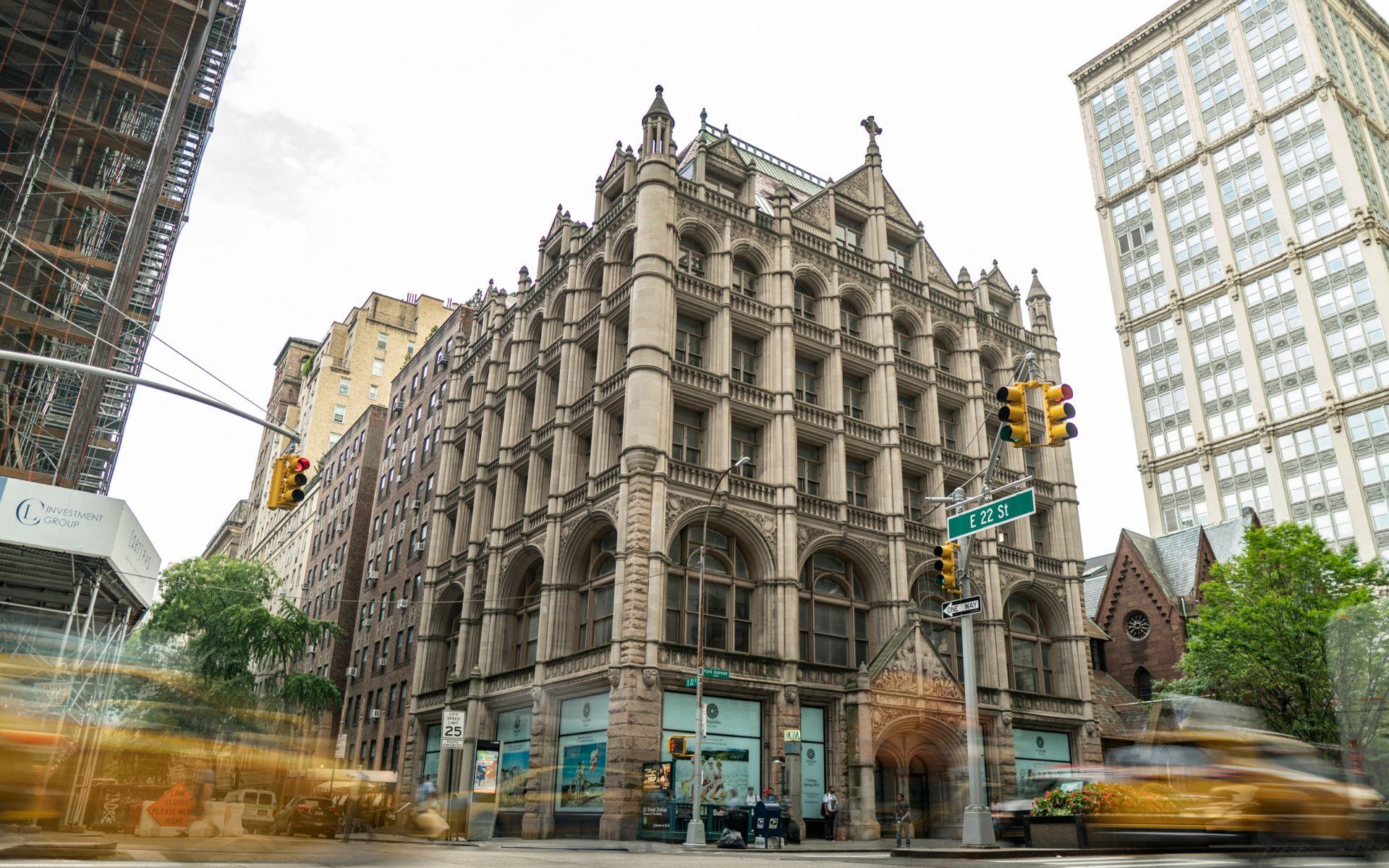 Sweden's Fotografiska Expands to New York City
The Stockholm import takes over a stunningly reimagined Renaissance Revival–style landmark
Referencing Renaissance architecture with its elegant arches and corner tourelles, the opulent Church Missions House is undoubtedly one of New York's most visually arresting landmarks. Completed in 1894, the limestone-faced beauty served as the longtime home of the Federation of Protestant Welfare Agencies, but it had sat vacant since the nonprofit sold the property to art-collecting developer Aby Rosen in 2014.
Rosen spent roughly two years looking for the right tenant, ultimately leasing the entire six-story structure to Swedish photography center Fotografiska, known for staging buzzy exhibitions of contemporary works by the likes of Annie Leibovitz, David LaChapelle, Zenele Maholy, and Irving Penn. Founded in 2010, the photography center's original Stockholm location has garnered attention for its unique approach to displaying art. "We're not a gallery, as we don't sell the work, but we're not a traditional museum in the sense that we're building a collection for posterity," said Yoram Roth, chairman of Fotografiska's board, during the December 11 press preview. "We show work directly together with the artist."
Now Fotografiska is christening its new, 45,000-square-foot Manhattan home, which has undergone a meticulous renovation overseen by architecture firm CetraRuddy. "The building itself has really been a labor of love," said Geoffrey Newman, Fotografiska New York general partner. "It's been a painstaking process to try to return this structure to its original glory, to retrofit it for our use—which is very different than what it was intended for—and that process obviously took longer than we thought."
Recommended: A Dazzling Design Exhibition for All the Senses Opens at the Dallas Art Museum
The team at CetraRuddy started by talking to Fotografiska founders Jan and Per Broman, as well as all of the staffers who would be working inside the New York edifice. "What we tried to do is understand who Fotografiska is, what is their DNA, and what this building is about, and make a marriage between the two of them," said Theresa Genovese, design principal at CetraRuddy. Open to the public for the first time in recent memory, the building now boasts a welcoming lobby equipped with a café and gift shop, a second-level Stephen Starr restaurant designed by Roman & Williams, three floors of exhibition space, and a double-height lounge and event space at the top.
Director of exhibitions Amanda Hajjar revealed that Fotografiska New York will host between 20 and 25 shows per year, each mounted for three to four months. Coinciding with the opening are five exhibitions, including a retrospective of acclaimed German fashion photographer Ellen von Unwerth. The show, "Devotion! 30 Years of Photographing Women," explores her creative vision through seven "emotional expressions," among them Passion, Drama, and Gender. Challenging archetypes and stereotypes, Von Unwerth's unabashedly feminist work portrays dynamic women in positions of power, eschewing themes of vulnerability and victimization.
Also on view are works by Tokyo-born photographer Tawny Chatmon, whose mesmerizing portraits of minorities are layered with paint and gold leaf, and presented in opulent frames. Time magazine's Anastasia Taylor-Lind's assignment to document the culture of childcare in New York City is also on display, featuring emotionally raw depictions of intimate familial moments. Rounding out the exhibitions are light-box landscapes captured in Iceland by Swedish photographer Helene Schmitz, who seeks to document the outsize impact that humans have on nature, as well as captivating scenes conjured by Israeli photographer Adi Nes, who works at the intersection of his own identities as a gay man and a Sephardic Jew.
Recommended: Tour the Stadium-Sized Foundry Where the World's Biggest Sculptures Are Made
"What CetraRuddy has done architecturally on the exhibition floors allows us to take some risks with the design, so that every decision we make—down to the paint color, font, and lighting—is there to elevate the work," says Hajjar. "We're working directly with the photographers and, in some cases, with their galleries. The ultimate goal is to put together exhibitions from the photographer's point of view."
Fotografiska New York is located at 281 Park Avenue South in Manhattan. It opens to the public on Saturday, December 14.
Next Post