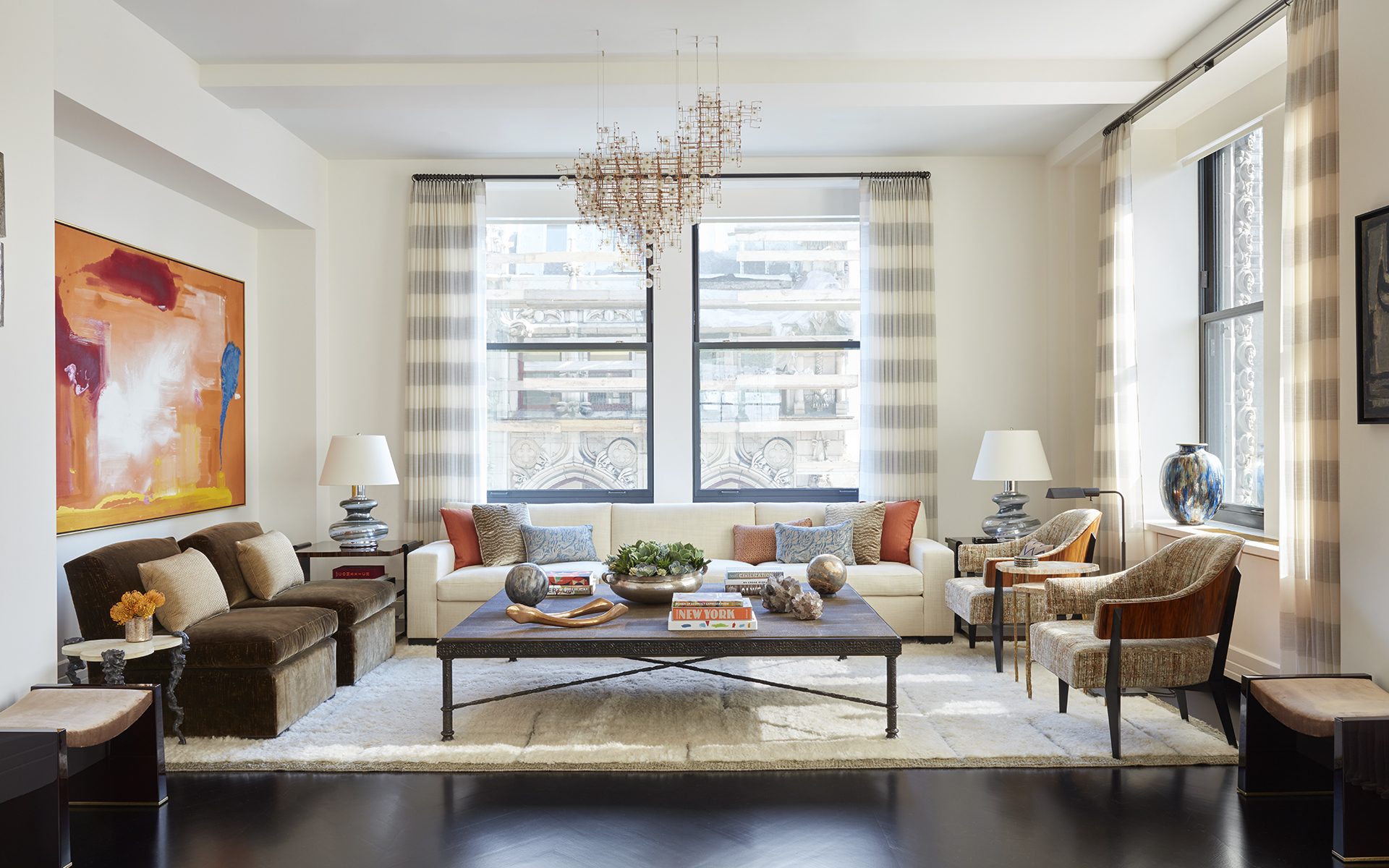 Tour a Major Collector's Art-Filled New York Pied-à-Terre
Designed by Suzanne Tucker, the Flatiron apartment is filled with dynamic works by Yayoi Kusama, Helen Frankenthaler, Anish Kapoor, and more
During the multi-year renovation of a collecting couple's expansive West Coast primary residence, San Francisco-based designer Suzanne Tucker often heard her clients wistfully imagine how nice a New York apartment would be. "The house I was doing was very classic, traditional, French architecture," says Tucker, who was already devising a California-cool beach house for the family. "We were bouncing between collecting beautiful antiques and then all of a sudden seeing some really cool modern art or a midcentury piece, and thinking that would be great for a different project."
Soon enough the call came—the clients were in escrow on a four-bedroom apartment in a converted office tower in New York's Flatiron District, overlooking Madison Square Park. "While we didn't need to gut it, we did change certain things," recalls Tucker.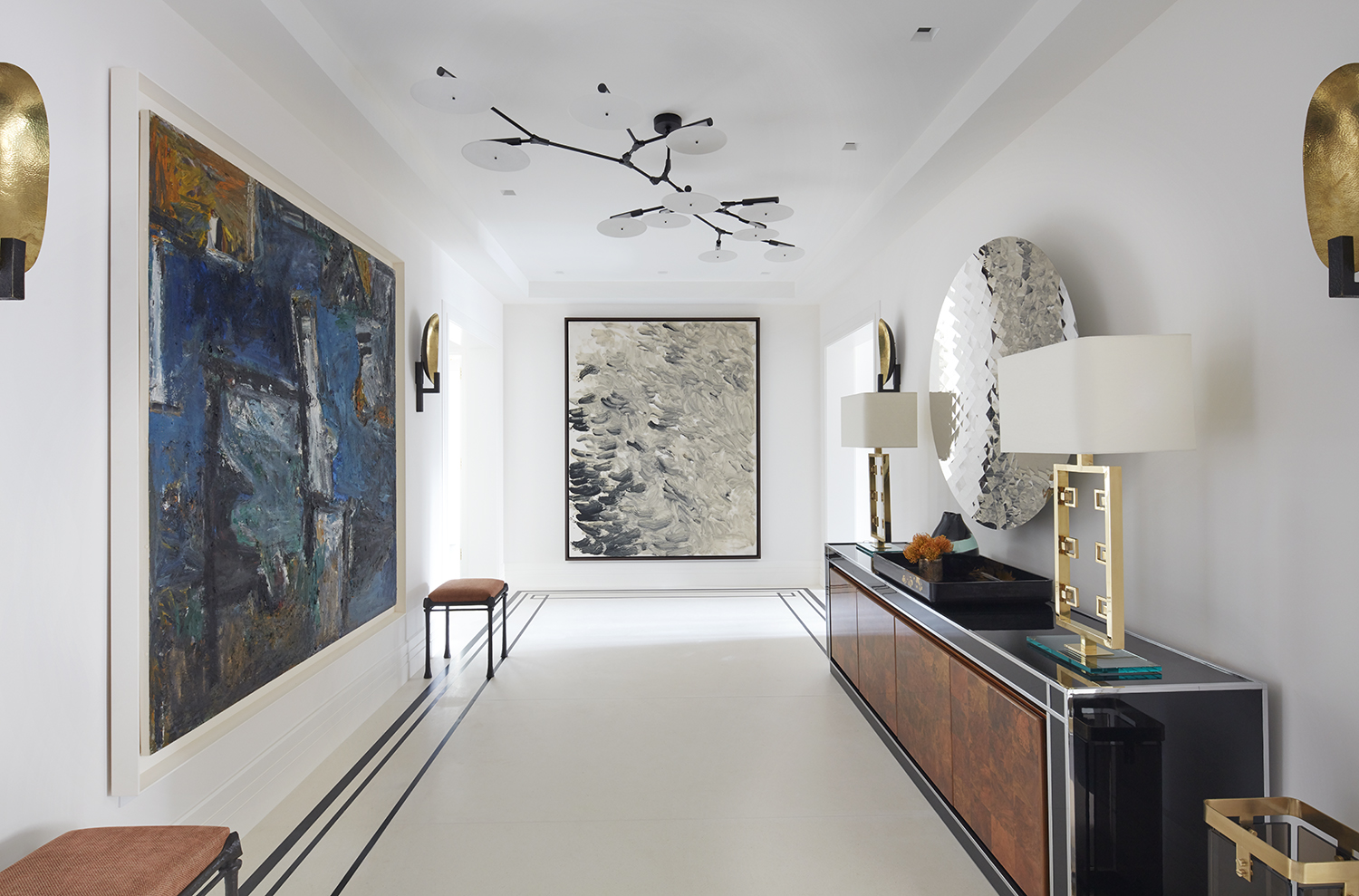 The entry hall's original heavily veined marble was replaced with a more tranquil limestone inset with Belgian black marble to allow the homeowners' scholarly collection of art to be the main event. Here, pieces by Milton Resnick, Lee Ufan, and Anish Kapoor—the latter a last-minute art purchase that serendipitously worked perfectly over a newly installed vintage French credenza—join a Branching Disc lighting fixture by Lindsey Adelman Studio and sconces by Hervé Van Der Straeten from Ralph Pucci.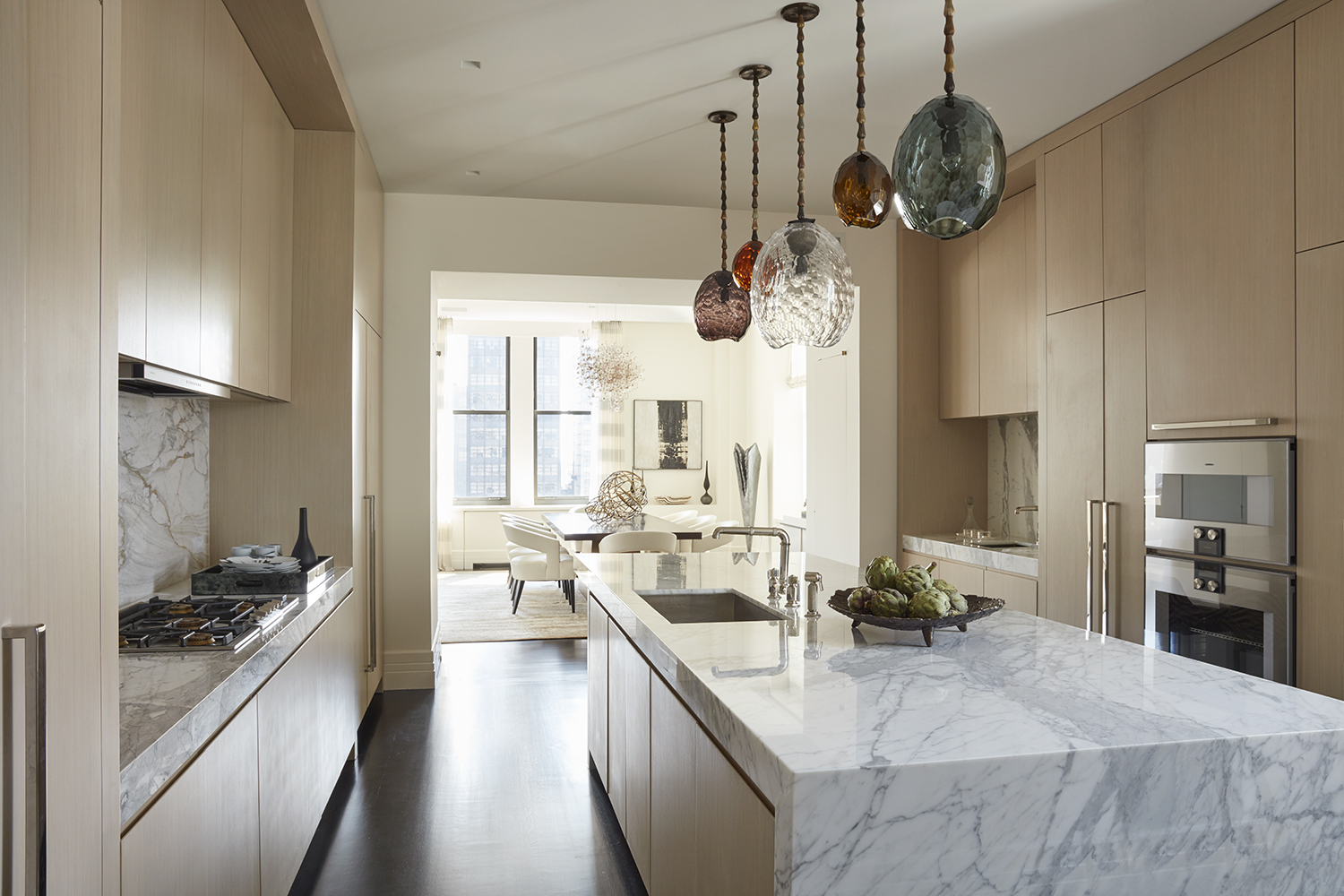 Other changes to the interior, including staining the wood floors a dark ebony shade, replacing generic overhead illumination with a more thought-out lighting plan, and painting the already white walls a warmer vanilla hue, helped give the space a cozier atmosphere. "When you're up high and you get those gray, stormy days, an off-white is much better to live with than an antiseptic, refrigerator white," says the designer.
Revising the home's color palette also helped ground the pre-existing kitchen, which Tucker adorned with a series of jewel-colored faceted pendant lights by David Wiseman. "They cast a beautiful light," says the designer, who gave the space an unexpected moment of playfulness by upholstering the ebony and brass counter stools in an animal-print calfskin.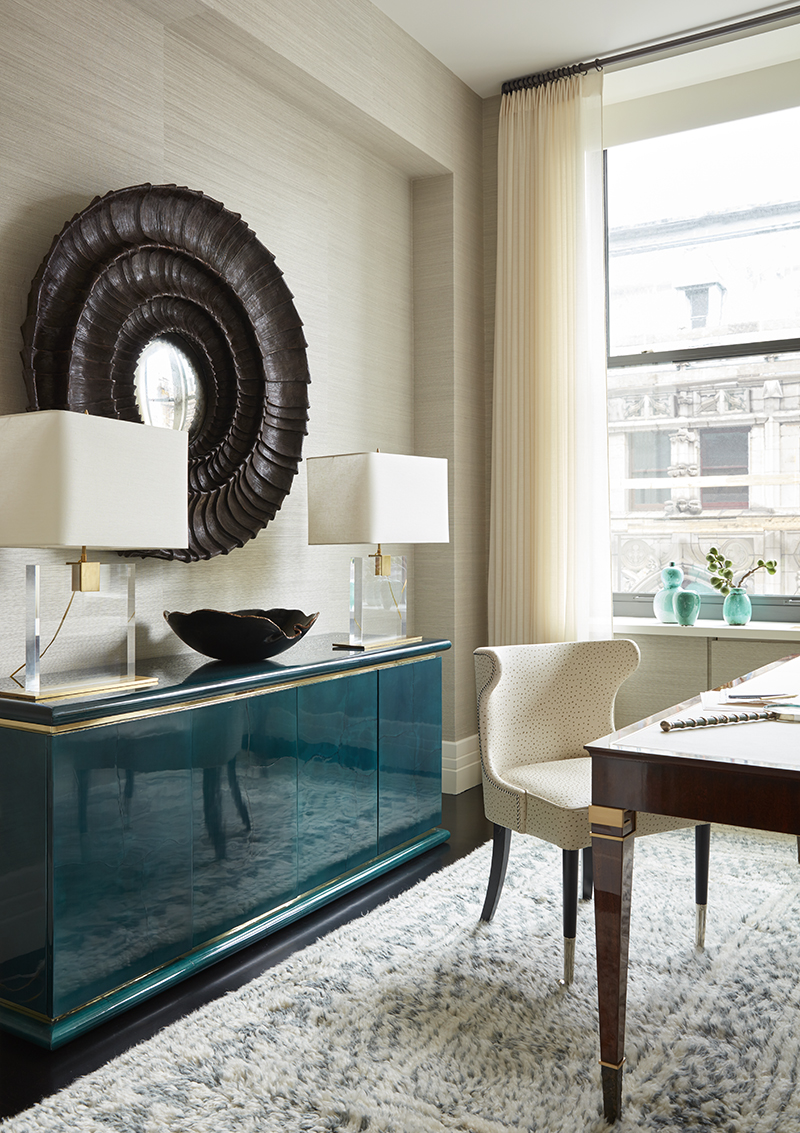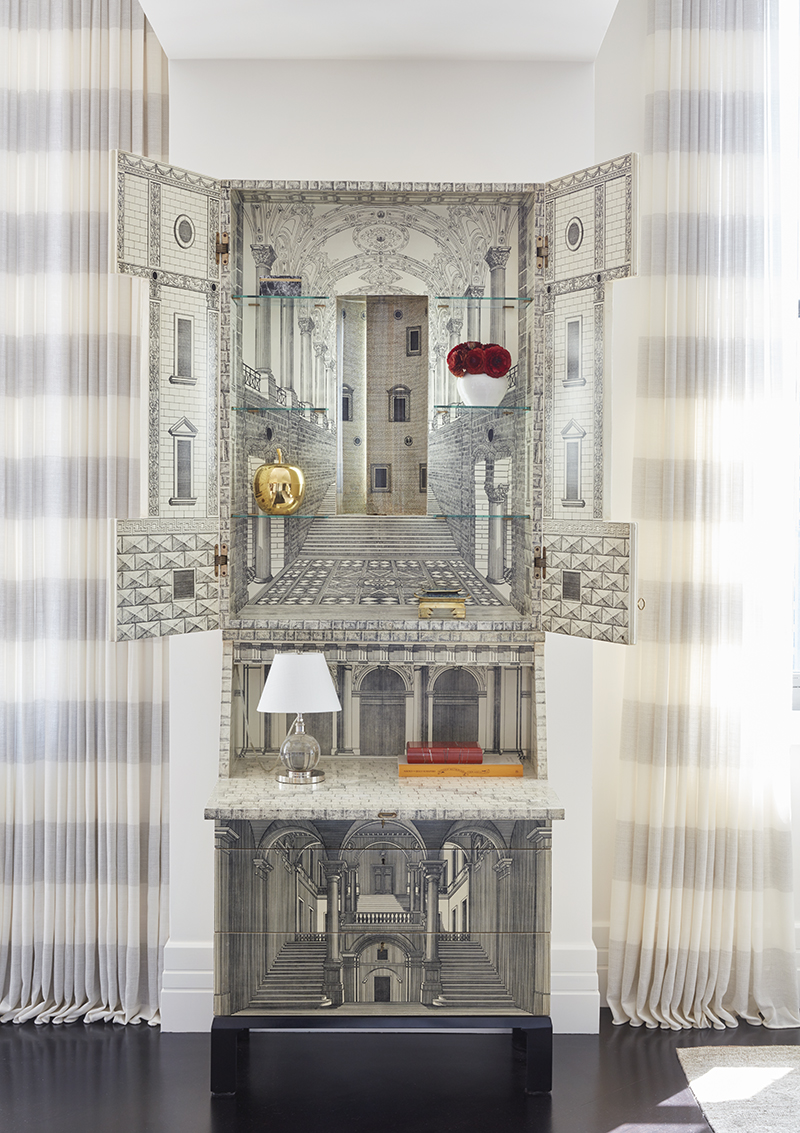 Shopping art and antique fairs as well as visiting dealers from New York to Paris, Tucker and her clients discovered a number of treasures that have pride of place in the New York apartment. "I had completely blank canvas," says the designer, who bought a showstopping 1960s Piero Fornasetti "Architecttura" cabinet and pillowy ceiling fixture by Simone Crestani at Bernd Goeckler, stools and sconces at Ralph Pucci, and a nautilus-like convex mirror from Liz O'Brien.
Additionally, she collaborated with artisans such as Studio Drift, who created two "Fragile Future" dandelion-inspired light fixtures, which are installed in the living and dining rooms. "To be able to place two of those in a residence is breathtakingly exciting," Tucker tells Galerie.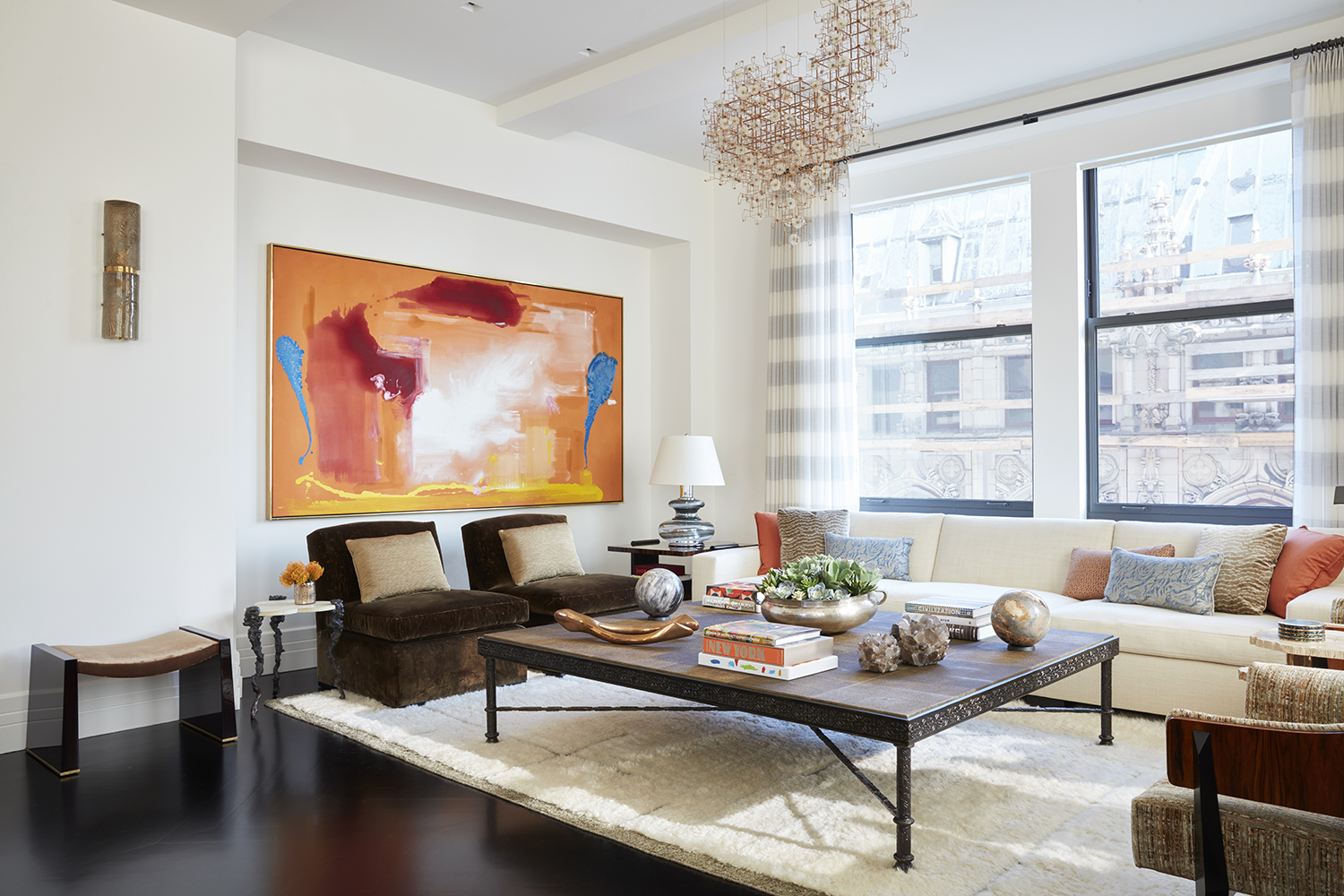 Even with all the functional art peppered throughout the space, it's the blue-chip collection of paintings and sculpture that really define the interiors. A large-scale work by Helen Frankenthaler that features a summery swirl of orange, burgundy, and teal creates a vibrant focal point in the living room. "The Frankenthaler was a piece they already owned so I knew I was working with this," says Tucker. "We decided to place it in the living room because it wasn't just something you wanted to walk past. It's something you wanted to live with plus it brought in a really lovely, warm element juxtaposed against the white walls and city views."
The painting's rich pumpkin hue carries over onto a pair of vintage Swedish lacquer side tables by Axel-Einar Hjorth that pop against a serene grouping of Jonas NY lounge chairs in a cocoa cotton velvet and 1960s Philip and Kelvin Laverne cocktail table. Turning up the room's volume are a trifecta of color-rich abstract works by Per Kirkeby, Julian Lethbridge, and Ha Chong-Yuen. "It was really fun having a relative neutrality to the upholstery but then having pops of colorful art," says Tucker.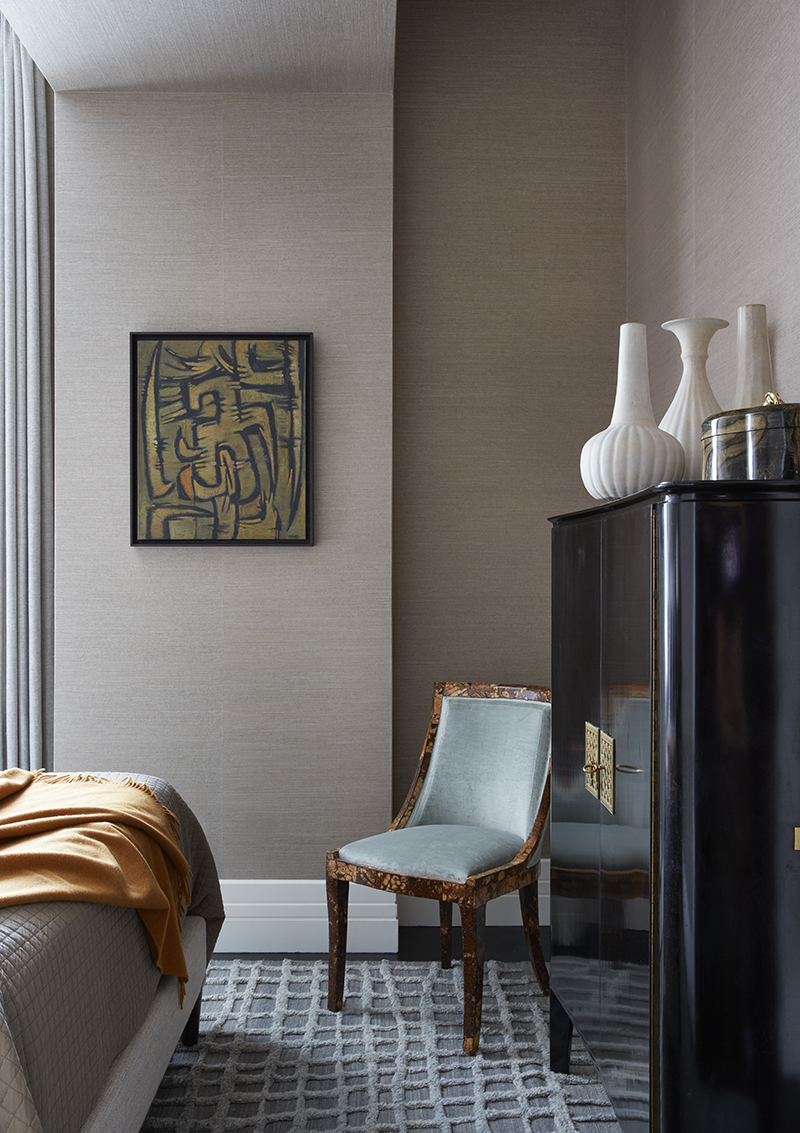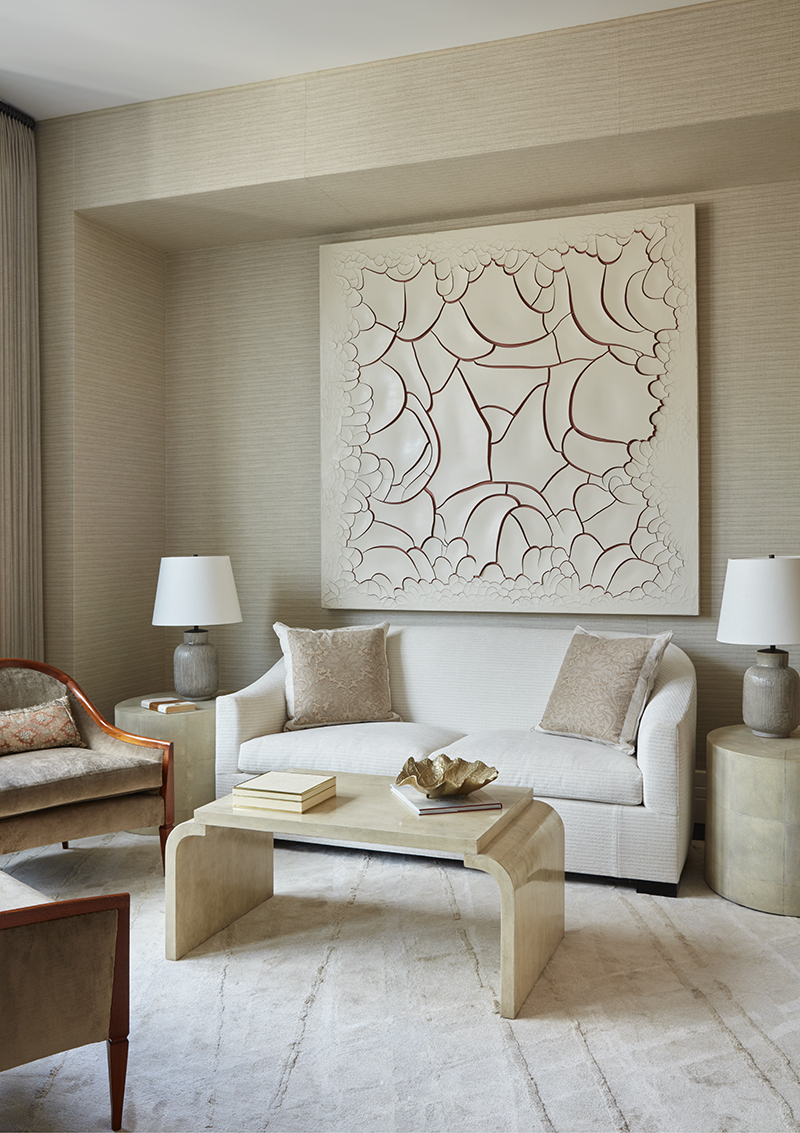 Moving further into the private areas, Tucker deepened the neutral color palette, wrapping the main bedroom in a taupey textured wallcovering and custom channel-tufted headboard. A 1950s Italian Murano glass chandelier, custom lacquer cocktail table, shagreen side tables, and triptych of painted mirror works by Matthew Brandt add moments of glamour. "I'm very much about playing with textures and how light catches on textures and mixing in things that have a smooth and a rough and a plush," she says.
The room's strongest textural moment is a multidimensional work by Brazilian artist Adriana Varejão, discovered at San Francisco's FOG Design+Art Fair. "That set the tone in terms of the warmth and the creaminess in the room, and we wanted this room to feel cozier," says the designer who also installed a Franck Evennou bench with oscillating ribbon legs upholstered in Décor de Paris silk velvet.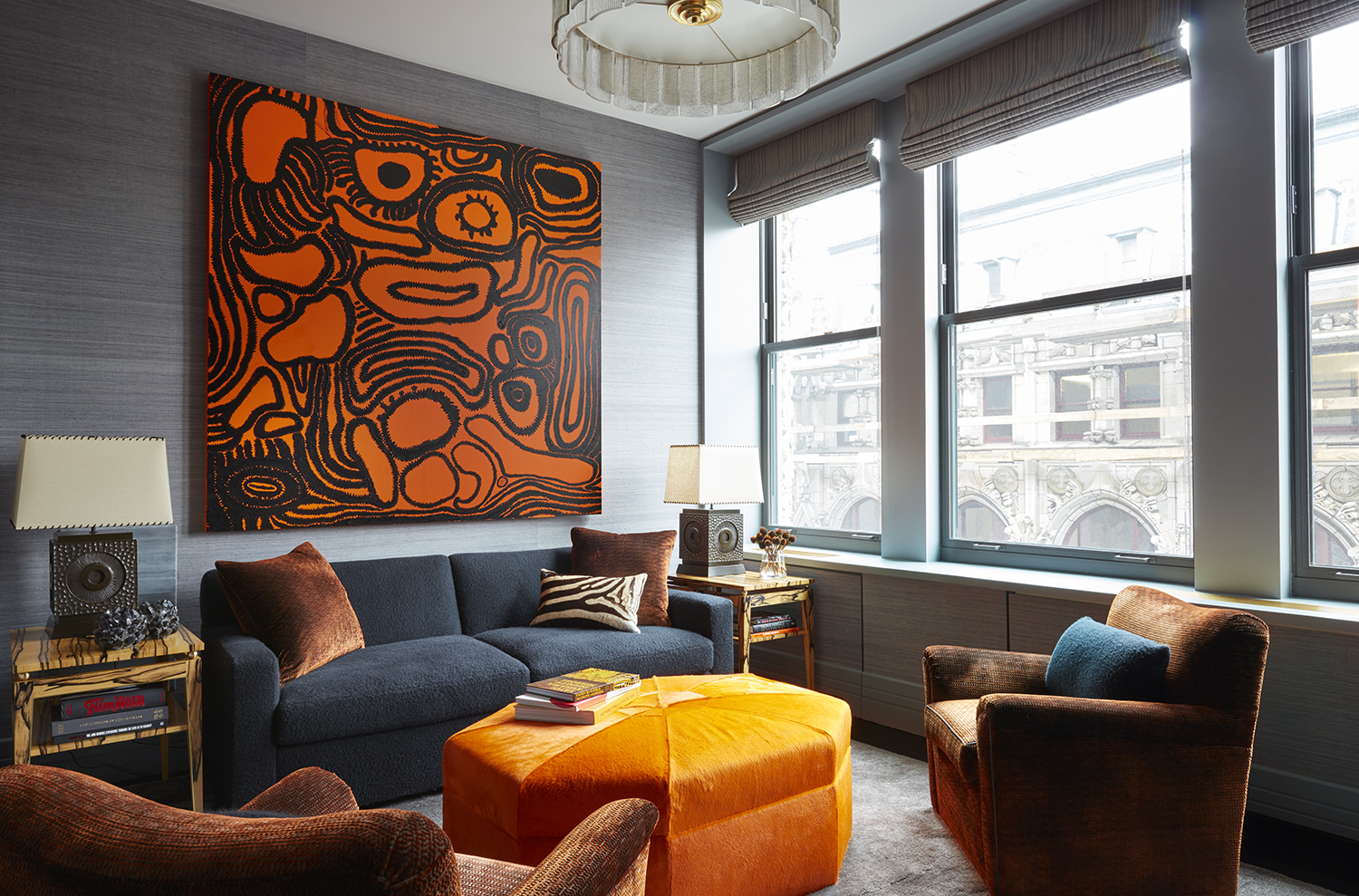 A vestibule leading into the media room disguises the apartment's biggest wow moment, crafted around an exuberant work by Yayoi Kusama, which informs a custom ottoman. "It is my first bright orange, calf-hair octagonal pouf," laughs the designer. "I love working with color when I get an opportunity to do it."
A charcoal grasscloth covering the walls and sumptuous textiles, including a black cashmere sofa, gives this suite its moody aesthetic which carries over into an intimate guest suite that's encased in a tawny Phillip Jeffries woven paper. "It's all about the seductiveness of color palette, layers, and textures," says Tucker, who added a straw marquetry mirror by Karl Kemp & Associates, coconut veneered Empire-style side chair, and stoneware table lamps from Gallery Bac. "I wanted to make it casual but set the right mood." There's no arguing that Tucker has once again deftly set exactly the right mood.
Next Post