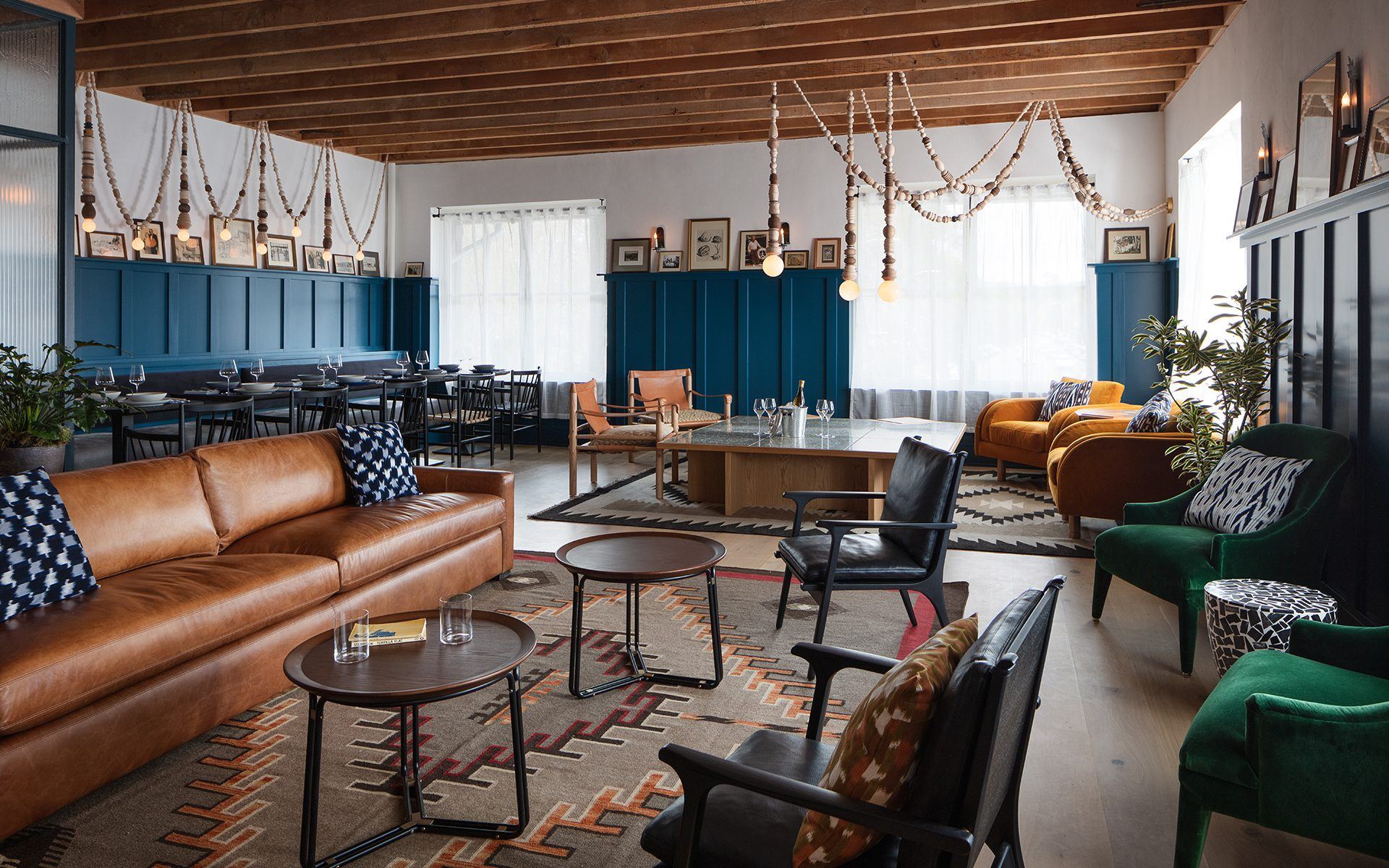 Studio Becky Carter Creates Atmosphere and Intrigue at a New Sonoma Tasting Room
Taub Family Selections' latest outpost features a moody speakeasy-style bar, an upscale market, and an artful lounge brimming with custom designs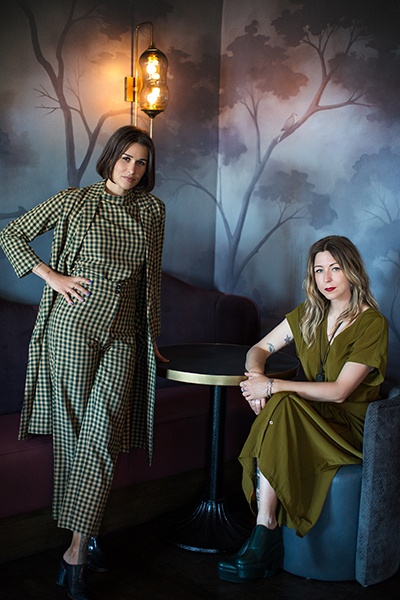 Sonoma Plaza is a centralized hub for oenophiles visiting California's wine region, with 30-plus tasting rooms tucked side by side in the picturesque town. But, while the varietals poured range from a smoky Chardonnay to a berry-rich Cabernet Sauvignon, the spaces themselves all present a similar aesthetic—either rustic barrels, exposed brick, and Italianate topiaries or gleaming modernist cubes of blackened steel and glass.
Offering a very different atmosphere is the Taub Family Outpost, a remarkable restaurant, market, and wine bar set within a 1910 Spanish Colonial–style bank that's been delightfully reimagined by up-and-coming New York design firm Studio Becky Carter. "Banks around that time were so beautifully decorated and grand that they were sources of pride for towns," says firm principal Becky Carter. "Unfortunately, we didn't have any of that opulence to work with, but the thought of it being a bank got us really excited and inspired to pull some historical threads that we used as lifelines of the design."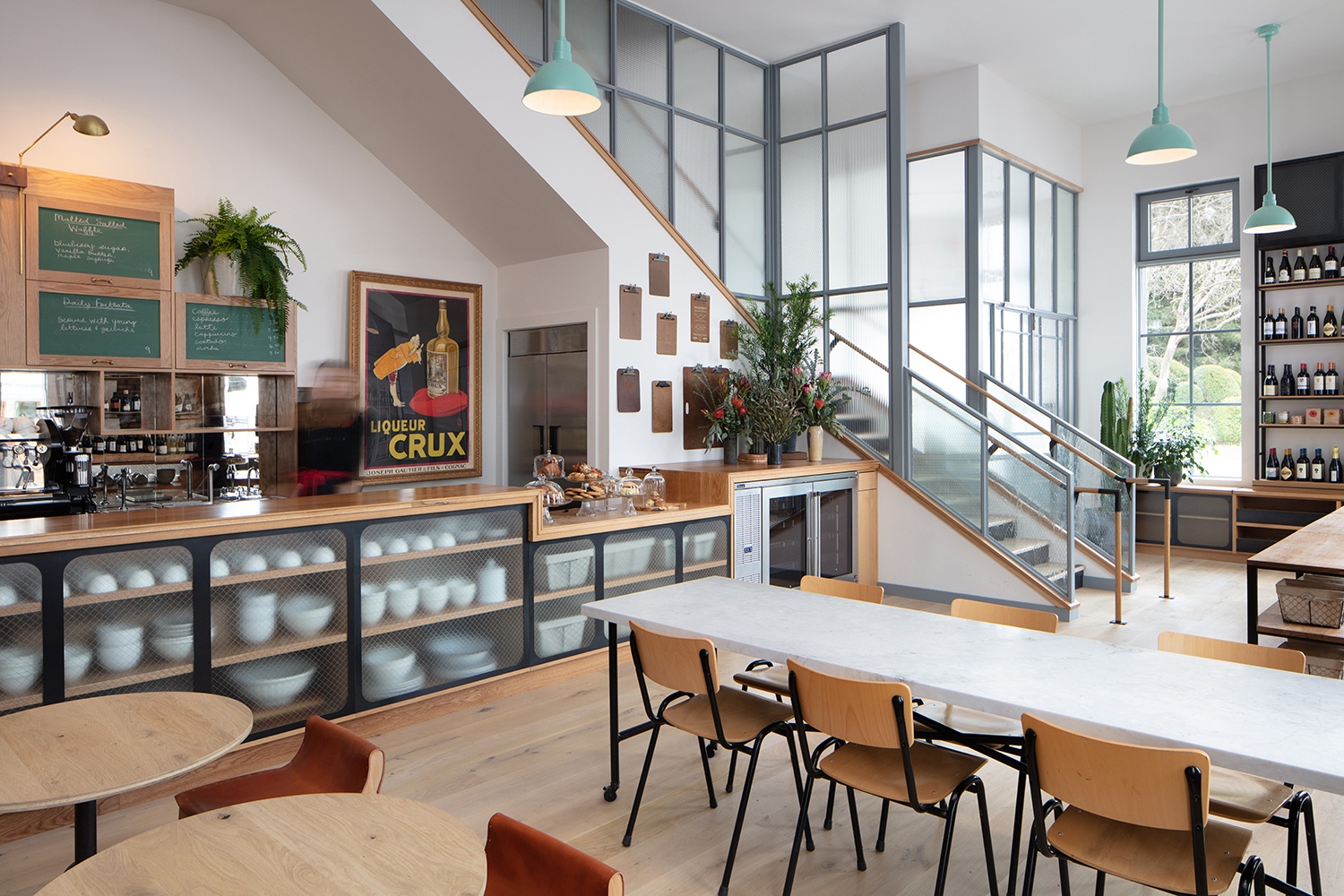 The street-level Market captures the best of Mission-style design with oak furnishings, mottled plaster walls, and zellige tiles. "The client wanted to tap into that classic agrarian, dusty country feel of Sonoma," says Sara Reeble, lead designer at Studio Becky Carter, which has cultivated other wine spaces in the region, including the VML tasting room in Healdsburg. "It was a nice dovetail of modern offerings and that familiar market vibe."
A glass-enclosed staircase ferries guests to the second-floor lounge, dubbed Outpost, which was curated to give the feeling of relaxing in the living room of Alice Waters, the renowned area gourmand. Vintage Taub family photos rest atop custom millwork, while art and vintage wine and liqueur advertising from the winemakers' personal collection are also displayed. "They wanted it to feel like you could sit down for hours with a bottle of wine, like you were coming home in a way," says Carter.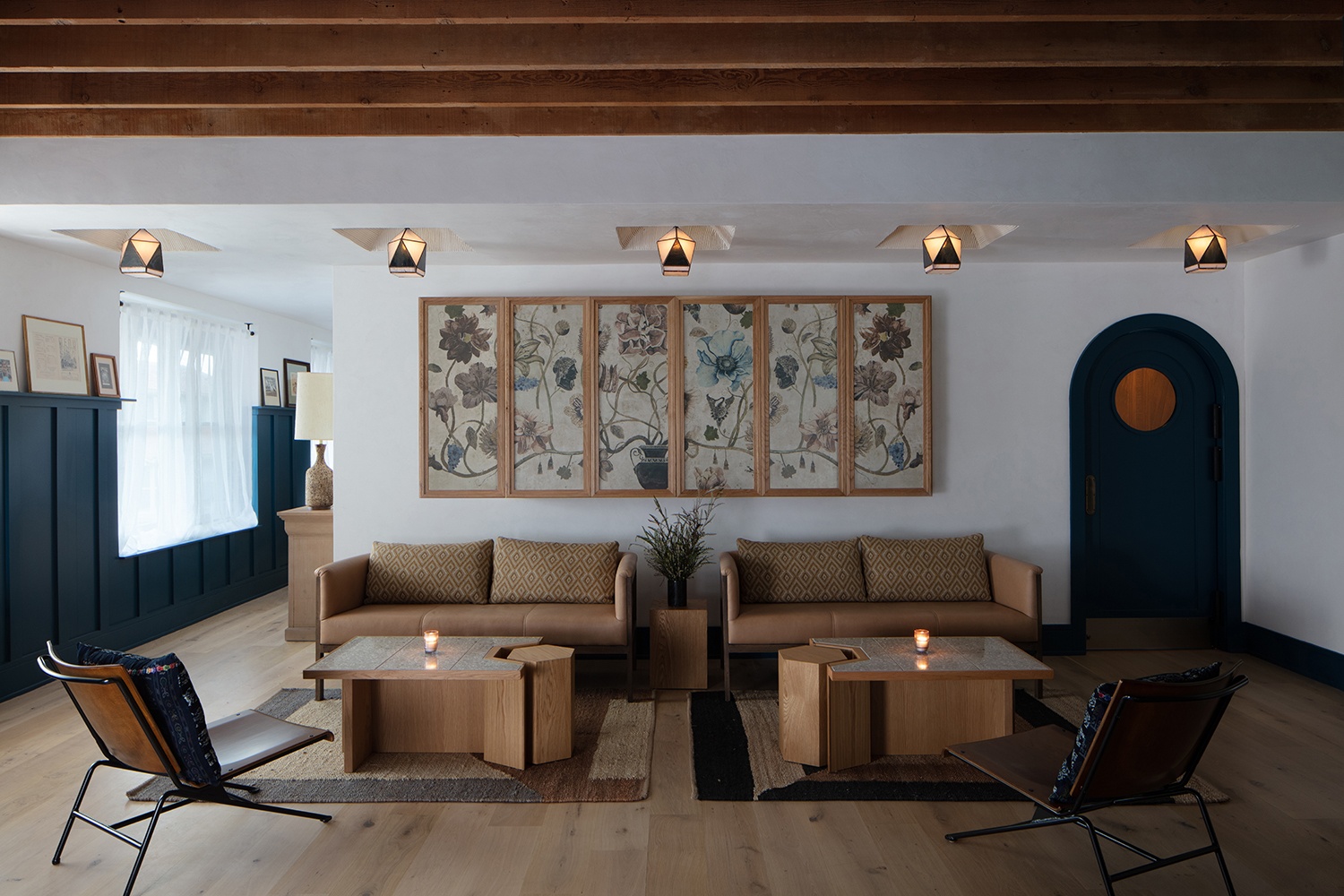 Trained at the prestigious Rhode Island School of Design, Carter started her career creating custom furnishings, and alongside Reeble, the duo enlisted some of their favorite fabricators to produce a number of unique pieces for the multiple spaces here.
"We have a network of makers that we just align with on these really wonderful objects and projects. This was a great instance where we were able to tap into that pool and find some exciting ideas and come up with intriguing ways to execute on them," says Reeble, who estimates more than half the items brought into the space have a bespoke touch. "People want to know who they're working with, they want to know the stories behind the pieces, and they're really interested in that process and being able to retell it to people who are using it, especially in a commercial space."
Bay Area fabricator Alexis Moran crafted a number of terrazzo cocktail tables and marquetry-style tabletops. Carter, inspired by the oversize bead necklaces popular in the 1970s, conceived the turned-wood light installations that the studio team created by hand, and mocked up on 30-foot strings, carefully selecting each and every block to get just the right look. "We try to work with our fabricators as much as possible, but there are instances where we come up with an idea that I'm so stubbornly stuck to, I'm like if we can't afford to pay someone to make this, I will make it myself because I need this in the space," says Carter.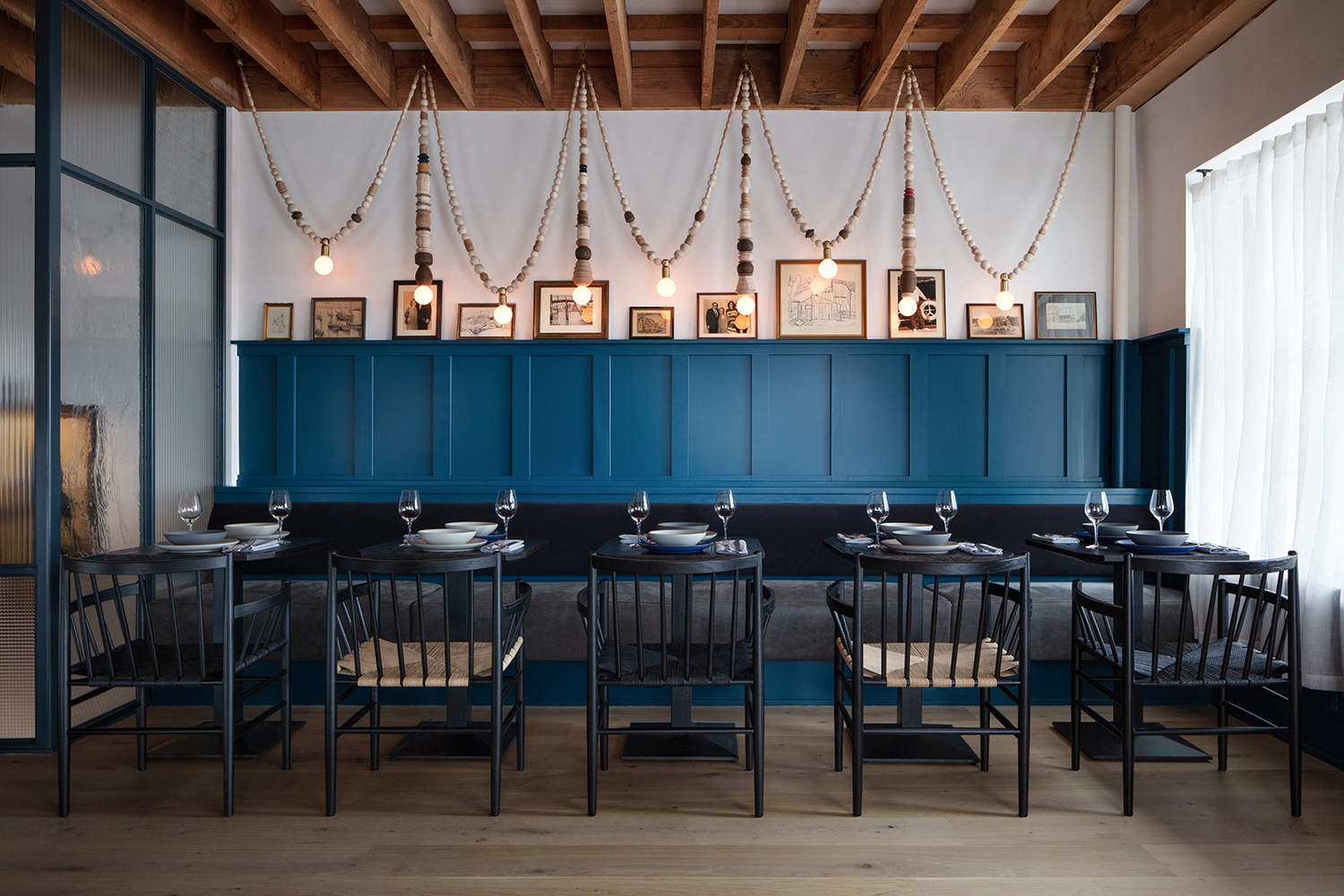 A hallway leads from the Outpost to an ornate pocket door with custom millwork that opens into the moody speakeasy-style space, the Beacon. "We wanted to make it less about hiding it and more about creating intrigue, so that someone would look down the hallway and really want to get closer and explore and that it would be a discovery," says Carter.
A blood-red bar coupled with black leather Verner Panton stools provides the focal point for the room, which was crafted to feel sexy bordering on sinister. A shadowy mural by Caroline Lizarraga surrounds the upscale bar, which is also accessed from a nondescript rear entrance marked only by Nickey Kehoe's Hand sconce with a red bulb.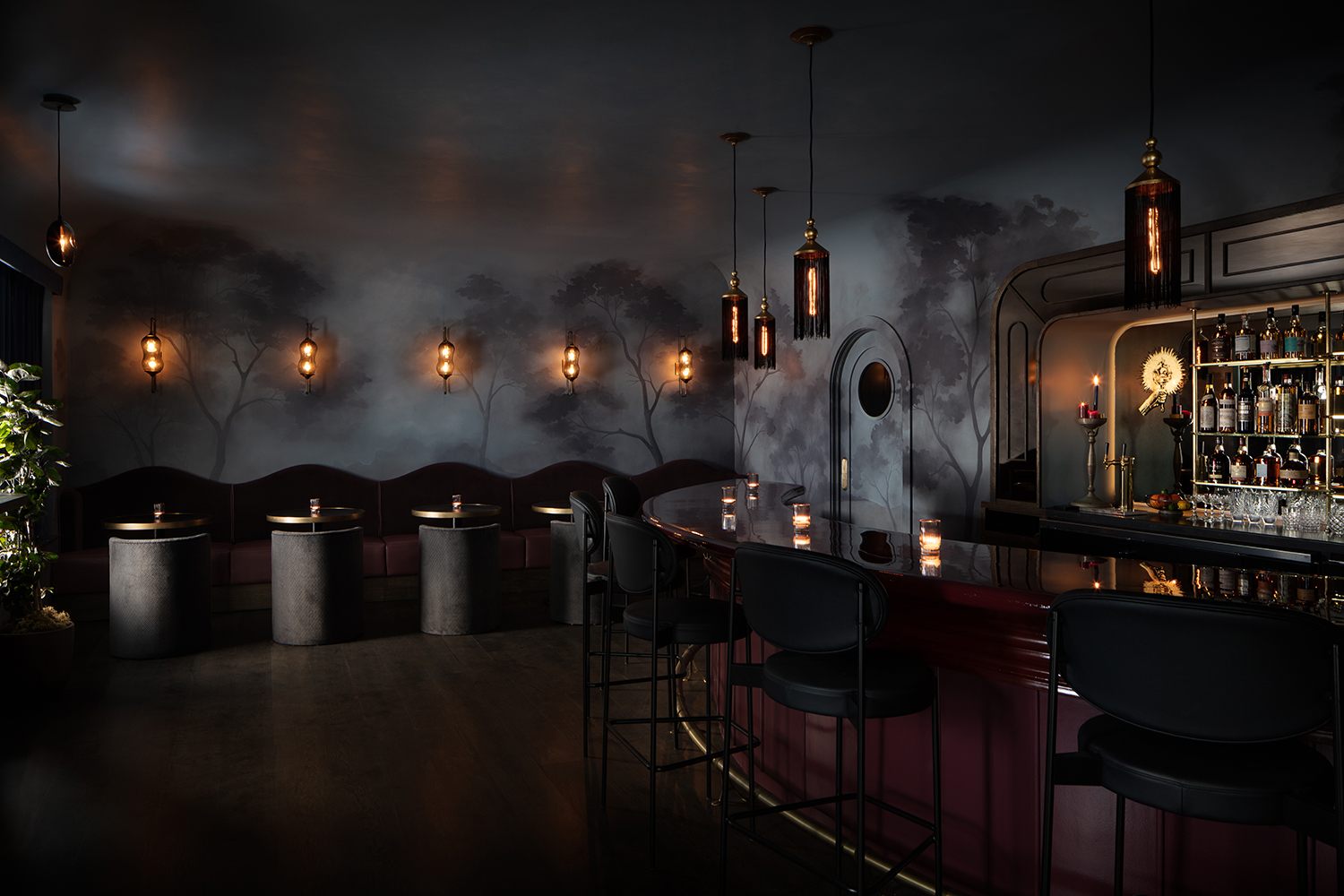 With three distinct rooms, the designers intentionally curated the spaces for an all-day experience—morning coffee and lunchtime get-togethers in the bright and airy Market, after-work socializing in the cozy Outpost, and witching hour festivities in the Beacon.
Now that the Sonoma tasting room is complete, the team is remodeling a massive Victorian home in San Francisco for a client with a serious collection of art and transforming a former church in Saugerties, New York, into a live-work space for an artist client, while another Napa winery project is in the pipeline.
Next Post