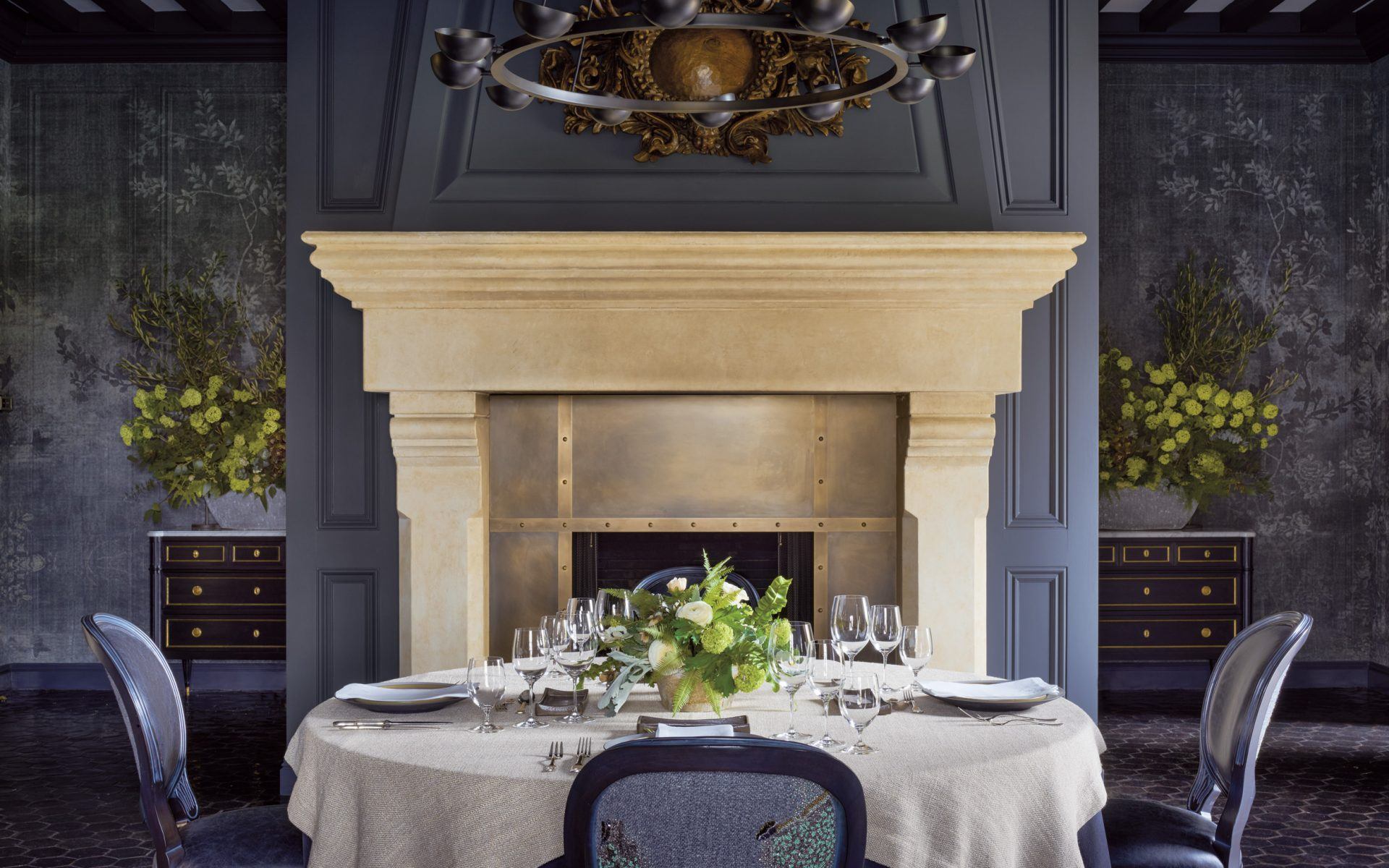 Geoffrey De Sousa Gives this Sonoma Vineyard a Magical Refresh
Jordan Winery's newly updated dining room proves not all beauty is found in a glass
During a wine tasting, most oenophiles can't be distracted from analyzing the precious juice and its delicious range of possibilities. But the newly renovated private dining room at Sonoma County's Jordan Winery proves not all beauty is found in a glass. San Francisco interior designer Geoffrey De Sousa revitalized the space with a nod to both executive chef Todd Knoll's nature-inspired menu and family matriarch Sally Jordan's original vision for the room.
To create the interior, which seamlessly flows between the cozy dining area and the verdant estate grounds, existing high-back chairs were reimagined with embroidery, executed by Geraldine Larkin, an Alexander McQueen–trained London artist who has worked for esteemed couture brands like Givenchy and Fendi. Wall&Decò's Midsummer Night wallpaper was meticulously applied over molding, and long-standing hexagon terra-cotta floors were stripped and stained a rich charcoal gray. Other modern flourishes include Jonathan Browning lighting and a bronze fireplace surround created by local metalsmith Randell Tuell of Tuell + Reynolds.
"This is different than most of the neighbors'," says De Sousa of the room's aesthetic, which draws on the estate's picturesque landscape, blooming with lichen, moss, and other flora. "With the more modern color palette and lighting, it pays homage to what was there before and will take them into the next 10 to 20 years." 
Recommended: 5 Refreshing Summer Cocktails from the World's Top Mixologists
A version of this article first appeared in print in our 2019 Summer issue in the section The Artful Life. Subscribe to the magazine.
Next Post