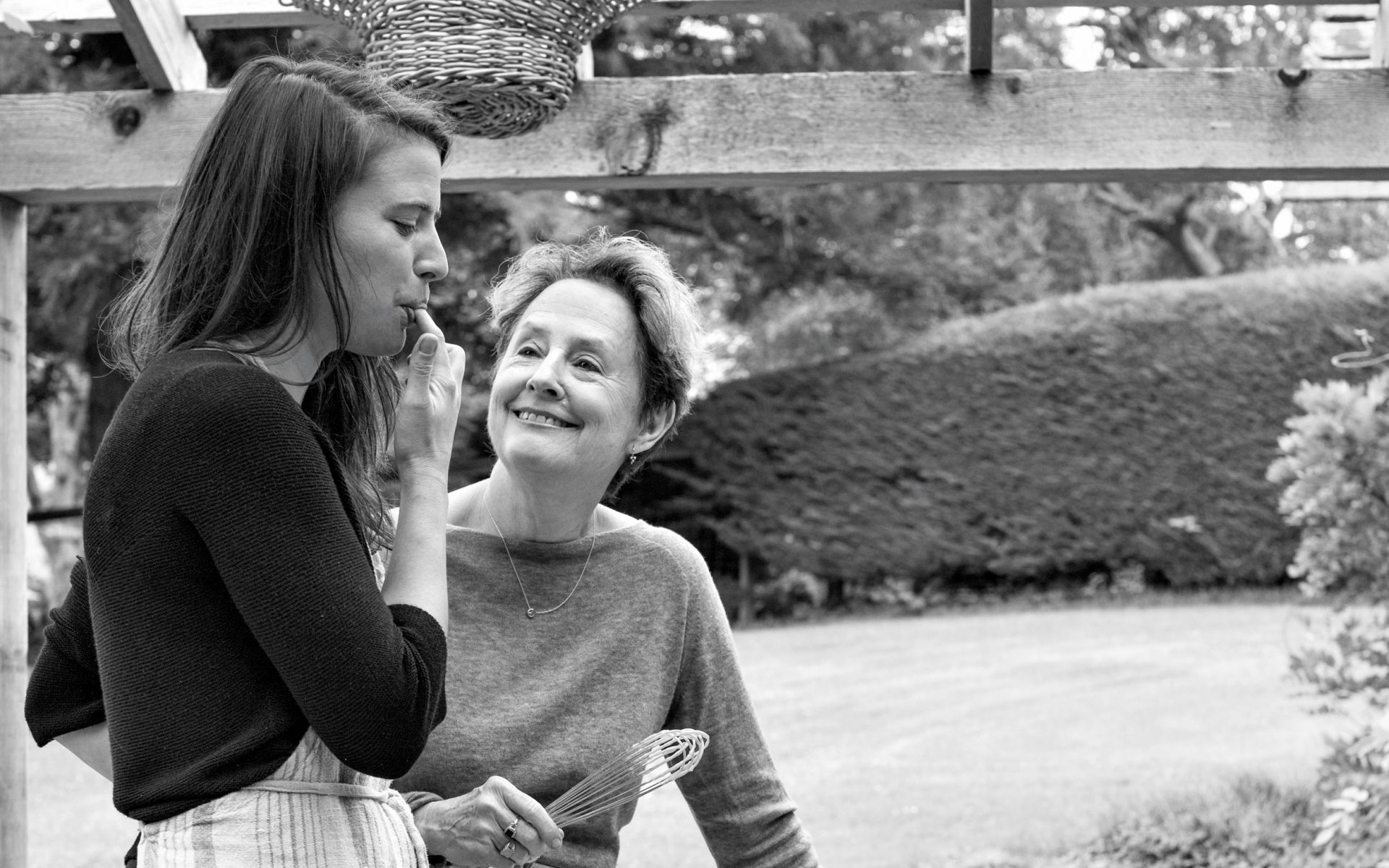 Daughter of Farm-to-Table Pioneer Alice Waters Pens New Culinary Memoir
Fanny Singer's new book details delicious stories from growing up with a food icon mother
Fanny Singer eats takeout, too. Most people in today's world wouldn't find ordering late-night ramen remarkable, but Singer is the daughter of farm-to-table pioneer Alice Waters, whose exaltations of fresh produce and homemade meals have changed the American palate since she first opened Chez Panisse in Berkeley, California, in the 1970s.
Waters famously doesn't deviate from the orthodoxy of garden-sourced organic fare. "Once I really wanted blueberry pancakes, which were out of season, so I went to the store and slapped an organic tag onto a basket of blueberries," says Singer, "but she knew." And into the compost the fruit went.
Following her return to the Bay Area after living in England for more than a decade as an art critic, curator, and coproprietor of the online design boutique Permanent Collection, Singer is releasing a new project that straddles her present and her past. Available in April, the memoir-cum-cookbook Always Home: A Daughter's Recipes & Stories (Knopf) offers an intimate portrait of Singer's family, which includes the many people behind the influential restaurant Waters founded. "Chez Panisse has always been a cooperative in a way," she says, "and I was their collective child."
The book, filled with gauzy photographs by Brigitte Lacombe, provides immersive reflections on a rather unique childhood, as well as easy, breezy recipes that speak as much to the technique-driven chef as they do the occasional home cook, all shared in a voice akin to a relative passing on family lore. There are stories about the "yeasty, fat smell of pizza dough rising in a big plastic tub" and the secret of the arugula- and chicory-enhancing Simple Chez salad dressing. "Salad is, after all, where my Chez Panisse story began, all those many years ago," details Singer in the book, with her infant kitchen crib having been fashioned from an enormous salad bowl and dish towels.
Recommended: Discover 240 Recipes That Shaped Culinary History
Tucked into a corner booth at the restaurant she considers a second home, she recounts her near-legendary ineptitude at baking. Her triumphant fails—such as omitting the molasses from a gingerbread cake or using double the quantity of eggs required for a custard—kept her far away from a position within Chez Panisse's pastry department. So for the memoir, Singer included a recipe for a comforting fruit galette that almost anyone can master.
Those tales are flanked by observations of her mother's obsession with the colors maroon and chartreuse, and how that influenced what landed on plates at Chez Panisse. Also revealed is Waters's "innate sense of composition," which not only led to Singer's "aesthetically unusual upbringing" but also heavily informed her life in the arts, which includes a Ph.D. in art history from the University of Cambridge.
Always Home is steeped in wide-eyed reminiscence amid endearing mishaps. Waters, in fact, writes in the foreword, "No one can make me laugh the way Fanny does, and her finely tuned eye for the ridiculous keeps all of us—keeps me—grounded and in check."
Beneath this canopy of cuisine and the rousing recipes is a tale of intimacy, connection, and collaboration. Yet the tome marks perhaps a more significant keystone in Singer's story: Although she coauthored My Pantry with her mother in 2015, Always Home is decidedly not a joint project. "We spend so much of our lives differentiating ourselves from our parents," she explains, weaving in her varied pursuits and transatlantic detour. "I was interested in that transition moment when I still very much feel like her kid, but I really am an autonomous adult."
Tune in to Galerie's Facebook page this Thursday, April 2, at 1pm ET to watch Fanny Singer in conversation with Galerie Editor in Chief, Jacqueline Terrebonne. 
A version of this article first appeared in print in our 2020 Spring Issue under the headline "Family Recipe." Subscribe to the magazine.
Next Post