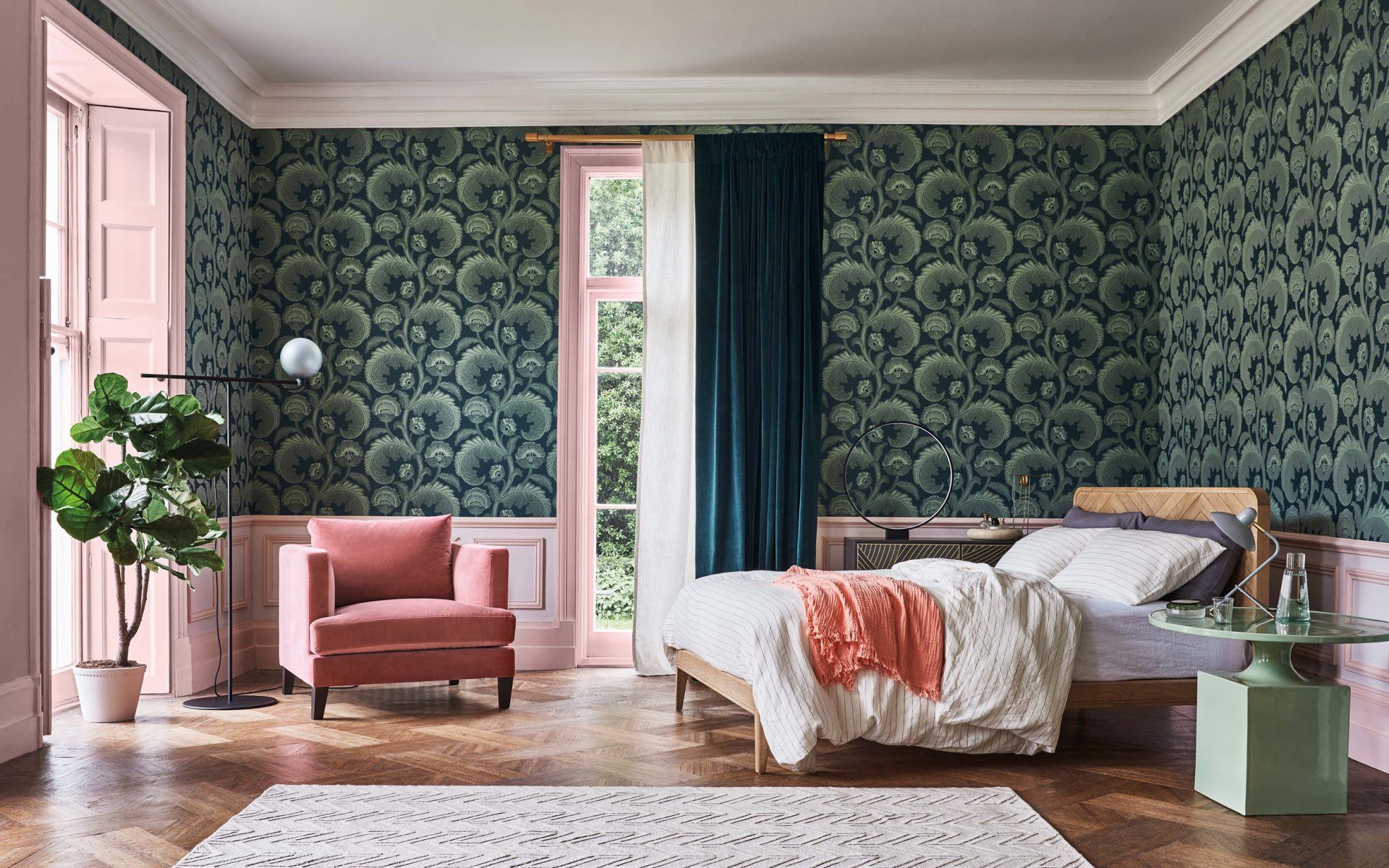 12 Artful Wallpapers to Bring Botanic Beauty into Your Home
From soothing watercolor blooms to vibrant foliage, these designs are as refreshing as a walk in the park
Whether you're tucked away in a country estate or a spacious urban aerie, adding natural elements to your home is the perfect way to create a soothing environment that celebrates indoor-outdoor living. While many use art and furnishings inspired by nature to enliven their living spaces, another option is to choose painterly wallpapers that turn patterns of flowers, leaves, and other botanicals into interior landscapes as refreshing as a walk in the park.
Here, Galerie rounds up some recent collections sure to infuse any space with a glorious array of botanical elements.
1. Calico Wallpaper
Fast-rising architecture firm Charlap Hyman & Herrero has collaborated with some of biggest names in the art and design world, including Nina Johnson Gallery and Friedman Benda, as well as leading fashion retailers like Everlane and Barneys New York. This month, it introduced a striking wall covering collection, Overgrow, with Calico Wallpaper. Featuring a blossoming tumble of vines, the design made its debut at Schloss Hollenegg, a historic Austrian castle that is continually reconfigured to promote the work of emerging designers.
Recommended: 12 Wondrous Lighting Designs Inspired by Nature
2. Cole & Son
For its new Pearwood Collection, Cole & Son went back into its extensive archives to rediscover some of founder John Perry's most exquisite block prints. Among the fairy-tale-like designs is the verdant Aurora, a lush tapestry of hearty blooms and tight foliage, available in four distinct colorways.
3. Phillip Jeffries
The established fabric and wall covering brand launched its latest collection, Savanna, during the pandemic, offering the design community a small taste of wanderlust. Design director Tara van Lunen detailed how the collection was inspired by images from company president Philip Bershad's safari vacation, translating the "exotic exploration" into a textural array of patterns and weaves at home in an African resort or a residence of a worldly adventurer.
4. Fromental
Launching this week is Les Marquesas, a modern chinois of tropical foliage, exotic birds, and fluttering butterflies hand-painted on silk. Available in four colorways—Atuona, Jacques, Nuku, and Hanakee—the lush designs from Fromental, which is known for its elaborate bespoke creations, instantly transport viewers to dreamy far-flung locales and picturesque gardens.
5. Dedar
Dedar's eye-catching new offerings, the Tableaux Vivants line, include a graphic reinterpretation of the classic palm-frond print. Depicted in vivid detail, the Pensiero Selvaggio design layers the plant's iconic pointed leaves in pop-y detail, giving the repeat a Warholian effect. And just like the famed artist's signature Pop Art portraits, the design is available in various color combinations.
6. The Vale London
The Vale London founder Melinda Marquardt finds inspiration in the U.K. capital's juxtaposition of Georgian and Victorian buildings and contemporary skyscrapers, transferring that mix into her collections, which blend traditional and modern. "I want every piece to show the hand of the artist, and for the viewer to discover more details in the work the longer they look at it," says Marquardt. Her new collection, Beaufort, includes a style influenced by Man Ray's famed photograms that re-creates her drawings of peonies and dahlias, done at the famed Chelsea Flower Show, as a soft silhouette.
7. Arte
Arte is known for its bold designs, and its approach to botanicals is no different. Headquartered in Belgium, the company is introducing its Les Essentials collection, which uses a global array of patterns and textures to create a jet-setting aesthetic. The Palmera print features a jungle's worth of towering palms, then washes the exotic design in a moody plum any globetrotting fashionista would adore.
8. Holly Hunt
Earlier this year, Holly Hunt introduced its own wall covering portfolio, which includes unique creations from Holly Hunt Walls; Assemblage, a bespoke, made-to-order handcrafted studio based in Arkansas; and Carlisle & Co., which delivers artful decorative papers using innovative textures, foils, and hand-applied fibers. Among the Carlisle & Co. offerings is Oasis, a large-scale botanic print rendered in a dreamy watercolor effect.
9. Flavor Paper
Having collaborated with groundbreaking creatives like Katie Stout, Misha Kahn, and the Haas Brothers, Flavor Paper is constantly pushing the boundaries of traditional prints. Its made-to-order murals include Enfumé, a psychedelic twist on the customary landscape panel, representing the Great Smoky Mountains in swaths of luminescent pinks and greens. Additionally, the company is donating 25 percent of its online sales of its cityscape toiles to organizations helping to feed those on the front lines of the COVID-19 crisis.
10. Eskayel
New York textile studio Eskayel creates painterly wallpapers and fabrics that illuminate any space with remarkable abstract designs. Its ethereal Omaggio collection was inspired by paintings of the Tuscan-style gardens studio founder Shanan Campanaro's father cultivated at their Southern California home. With Cortile, leaves are rendered in fluid shapes against the watery illusion of a summer sky.
11. Élitis
The haute couture of wall coverings, Élitis regularly elevates washes of colors and painterly patterns to remarkable works of decorative art. Its new Flower Power collection is a joyful reimagining of myriad garden species, including graceful calla lilies, sturdy succulents, and robust greenery. Its abstract Nid d'Oiseau print comes in six colors, from a spicy brick background to a whisper of grays.
12. Mokum
Famed Hollywood costume designer Catherine Martin collaborated with Mokum on the atelier's latest collection, Club Tropicalia. Its zesty La Palma wallpaper print brings to life a richly layered jungle landscape complete with lush palm trees and ripe banana plants.
Next Post