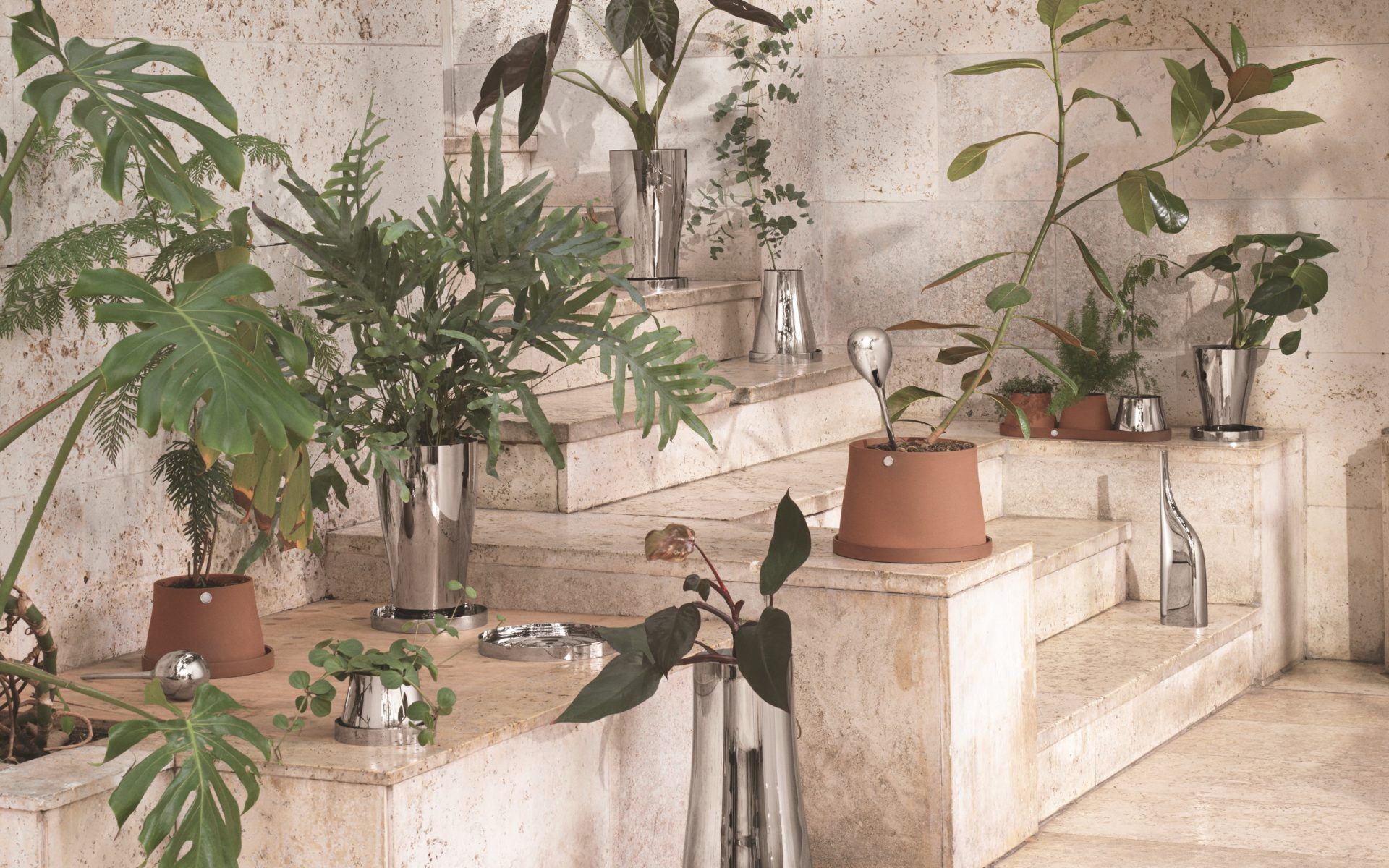 Snøhetta and Georg Jensen Unveil Sculptural Plant Accessories
The nine-piece collection is a masterful mix of stainless steel and terra-cotta
Legendary silverware purveyor Georg Jensen has tapped boundary-pushing Norwegian architecture firm Snøhetta to create a sculptural line of plant accessories, representing a new category for the 116-year-old brand. Initially, the collaboration raised a few eyebrows, with Snøhetta known largely for its highly contextual structures, like the 9/11 Memorial & Museum in New York and the subaquatic restaurant Under off the coast of Norway. However, the Danish accessories company was drawn to the firm's holistic approach and rare ability to excel at any design challenge.
"Snøhetta's spaces have a unique interaction with the landscapes around them, and their work considers both big ideas about our relationship to Earth and the smallest of details," said Georg Jensen chief creative officer Nicholas Manville in a statement. "That range, and their Scandinavian eye, made them a perfect partner for what we envisioned for Georg Jensen."
Recommended: Zanotta Faithfully Re-Creates Carlo Mollino's Seductive Furnishings
The collection, dubbed Terra, comprises nine objects made of stainless steel and terra-cotta, the latter of which had never before been utilized by the company, despite its eponymous founder being both a silversmith and a ceramist. "As materials, stainless steel and terra-cotta are complete opposites," said Marius Myking, director of product design at Snøhetta, in a statement. In contrast to steel's precision and strength, the clay is delicate and can act unpredictably in the kiln. "Those opposite characteristics are precisely what makes terra-cotta such a complementary choice to stainless steel, bringing to the table something textural and imperfect," he adds.
Suited for both inside and outdoors, the line features five large planters (three of which are reversible), one small planter, a watering can, a water globe, and a set of three pots that perfectly nestle into a terra-cotta tray. Created after experimenting in Georg Jenson's silversmith workshop in Copenhagen, the gently sloping silhouettes were inspired by the "logic of nature," said Myking. "We approach our product design from a 'less design' perspective."
"Considering the peculiar times we are going through as a planet right now," he adds, "it feels right to place focus on increasing well-being in the home."
Take a look at the Terra collection below:
Next Post