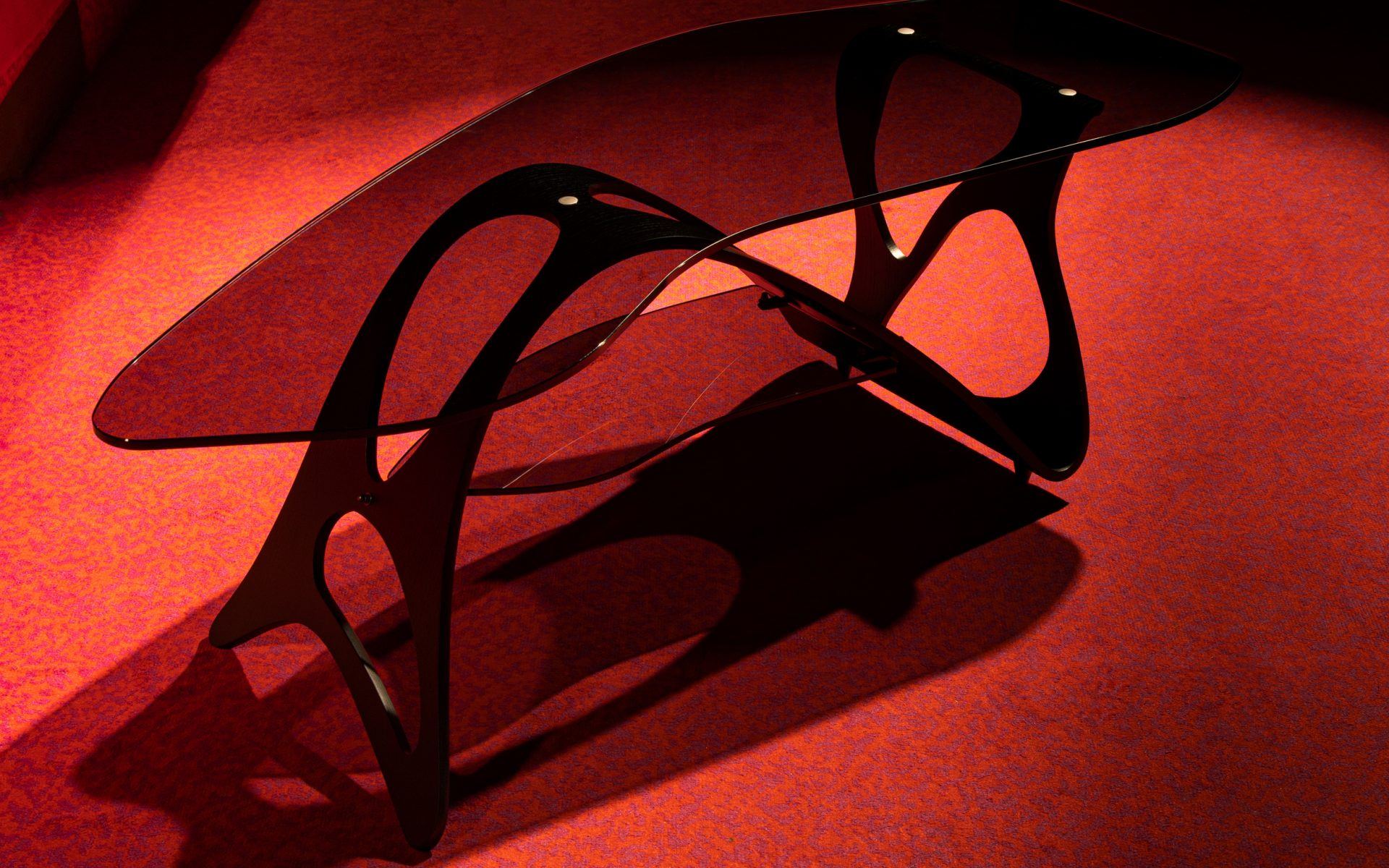 Zanotta Faithfully Re-Creates Carlo Mollino's Seductive Furnishings
President and CEO of Zanotta, Giuliano Mosconi, talks to Galerie about the sculptural new collection
Italian architect Carlo Mollino is most closely associated with his hometown of Turin, having crafted scores of eye-catching buildings in the charming alpine city from the 1930s until his death in '73. Eschewing easy categorization, the bold structures he devised often featured bespoke furnishings notable for their sensuous curves and detailed craftsmanship. As beautiful as they were, the original pieces were never intended for a mass audience, and Mollino's rough sketches lacked precise measurements, making faithful reproductions not just difficult but near impossible.
However, after petitioning the University of Turin (where Mollino was tenured), Italian furniture purveyor Zanotta succeeded in cracking open the institution's extensive archives and discovered a treasure trove of original drawings, letters, and texts that illustrated his work in unexpected detail. And so, following months of painstaking research, analysis, and revisions, the 2020 Mollino collection was born. Comprised of eight sculptural pieces, the line represents the most thorough and historically accurate re-creation of Mollino designs ever undertaken. Fittingly, Zanotta commemorated the launch with a shoot at one of Mollino's most dazzling buildings: the Teatro Regio in Turin.
Here, Galerie speaks with Giuliano Mosconi, president and CEO of Zanotta, about the dazzling new collection:
How did this collection come about?
The origins of this collection began in the '80s, when Aurelio Zanotta first recognized the potential of Mollino's designs. His pieces were largely one-offs produced for specific projects, but Zanotta decided to find a way to make them available to a wider audience. For this new CM collection, our goal was to produce these pieces to be as closely aligned with Mollino's original intention as possible.
Recommended: Ralph Pucci Reissues 5 Classic Paul McCobb Designs
What kind of revisions were made to the original designs? 
This collection was less about tweaks and revisions, and more about an immersion in Mollino's world. His designs were always the result of a collaboration between the designer, the cabinetmakers, and the client. He considered what the requirements were and what was possible, and from within that process, each individual piece emerged, solving a specific need.
Today, we've been able to thoroughly research Mollino's original plans and designs, and integrate all of those important details even more fully into the collection.
What was the most difficult part of the process?
I can't really say that any of it has been difficult for us, as we've been creating these types of products for 40 years, so it's become a very smooth process. The challenge, if I'm to name one, is always to navigate production realities, while keeping sight of the spirit of the project to ensure that the impeccable craftsmanship and attention to detail remain uncompromised and true to the designers' original intent.
What makes Mollino's pieces so timeless? 
Mollino is finally being recognized for his incredible talent, as evidenced by the prices his work is commanding at auction, yet back then, he was more of an outlier in the design community. Perhaps because his pieces were driven by each site-specific need, they were not steeped in any particular trend. Each one was a separate and individual creation, organic and almost archetypal in form, which imbued them with a timeless quality that endures.
Do you have a favorite?
That's almost like asking if I have a favorite child, but if I had to pick, I'd probably say the Reale table. It somehow manages to be a very architectural structure yet retains the transparency and lightness of form. It's a truly elegant and timeless design.
Next Post