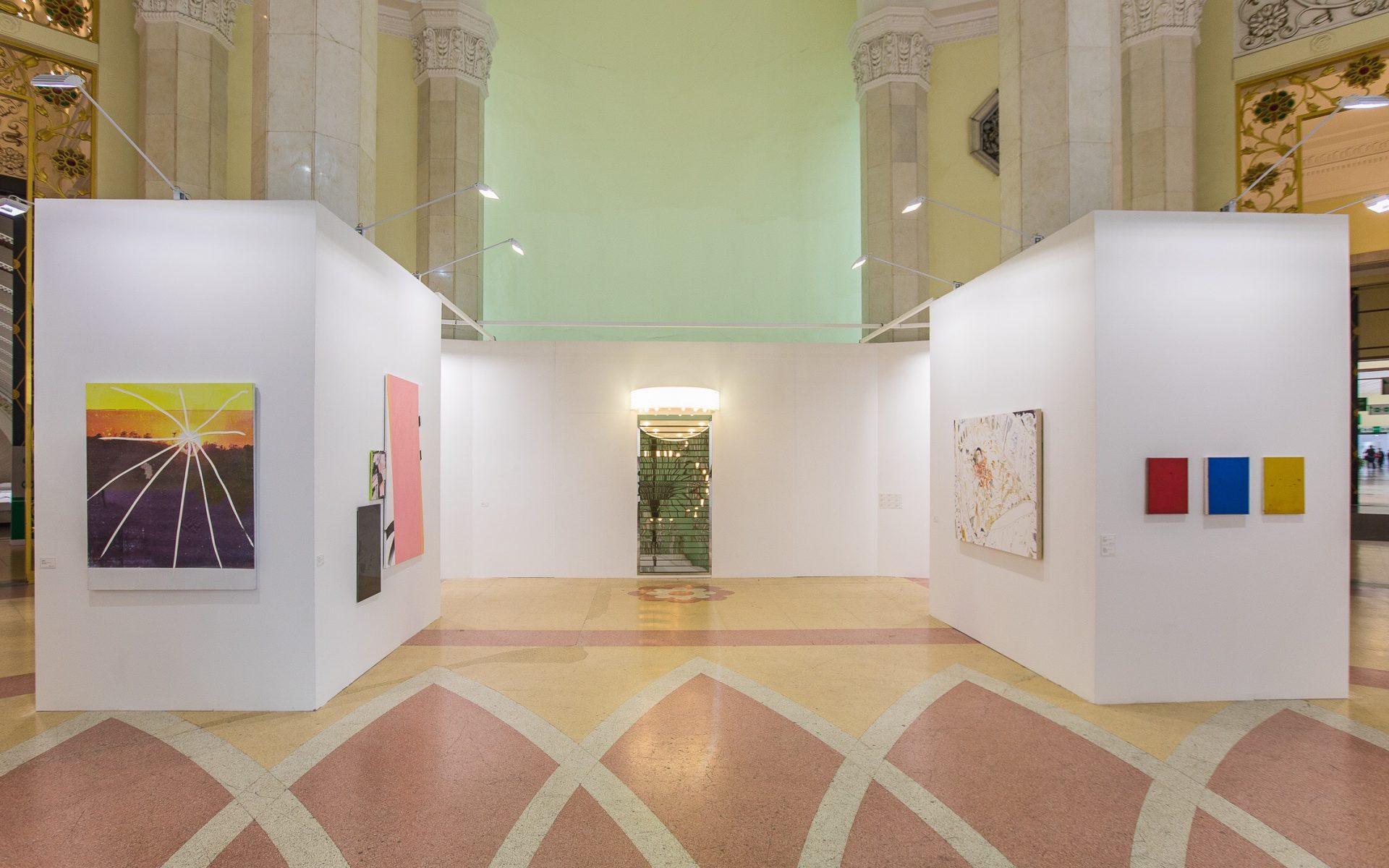 Major Galleries Flock to China for Shanghai Art Week
Art021, one of two major fairs during Shanghai Art Week, welcomed leading galleries and newcomers from around the world
"When we started Art021, Shanghai had nothing" in terms of a major contemporary art fair, says David Chau, the 32-year-old collector who cofounded the city's first one in 2013. But as the sixth edition of Art021 opened on November 8, there was no shortage of other things to do and see in Shanghai. It arrived alongside the 12th Shanghai Biennale, fellow fair West Bund Art & Design, both Cindy Sherman's and Katharina Grosse's respective debuts in China, and a few blowout parties at the Shanghai EDITION (notably the one thrown Friday night by Perrotin's newly opened Shanghai outpost—the music was hip-hop, the DJ booth a digital kaleidoscope of Takashi Murakami characters).
With the rapid growth of Shanghai's art scene, this installment of Art021 welcomed a number of newcomer galleries from around the world: Ceysson & Bénétière of Paris, DAG of New Delhi, and Gavin Brown's Enterprise of New York. But the major players were evidently still testing mainland China's waters. In a move totally unheard of in any other city, many galleries were showing at both fairs, describing Art021 as "more popular" and "experimental" while characterizing West Bund as "more precise" with a higher price point.
David Zwirner reported big opening-day sales at Art021, including a $300,000 untitled work by Francis Alÿs and a $220,000 sculpture by Carol Bove called S.O.S. At West Bund, the gallery showed a single 1969 Dan Flavin light work that by Friday had yet to sell.
"If we sell it, that's amazing. If we don't, that's okay," says sales associate Francesca Frediani, noting that as of yet very few of the gallery's collector base from the United States or Europe were coming to Shanghai. "It's important to introduce artists like Dan Flavin to Asia as part of our educational outreach."
International gallerists, including Kamel Mennour, seemed similarly invested in the long game. "For us, as we didn't know very much about the mainland business, we wanted to really smell and to taste the two contexts" of the two fairs, says Mennour, who had so far learned that a) Shanghai is very rainy and b) business continues from the first day to the last. He reported "four or five" sales as of Friday, with ongoing conversations about additional works. He described the collectors of Shanghai as "very curious" and that the growth in their knowledge of the market is "a little bit faster than ours."
Recommended: The Best Art and Design Fairs Around the World This November
L.A.-based gallerist François Ghebaly made his Art021 debut with a dozen trompe l'oeil paintings by Sayre Gomez made to look like aging stickers adhered to various surfaces and modestly priced between $7,000 and $10,000. He had sold all but one within hours of Wednesday's VIP preview. With a few pieces of Gomez's work on view at the Maurizio Cattelan–curated Yuz Museum exhibition "The Artist Is Present" and having built a mainland China collector base during the gallery's years at Art Basel Hong Kong, Ghebaly says coming to Art021 was a natural choice.
Gagosian reportedly sold much of its booth, which was devoted solely to collaborative work by Murakami and fashion designer Virgil Abloh, including their $6,000 handbags. Hauser & Wirth reported sales of four Rashid Johnson works ranging from $175,000 to $245,000, one Zhang Enli painting to a museum in China for $385,000, and a tropical-colored Martin Creed neon called Coconuts for $125,000. Later, Pilar Corrias confirmed the sale of a €1.5 million work by Philippe Parreno.
Recommended: Preview the Whitney's Major Warhol Survey, in Photos
"They all want to have a piece of China," Chau says of the major galleries flocking to Shanghai, but he resists the impulse to let it become another globalized mega-fair. Of the 103 exhibitors, 61 are from China, and this year marked the debut of DETOUR, a section of the fair curated to "investigate discourses from regions outside Euro-American geographic regions." (This year, L.A. curator Cesar Garcia's focus on the Pacific Rim included Shanghai gallery Bank; Vancouver's Catriona Jeffries; L.A.'s Shulamit Nazarian, Ghebaly Gallery, and his own Mistake Room; Mexico City's Gaga and Joségarcía; and Guadalajara's Páramo.)
"We're not trying to be a Basel or Frieze right away and shut the door to people who've never experienced or bought or sold art," Chau adds. "We've done our part to bring in people who never thought they had a reason to go to a museum." Art021's mission from the beginning has been to cultivate Shanghai's art scene on a local scale. Judging by the excitement and attention focused on Shanghai right now, he notes, "we must have done something right."
Next Post