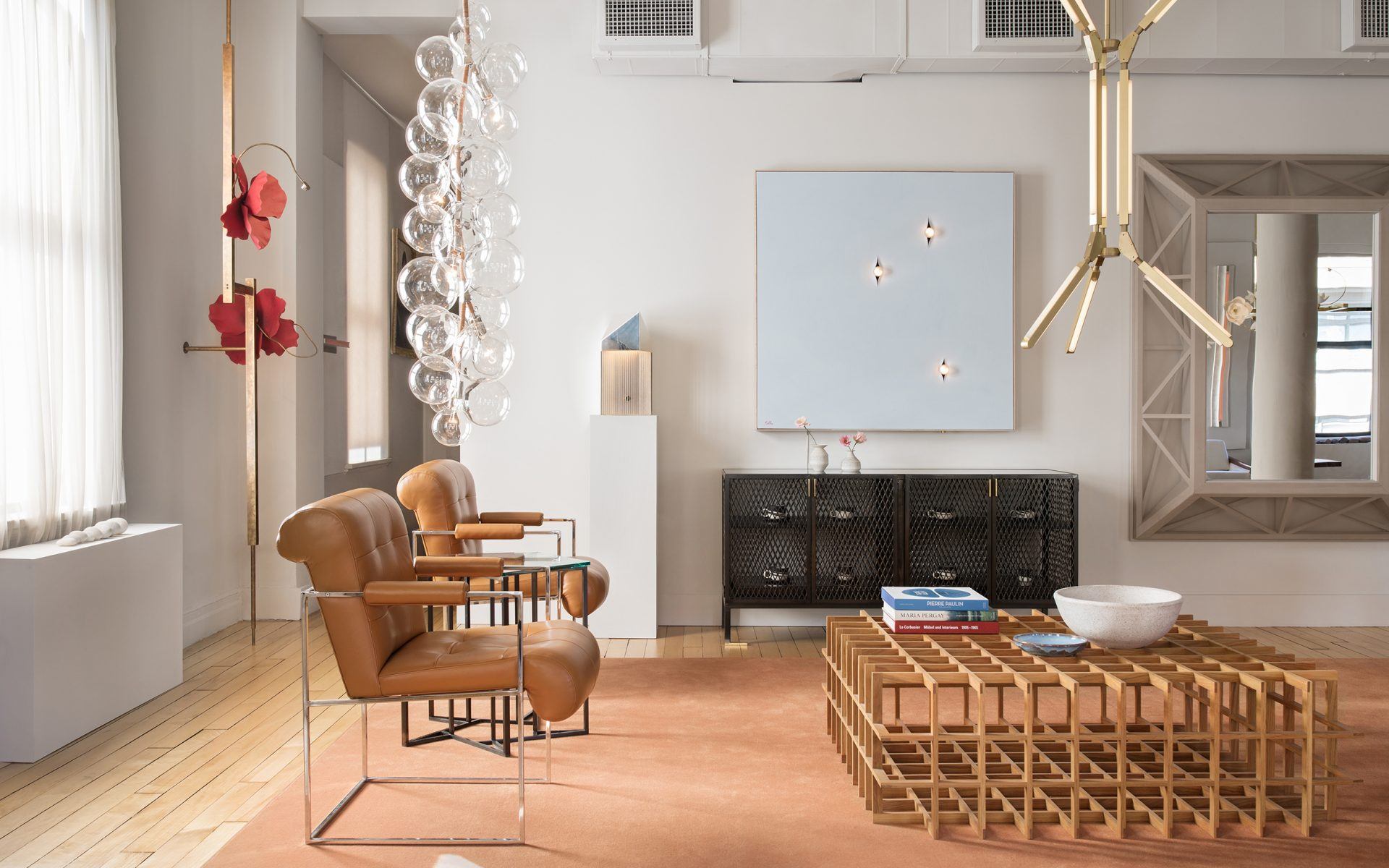 7 Sculptural Lighting Options That Instantly Transform a Space
Artful pieces by Andrea Claire, Pelle, and Liaigre pack a visual punch
Lighting is a necessity in any room, but rather than choosing fixtures based on function alone, interior designers and savvy home owners know that sculptural pieces can completely transform a space by reflecting light in dazzling ways. Here, Galerie takes a look at several recent lighting collections that stand out for their creative beauty.
1. Andrea Claire
Eco-minded architect Andrea Claire launched her namesake Los Angeles studio in 2011; these fluid works of luminosity, dubbed Sublimiation, were included in the most recent Next Level show in New York. Available as minimalist sconces or multibranched chandeliers, these otherworldly creations originated from the Japanese concept of ma, which refers to a pause between two parts. "There is something about the unfinished state that is more intriguing than the pristine one," says the designer. "We sought to highlight and deconstruct that moment with our new Sublimation collection." Claire, who has previously worked with heavy-hitters like Frank Gehry and the Rockwell Group, made her debut with the Constantin collection, combining old-world techniques with cutting-edge technology.
Recommended: 9 Must-See Museum Shows in New York This Summer
2. Pelle
Dubbed Incise Paintings, these fixtures from New York studio Pelle were inspired by the cut-canvas works of artist Lucio Fontana. "Generally, we see ourselves as designers rather than artists," says Jean Pelle, who cofounded the company with her husband, Oliver. "We are very much interested in creating objects that have a purpose." The fixtures, which are available in a range of sizes and hues, each set in a solid oak frame, were born when Jean created a colored canvas to cover an unsightly area of her workspace, then added bulbs to make the piece useful as well as beautiful. "We look to art for its methods and processes in creating impact," says Oliver. "That's why we are so interested in experimenting with fabrication methods that are not used in making products but are typically reserved for the fine arts." The collection is a shining addition to the Pelle oeuvre, which includes the blossom-covered Lure, geometric Tripp, and tropical Palm Bubble chandelier.
3. Saint Louis
Award-winning French designer Noé Duchaufour-Lawrance and iconic crystal atelier Saint-Louis have teamed up for the contemporary Folia collection of chandeliers, sconces, and table lamps. Beveled crystal pieces designed to conjure the French countryside are mounted on branches of varying woods and completed with brushed brass or chrome to create an elegant yet modern installation.
4. Liaigre
Minimalist pendant lights get a sculptural update in Liaigre's latest design, Cavalerie. An artful marriage of black-patina brass and aquarelle paper makes this high-contrast suspension look perfectly simple yet remarkably chic.
Recommended: Baccarat and Lady M Cake Boutique Partner on a Lavish Cake Truck Experience
5. Hammerton
Headquartered in Salt Lake City, custom-lighting design studio Hammerton has created remarkable fixtures for the Ritz-Carlton, Four Seasons, St. Regis, and other leaders in luxury hospitality. Its residential creations are equally stunning, including the Element chandelier, made from handblown glass prisms. New is the Blossom ring chandelier, which fuses LED-lit, handblown glass blooms to a polished metal ring, as well as the octagonal Glacier, which uses sparkling baguettes of recycled artisan-cast glass to capture the dazzling effect of glistening snow.
6. WonderGlass
The traditional elements of Murano glass get a sculptural edge at Christian and Maurizio Mussati's studio, WonderGlass, which has created intricate installations for Marcel Wanders, Zaha Hadid, and Nao Tamura, among others. Based in London, the father-and-son duo recently created a collection with prolific Japanese design firm nendo called Melt, in which fluid pieces are formed by draping molten glass over steel shapes to create functional art as well as a showstopping chandelier, which made its debut at Fuorisalone during Milan Design Week.
7. John Pomp
Philadelphia studio John Pomp includes glassmakers, woodworkers, metalsmiths, and leather artisans all under one roof. To create the delicate Ostrea chandelier,  fluidlike disks are layered by hand on a three-tiered metal frame; the piece can be customized with a variety of metal finishes mounted with either clear or iridescent crystals.
Next Post