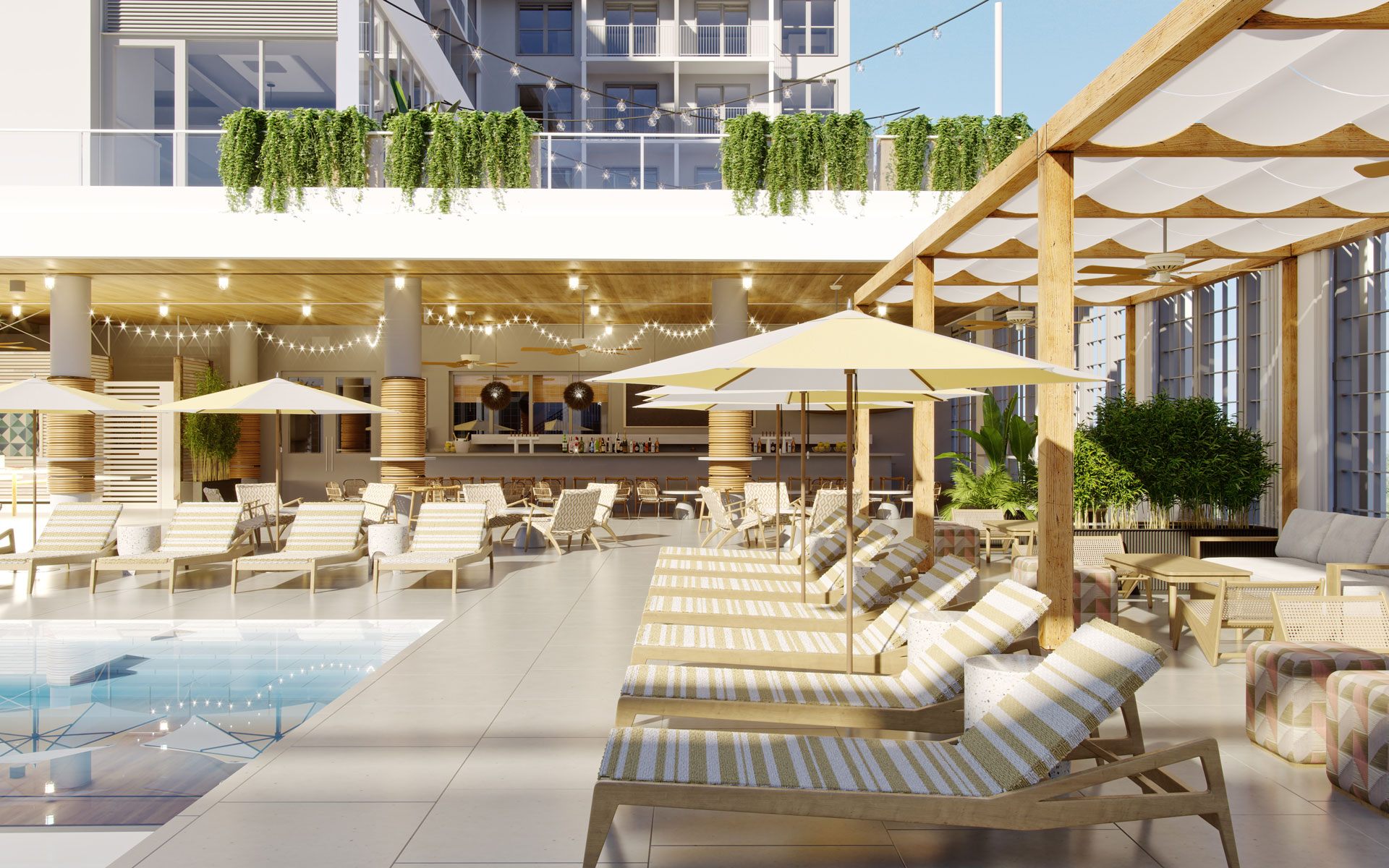 The Rockaway Hotel Promises to Be a New Creative Hub for the Arts Community
With a prime location steps from the beach and year-round cultural programming, the beachside haven is bound to attract tourists and locals alike
While many New Yorkers flock to the Hamptons and Hudson Valley at the first sign of warm weather, waterside respite and cultural stimulation can be found much closer to the city in the Rockaways. In 2014, two years after Hurricane Sandy decimated the Queens beach, MoMA PS1 launched Rockaway! summer festival to revive the community. Now, beginning this month, the Rockaway Hotel—a project ten years in the works—is making the peninsula a year-round destination for art lovers.
7G Realty and IGC Hospitality dreamed up the 84,000-square-foot venue, whose amenities reflect the Rockaways' diverse culture and attractions. Wellness and adventure seekers alike can enjoy the property's plethora of amenities, among them a full-fledged spa, heated pool, surf school, and boat lessons; live-music fans can listen to performances and DJ sets; and those looking to shop can visit the in-hotel outpost of Manhattan boutique Warm. In addition to four dining spots, the rooftop offers 6,000 square feet of indoor and outdoor space, and like the 53 guest rooms and eight long-stay residences, it boasts views of the Atlantic Ocean, Jamaica Bay, and the Manhattan skyline.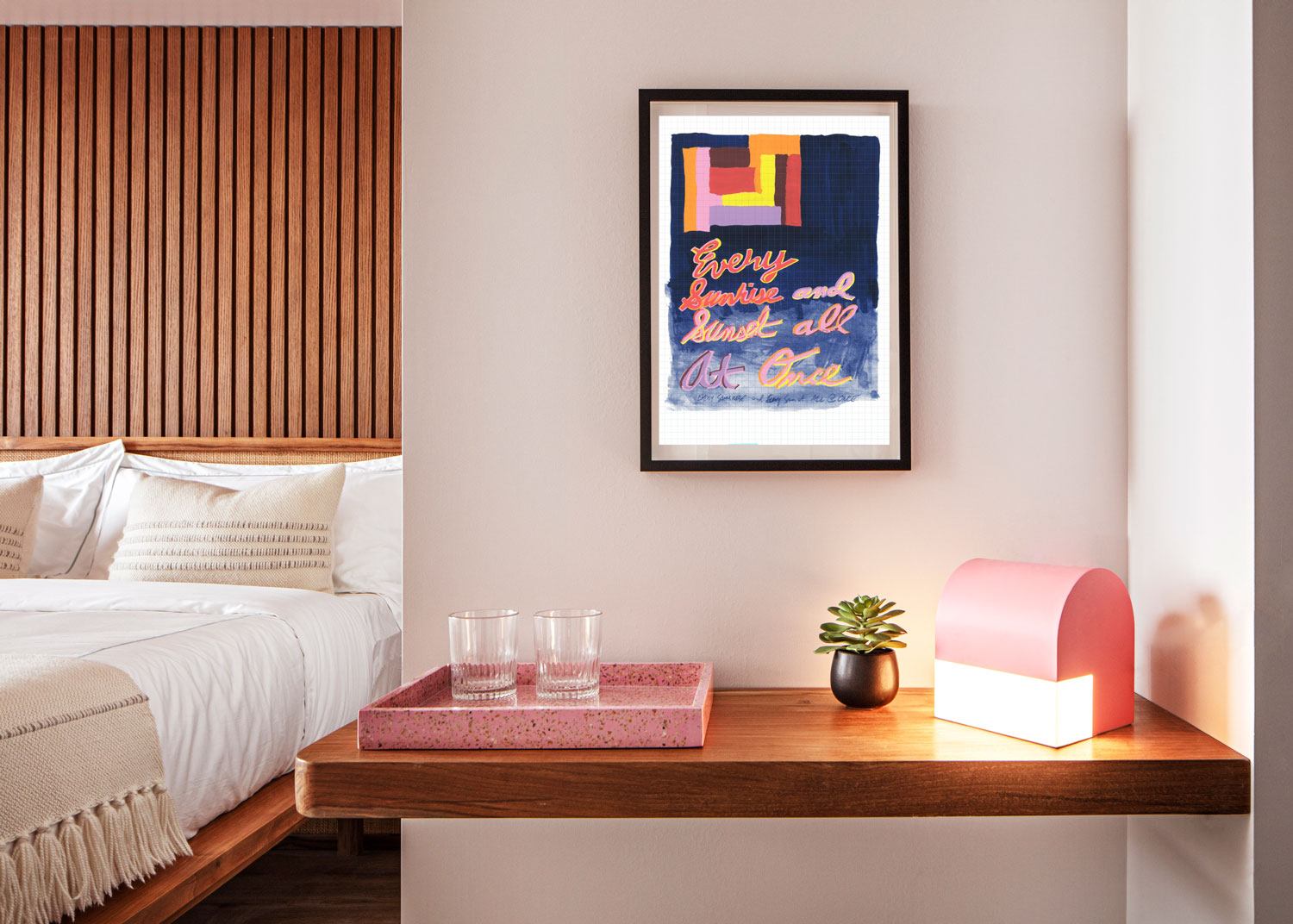 Visual art, however, is at the hotel's core. "Long before we broke ground, I embarked on a listening tour to not only honor the rich legacy and work of the artists, activist, and community organizations that currently and historically worked to preserve it but also to gain a better understanding of the depth and breadth of the community's needs," Michi Jigarjian, the hotel's partner and chief social impact officer, tells Galerie.
"Art has really become the soul of the hotel"

Michi Jigarjian
As the president of Baxter St at the Camera Club of New York (a nonprofit organization for underrepresented artists) and the cofounder of New Draft Collective (an artistic practice, facilitator, and publisher), Jigarjian passionately believes in fostering community through art. "Art can be a catalyst for social change, so naturally it became the connective tissue and bridge to the already vibrant community of the Rockaway Peninsula."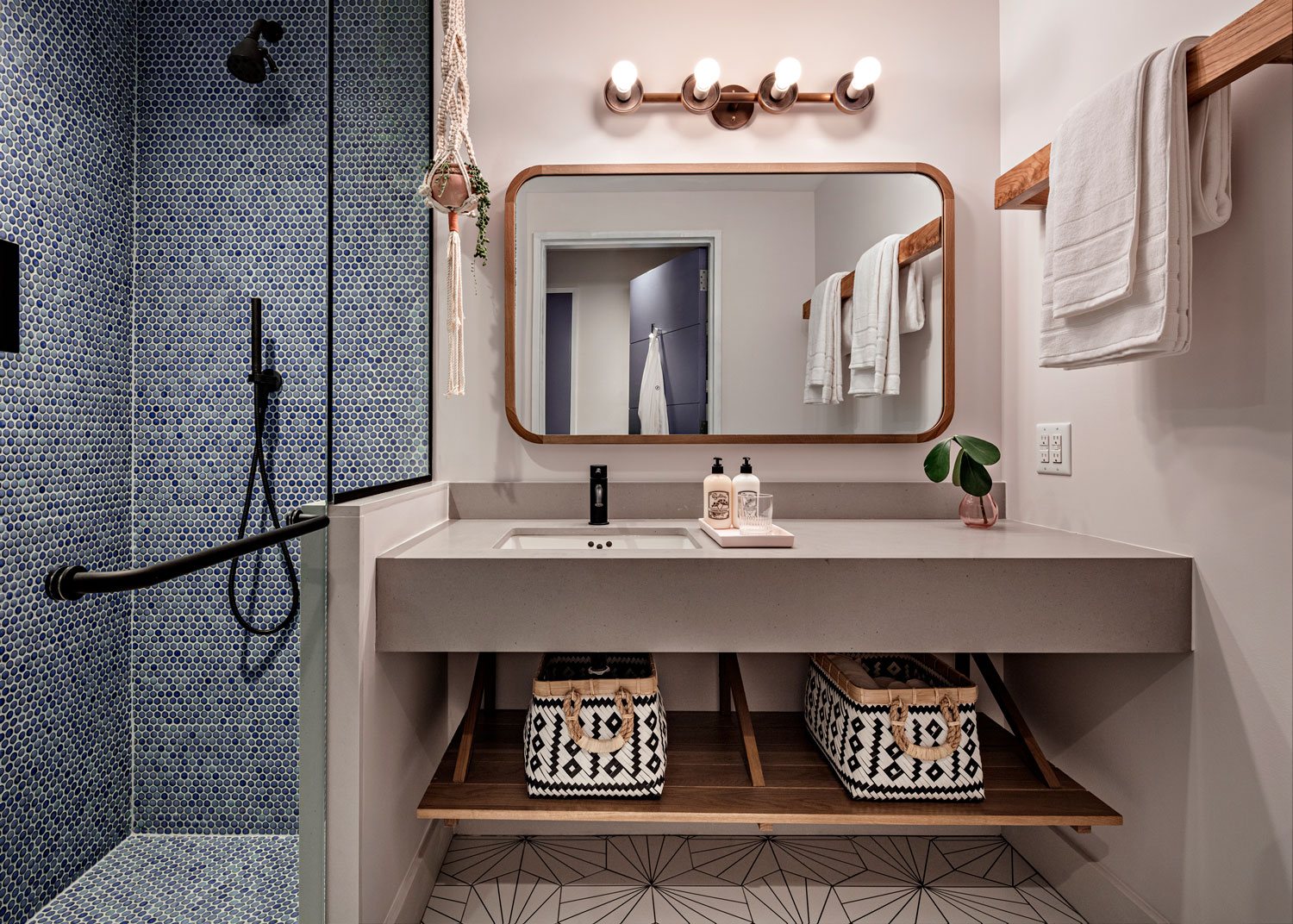 Beginning with the lobby, works by both local and international artists were thoughtfully chosen and placed within architect Morris Adjmi and Curious Yellow Design's interiors. The 1960s beach culture and Rockaways' bungalow aesthetic were among the hotel's chief influences, as were minimalist, soothing Scandinavian design and sustainability. Bubblegum-pink furniture and decor punctuate the space's softer sand-and-sky-like palette, filled with textured weaves, linens, natural teak, cedar, and rattan accents.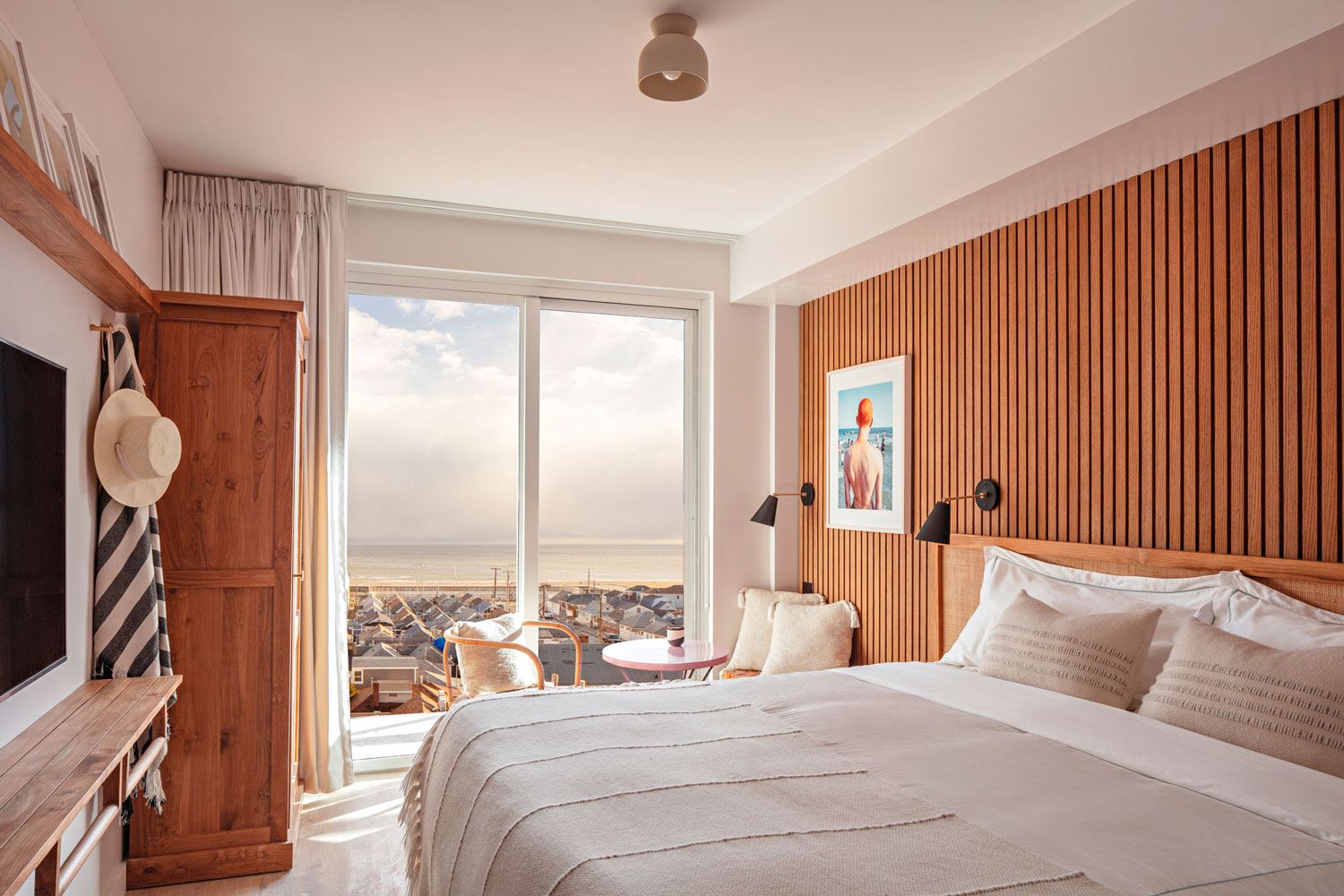 From commissioned works by Zoe Buckman, Hannah Whitaker, and Kennedy Yanko to pieces by Derrick Adams, Roe Ethridge, and Tom Sachs, art factors into every guest room. Jigarjian sourced photographs and print editions from nonprofit visual arts organizations and collectives, including Aperture Foundation, Magnum Photos, and Printed Matter. Amid COVID-19, the hotel also contributed substantially to Pictures for Elmhurst, a sale of work by New York photographers, with all proceeds benefitting Elmhurst Hospital Center medical workers.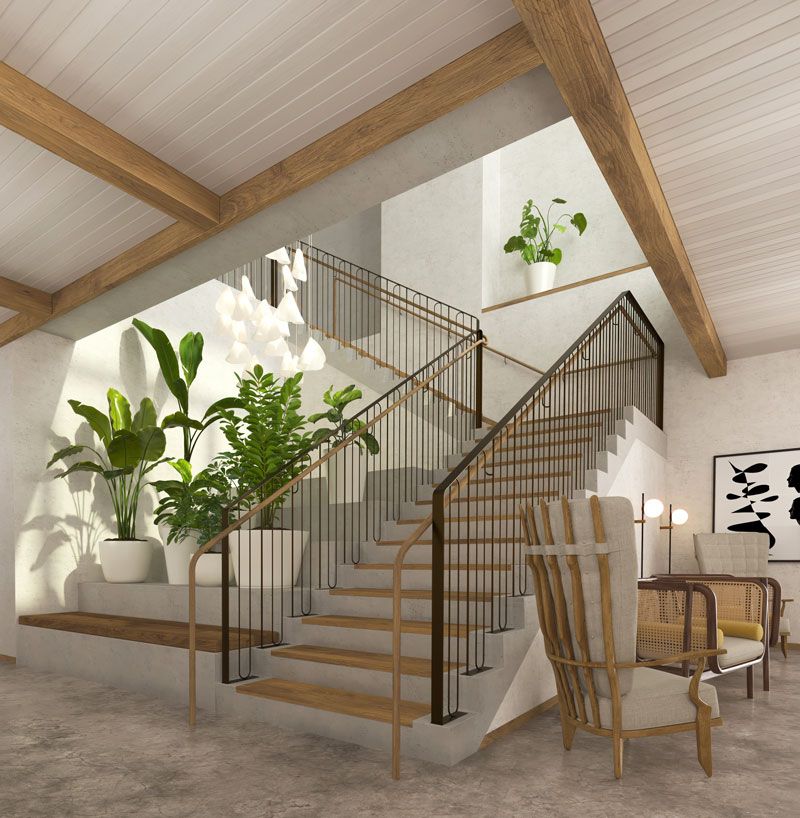 Art can also be seen outside the hotel, allowing for a socially distanced public art experience. The hotel is a sponsor of the augmented reality Liberty Bell Project, presented by the Art Production Fund and Jamaica Bay-Rockaway Parks Conservancy. Part of this project is a VR activation by multidisciplinary artist Nancy Baker Cahill, who uses geotags to create abstract, prismatic, digital installations. Visitors can download a free app to view the work, which, Jigarjian adds, will be particularly visible from the hotel's rooftop starting July 4. This fall, the hotel's Big Yard Mural Project will also launch. In partnership with the Friends of Seaside Playground and Waterside Children's Studio School, this new mural initiative will raise awareness for the frequently used space located directly adjacent to the hotel.
"Art has really become the soul of the hotel," says Jigarjian, whose ultimate goal is for the venue to be an anchor in the Rockaway community. Whether for local artists or Manhattanites looking for a staycation with a change in scenery, she hopes the hotel will not just be an urban beach but also "a living room for all."
Next Post