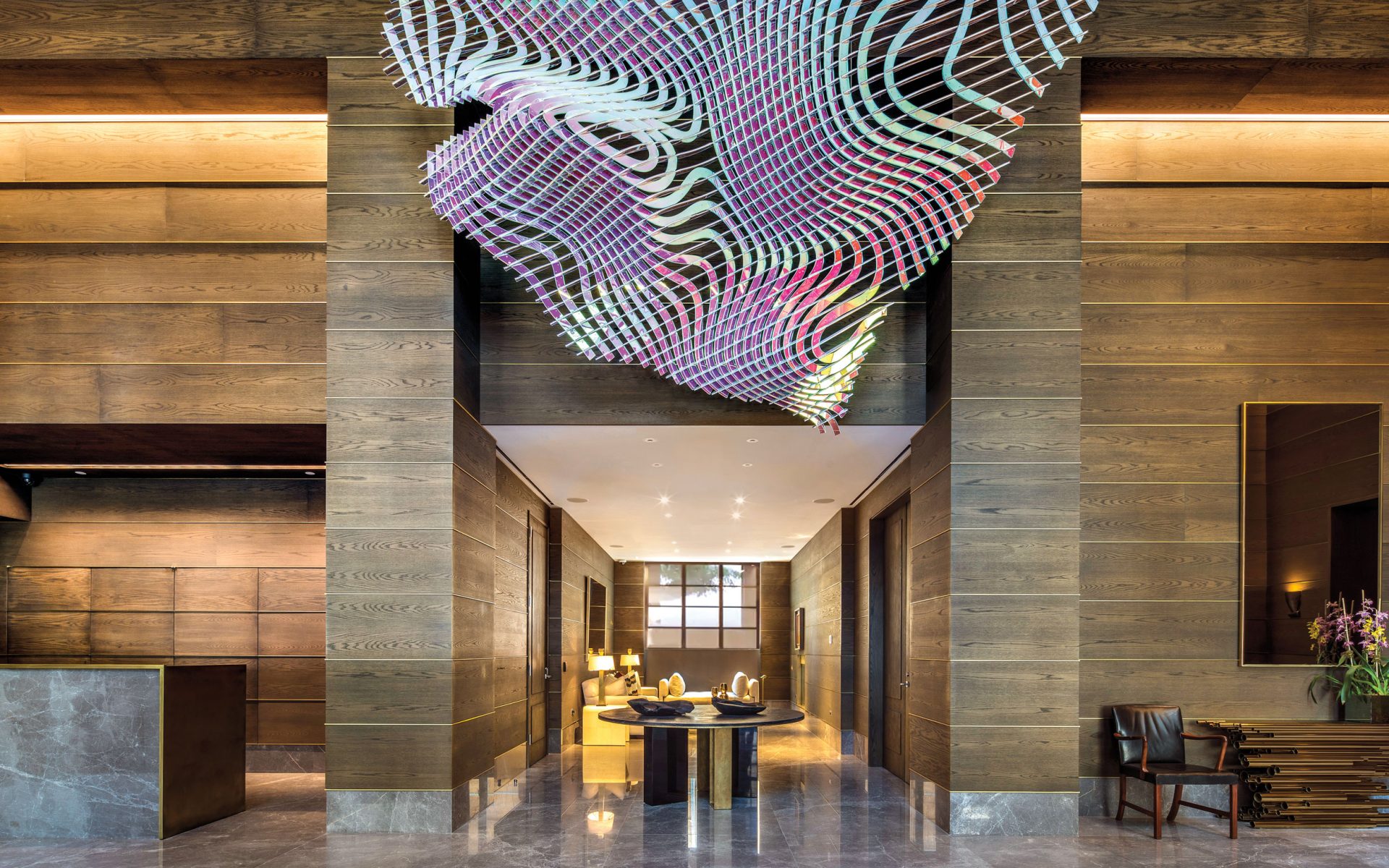 Site-Specific Art Is the Hottest Amenity in Luxury Real Estate
From Anish Kapoor's bean-like sculpture at 56 Leonard to Alyson Shotz's undulating piece for 70 Vestry, custom creations take center stage
Gone are the days when developers paid scant attention to the art that graced their residential projects. Today, the ultimate status symbols in real estate are custom-made artworks and professionally curated programs available only to residents.
Leading the charge is Related Companies, which is investing $150 million at its Hudson Yards mega-project on Manhattan's West Side to construct a 15-story, copper-tinted sculpture by Thomas Heatherwick that is set to open in 2019. "It will be to New York what the Eiffel Tower is to Paris," said Related's CEO, Stephen Ross, at last year's groundbreaking.
The organization has also enlisted Manhattan art adviser Debra Bosniak to consult on various residential developments, among them 70 Vestry, the new limestone stunner designed by Robert A.M. Stern, with interiors by Daniel Romualdez. One of the challenges Romualdez faced was finding just the right commission for the 46-unit building, which boasts a double-height entrance. "Many lobbies have an unusual scale, so finding a piece for them is difficult," he explains. "We knew one work had to be site-specific."
Recommended: Argentine Mega-Collector Eduardo Costantini Talks About His Future Plans
Bosniak and Romualdez headed to Art Basel in Miami Beach, interviewing artists before selecting Brooklyn-based Alyson Shotz, whose hanging creation, dubbed Aileron, mimics a butterfly's wing and reflects the changing light over the Hudson River.
A few blocks east is 56 Leonard, which developer Izak Senbahar, of Alexico Group, hails as an "unprecedented collaboration between artist and architect." Come fall, a shiny, bulging sculpture by Anish Kapoor will nestle under a cantilever at the entrance to the tower, which was designed by Herzog & de Meuron. "The building and sculpture appear to form a unified object," says Senbahar. "It's true synergy."
In Miami, Argentine developer Eduardo Costantini, who also founded MALBA (the Museum of Latin American Art of Buenos Aires), recently opened Oceana Bal Harbour, a 28-story glass jewel box by Arquitectonica, with interiors by Piero Lissoni. Costantini spent $14 million on a pair of giant works by Jeff Koons, Seated Ballerina and Pluto and Proserpina, which now enjoy pride of place on the Enzo Enea–designed grounds among pieces by Callum Innes, An Te Liu, and Jorge Mendez Blake. As a resident of Oceana you automatically own a stake in the exclusive art program.
The record-setting sales at these properties prove this approach does indeed appeal to luxury buyers, but Romualdez notes there's an added benefit: "It's a great opportunity for developers to be part of the art world and start a dialogue with artists." Given the success, expect that dialogue to continue.
A version of this article first appeared in print in our 2018 Fall Issue under the headline Haute Property. Subscribe to the magazine.
Next Post