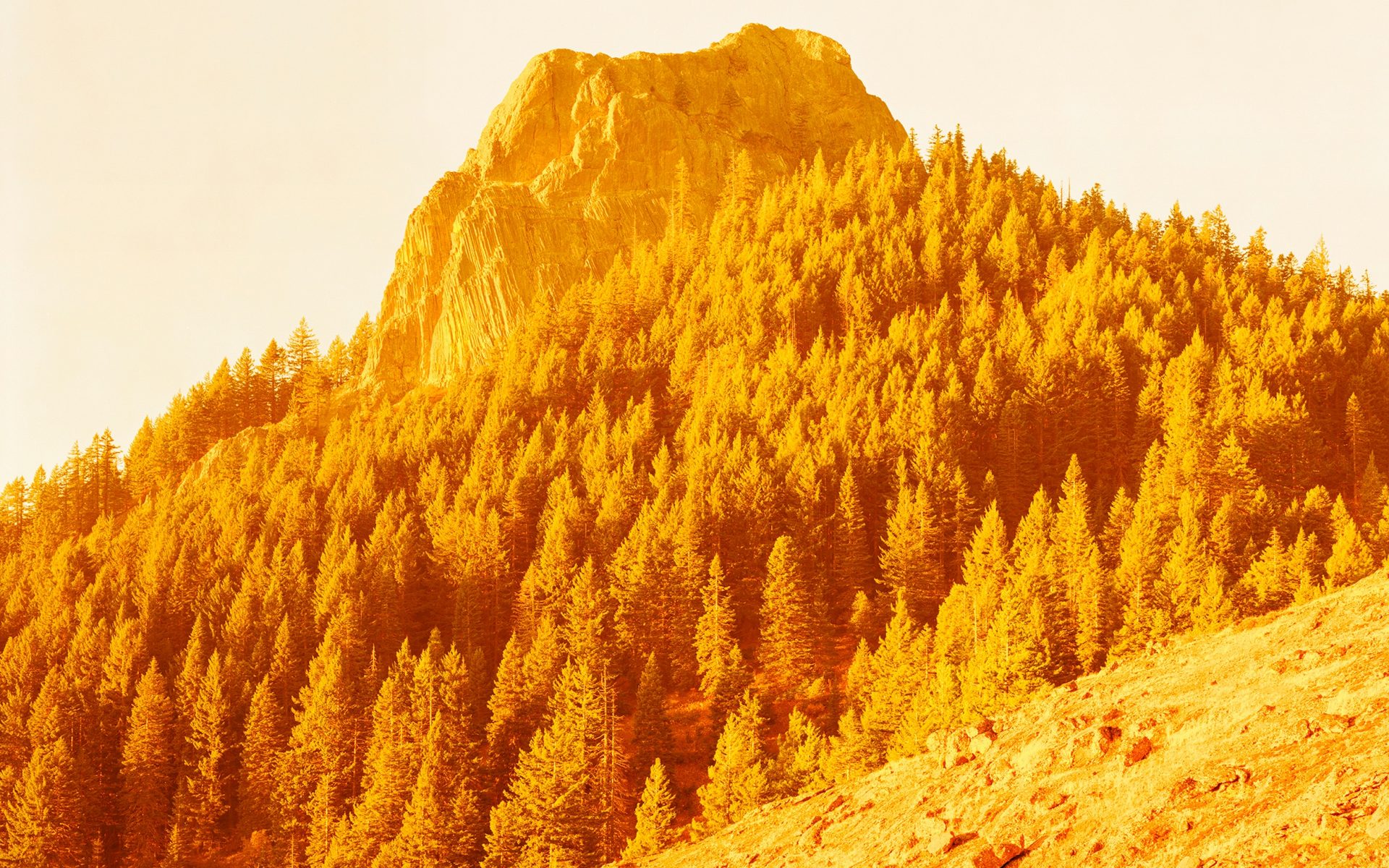 Focus on Photography: 7 Not-To-Be-Missed Solo Shows in New York
Contemporary photography is a major focus of the city's September shows
From Alex Prager's staged scenes from her cinematic ode to Los Angeles and Laura Letinsky's psychological still lifes to George Byrne's painterly pictures of urban streets and David Benjamin Sherry's colorful vision of the American West, we've rounded up seven not-to-be-missed solo presentations by artists who continue to push the boundaries of the beloved medium.
1. Alex Prager: Play the Wind
Lehmann Maupin
Through October 26
Centered on her film Play the Wind, Alex Prager's engaging exhibition presents the eight-minute movie projected in its own room. Spread throughout the remainder of the gallery are a series of related photographs and her first sculpture, which is a tribute to famous roadside attractions. Depicting a dreamlike day in L.A., the surreal film begins with an anxiety-ridden man driving around the city in the early hours of the morning and wraps with a determined woman taking his place behind the wheel at night.
Referencing Bruegel's painting The Fight Between Carnival and Lent, photographs by Joel Sternfeld, and such classic movies as The Day of the Locust and Vertigo, Prager's film and large-scale photos feature costumed friends, family members, and scores of extras, alongside professional actors like Riley Keogh, the daughter of Lisa Marie Presley. Chock-full of clues to our cultural past, the show offers a montage of memorable moments, which compellingly come together to construct an offbeat love story to the artist's hometown.
2. David Benjamin Sherry
Salon 94 Bowery
Through October 26
Best known for his grand photographs of the American West, David Benjamin Sherry uses a large-format camera to document majestic landscapes in much the same way that Charlton Watkins and Ansel Adams did in earlier times but with a twist. Sherry makes jumbo pictures and beautifully tints his prints in vibrant, monochromatic colors. The artist has a deep spiritual relationship to these monumental sites, which he dramatically communicates through his impassioned imagery.
Sunrise on Pilot Rock, Cascade Siskiyou National Monument, Oregon, for example, captures the historical landmark for pioneers traveling north on the Applegate Trail, with trees cascading down the side of the volcanic plug in bright yellow tones. A picture from the Valley of the Gods depicts a sacred butte jutting up from the desert landscape with a luscious ultramarine shading. And his photo of the Grand Plateau in Utah portrays one of the most remote areas of the country via a bold, red palette. Important historical and ecological sites, the latter two recently became politicized when President Trump ordered a reduction in their lands, opening the door to destructive mining, drilling, and hunting.
3. Laura Letinsky: To Want for Nothing
Yancey Richardson
Through October 19
A master of contemporary still life photography, Laura Letinsky produces psychologically charged pictures that poetically capture our contemporary times. Using existing imagery culled from catalogues and magazines, she collages pictures of fashion models and objects on the shifting planes of tabletops and paper scrims to present fragmented visions of luxurious living. Primarily portraying white fields scattered with torn and cutout images of people, places, and things, her large-scale color prints construct haiku-like tales.
Recommended: 6 Key Moments from Cindy Sherman's Remarkable Career
Untitled #5 presents a handsome alpha male in a red-and-white-striped shirt confidently posed above a reclining woman in a red dress and a pointy abstract sculpture, while Untitled #31 juxtaposes a cutout of a tiny statuette with tear sheets of a Roy Lichtenstein mirror painting, a woman with a pearl choker, and two stacked jelly doughnuts. Taken as a whole, the series offers glimpses into the American Dream, but one that can be achieved only if your credit cards are not already maxed out.
4. George Byrne: Exit Vision
Olsen Gruin
Through October 6
Working on-site in Los Angeles, Miami, and Sydney, George Byrne documents the urban landscape by focusing on the colors, shadows, shapes, and textures that he discovers while roaming desolate streets. Returning to his L.A. studio, he digitally collages elements of this photographic content into large-scale prints that balance bits of nature with concrete forms. With a keen eye for color and form, Byrne constructs his pictures like an abstract painter, with stark geometric planes defining his striking compositions.
Target # 1 displays a big red dot on a field of black, blue, and yellow forms to suggest a Mondrian-like canvas. Pink Tile captures a barred window in a grid of pink tiles on a stucco wall to bring to mind a Peter Halley cell painting, while Peach Wall #2 presents a pink monochromatic ground geometrically dissected by shadows and architectural shapes. In Post Truth, however, it's three Cyprus trees in the midst of their geometric surroundings that grab the eye and, in the process, highlight the metaphysical nature of all of the artist's dynamic works.
5. Hiroshi Sugimoto
Marian Goodman Gallery
Through October 26
Taking modernist masterworks as his point of departure, the esteemed Japanese artist Hiroshi Sugimoto wants to take us back to the moment of an artist's initial vision of a yet-to-be-created artwork by photographing isolated pieces slightly out of focus. Documenting seminal works by Duchamp, Giacometti, Picasso, and others that are part of celebrated collections like the Museum of Modern Art, Guggenheim Museum, and the Beyeler Foundation, Sugimoto transforms these objects into dreamy, black-and-white images that seemingly freeze the icons in another dimension.
Past Presence 023, Rotary Demisphere, Marcel Duchamp presents Duchamp's experimental optical machine with its rotating dome strangely stilled in a spiraling position. The lanky form of an Alberto Giacometti sculpture is caught in the corner of a gallery at MoMA like a genie rising from a bottle in Past Presence 001. And Pablo Picasso's plaster head of Marie-Thérèse Walter is the ghostly subject in Past Presence 026. With fuzzy portrayals of paintings by Johns, Matisse, and Warhol also in the mix, Sugimoto's show becomes an imaginary realm for creative sleepwalkers who dream of a night at the museum.
6. Sara VanDerBeek: Women & Museums
Metro Pictures
Through October 5
A postmodern artist who uses photography to create conceptual works, Sara VanDerBeek photographs museological objects in existing light and then remixes the art-historical items to examine their role in representation. For the pictures from her "Women & Museums" series, VanDerBeek researched the archives of the Minneapolis Institute of Art to source objects that depict women as muses or reflect women's work through craft. Documenting figures, faces, and vessels, she crops, layers, and tints the imagery to make screen-like pictures that are similar to the ones we flip through on smartphones yet on a larger scale.
Exhibited at MIA earlier this year, the big pictures were paired with a selection of textiles, pottery, sculptures, and photos from its collection to look at photography's part in shaping the reception of women in culture. Here, the six photos are displayed across three walls. Women & Museums V presents the image of a Pueblo bowl by a contemporary woman potter superimposed on the marbleized pattern of a Japanese kimono, while other works in the series repeat images of African and Roman sculptures and juxtapose traditional Japanese masks. Printed in rich lavender tones, the pictures create a meditative installation that packs an imposing punch.
7. Leslie Hewitt: Reading Room
Perrotin
Through October 26
Primarily working with a single-frame image that gets changed by way of simple shifts and rearrangements, Leslie Hewitt uses books, found objects, and photographs to construct sculptural pictures that convey her thoughts on art, philosophy, and black culture. Utilizing a frame-within-a-frame setup, Hewitt photographs a rectangular piece of wood, which is the same sort of elm as her deep box frames, sitting atop a stack of books with some of the spines showing their referential titles. Scattered snapshots, shells, and rocks accompany the planks and books, as the framed pictures get propped against the gallery walls as though still waiting to be installed.
The leaning pictures are joined by white metal sculptures placed throughout the space, while the exhibition extends into the gallery's bookstore, which has been stocked with books that are central to the artist's conceptual art practice. The store will also serve as a forum for talks and readings. In it, a big-screen monitor presents concrete poetry, while an altered photograph of the National Memorial African Bookstore, where luminaries like Malcolm X and Eartha Kitt once shopped, references a time when Harlem was a hotbed for creative and intellectual thought.
Next Post