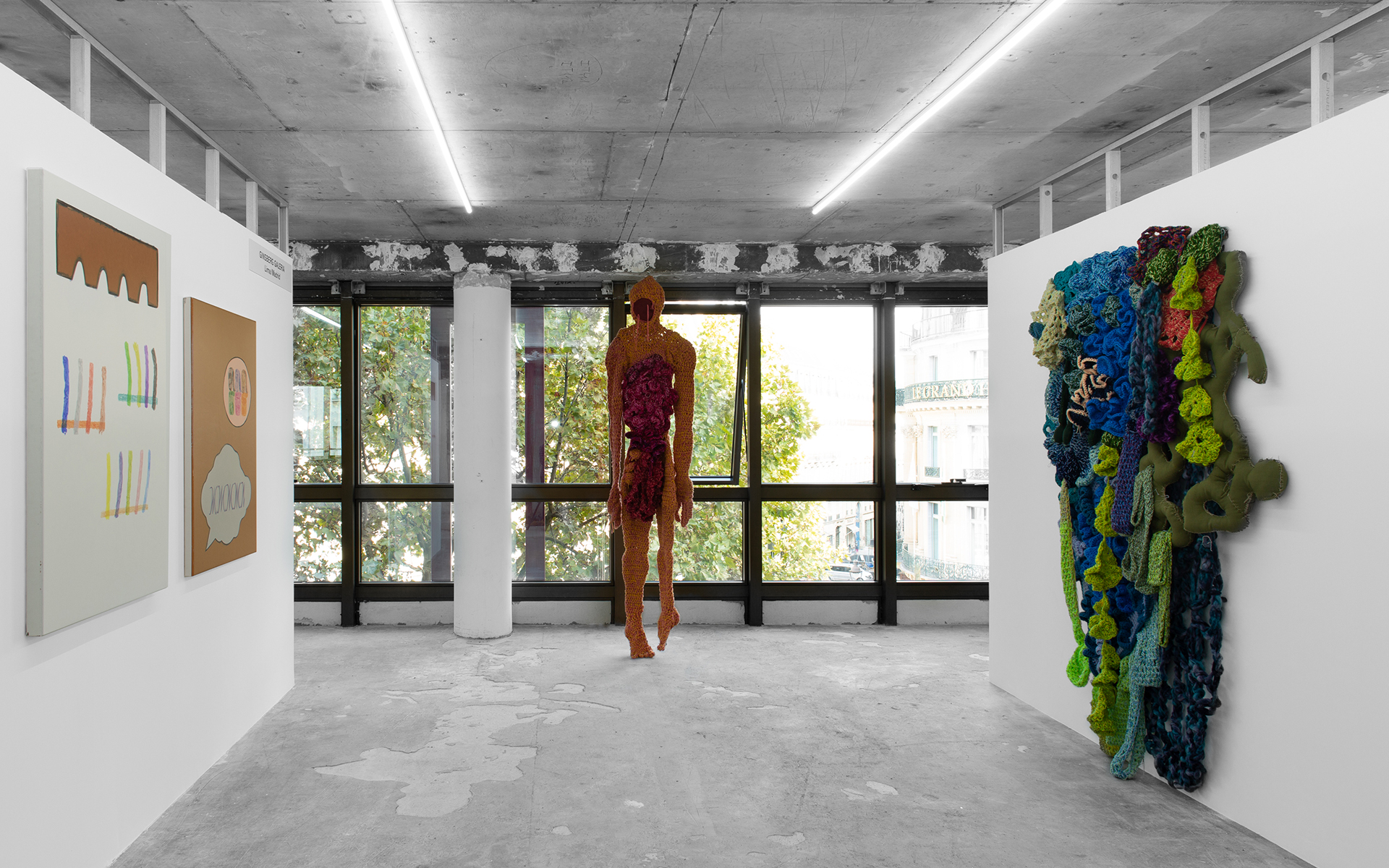 7 of the Best Gallery Booths at Paris Internationale 2022
The eighth edition of the contemporary art fair features Justine Kurland's collages and sculptural assemblages by Mara Wohnhaas
Hosting 60 contemporary art galleries from 26 countries, Paris Internationale, returns for its eighth edition of the fair at a new location, the former studio of French photographer Nadar and the site of the first Impressionist exhibition in 1874, in the second arrondissement of Paris.
A cross between the NADA Art Fair, which focuses on emerging artists, and the Spring Break Art Show, which prefers previously abandoned locations, Paris Internationale 2022, which runs through October 23, occupies four floors of a patched-wall structure with exposed skeletal beams that's been built-out with a free-flowing design, which brings the art and galleries into a fascinating dialogue with whatever is visibly nearby.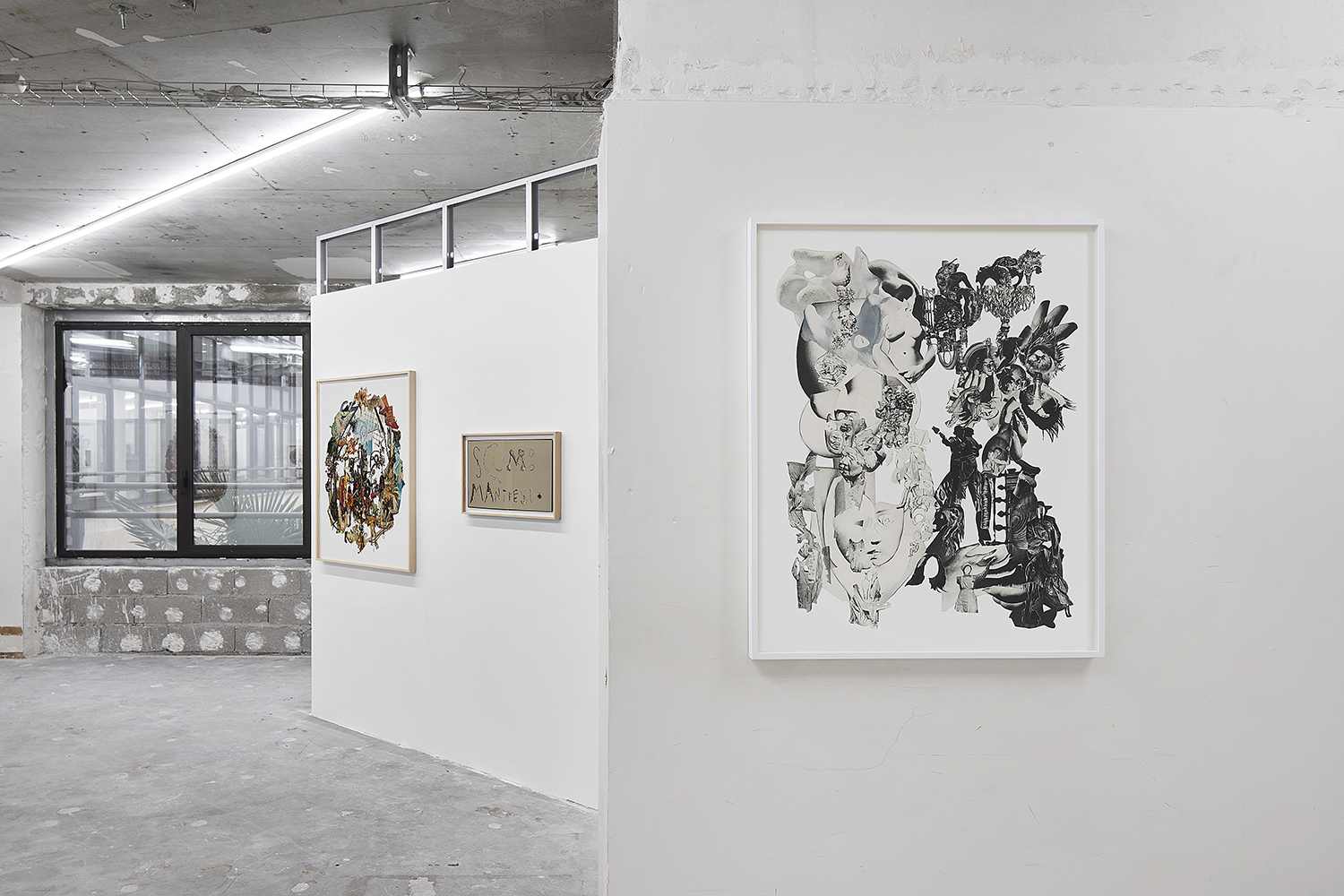 "The only way of survival for young galleries is to create a community, which is exactly what Paris Internationale has done. It presents very good galleries from around the world," Belgian art collector Alain Servais shared with Galerie on opening day. Commenting further on the fair, Stefano Pirovano, director of Conceptual Fine Arts, a Milan-based publication, gallery and consulting agency and a media sponsor for the 2022 edition of the fair, told us, "Changing the venue every year stimulates creativity for the artists and galleries. It's about keeping it contemporary rather than repeating the same thing."
Highlighting works fresh from the studios, Galerie has selected the best presentations at the fair, ranging from solo shows of Justine Kurland's collages made from cutting up other artists' works and Mara Wohnhaas' sculptural assemblages constructed with found objects to the pairing of Romane de Watteville and Chalisée Naamani, who have a shared aesthetic interest in fashion, and David L. Johnson and Kelsey Isaacs, who are drawn to the readymade devices and shiny consumer goods.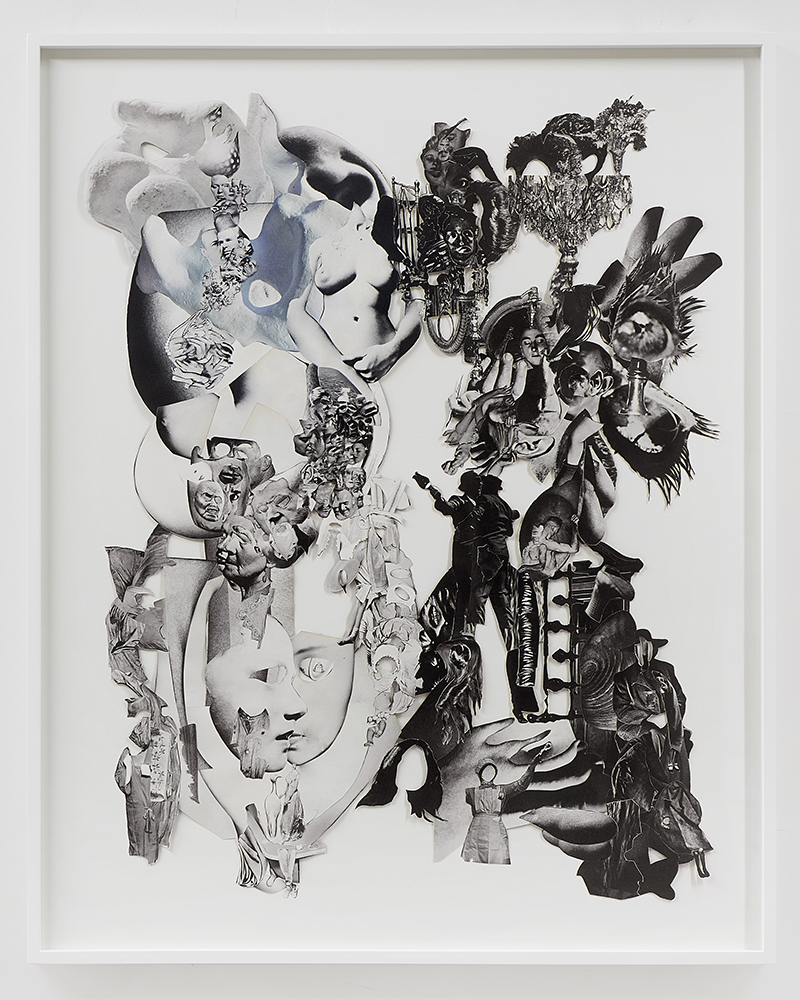 1. Higher Pictures Generation, New York
In 1968 radical feminist and writer Valerie Solanas gained instant notoriety when she shot Andy Warhol for losing the script to her play Up Your Ass, but when her story was better known she became equally famous for writing and self-publishing the SCUM Manifesto in the year prior to the shooting. Taking the writer's SCUM (Society for Cutting Up Men) philosophy as her point of departure, artist Justine Kurland recently created the Society for Cutting Up Men's Books, which grants her license to re-author the published works of famous male photographers, such as William Eggleston, André Kertész and Boris Mikhailov, as her own photographic collages by cutting up and re-ordering the images in their celebrated books.
Presenting the solo exhibition "Justine Kurland, SCUMB Manifesto" at the fair, New York's Higher Pictures Generation offered a dozen new collages by the artist, including the striking piece Shadow and Light, which deconstructs British photographer Bill Brandt's iconic book of black-and-white pictures from a 2013 exhibition, which featured several of Bill Brandt's female nudes, at the Museum of Modern Art in New York. According to the gallery, "Before making the work available to collectors Kurland offered to sell them to the original photographers. None of the men have taken her up on her offer."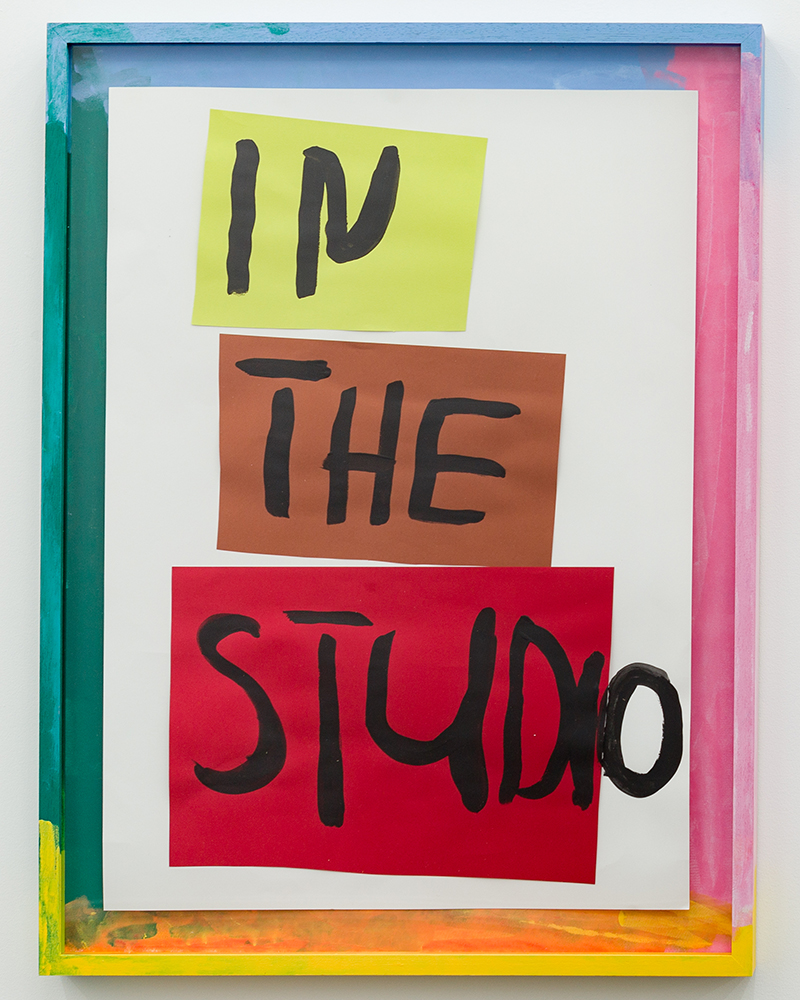 2. Kendall Koppe, Glasgow
Pairing collage-paintings by Scottish artist Leanne Ross with mixed-media ceramic sculptures by her mentor Laura Aldridge, Glasgow's Kendall Koppe gallery presented a lively show highlighting overlapping interests in color and form between the two women artists. Ross's works on paper present words and phrases, which she overhears in passing conversations, brushed in sumi ink on sheets of tinted paper that are assembled in frames she personally paints. Aldridge's ceramic sculptures, meanwhile, also exist as an expanded form of collage, where the Glasgow-based artist mixes found and made objects and materials with her tactile, playfully crafted clay pieces.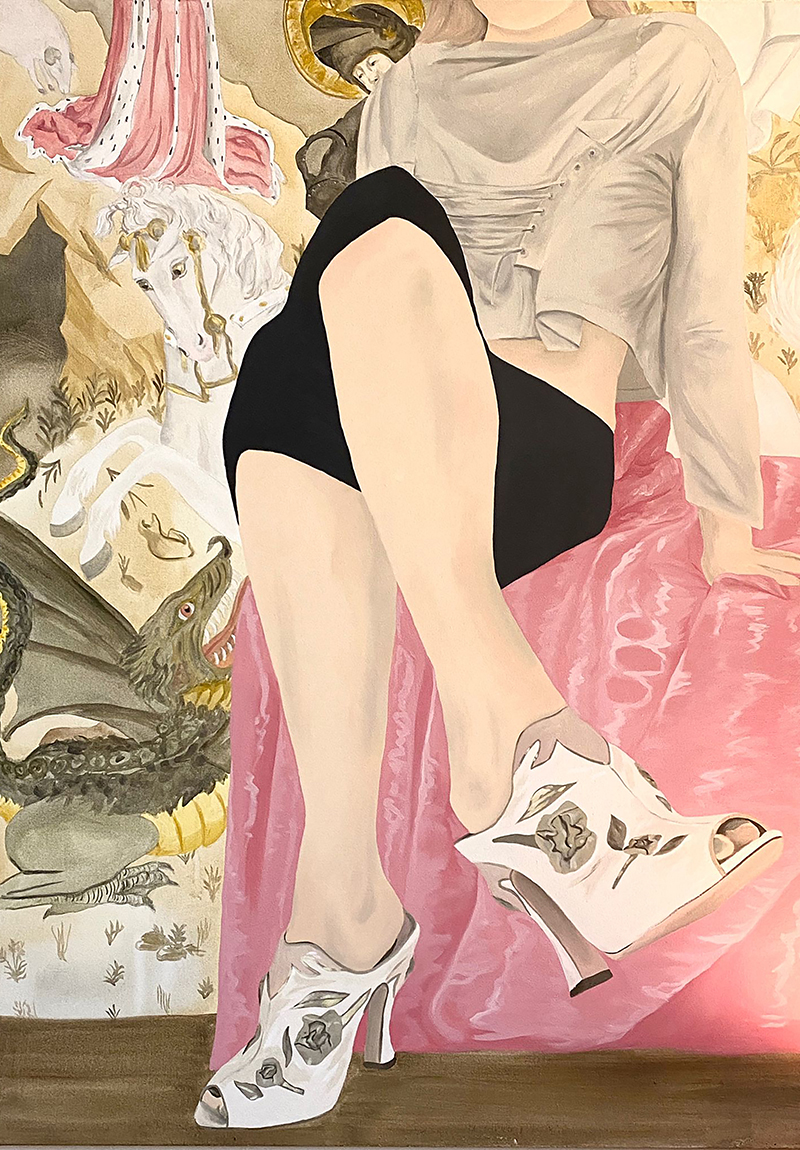 3. Ciaccia Levi, Paris and Milan
Matching another two artists by their aesthetic interests in fashion, Ciaccia Levi, one of the three gallery organizers of the fair, combined self-portraits by Swiss painter Romane de Watteville with accessorized fabric sculptures by French artist Chalisée Naamani. De Watteville's canvases focus on the female gaze, with tightly cropped renderings of the artist fashionably dressed while lounging in stylish settings. Displayed over a rhythmic mural of a cityscape created by the painter, the canvases suggest a sophisticated lifestyle—or at least a desired one.
With a related love of fashion, Naamani photographs stylish people on the street to find patterns, which she then prints as fabrics for use in her poetic assemblages. Her four sculptures at the fair are inspired by Piero della Francesca's Saint Augustine Altarpiece (a five-part panel painting, in which one of the panels has been permanently lost ) with references to Italian fashion designers Versace and Ferragamo and Roman street culture evident in her highly imaginative creations.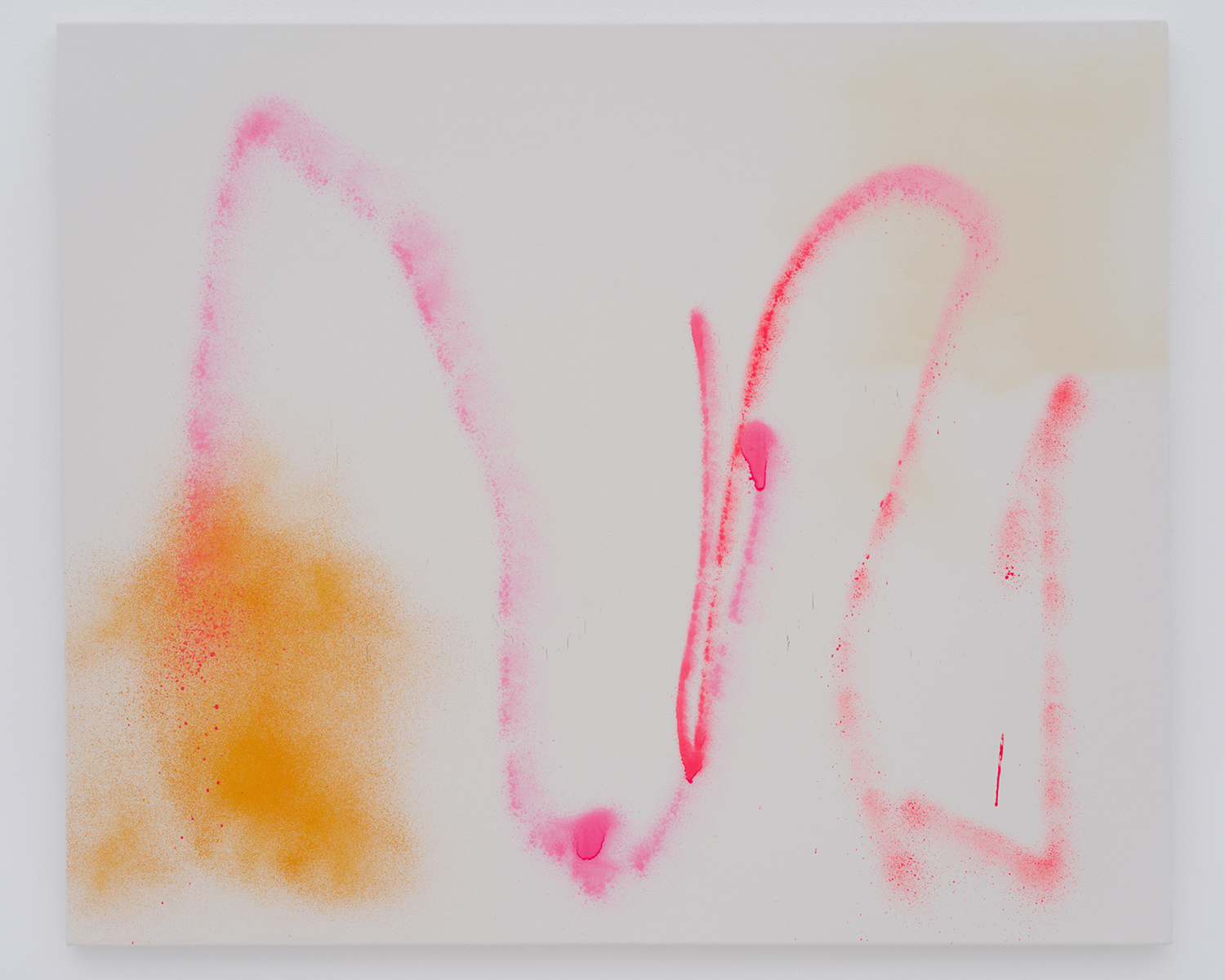 4. Misako & Rosen, Tokyo
Working gesturally—yet delicately—with spray paint on canvas, Tokyo-based artist Shimon Minamikawa is influenced by the refinement of traditional Japanese arts and crafts but contrasts that with the urban influence of street art and graffiti. With a few touches on the nozzle of the spray can, Minamikawa constructs a sublime scenario, where two blocks of color in the corners are intersected by a thoughtful looping line in his minimal, untitled painting reproduced here.
Seeking an idiosyncratic relationship with another artist, Misako & Rosen invited the Green Gallery to share the booth, where the Milwaukee gallery presented a series of pictorial word paintings by Wisconsin-based artist Richard Galling that evolved out of his earlier, more impressionistic style of ambient abstraction.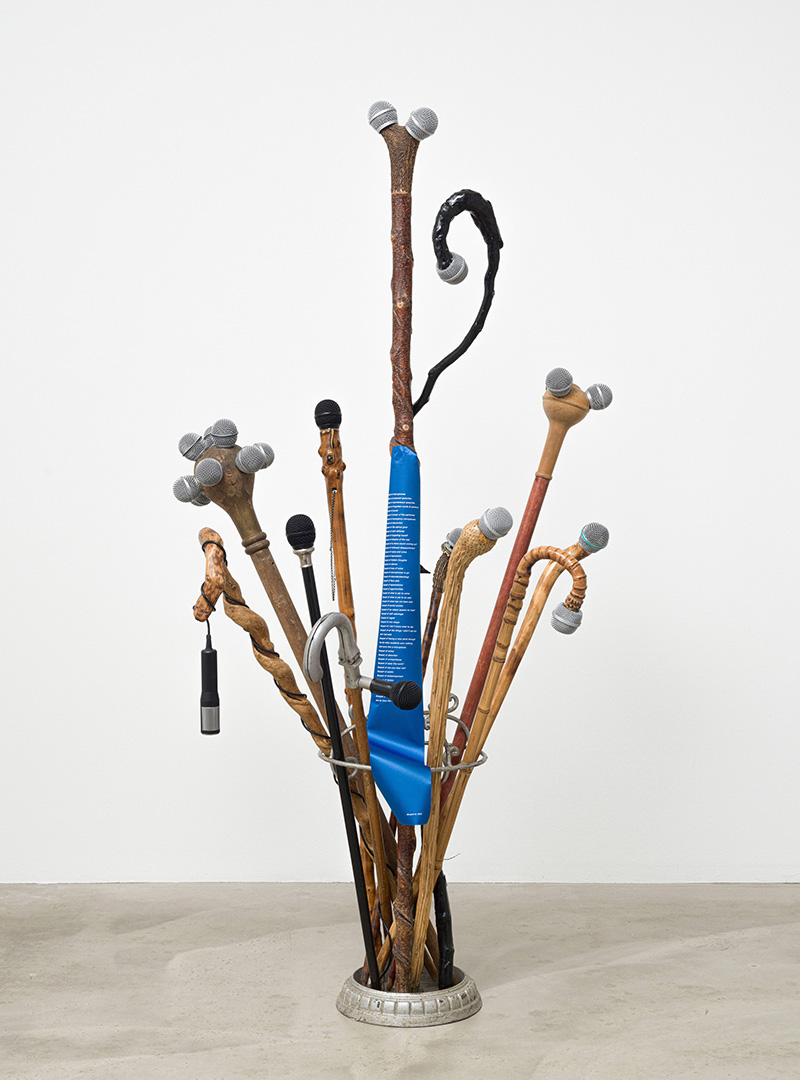 5. BQ, Berlin
Presenting a solo show of black-and-white sculptural works by emerging German artist Mara Wohnhaas, BQ gallery transformed its white-box space into one of the most theatrical settings at the fair. Featuring a series of found object assemblages and an installation for a staged performance by the 25-year-old artist, who is still studying at the Kunstakademie Dusseldorf yet has already had a one-person exhibition at the gallery, the edgy show conveyed the feeling of a medieval dungeon doubling as a contemporary bric-a-brac boutique.
Wohnhaas transformed an antique metal shoulder armor into a Goth fashion accessory by adding a string of dangling keys, attached white spike wigs and black leather gloves to a stick to make a DIY flail and put metal microphone balls on discarded walking canes and then grouped them together to make the psychologically engaging piece Bouquet of. Communing with leftover objects (some from her father's former antique shop) and store-bought products, Wohnhaas constructs a fantasy world, which she will undoubtedly continue to fill with poetic works of art.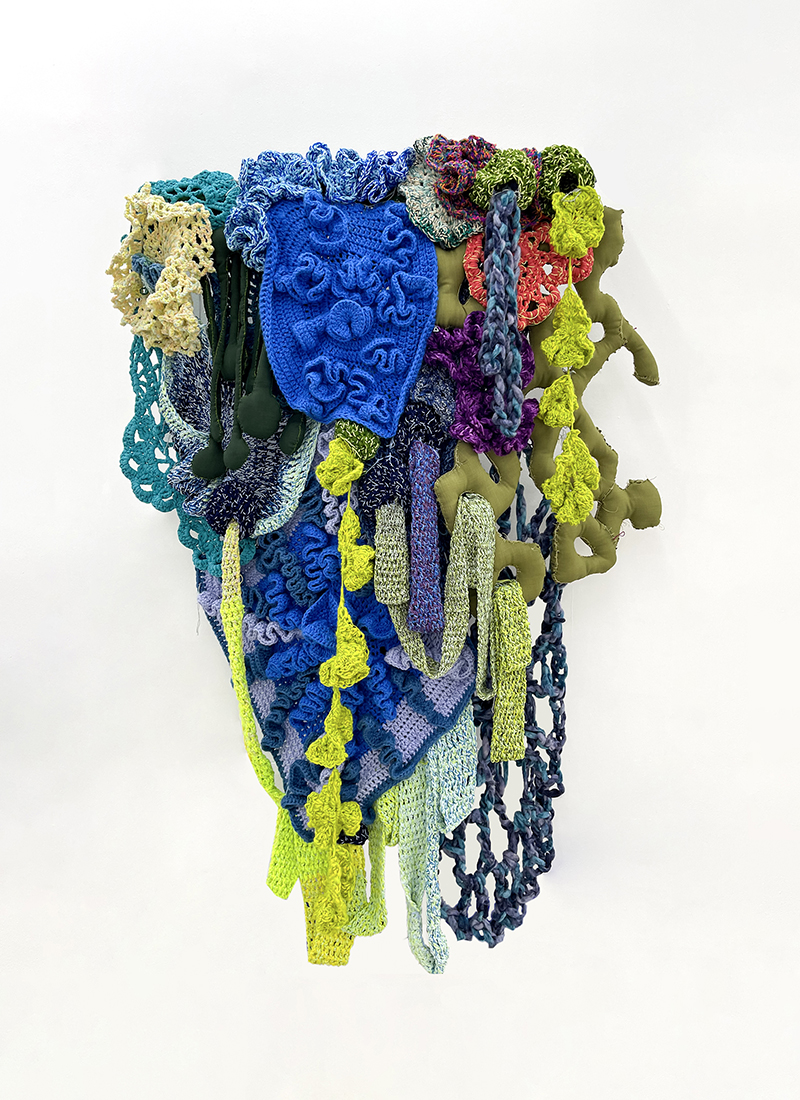 6. Ginsberg Galeria, Lima and Madrid
Contrasting Peruvian textile artist Maria Abaddon's soft sculptures with Frankfurt-based painter Rudi Ninov's abstract canvases, Ginsberg Galeria displayed works that hung on the walls and from the ceiling. Growing out of a tradition of textile arts in her native Peru, Lima-based Abaddon assembles fluid forms sewn from a variety of malleable materials. Commenting on issues of sexual identity, Maria Abaddon weaves creatures like squid and jellyfish, whose forms are always in flux, into an installation of suspended sculptures, while hinting at a more visceral bodily transformation in her wild, colorful Cronenberg's lunchbox wall work.
Ninov's language-related paintings repeat speech bubbles, symbols, words, and shapes that imply words, sounds, and utterances through visual imagery. Using fine-tipped oil pens, paint, and brushes, the enigmatic artist creates cryptic pictograms that act as storyboards for the thoughts the flow through an exceedingly organized mind.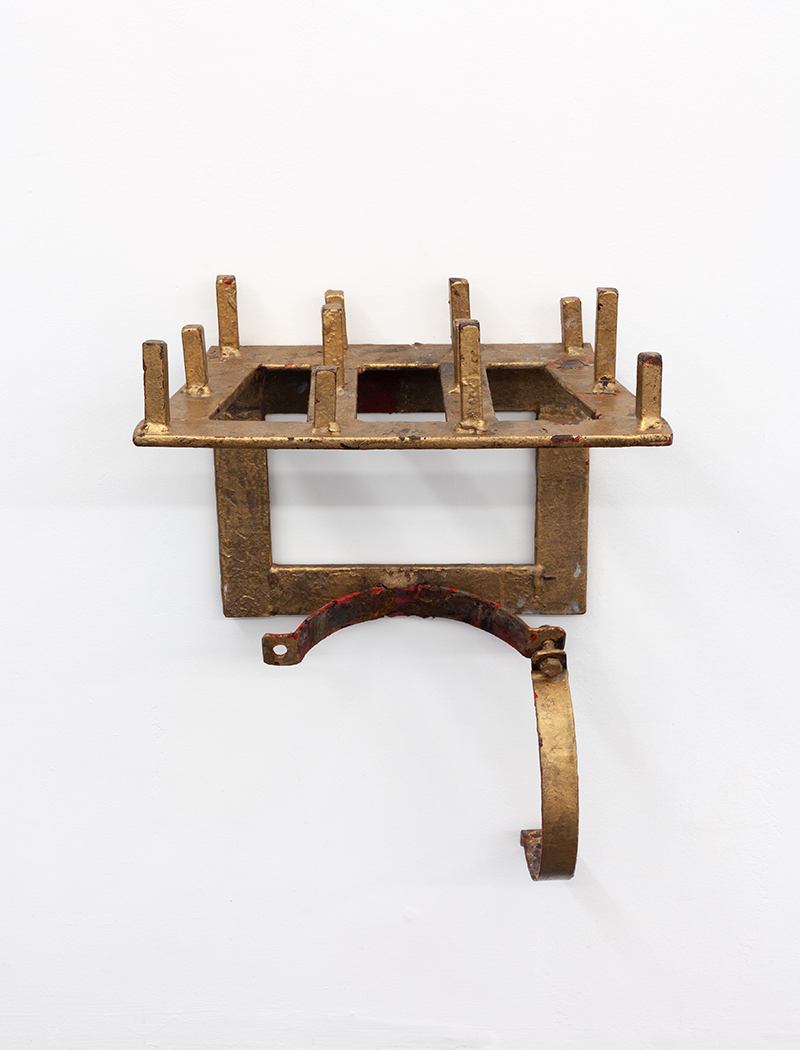 7. Theta, New York
Exhibiting two American artists, David L. Johnson and Kelsey Isaacs, to European audiences for the first time at Paris Internationale, Theta set up a dialogue between a sculptor and a painter working in different styles yet conceptually come together in the realms of architecture and the readymade. Creating socially engaging sculptures in his recent Loiter series, Johnson appropriates his readymade pieces from the streets of New York City. Originally employed to keep people from loitering in front of buildings by sitting on standpipes and fire department water connection apparatuses, Johnson steals the cagelike devices and then names his newly designated artworks after the building's owners, such as Loiter (Thomas), pictured here.
Isaacs, meanwhile, paints from photographs of scenes that she stages with readymade objects, such as shiny strips of Mylar, hair ornaments, rhinestones, metal hinges and decorative party favors. Spotlighting her still lives to deepen the shadows and sparkle the forms, she then realistically paints her subjects while highlighting their structural forms.
Next Post