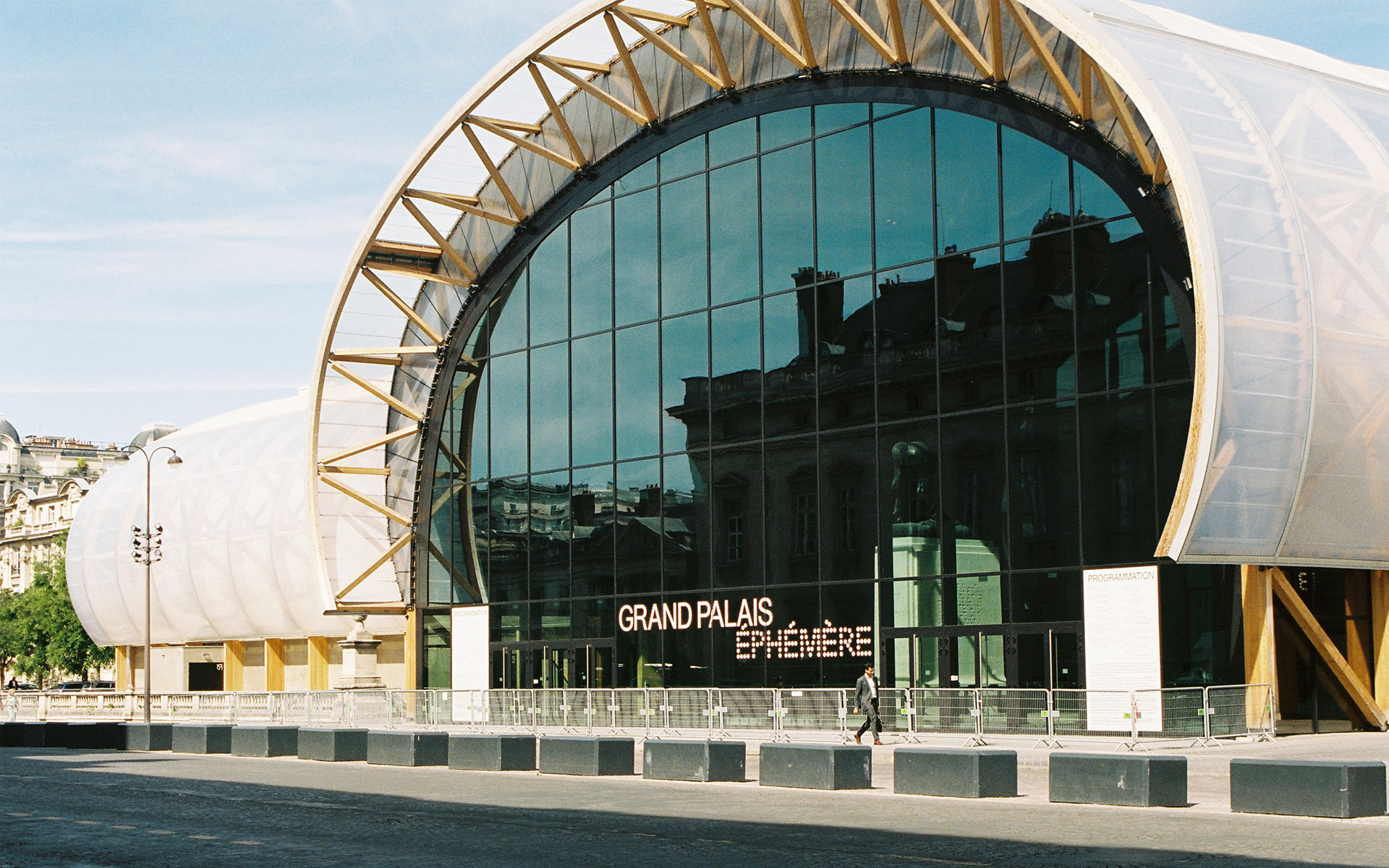 8 Must-See Works on View at Paris+ par Art Basel
From new artworks by Simon Fujiwara and Kudzanai-Violet Hwami to historical pieces by Méret Oppenheim and Edvard Munch
Presenting 156 leading international galleries from 30 countries and territories—including 61 exhibitors with locations in France—for its inaugural edition, Paris+ par Art Basel kicked off with a massive crowd at its VIP viewing yesterday and opens its doors to the public today.
On view at the Grand Palais Éphémère through October 23, Art Basel's takeover of the fair venue and time slot previously occupied by FIAC features a program of collaborations with Paris's cultural institutions and various citywide sites.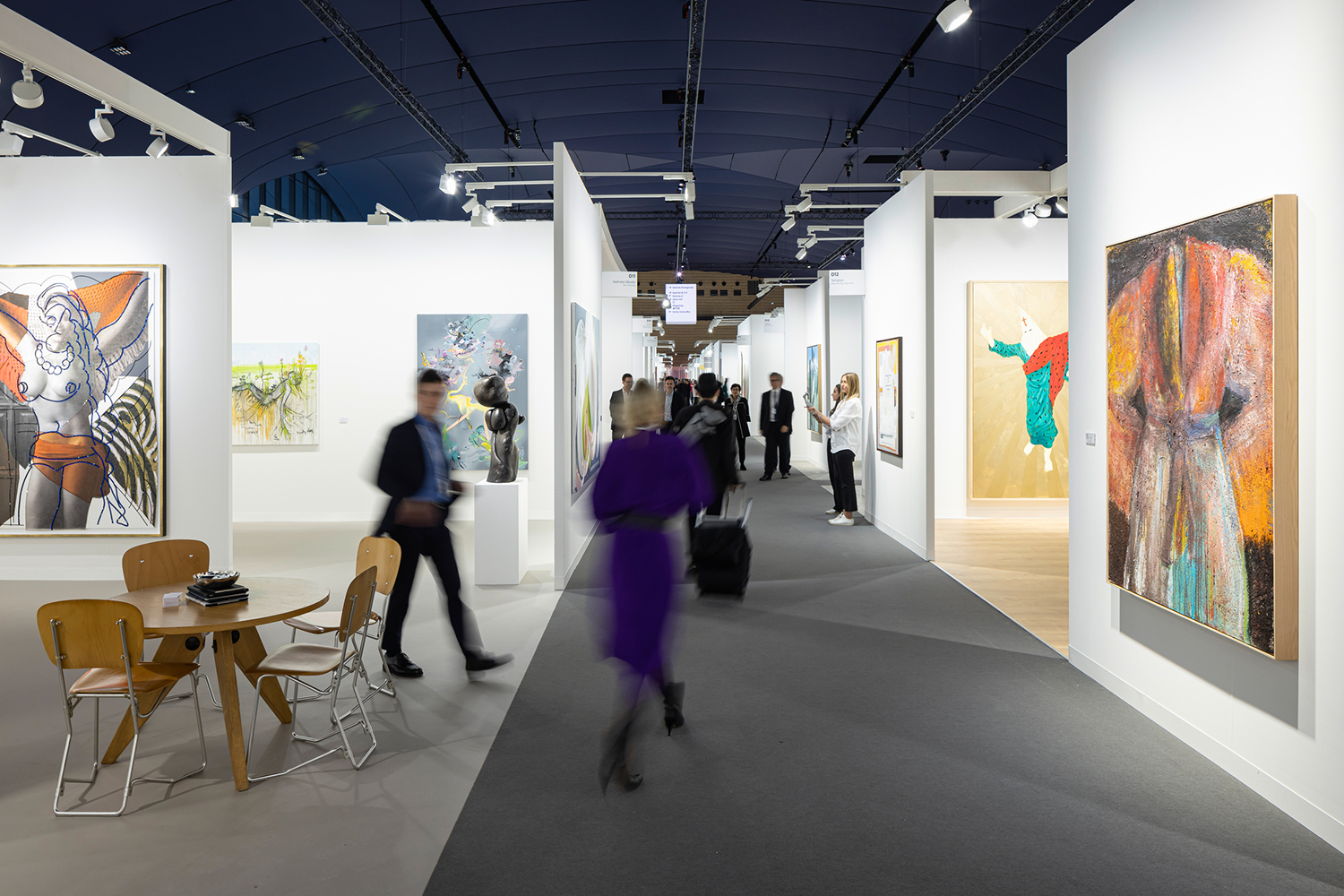 "The galleries selected for our debut in Paris embody Art Basel's long-standing tradition of juxtaposing high-quality historical work with avant-garde material," Marc Spiegler, Art Basel Global Director, shared with Galerie at the fair's press conference at the Centre Pompidou. 'Equally important to us, the galleries that make today's Paris so dynamic are present in large numbers, across many market sectors, giving this show a singularly Parisian personality."
Following that pursuit, Galerie has compiled a selection of must-see pieces at Paris+ from an international mix of galleries, with all of them having either a Parisian space or exhibiting an artist whose reputation was made in Paris. Ranging from new works by Simon Fujiwara and Kudzanai-Violet Hwami to historical pieces by Méret Oppenheim and Georges Mathieu, we've chosen pieces that we'd be happy to see on our walls or yours.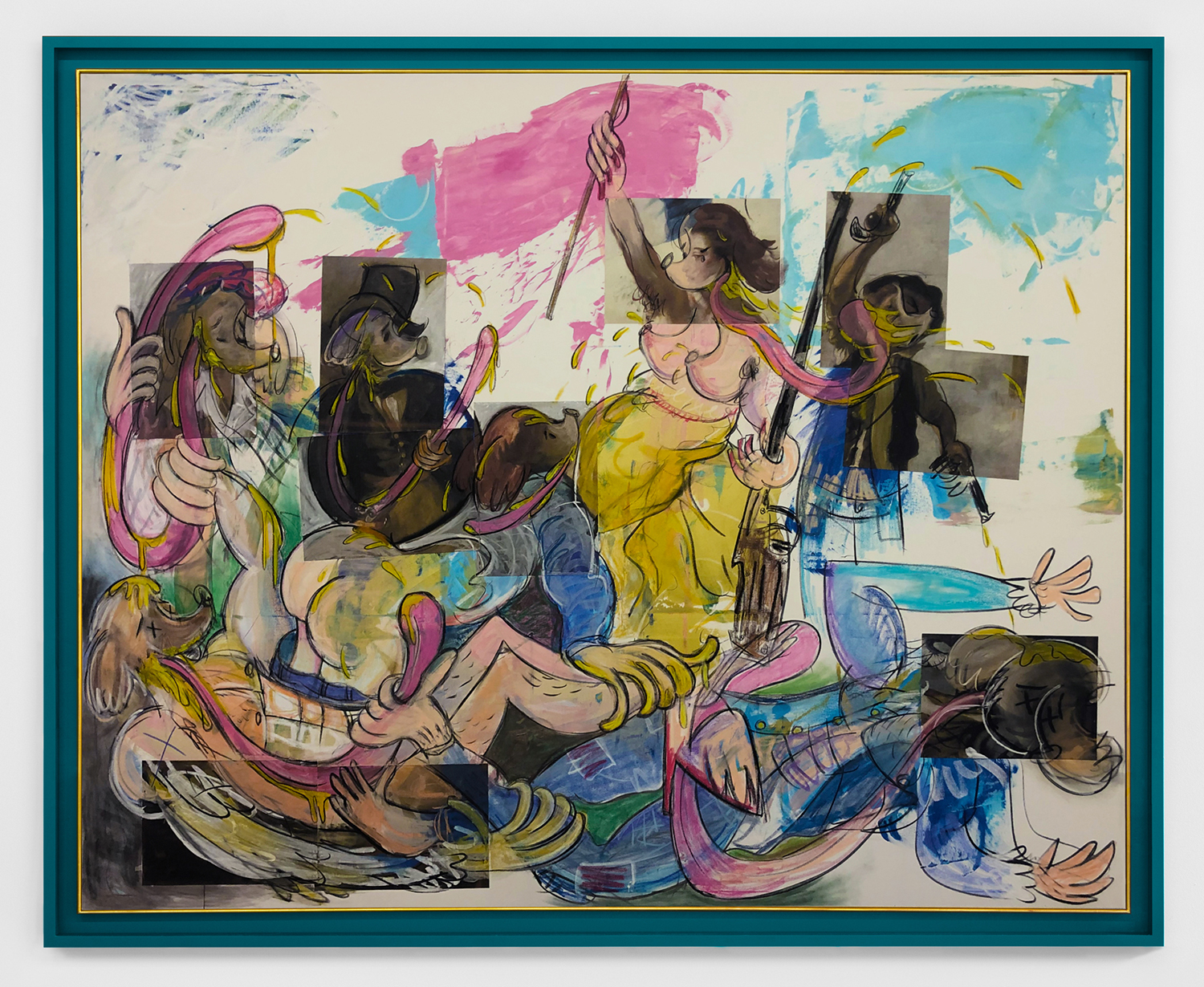 1. Simon Fujiwara at Esther Schipper
Presented in a solo booth exhibition by Ester Schipper at Frieze New York earlier this year, Simon Fujiwara treated audiences to the world of Who the Bær, an original cartoon character that inhabited a unique universe created by the British-Japanese artist. A character with no defined gender or sexuality, Who has been depicted by Fujiwara in a series of artworks that confront art history through a variety of media.
In his colorful collage-painting Liberté for Who?, displayed on the outer wall of Ester Schipper's booth at Paris+, the artist takes on Eugène Delacroix's iconic canvas Liberty Leading the People. Replacing Delacroix's figures in the composition with avatars of Who the Bær, we find Who as Liberty—a symbol of France and the French Republic—leading the charge to overthrow King Charles X of France in 1830. It could be an apt metaphor for democracy's battle against tyranny today, or a more personal cry for people to finally be recognized for who they simply are.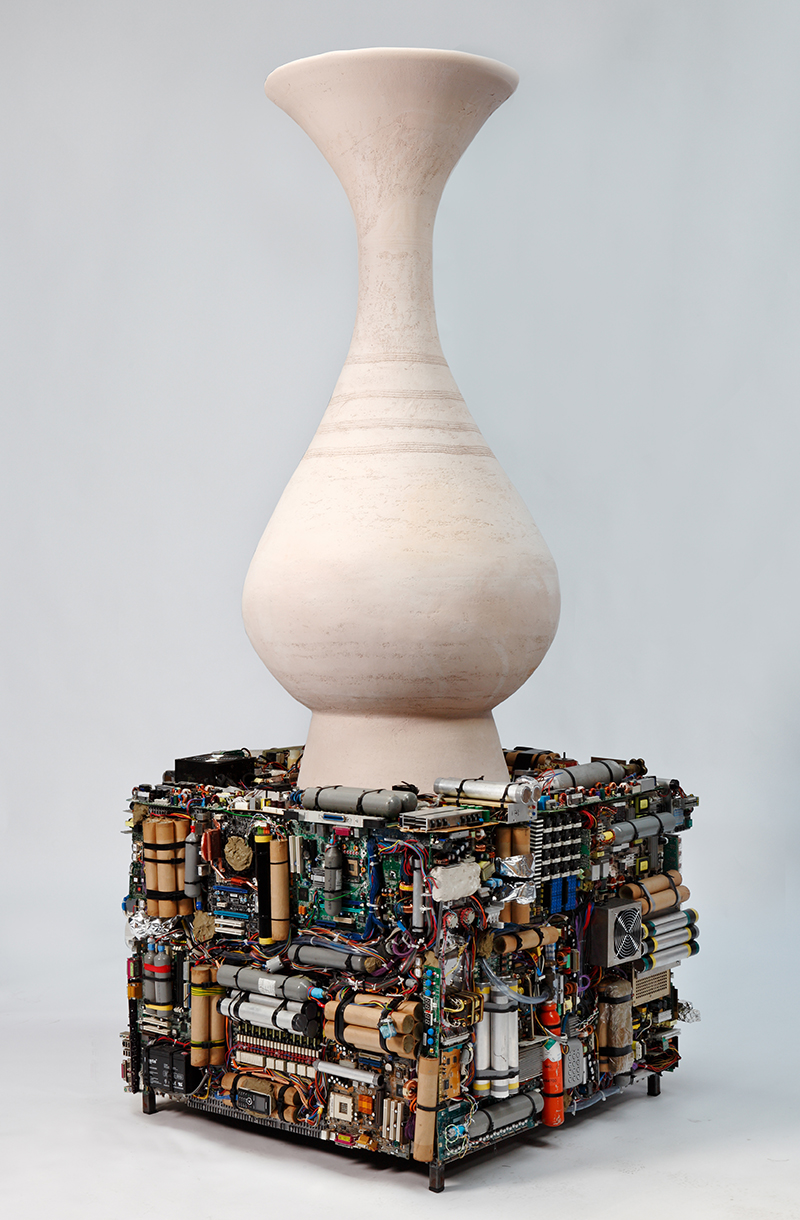 2. Adel Abdessemed at Galleria Continua
Dealing with themes of war, violence, and religion, Paris-based artist Adel Abdessemed creates brutal artworks to depict the inherent violence of the modern world. Born in Algeria, he fled at the beginning of the civil war 30 years ago, but he brought the memory of the war and its array of atrocities with him.
The artist's massive 2013 sculpture Le Vase abominable (The Abominable Vase) consists of contrasting upper and lower parts. The large terracotta vase above is a traditional, handcrafted, utilitarian vessel that's symbolic of the ancient Orient, which stretched from North Africa to the Middle East. Underneath, the base is composed as a controlled, destructive block of complex, alarming devices with wires, circuits, and explosive charges that are ready to obliterate everything. Placing these conflicting objects in harmonious relationship with one another, Abdessemed reveals the fragility of today's world, where life can be annihilated at the touch of a button or signal from a phone.
3. Meret Oppenheim at Meyer Riegger
Celebrated for her seminal Surrealist artwork Object (a fur-covered cup, saucer, and spoon), her fashion collaborations with avant-garde Italian designer Elsa Schiaperelli, and for her striking poses in a series of Man Ray photographs, artist Méret Oppenheim didn't create a large body of artworks over her 50-year career, which is why it's rare to find such an amazing sculpture as Termitenkönigin (Termite Queen) at an art fair.
The subject of an upcoming survey at New York's Museum of Modern Art, where Object has been continuously on view for decades, the German-born Swiss artist's termite queen is an assisted readymade, made with an altered automobile exhaust pipe. Blocking the back end with cement, Oppenheim playfully painted the edges to define the creature's shell, added a decorative hair pin to symbolize its eyes and an industrial bracket for the tongue. Coming from a private collection to Meyer Riegger's booth at the fair, the artist's intriguing insect has seen the light of day in a number of previous museum shows, but after it's sale at Paris+ it will probably go into hiding once again.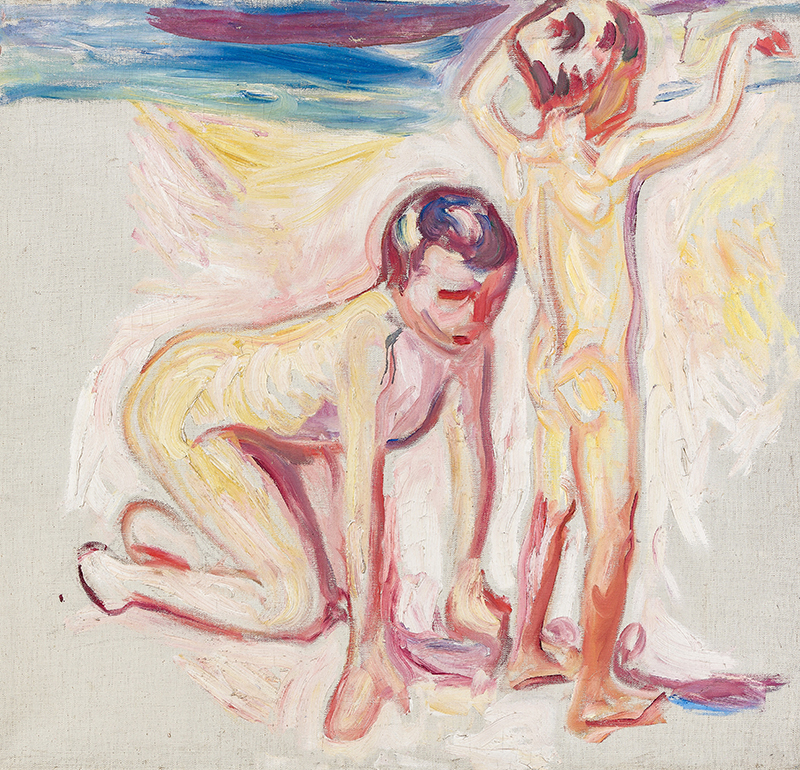 4. Edvard Munch at Galerie Poggi
Famous for his best-known artwork, The Scream, late Norwegian artist Edvard Munch got his start as a somber Impressionist painter, but he eventually turned to a more personal, expressive means for rendering emotional paintings, drawings, and prints after becoming disenchanted with that movement's style of applying color.
The subject of a recently opened "Edvard Munch. A poem of life, love and death" at the Musée d'Orsay in Paris, his work can also be seen paired at Paris' Galerie Poggi with Norwegian painter Anna-Eva Bergman, who has a current solo show at Perrotin in New York and a retrospective set to open at the Musée d'art Moderne de Paris in 2023. Presenting one of its three Munch paintings at Paris+, Galerie Poggi is offering the 1911 canvas Two Boys on the Beach, which was recently seen at the Albertina in Vienna, where it was presented in dialogue with Peter Doig, Marlene Dumas, and Tracey Emin. Never exhibited during Munch's lifetime, it captures the joy of youth with lively brushwork and vivid colors.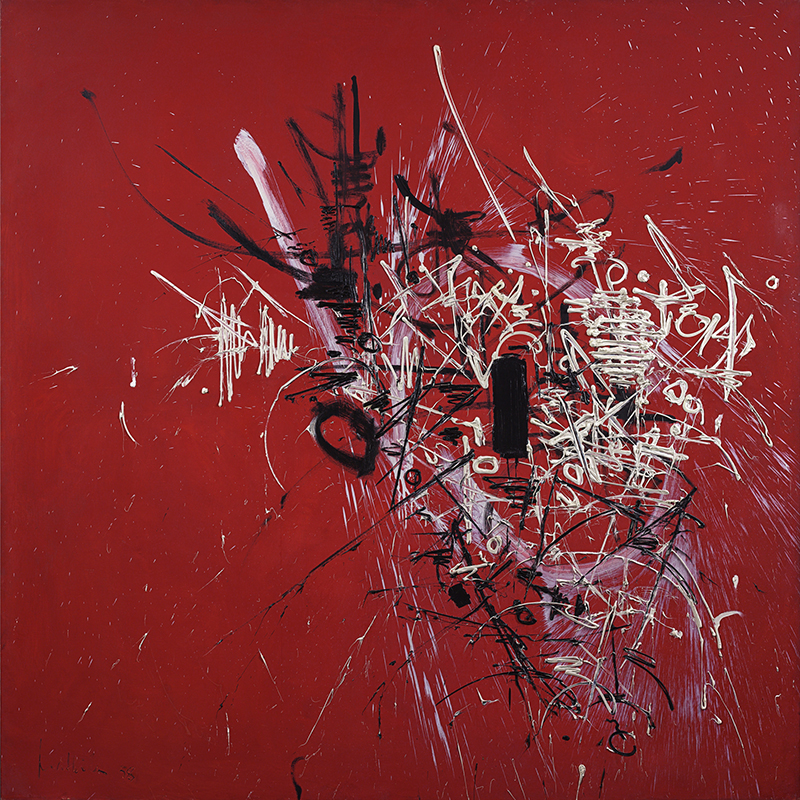 5. Georges Mathieu at Applicat-Prazan
The founder of the European art movement known as Lyrical Abstraction, Georges Mathieu helped transform the artistic nature of abstraction from geometric to gestural in the post-war period. The French artist was an active player on the international art scene in the 1950s—exhibiting in New York and Tokyo while simultaneously organizing exhibitions of the American Abstract Expressionists and Japanese Gutai artists paired with their European counterparts in Paris during the same period.
Influential to both the Gutai and the Viennese Actionism movements with his live-painting performances, the outlandish artist created many of the works on view in the solo presentation of his paintings at Applicat-Prazan's dynamic booth at the fair before live audiences in relatively short amounts of time. The colors and composition of his large-scale 1958 canvas Jacques de Mailly au siège d'Ascalon were inspired by a recent trip to Japan, where he had created several live paintings. Applying paint straight from the tube and attacking the canvas with splashing brushwork, Mathieu composed a masterful action painting that aesthetically captured the zeitgeist of the developing Space Age.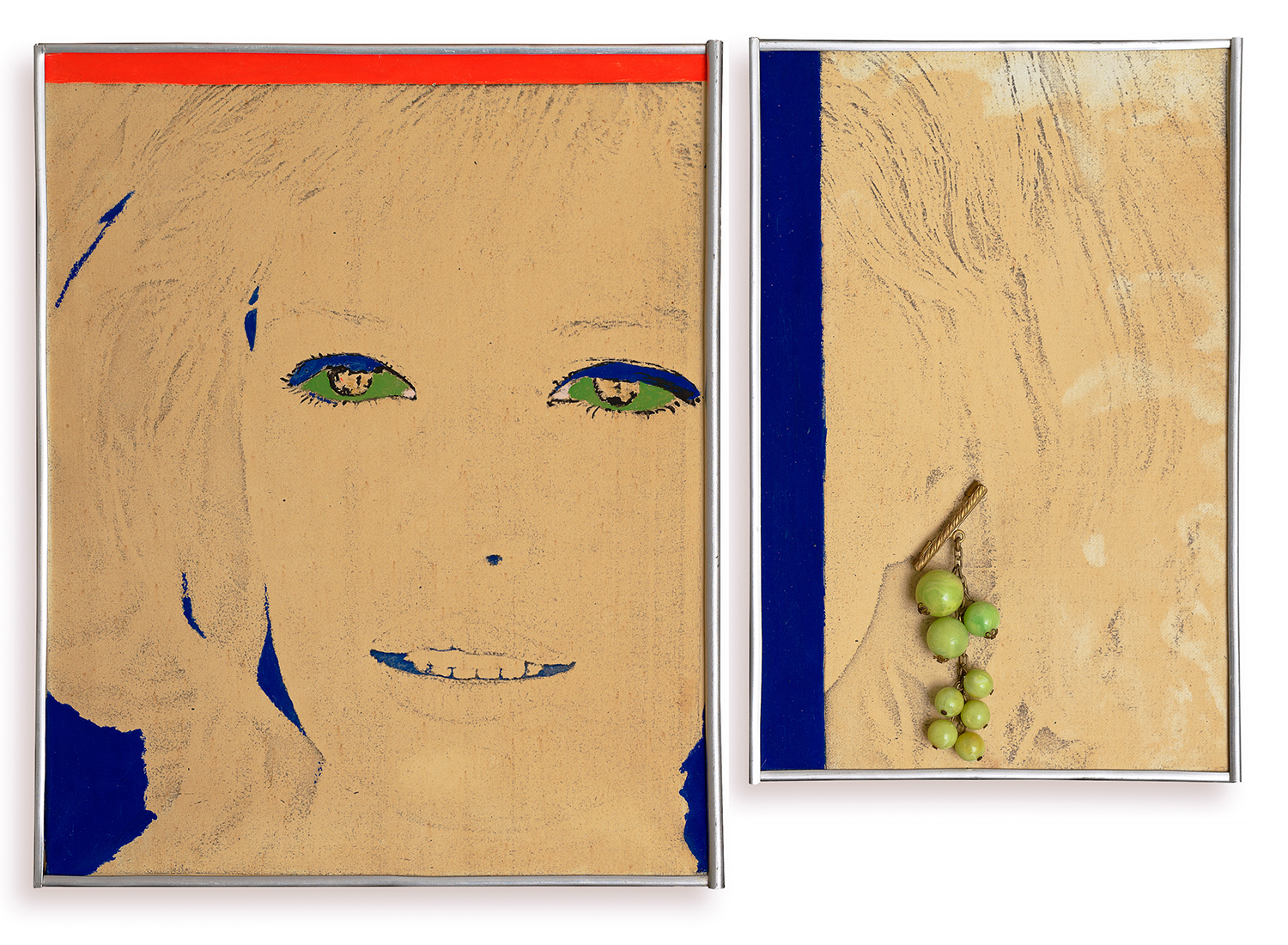 6. Martial Raysse at LGDR
A leading member of the Nouveau Réalisme (New Realism) movement—the European equivalent of American Pop Art—Martial Raysse was embracing Sophia Loren, Brigitte Bardot, and Monica Vitti's stardoms around the same time that Andy Warhol was turning Marilyn Monroe, Elvis Presley, and Elizabeth Taylor into Pop Art icons.
Now 86 years old and living in the South of France, the French artist made multiple interpretations of the Italian movie star Monica Vitti. This diptych, on view at LGDR, stands out due to the experimental nature of the composition, which includes the use of xerography (a fairly new medium for Raysse to employ in 1963) mixed with assemblage (the inclusion of a readymade brooch), and also because it had once belonged to the "Queen of Italian Cinema," who passed away earlier this year.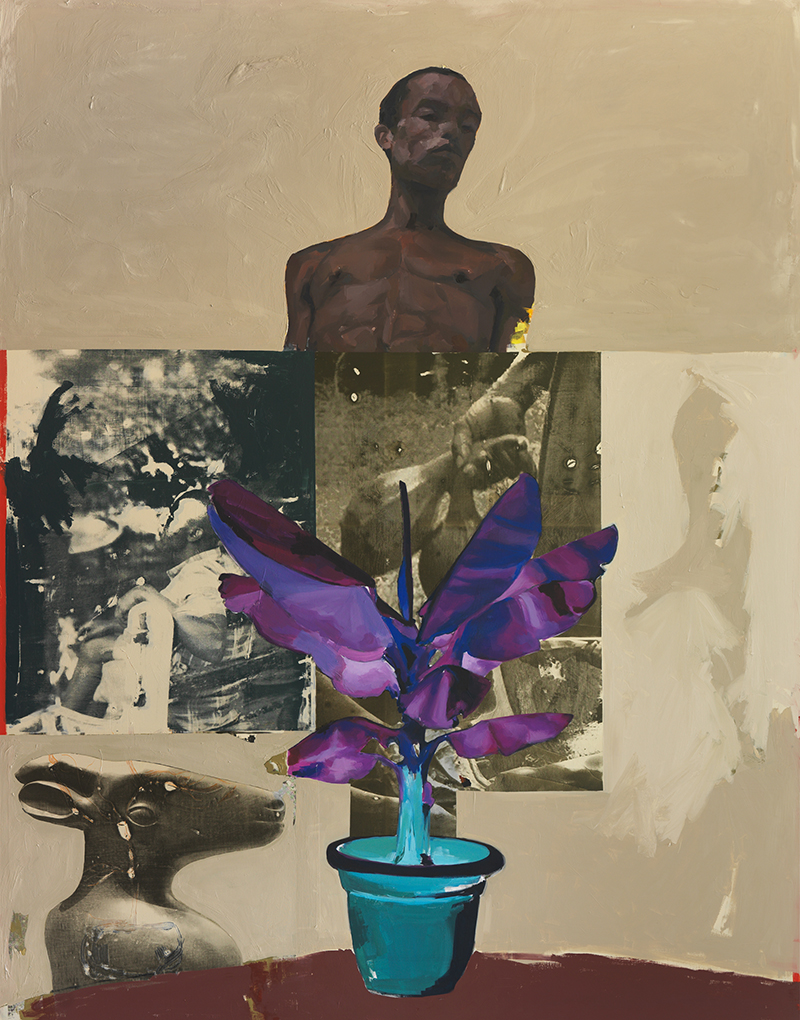 7. Kudzanai-Violet Hwami at Victoria Miro
A standout artist in Cecilia Alemani's "The Milk of Dreams" exhibition for the 2022 Venice Biennale, Kudzanai-Violet Hwami was born in Zimbabwe and lived in South Africa before arriving in the United Kingdom at age 17. Shaped by her migratory experience, her paintings combine visual fragments from a myriad of sources, including online and archival images, along with personal photos, to collapse the present with the past.
As part of a presentation of three women artists (Hwami, Celia Paul, and Francesca Woodman) for its Paris+ booth, Victoria Miro is offering four recent canvases from the artist's "Trauma pond" series, including the highly complex Trauma pond 4. Spiritual in nature, Hwami's painting portrays a realistically rendered male figure on a field of earthy color shrouded by silk screened images of people in the wild and some expressive brushwork, juxtaposed by a colorful potted plant and a Shona sculptural representation of a female gazelle. Drawn from the image world, but infused with personal memories, the young artist's canvas conveys a sense of loss and longing in an aesthetically tactile way.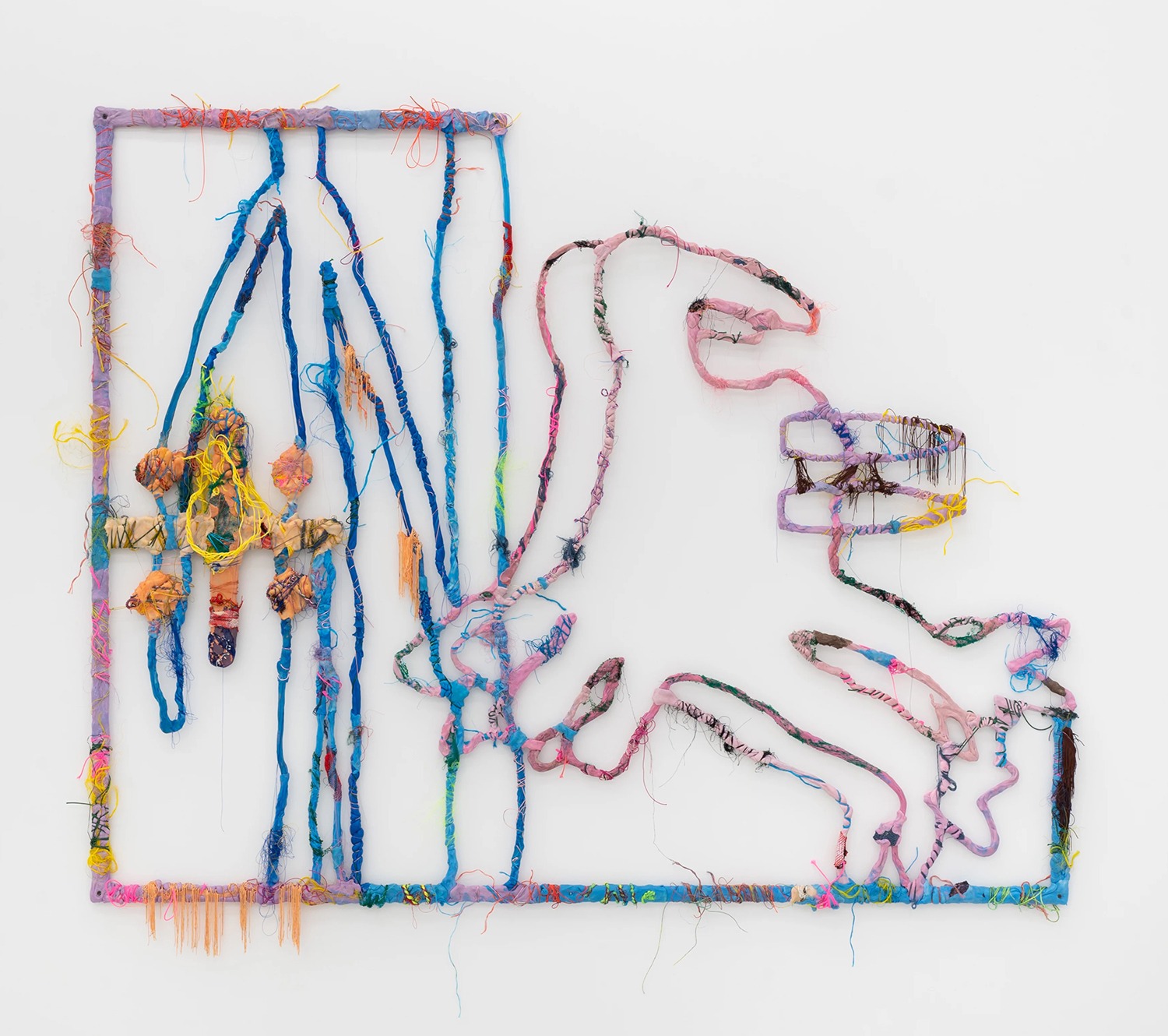 8. Julien Creuzet at High Art
A French-Caribbean artist, performer, and poet, Julien Creuzet had an expansive exhibition of suspended sculptures, videos, and floor pieces at the Palais de Tokyo in Paris in 2019 and his first New York solo show at Andrew Kreps Gallery earlier this year. Inspired by philosophical writings on creolization and migration related to his ancestry in Martinique, Creuzet repurposes found materials to highlight the social realities of the Caribbean diaspora.
His skeletal piece at High Art, which has the long, poetic title Morning dew, our eyes towards the land of our fathers, our hands towards the rosy morning sky of our mothers. Rooster of revolutions that renews itself. Cactus dreaming of its thirsty day. Star-seed fertile explosive shell (bleu rose obus obus), captures the colors of the Caribbean in polymer clay and threads that the artist hand-applied to an armature shaped like birds and plants in a broken frame. Spiritually crafted over an extended period of time, his hybrid artworks deconstruct everyday life and art history by providing new, adventurous ways to reframe them.
Next Post