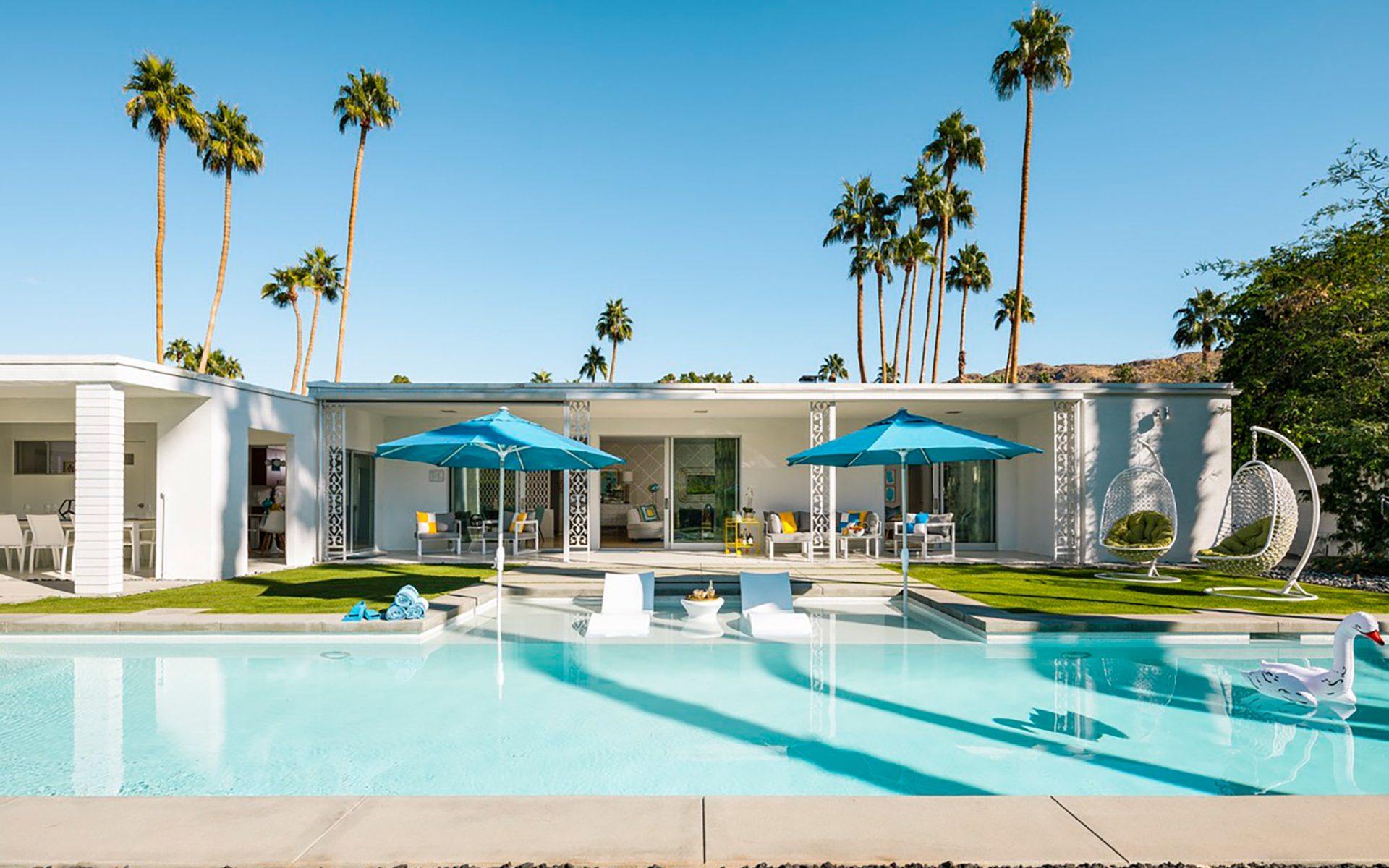 10 Iconic Homes to Visit During Modernism Week in Palm Springs
Step inside houses by A. Quincy Jones, Albert Frey, and Donald Wexler
With its beautiful desert landscape and towering palm trees, sandwiched between the majestic San Bernardino and Santa Rosa Mountains, Palm Springs has long been an iconic destination for jet-setters and creatives like photographer Slim Aarons, singer Dinah Shore, and Rat Pack crooner Frank Sinatra. Adding to the city's allure are the myriad midcentury-modern marvels by architects like A. Quincy Jones, Paul R. Williams, Richard Neutra, Donald Wexler, and William F. Cody that have defined its aesthetic for decades.
Modernism Week, now in its 15th year, is an 11-day festival celebrating midcentury architecture and design in all its guises—from the Palm Springs Modernism Show & Sale to tours, talks, and cocktail parties offering access to private homes and buildings rarely open to visitors. Here, Galerie offers a few not-to-be-missed spots to see during the February 13–23 event:
1. Sunnylands
Famed California architect Archibald Quincy Jones designed this 25,000-square-foot home situated on 200 acres for publishing titan Walter Annenberg and his wife, Leonore. Completed in 1966, the home boasts period interiors by William Haines and Ted Graber, who decorated the residence in the Hollywood Regency style. "I'm always so inspired when visiting Sunnylands," says designer Martyn Lawrence Bullard, who owns a 1963 Palm Springs home by set designer James McNaughton. "The house, with its intact interiors and replicas of museum-quality art hung when the Annenbergs lived there, is dreamy and immediately sends you back in time." In 2011, a garden and visitor center were added to a 15-acre adjacency designed by Michael S. Smith and Frederick Fisher & Partners.
2. Frey House II
When he moved to Palm Springs in 1934, Swiss-born architect Albert Frey introduced an international style to the area while giving birth to desert modernism. A disciple of Le Corbusier, Frey built several homes in the area, including Frey House II, an 800-square-foot dream house nestled into a hillside overlooking the Coachella Valley. This, Frey's second residence, was completed in 1964, and is noteworthy for its suspended steel structure encased in glass and painted corrugated metal with an accompanying outdoor pool and deck. Today, the home is part of the Palm Springs Art Museum's permanent collection.  
Recommended: 8 Former Palaces Turned into Luxury Hotels
3. Cree House
The Cree House is Albert Frey's most intact residential project. Commissioned by real estate developer Raymond Cree in 1955, the 1,200-square-foot one-bedroom home built on steel columns hovers above a rocky terrain, similar to Frey's own residence, with an outdoor deck jutting into the landscape. Meticulously renovated by the current owner, the dwelling has been available for public tours only during the annual Modernism Week.
4. Gillman Residence
A self-trained architect, Herbert W. Burns designed quintessential Palm Springs buildings, like the Town & Desert Apartments in 1947 and the 1955 Village Manor Inn (now the Orbit Inn). His 4,700-square-foot residence, built in 1948 for Dr. and Mrs. Gillman in the Little Tuscany neighborhood, includes three bedrooms and three and a half baths. Positioned on a half-acre lot that also incorporates a two-bedroom, one-bath guesthouse, both of these sculptural buildings have been meticulously restored for this year's Modernism Week with support from such brands as Hunter Douglas, JennAir, Brizo, Ferguson, Corian Design, and Bang & Olufsen.
5. The Lautner Compound
American architect John Lautner apprenticed with Frank Lloyd Wright before heading to Los Angeles to start his own firm. Originally designed in 1947 as the Desert Hot Springs Hotel, this residential fourplex, formerly known as Hotel Lautner, now operates as a trio of boutique properties, including vacation rental the Lautner, open-air event space the Park, and on-site bungalow the Ranch House.
6. Anne and Kirk Douglas Estate
Originally built for Bob Howard, whose father owned the legendary racehorse Seabiscuit, this 4,000-square-foot home, designed by Donald Wexler in 1954, sold to Kirk and Anne Douglas just three years later. With five bedrooms, eight baths, an open living/dining room, tennis court, and pavilion, the home in the Las Palmas neighborhood was the Douglases' summer address for over 40 years until they sold the property in 1999. Sadly, Kirk Douglas passed away on February 5, which makes this house tour bittersweet.
7. Hidden Cody Tennis Club Villas
Gain entry into five of these residences that have never before been open to the public. Built in the mid-1960s, the gated community included a model home decorated by preeminent interior designer Arthur Elrod. Each of architect William F. Cody's 13 original homes had a unique floor plan that emphasized views of the mountains. Today, two of the residences are owned by nationally recognized designers who will be available to give insight into their remarkably renovated spaces.
Recommended: The 8 Most Extraordinary Airbnbs Around the World
Bullard also highlights the 1962 Abernathy house as another significant example of iconic Palm Springs architecture. "It's considered one of Cody's finest residential projects and has been beautifully appointed and cared for by its owner," he tells Galerie. A 1952 compound designed by Cody for television producer-cum-oil-tycoon Jack Wrather and his wife, Hollywood actress Bonita "Bunny" Granville, the property was recently restored and converted into the lux L'Horizon Resort and Spa, with outdoor dining for those lucky enough to snag a table.
8. Hinkle and Jorgensen-Mavis Residences by William F. Cody
Separated by just 250 feet, the Hinkle and Jorgensen-Mavis residences are located at the Thunderbird Country Club, a former ranch converted to an 18-hole golf course that was the first to offer on-property homes for sale. William F. Cody had an eye for site planning and worked in tandem with the golf course designer to create sleek residential estates. The two homes, which represent different styles, are in exceptional condition. Cody's daughter Catherine Cody Nemirovsky will be present at the February 21 tours to talk about her father's work as will members of the Mavis family.
9. The Guggenheim House
Named for the notorious high-society doyenne Gigi Guggenheim, this 1967 house is an architectural gem. Recently renovated by Michael Ostrow of Grace Home Furnishings, the 2,800-square-foot, four-bedroom home has been infused with a number of modern brands. One of the featured homes of Modernism Week, the Guggenheim House showcases vintage pieces along with cutting-edge furniture, as well as a truly Palm Springs–chic pool and spa.
10. Raymond Loewy House 
The American industrial designer known for conceiving the Coca Cola bottle and Air Force One, Raymond Loewy migrated out west at the same time as department store magnate Edgar Kaufmann, who commissioned Frank Lloyd Wright's famed Pennsylvania residence, Fallingwater. In 1946, he commissioned Albert Frey to design this L-shaped, two-bedroom home on the outskirts of town. Like other Frey designs, the Raymond Loewy House is  partially clad in corrugated aluminum and incorporates the surrounding natural landscape, most obviously in the illuminated outdoor pool that's carved to artfully include the existing boulders.
Modernism Week takes place February 13–23 in Palm Springs, California. 
Next Post