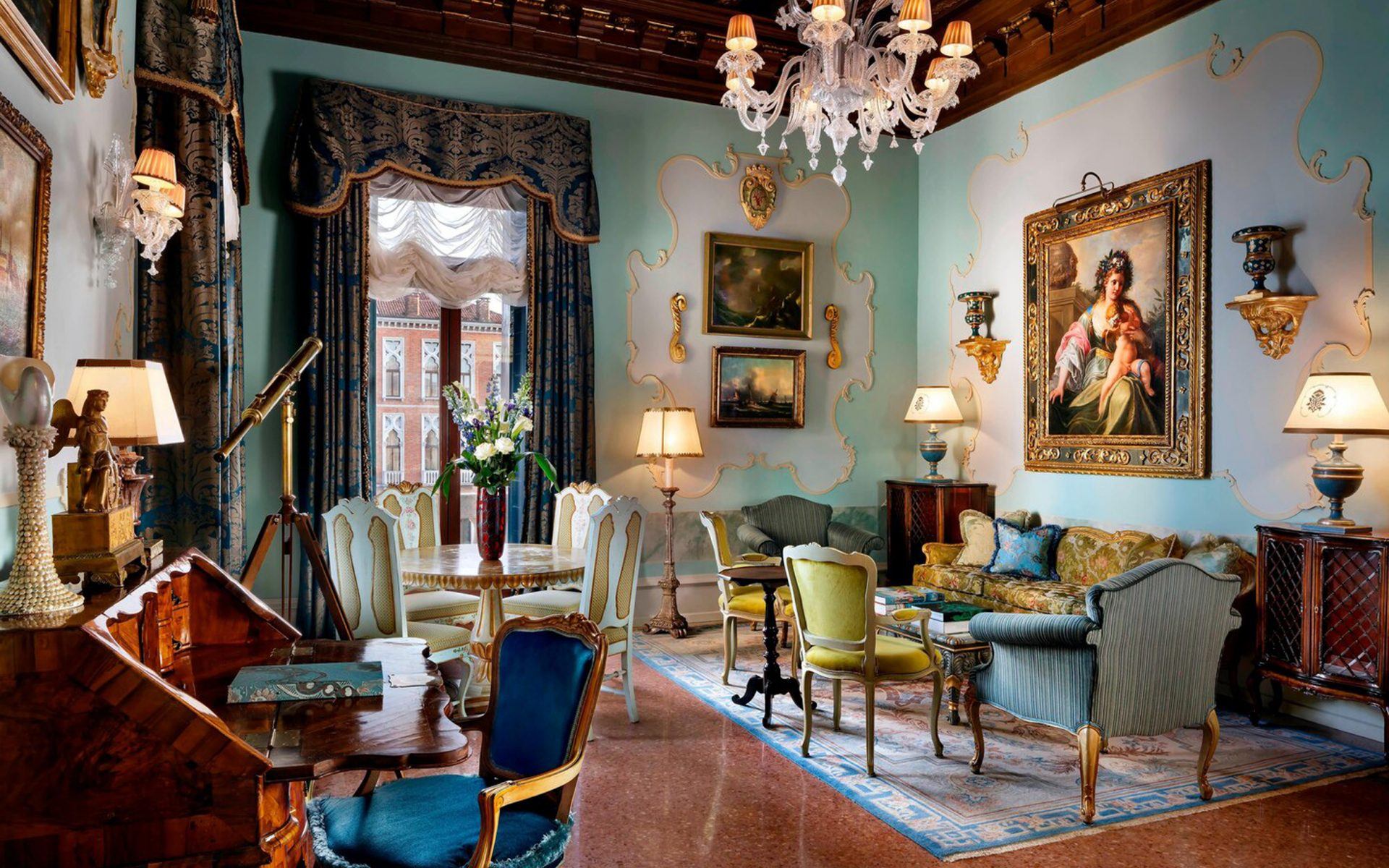 8 Former Palaces Turned into Luxury Hotels
Live like an Indian maharaja or Chinese empress, if only for a night
While an overnight stay in a palace was once reserved for royal families and their guests, the doors to a number of historic residences have been opened to the public, thanks to their conversion into luxury hotels. Indulge in the lavish lifestyles of an Indian maharaja, an Ottoman sultan, a Chinese empress, or a Venetian doge at these eight incredibly opulent palace hotels around the world, each full of history and grandeur from royal eras past.
1. Taj Lake Palace, Udaipur, India
On Lake Pichola in Udaipur, India, a white-walled palace floats in the middle, as if a mirage. But this is Jag Niwas, the 18th-century summer home of Maharana Jagat Singh II, which was converted into the state's first luxury hotel in the 1960s. It's now the Taj Lake Palace, an opulent four-acre retreat with 65 rooms, 18 suites, a floating spa, and a romantic rooftop restaurant. The hotel made a famous appearance in the James Bond film Octopussy as the titular character's lair.
2. Çiragan Palace Kempinski Istanbul
During the mid-19th century, Ottoman sultans began constructing numerous palaces across the empire, including the grand Çiragan Palace, built by Sultan Abdülâziz. Set on the banks of the Bosphorus in Istanbul, the property was converted into a luxury hotel in the 1990s and is now home to one of the most lavish hotel suites in the world, the 4,300-square-foot Sultan Suite. Guests can arrive to this exclusive property by car, private yacht, or even helicopter.
3. Villa d'Este, Lake Como, Italy
The banks of Lake Como are lined with palatial villas, but perhaps none are as sumptuous as Villa d'Este, a luxury hotel that was once a private summer home for royalty, the aristocracy, and even the clergy—it was originally built by Cardinal Tolomeo Gallio in 1563. It was converted into a grande dame hotel in 1873, offering accommodation in its historic main building, the 19th-century Queen's Pavilion, and four private villas. There have been a few modern additions to the property, however, like its iconic floating pool.
4. Aman at Summer Palace, Beijing, China
While you might feel like royalty at any Aman property around the world, you'll actually be staying on former royal property at Aman at Summer Palace. The hotel is tucked into a corner of the Summer Palace imperial estate, a UNESCO World Heritage Site, on the outskirts of Beijing—specifically in buildings once used by guests of the Empress Dowager Cixi in the late 19th and early 20th centuries.
Recommended: The 8 Most Extraordinary Airbnbs Around the World
5. Tivoli Palácio de Seteais, Sintra, Portugal
Known for its Moorish-inspired Romantic architecture, the Portuguese town of Sintra is home to a number of magnificent palaces, including the Palácio de Seteais. Built in the 1780s for Dutch consul Daniel Gildemeester, the neoclassical home was converted into a luxury hotel in 1955, but it still retains much of its original grandeur in its rooms, its public spaces, and its lush gardens.
6. Rambagh Palace, Jaipur, India
India has no shortage of palace hotels, thanks to a midcentury push to convert heritage properties into luxurious guest accommodations, but the Rambagh Palace is one of the finest examples among them. Originally built in 1835, the palace was a private residence (first of a queen's favorite handmaiden, later of the maharaja of Jaipur), a royal guesthouse, and a royal hunting lodge, before becoming a 78-room hotel in 1957.
7. Gritti Palace, a Luxury Collection Hotel, Venice
One of the most revered palazzos in Venice, Gritti Palace was built in 1475 and named after its most famous owner, Andrea Gritti, a 16th-century doge of Venice. It first started taking guests in the 19th century, eventually drawing the likes of Peggy Guggenheim, Elizabeth Taylor, and Ernest Hemingway to its doors. Set on the Grand Canal, the hotel exudes quintessential Venetian glamour, thanks to a major restoration in 2013.
8. Four Seasons Hotel Lion Palace, St. Petersburg, Russia
The Lobanov-Rostovsky Palace on St. Petersburg's St. Isaac's Square has had many lives: It was built in 1820 for Prince Alexander Yakovlevich Lobanov-Rostovsky as his private residence, before being turned into a government office building, an academy complete with a museum and a dormitory, and finally a hotel. It's now part of the Four Seasons portfolio and named for the white marble Medici lion sculptures at its entrance.
Next Post