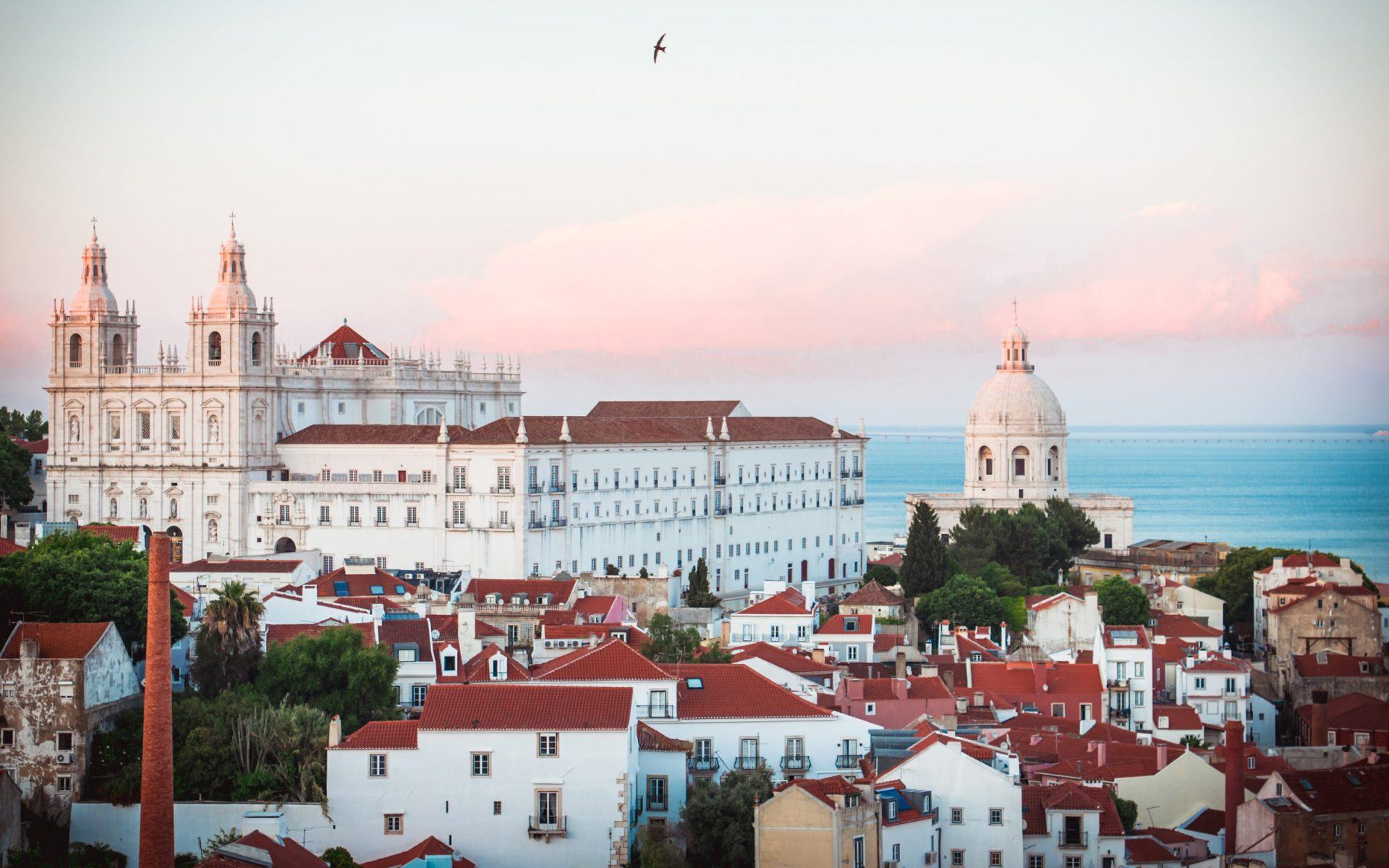 See What Makes Palácio Belmonte Lisbon's Dreamiest Hotel
Entrepreneur Frédéric Coustols and his wife, Maria Mendoça, have transformed the Moorish palace into a chic boutique hotel
Situated in the heart of the oldest neighborhood of Lisbon, one of Europe's most exciting and revitalized capital cities of the moment, the boutique hotel Palácio Belmonte is surrounded by lush vegetation and a spectacular landscape reminiscent of the Amalfi Coast. The purity of blue skies extending seamlessly into blue waters can compete with the best vista of any isolated Greek island. But this is Portugal at its idyllic best.
Here, organic breakfast is served upon dramatic hillside perches that provide a panorama to the Tagus River below and the Atlantic Ocean beyond. From the privacy of your suite's wraparound terrace, which has been designed to ensure the utmost privacy, you can view remarkable architecture, such as the iconic spectacle of the Alfama district's whitewashed buildings and their red clay-tile roofs.
A stay at Palácio Belmonte is not so much a vacation as it is an invitation to a philosophical approach to life. "My vision is to be simple," Frédéric Coustols, the property's owner, tells Galerie. "To be perfect. To have our guests be able to dream—not to impose anything on them. It's a space of freedom."
A trained ecologist who has developed sustainable communities in China and Brazil, Coustols is a French wunderkind of his own inimitable design—equal parts philosopher, historian, conservationist, engineer, archaeologist, and philanthropist. As early as the 1970s, he coined a model known as the DaST Compass: a guiding principle, put simply, to Design a Sustainable Tomorrow. The DaST model promotes a connection with local landscape, architectural history, and traditional social habits while introducing a new sustainable and contemporary way of life.
Recommended: Go Inside Lisbon's Newest Design Destination, Casa do Passadiço
Additionally, Coustols has implemented his vision into hospitality endeavors such as Castelnau des Fieumarcon, an 800-year-old fortress in southern France that's been recast as a resort village.
"I'm a landscape collector," says Coustols of his Portugal property, which he purchased in part for its verdant gardens. And though the landscape is an inarguable selling point, there's no denying the monumental story of the structure as well. Palácio Belmonte is a living testament to Lisbon's historical and architectural heritage.
Construction began in 1449, during the Moorish period, and the estate remained in the same noble family for over 200 years before being abandoned and slipping into disrepair. Today the historical footprint—an amalgamation of three defense towers rising from ancient fortified Roman walls—has been restored under the direction of Coustols and his wife, Maria Mendoça, a trained art historian.
The couple purchased the property in 2004 and, as part of the six-year restoration process, even lived under its leaky roofs in order to become intimately acquainted with the space's energy. "We stayed one year," Coustols recalls, "listening to everything—the wind, the rain, the sun, the sounds. And the colors, the materials—we studied all of that before starting any work. We tried to understand the place. It was changed in the 19th century, when they added walls and divided it up, but I wanted to get it back to its original use, which was a family house with 11 suites and a central piano nobile, where everyone could come together to meet."
The restoration was executed in accordance with the Venice Charter, a set of guidelines established in the '60s by Italian preservationists for the conservation and restoration of historic sites, which meant that original materials from the time of construction had to be employed. "Nobody had done that in Portugal at the time," Coustols recalls. "I had to train the workers. It was challenging but very nice work."
Recommended: The 8 Most Luxurious Hotel Spas in Europe
Today, guests fortunate enough to be welcomed beyond the giant red door that marks the entrance get to enjoy the fruits of Coustols's labor, which has restored Palácio Belmonte back to its former glory. "It's a vernacular building," Coustols explains, "marking five different periods of construction. We found a tunnel going down to the Tejo River. We found a Roman house below the garden. We found a Roman bust. We found a room with a chest inside with more than 800 letters from the king and the queen and emperor of Portugal."
The façades, walls, and roofs are still held together by traditional lime mortar, and the tiled floors throughout have been laid in the classic manner, on top of a low-temperature water-heated system. (The red clay tiles, produced in Setúbal, are still half-baked in the sun, as they have always been manufactured.) Antique furniture in the common areas was sourced from throughout Portugal, and the country's signature blue-and-white azulejo tiles adorn the walls.
The tiles, too, have a story: In the 1720s, the original family commissioned master tile makers Manuel Santos and Valentim de Almeida to create a unique collection of ceramic squares depicting biblical scenes. Today, those 59 panels of more than 3,800 original tiles can be found throughout the building, and, like its bird's-eye view of the neighboring Castelo de São Jorge, are undoubtedly among the palace's most distinguishing features.
Step by step, the palace took shape as its current iteration as a luxury hotel, complete with butler service, curated libraries, a stocked open bar, live music, a black-marble swimming pool, spa services, and a top-rated French chef at the helm of an on-site destination restaurant. Much of the furniture in each of the suites is of Coustols's own design. Plush and inviting sofas, four-poster beds, linen headboards, a "scented chair" crafted with pockets for fresh lavender plants, and majestic wall sconces and fixtures that resemble giant antique chandeliers with lights that flicker like candles are all unique to Palácio Belmonte.
And having an eye for the artistic extends beyond the reaches of hospitality—each year, Coustols and Mendoça help curate, along with local university professor Mário Caeiro, an art competition-cum-festival, which culminates in the transformation of the Palácio Belmonte into a gallery-like exhibition space. This fall's endeavor, titled "Extracts—Nature 2050," will invite 15 artists from around the world to express their vision of what nature and humanity will be like in the year 2050. It will be, according to Coustols, a bit surrealistic but optimistic at its core.
"I'm fed up with all these pessimists around us," he declares. "The exhibition will show something positive—in whatever form these artists see fit." Of course, this is all in keeping with Coustols's decidedly philosophical approach to life, which readily manifests itself in every corner and circuitous stairwell of Palácio Belmonte. "It's a place where most people like to be," he says.
Next Post