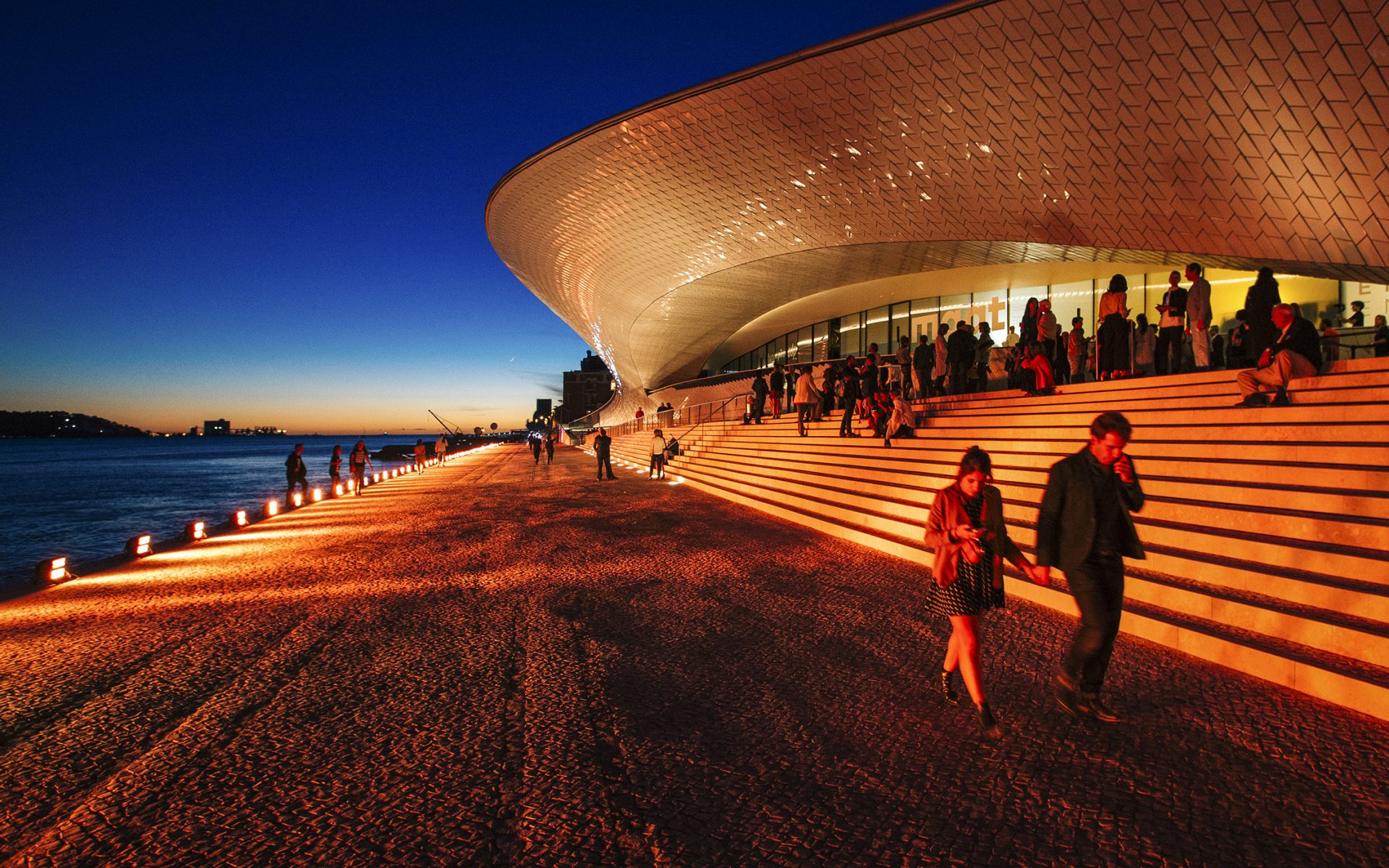 The Ultimate Art-Lover's Guide to Lisbon
A dynamic cultural revival is making the storied Portuguese capital the most exhilarating place to visit
What is it about Lisbon that is stirring up so much excitement among seasoned travelers? Perched at the mouth of the Tagus River and built on seven hills, this intimate Portuguese harbor city has long been among the Continent's most beautiful and poetic capitals. Also one of its oldest ports, Lisbon has been an important trade center for centuries, attracting merchants and adventurers from around the world. In the last few years, it has been drawing a whole new set of travelers thanks to its dynamic renaissance.
Contemporary buildings like the Champalimaud Centre for the Unknown, designed by Charles Correa and devoted to biomedical research, and Amanda Levete's sculptural Museu de Arte, Arquitetura e Tecnologia (MAAT) are transforming the riverbank skyline, while concept shops like A Vida Portuguesa are celebrating the country's rich crafts heritage. Ambitious chefs such as José Avillez are using local ingredients to create innovative Portuguese dishes, and passionate restaurateurs like André Magalhães, of the always packed A Taberna da Rua das Flores, are looking to the country's past for a modern take on traditional cuisine. Stylish, intimate boutique hotels—the most noteworthy is the six-suite Santa Clara 1728—are opening up at an astonishing rate. International tourists and businessmen are no longer visiting for just a few days. Many are buying or renting houses and moving in, including, most famously, pop legend Madonna.
Many expats, such as Joanna Hecker, an American who settled in Lisbon six years ago, are initiating projects that have contributed to the new cultural spark. Three years ago, Hecker and her Portuguese partner, Ricardo Lopes, launched the Living Room Sessions, a series of intimate concerts in rotating private apartments. One month, local talent Sara Tavares will be singing her heart out to a crowd of 170; the next month, Nigerian star guitarist Keziah Jones performs.
"Lisbon is one of those places that is going through such an exciting transitional moment right now that it is tangible every day," Hecker says. She points to the country's recent financial crisis and the influx of immigrants as influences. "The crisis forced a lot of people here to be creative and resourceful, which was not necessarily characteristic of the previous generations," she says. "Portugal is finally coming out from decades of very conservative leadership, which had a suffocating influence on culture in many ways. The generation working and creating now is the first generation that is free of all that."
Felipa Almeida, one half of the successful Lisbon design team AnahoryAlmeida—responsible for the recently opened São Lourenço do Barrocal, a much-buzzed-about resort in the Alentejo region—grew up in Switzerland and studied in Paris, but returned to Lisbon, where she was born, 12 years ago. It's where she feels most inspired and at home. "There is such creative energy in Lisbon at the moment," she says, "with many small artisanal studios opening up and talented people collaborating." She is especially excited about ceramic ateliers such as Sedimento, Caulino Ceramics, and Margarida Fabrica.
In the last few years, Almeida and her partner, Ana Anahory, have been busy designing chef José Avillez's many Lisbon projects, including the wildly popular Bairro do Avillez, a culinary destination that occupies a former convent in the Chiado neighborhood. It houses a gourmet emporium and several restaurants, one of them accompanied by a cabaret. Equally ambitious is the Palácio Chiado, an 18th-century palace transformed into a busy culinary hub with seven dining options, including one by the trendy sushi chain Suchic.
For Japanese fare, Avillez prefers Go Juu, conveniently located across from the stunning Fundação Calouste Gulbenkian, a private museum that art dealer André Viana calls one of the most special art institutions in the city. Viana, who was born in Portugal but is based in New York City, also recommends the Casa-Museu Medeiros e Almeida, describing it as "a lovely townhouse near Avenida da Liberdade, with an important French and Continental furniture and art collection."
The dynamic friction of Lisbon's past rubbing up against a progressive, experimental present is generating most of the pearls to be found there today. The city's creative crowd is just as inspired by Portuguese heritage as it is by the desire to reach a global audience. That means there is a strong respect for historic architecture and a tendency to expose, rather than erase, the layers of the past.
For instance, hotelier João Rodrigues and architect Manuel Aires Mateus, who have designed some of the country's most dramatic houses, beautifully renovated fishermen huts with sand floors, called Casas Na Areia, in the nearby beach resort of Comporta. Their Lisbon hotel, Santa Clara 1728, an elegant 18th-century townhouse that overlooks the Tagus (and also serves as Rodrigues's home), represents another smart reinvention of a historic space using clean lines and organic materials. As with other projects by Rodrigues and Mateus, the hotel feels like a nostalgic dream of a moment in Portuguese history. "We travel to the past and try to bring back the memories of the craft and the buildings and the heritage," he says.
While proud of Lisbon's renaissance, Rodrigues cautions that the number of tourists walking through some parts of the city has sometimes felt overwhelming for locals. Designer Felipa Almeida agrees: "Although all the new people here are helping to create this very rich moment, we also have to be careful about preserving the city. Once a place loses its soul, it's hard to get it back." Right now, though, Lisbon has soul in spades.
Next Post