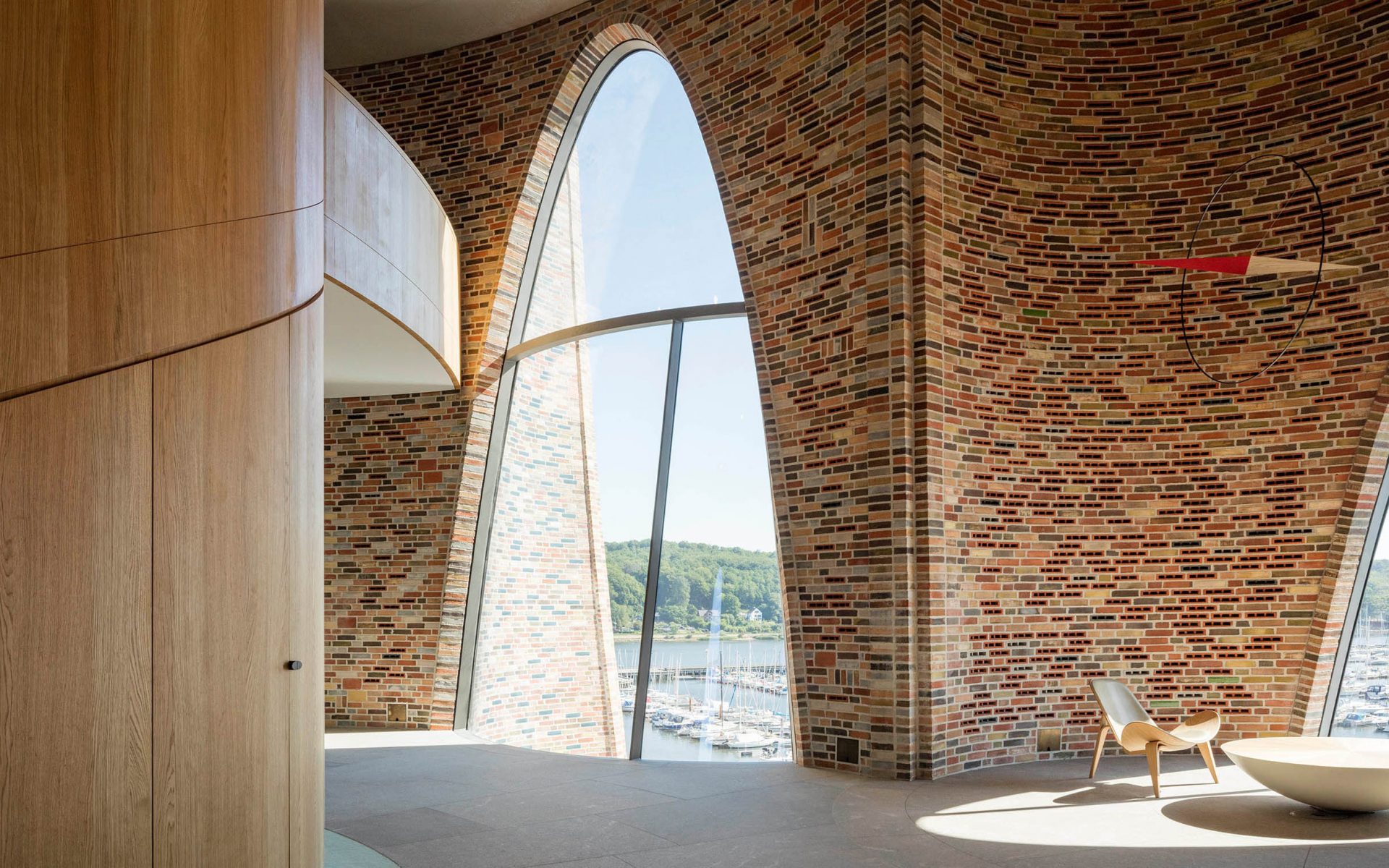 Olafur Eliasson's Stunning First Building Opens in Denmark
The acclaimed artist turns years of research on perception, light and nature into a total work of art
On June 9, acclaimed sculptor Olafur Eliasson will debut the first permanent building he has designed with Olafur Eliasson and Sebastian Behmann with the architectural team of Studio Olafur Eliasson.
The building, which serves as the Denmark headquarters of investment firm Kirk Kapital, is an imposing structure emerging from a fjord off the coast of the city of Vejle—signaling a dramatic departure from the humdrum aesthetic of most financial institutions.
The four-story office building, dubbed Fjordenhus, takes design cues from its seaside setting.
"We experimented early on with how to create an organic building that would respond to the ebb and flow of the tides," says Eliasson, who also found inspiration in "the shimmering surface of the water."
Those influences come into focus when looking at the undulating façade, which is clad in a dazzling array of classic Danish bricks—some of which have colorful glazes—and is punctuated by swooping parabolas of glass.
"There is a porosity to the building," notes the artist. "While it stands directly in the water, which permeates parts of the ground floor, the building is shot through with many different openings that frame views of the fjord and the natural elements, which makes the presence of nature felt."
The building, the first floor of which is open to the public, features site-specific artworks by Eliasson including Fjordhvirvel, a 23-foot-wide tornado of stainless steel and glass on the ground floor.
Recommended: Is this Dubai's Most Daring New Building?
Decorated with furnishings and artwork custom-made by Studio Olafur Eliasson, the upper three floors function as office space for the financial company, which is run by the family of LEGO founder Ole Kirk Kristiansen.
"I am very thankful for the trust shown by the Kirk Johansen family in inviting me, with my studio, to conceive Fjordenhus," says Eliasson. "This allowed us to turn years of research—on perception, physical movement, light, nature, and the experience of space—into a building that is at once a total work of art and a fully functional architectural structure."
Recommended: Olafur Eliasson Installs Giant Waterfall at Palace of Versailles 
While this is the artist's first completed work, previous forays into the built environment include London's 2007 Serpentine Pavilion and a collaboration with Henning Larsen on the Harpa Concert Hall in Reykjavik.
Future commissions will be handled by Studio Other Spaces, an office for art and architecture that Eliasson established in 2014 with the architect Sebastian Behmann.
Take a tour of the building below.
Next Post