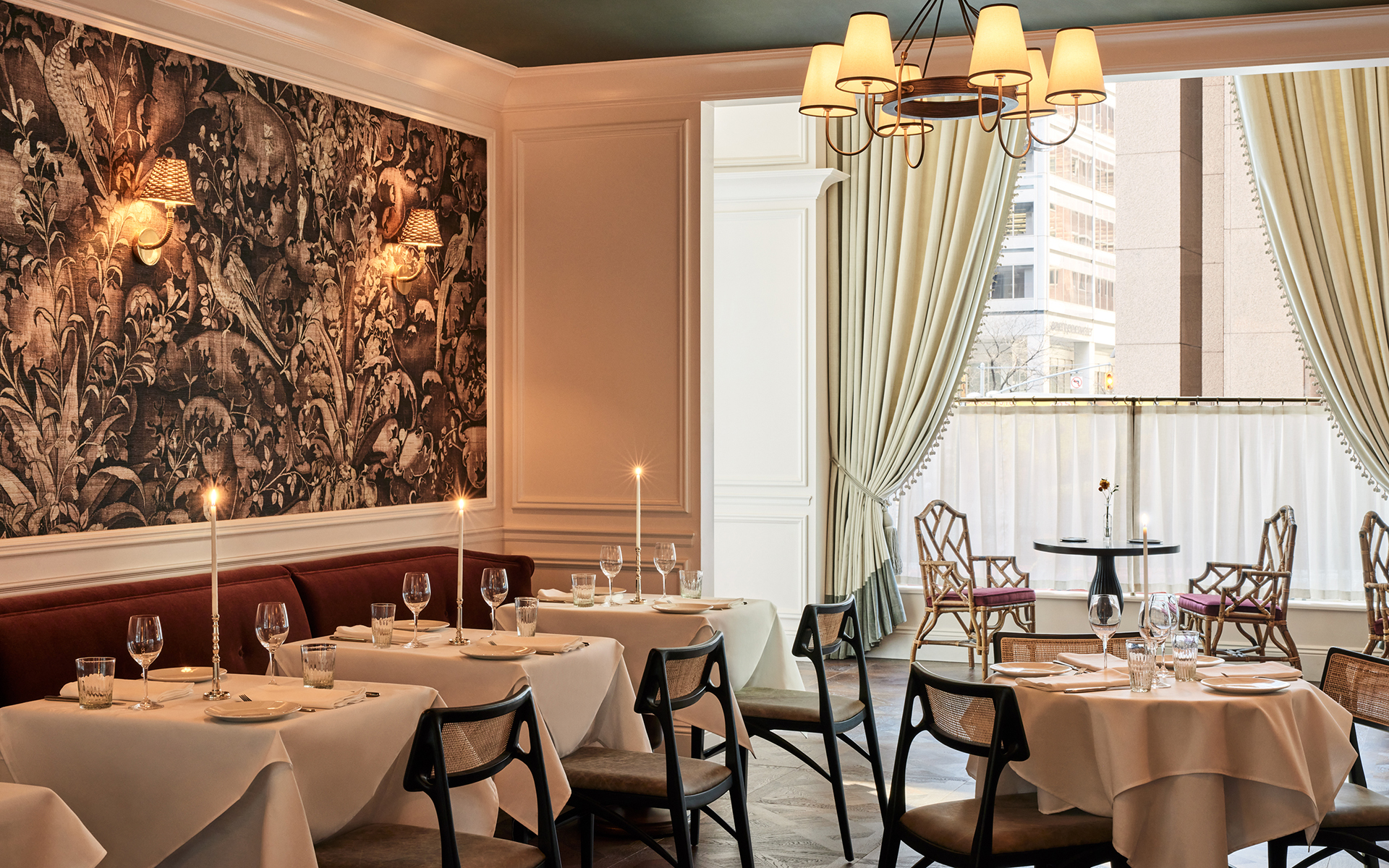 7 of the Most Beautiful New Restaurants in New York City
From David Geffen Hall's new restaurant Tatiana to The Wesley's vegetarian-forward menu, book a table at one of these chic spots
Whether you're planning an intimate date night for two or entertaining loved ones from out of town, New York City is always brimming with enticing restaurant options. As we settle in 2023, a slew of new arrivals have appeared in nearly each bustling neighborhood, and Galerie has compiled the sleekest new restaurants that perfectly blend sophisticated cuisine with striking design that are must-visits for locals and tourists alike.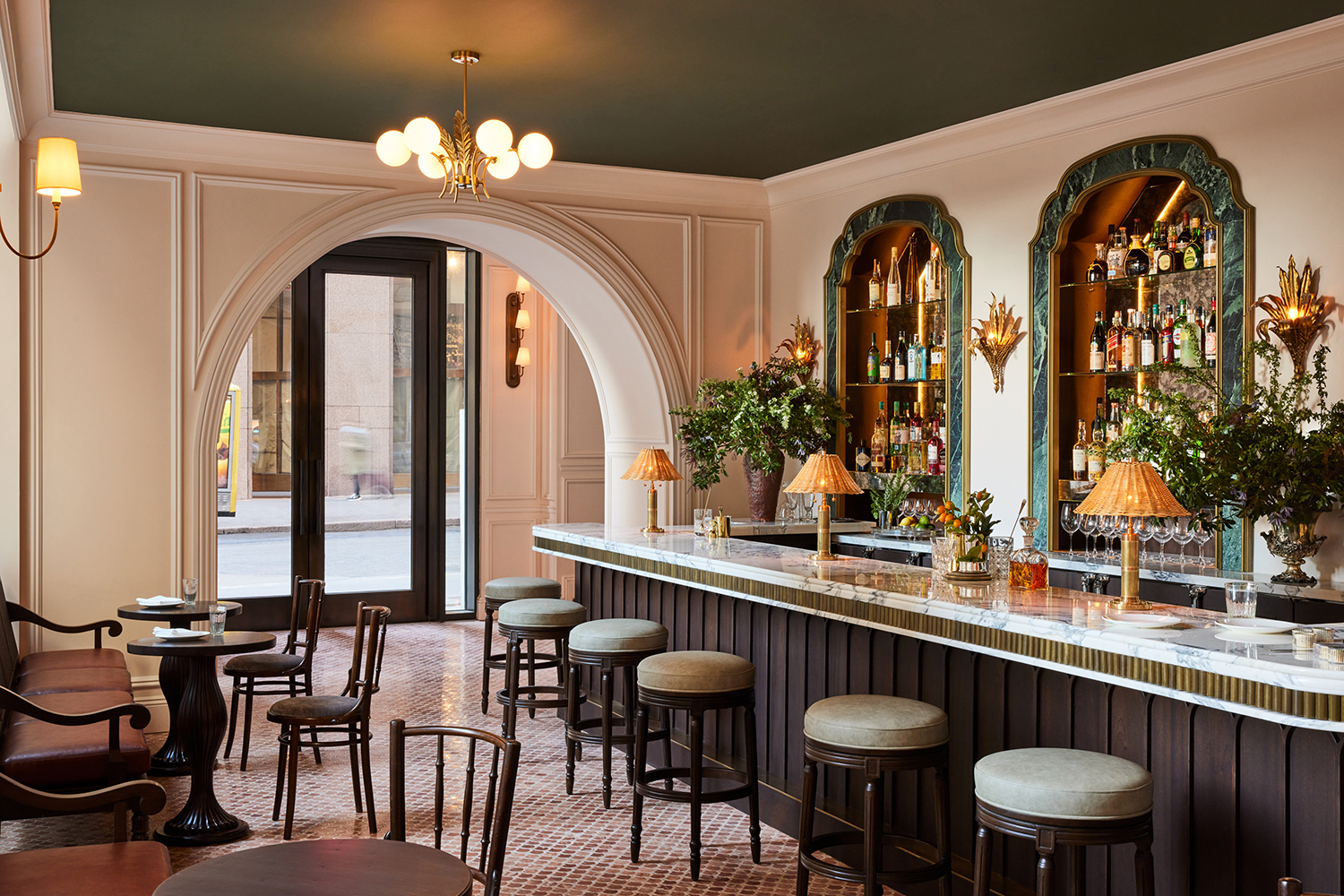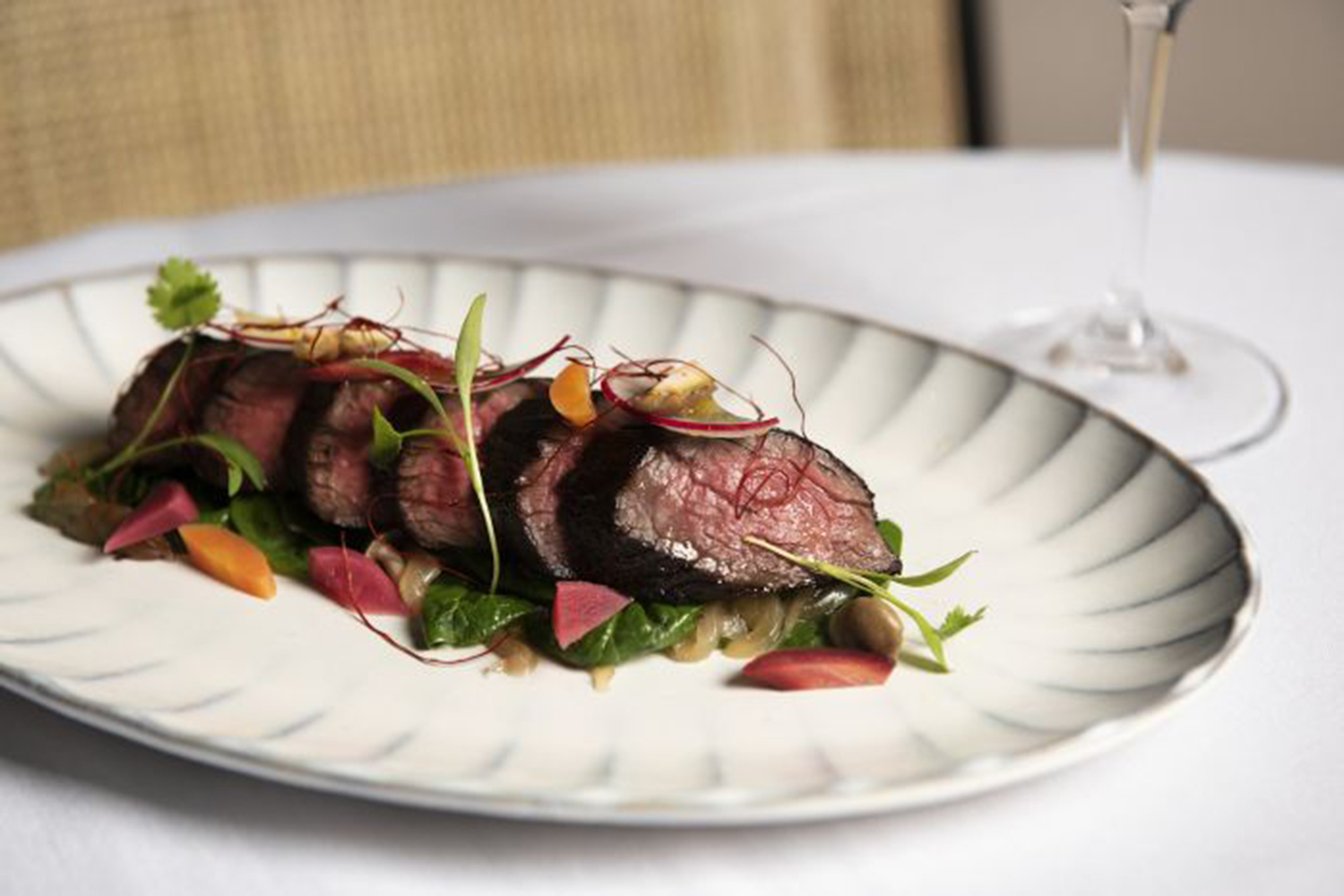 1. La Marchande
Located within the chic new Wall Street Hotel, Michelin-starred chef John Fraser's La Marchande brings an upscale elegance to the Financial District and is an ideal spot for those seeking after-work drinks or a special group dinner. The menu features dishes inspired by  classic French brassieres, where staples including honey roasted duck and grilled lobster join more whimsical plates such as French onion dumplings and beef summer rolls. For libations, start the meal off with the restaurant's impressive vermouth flight, where each selection is carefully paired with complementary cinnamon sticks, citrus, and mint to enhance the experience. The eatery's impressive French-focused wine list, which features over 100 options, also cannot be missed.
Overseen by New York–based studio Charles & Co., the design features heavily patterned wall coverings from Watts of Westminster, which give a Café Society ambiance. For the impressive bar and parlor area, green marble and antique brass mirrors overlook the ornate wooden bar with mother-of-pearl inlay.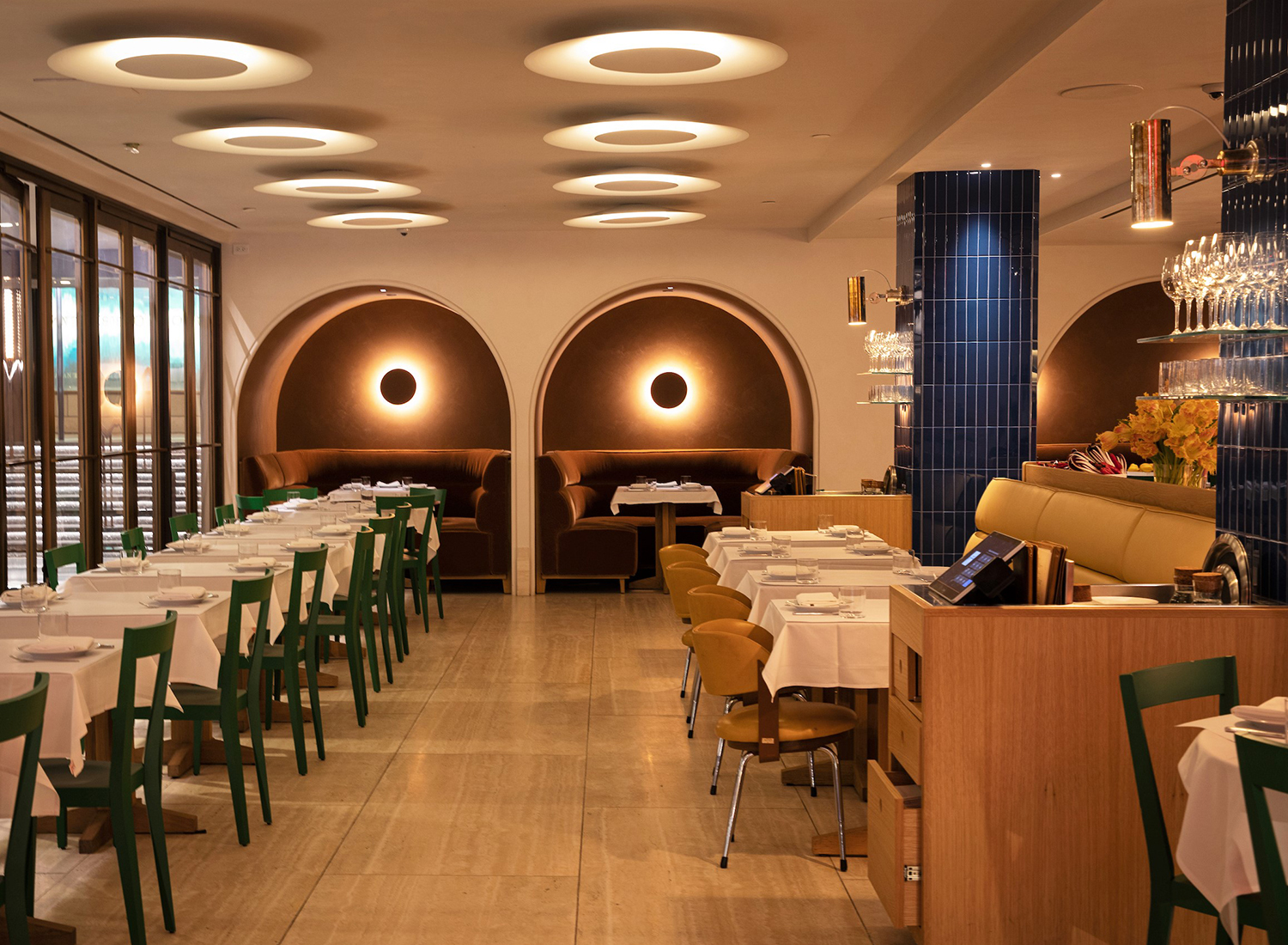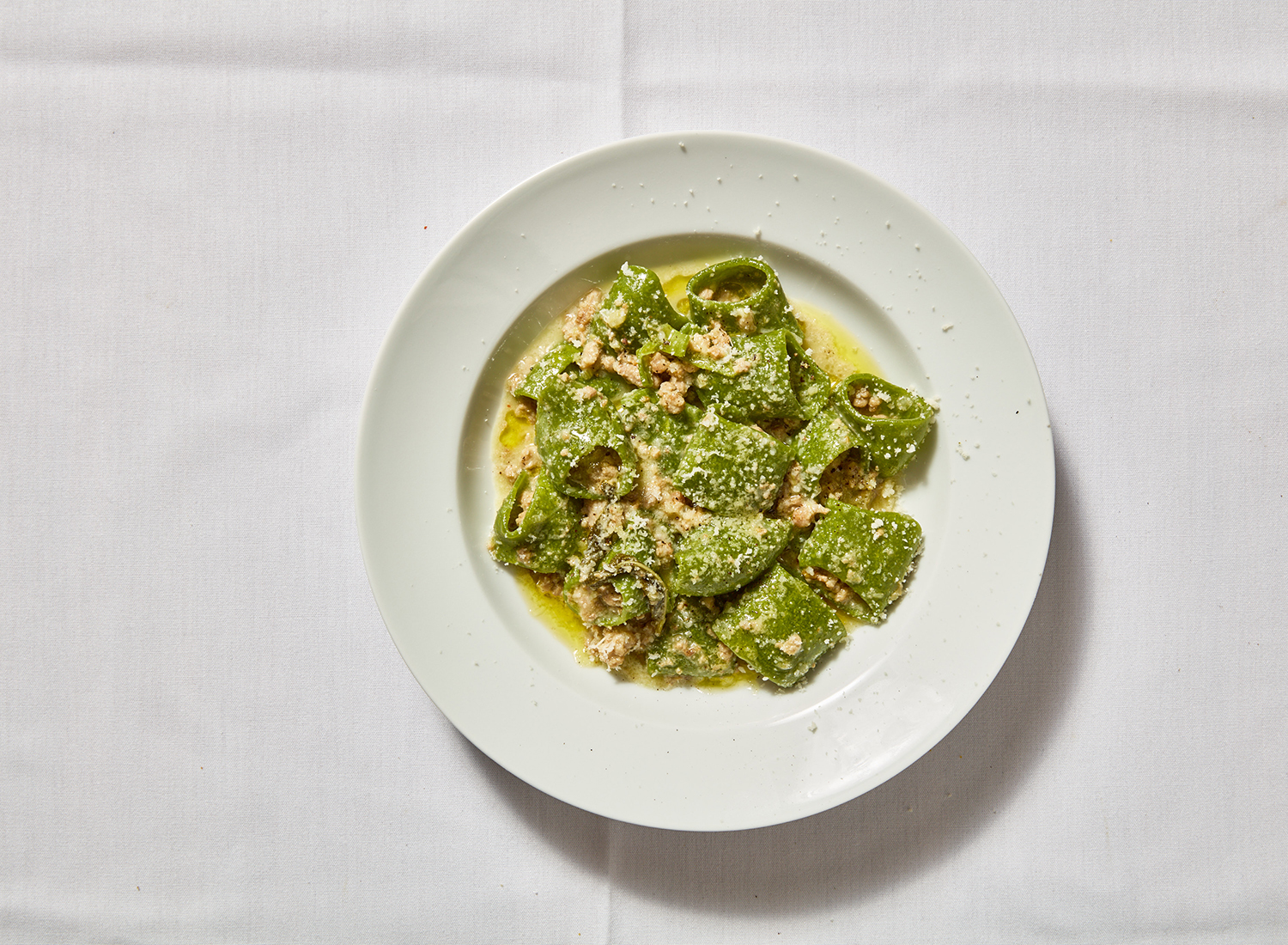 2. Jupiter
Located on the rink level of Rockefeller Plaza, Jupiter is the latest restaurant concept from the trio behind King in SoHo. Introducing a twist on traditional Italian cuisine, executive chef Gaz Herbert brings a British flair to the numerous pasta dishes, such as the Pizzoccheri, a baked buckwheat pasta with fontina, Savoy cabbage, and potato as well as Pansotti di Zucca made with pumpkin, marjoram butter, and Parmesan. For a more intimate group lunch or dinner, the restaurant's La Tavola seating serves as a semi-private dining nook that can seat up to 12 guests.
The inspiration for the restaurant stems from Greek mythology, and the design was spearheaded by Workstead, the Brooklyn-based design studio responsible for crafting other luscious eateries including Le Rock. Taking into account the inspiration of the restaurant, and Rockefeller Center's Art-Deco architecture, the firm implemented touches of bright colors through burnt yellow banquettes and green Gio Ponti chairs.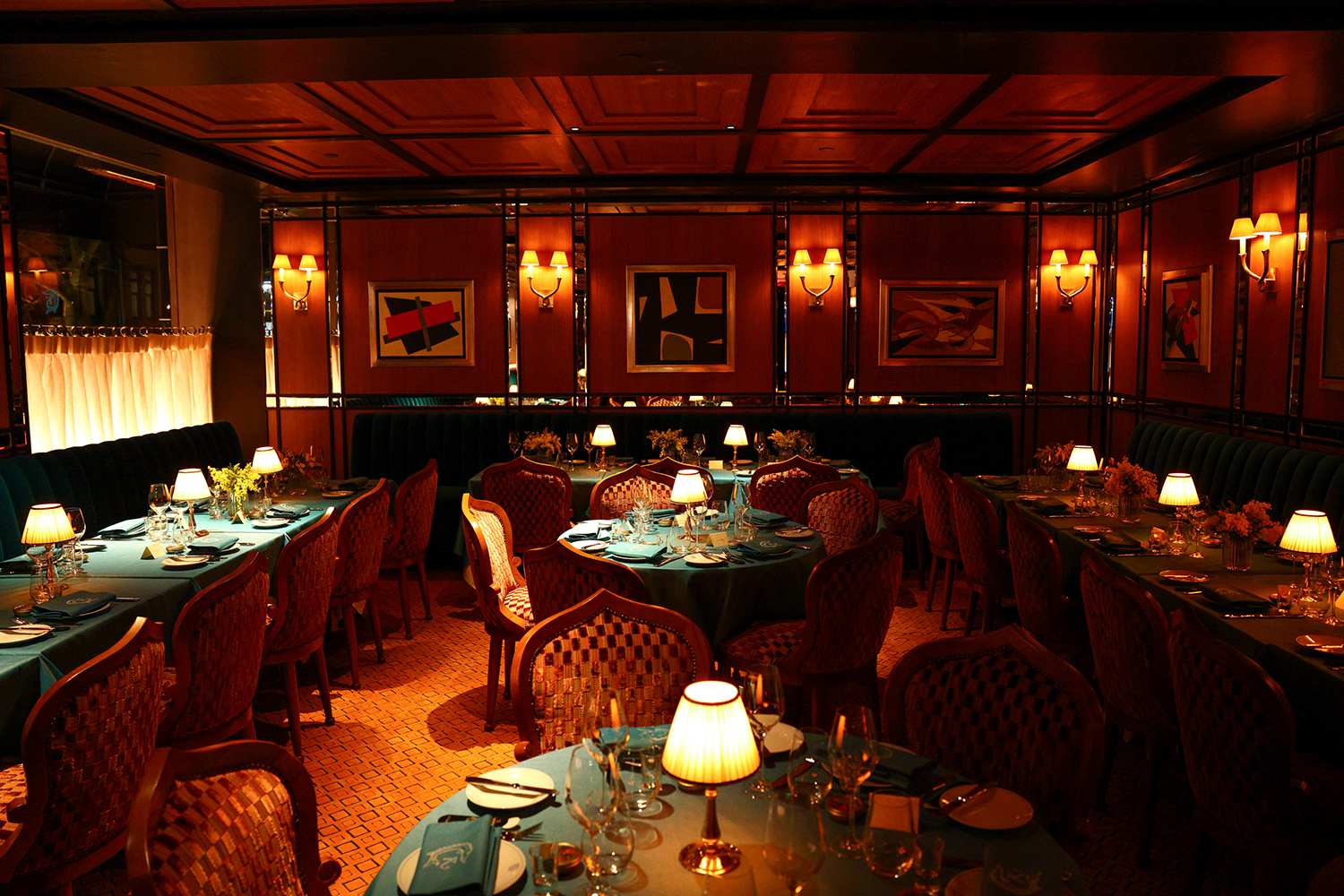 3. Caviar Kaspia at The Mark
As if the Upper East Side's glamorous Mark Hotel needed another way to draw in guests, celebrated designer Jacques Grange has conceived the moody and lavish Caviar Kaspia featuring a menu dedicated to one of the world's finest delicacies. Evoking Old World elegance, wood-paneled walls wrap around emerald green mohair banquettes complemented by the warm and ambient lighting by L'Observatoire International. The Parisian atmosphere is further enhanced by the restaurant's impressive menu, and guests can sip champagne or vodka while feasting on blinis with smoked salmon, bottarga, or one of the eight different types of farm raised caviar spanning from regions across the globe. For vegetarians itching to enjoy the finer things in life, opt for the vegetarian caviar made from liquified and spherized truffle.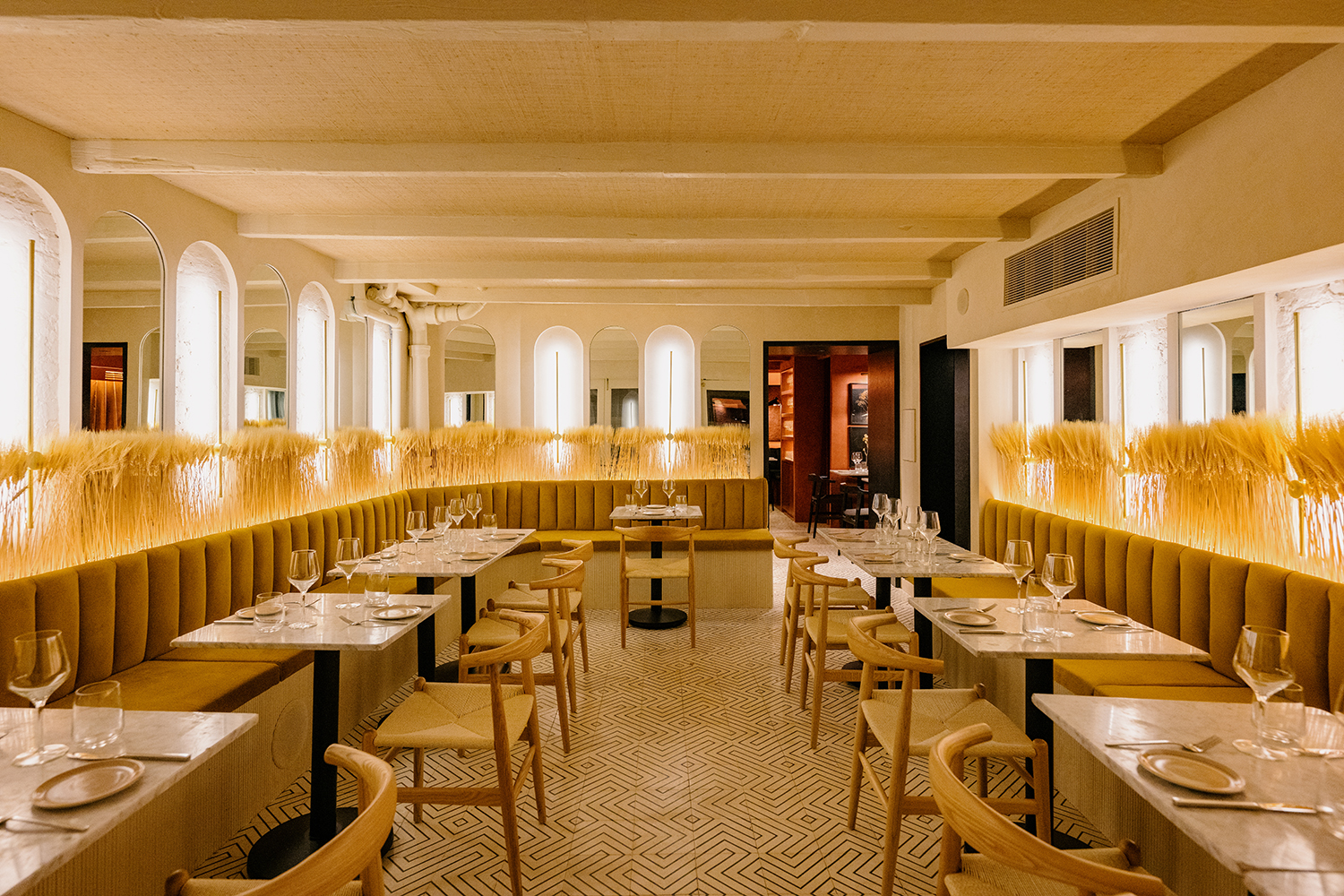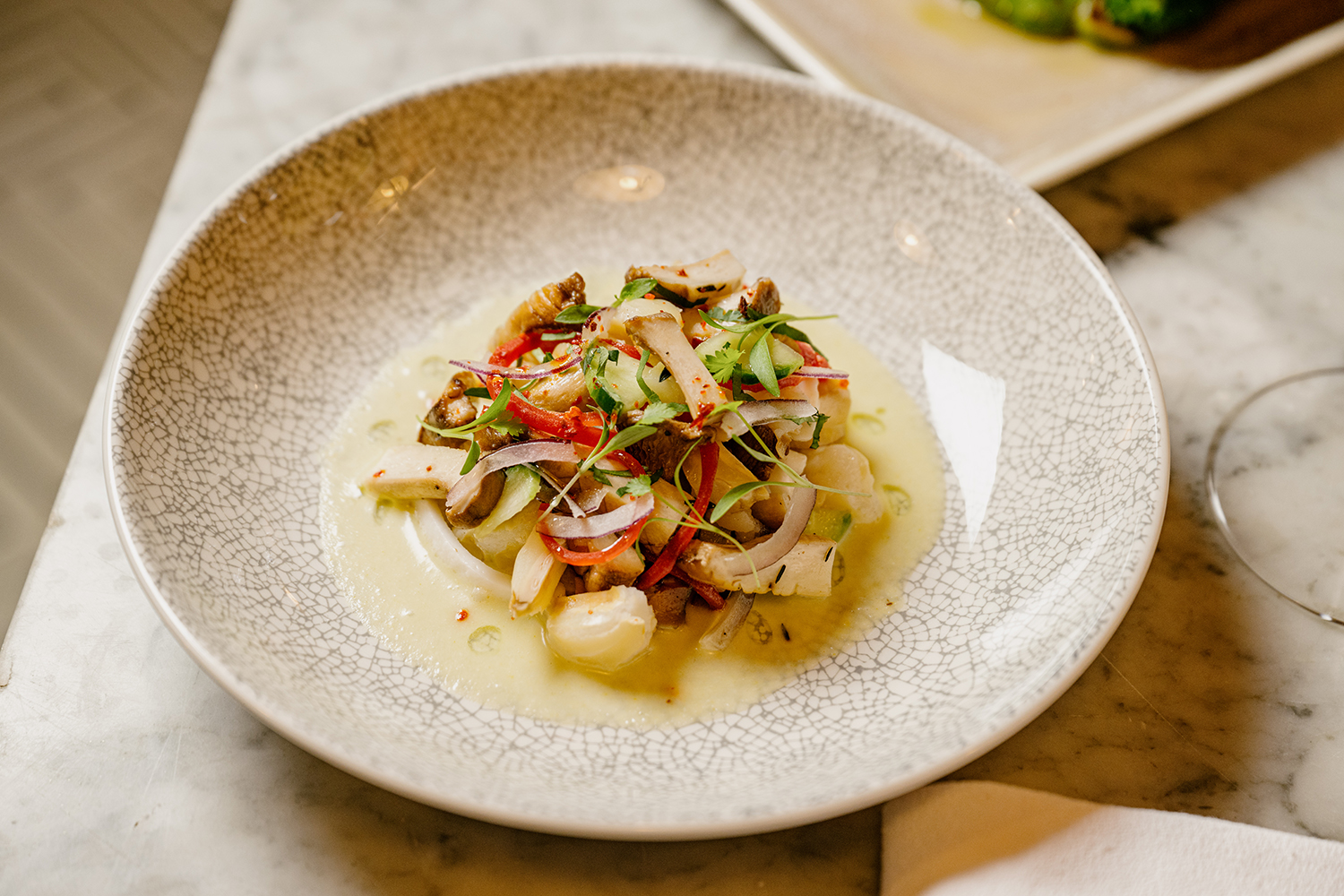 4. The Wesley
The latest vegetarian-focused restaurant, The Wesley, has arrived to the West Village, tucked underneath brownstones lining West 4th Street. For the debut project of Mulberry Hospitality, executive chef Santiago Astudillo—whose résumé includes Le Bernardin and Daniel—has conceived a menu that showcases vegetables and legumes in a new light alongside elevated protein options. Menu highlights include baby lettuce with citrus, almond ricotta and jalapeño emulsion; mushroom ceviche with jicama, yucca chips and coconut leche de tigre; roasted carrots with polenta, pickled shallots, coconut and vadouvan curry; artichoke pasta with saffron, cashew cream and toasted garlic. For the menu's protein options, dishes including whole trout with crisped skin, Yukon potatoes, trout roe, and tamarind sauce; bison skirt steak served alongside parsnip puree and mushrooms; and amish chicken roulade with squash puree and swiss chard will leave you feeling satisfied.
The design for this 60-seat eatery was conceptualized by Elmo Studios, which created three separate dining areas to match the restaurant's plant-orientated menu. Framing the ochre velvet banquettes in the primary dining area (called the "grain room") are illuminated installations of dried grain, complementing the lime-washed walls and woven rafia ceiling. Deeper into the space, the "root room" features velvet-draped walls and rich mahogany, which help conjure a romantic ambiance. Finally, in the bar area, panes of light hover above charcoal lime-washed walls and stained-oak details.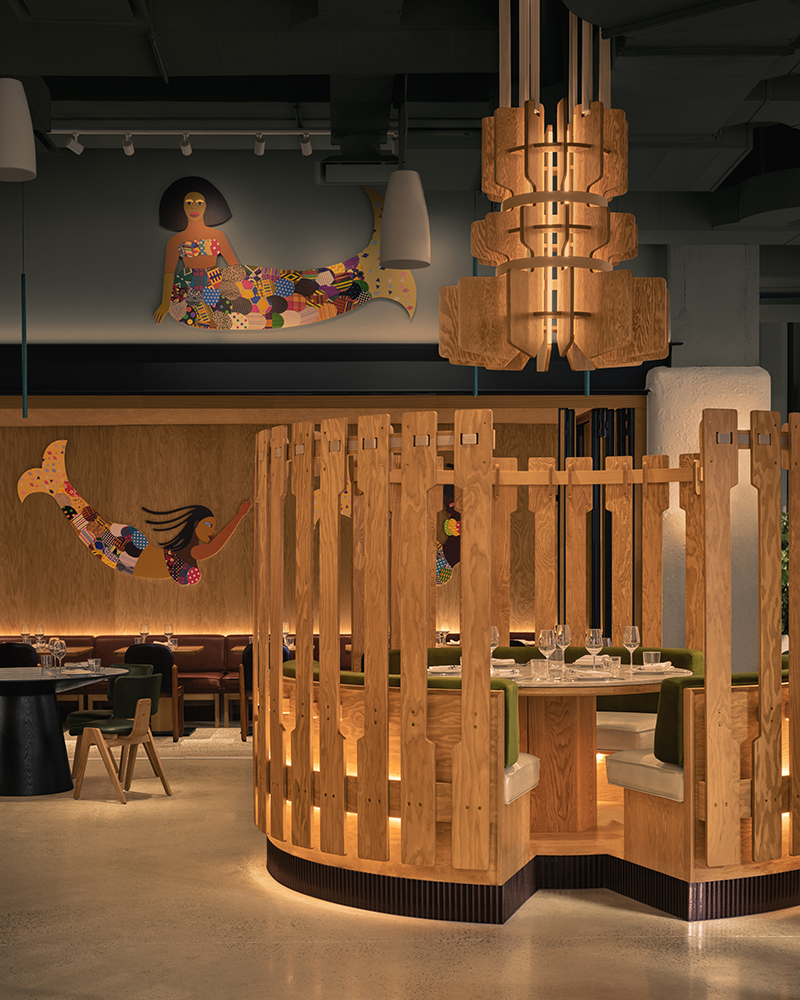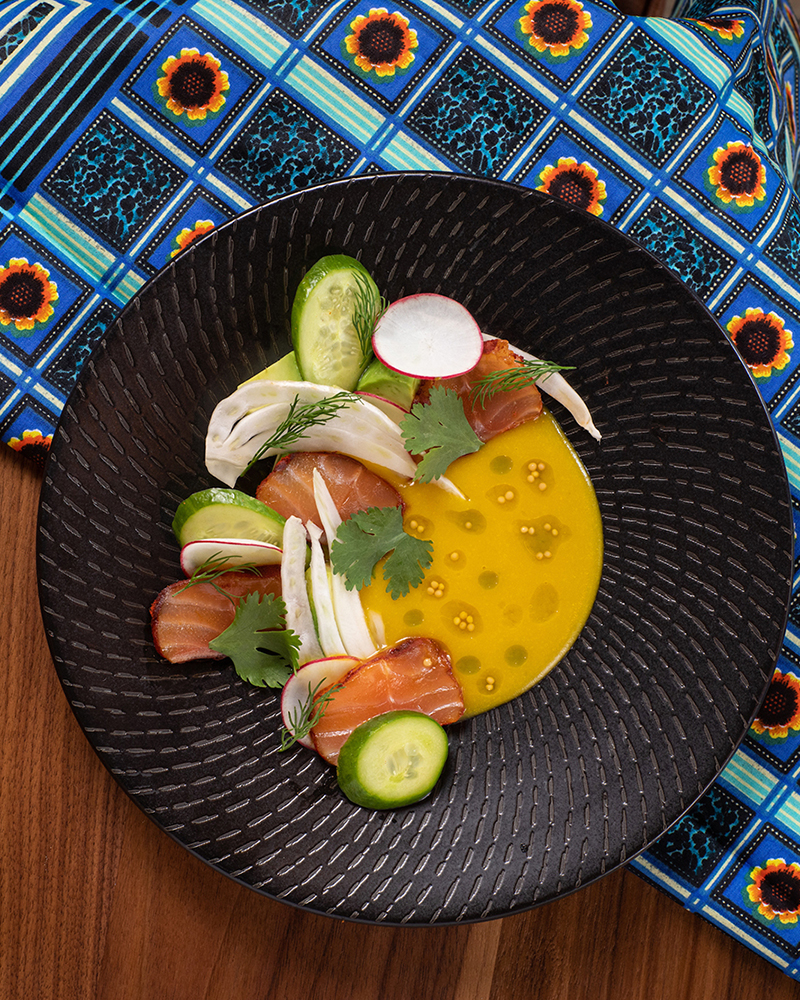 5. Hav & Mar
Located inside Chelsea's Starrett–Lehigh building, yet another impressive restaurant by James Beard Foundation Award–winning chef and author Marcus Samuelsson, Hav & Mar blends the chef's Swedish and Ethiopian roots by focusing on thoughtfully sourced seafood through family-style dishes and small plates such as the Swediopian, a Berbere-cured salmon with mustard seed caviar and buckthorn and mermaid black rice, which includes djon djon mushrooms with crab, lobster, and green peas. In addition to an impressive wine list dominantly featuring women producers and producers of color, beverage director Rafa García Febles has conceived a cocktail menu that highlights zero waste and sustainability.
To bring an exciting atmosphere, Director and Chief Curator of the Studio Museum in Harlem, Thelma Golden, served as co-creative partner alongside artist Derick Addams, who created site-specific wall installations commissioned by the chef, which includes the artist's "We Are From The Water Too" series of Black mermaids. For the design, Montreal-based Atelier Zébulon Perron incorporated raw materials such as honey-hued wood slat screens to complement earth-tone fabrics and chandelier crowning the emerald marble bar.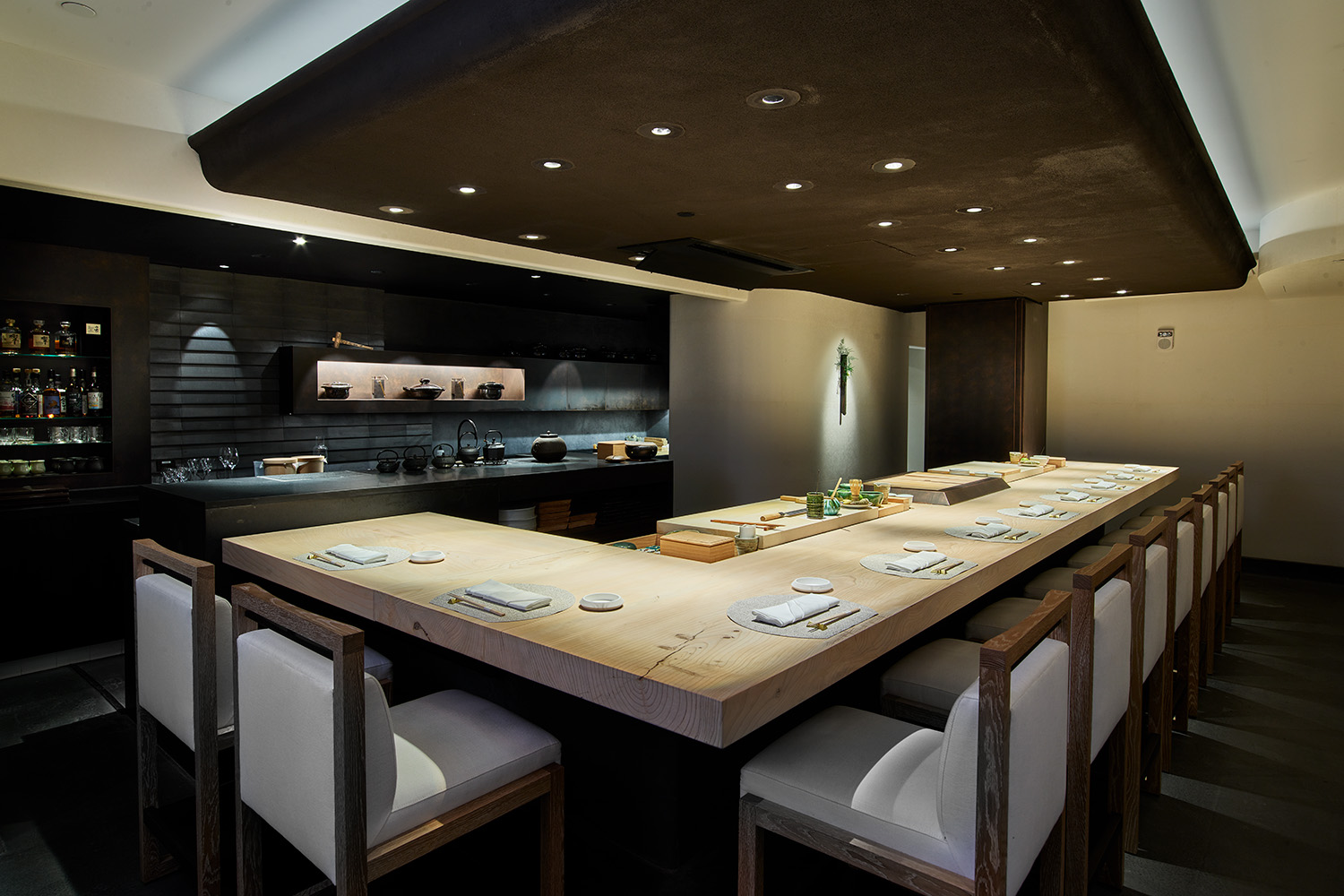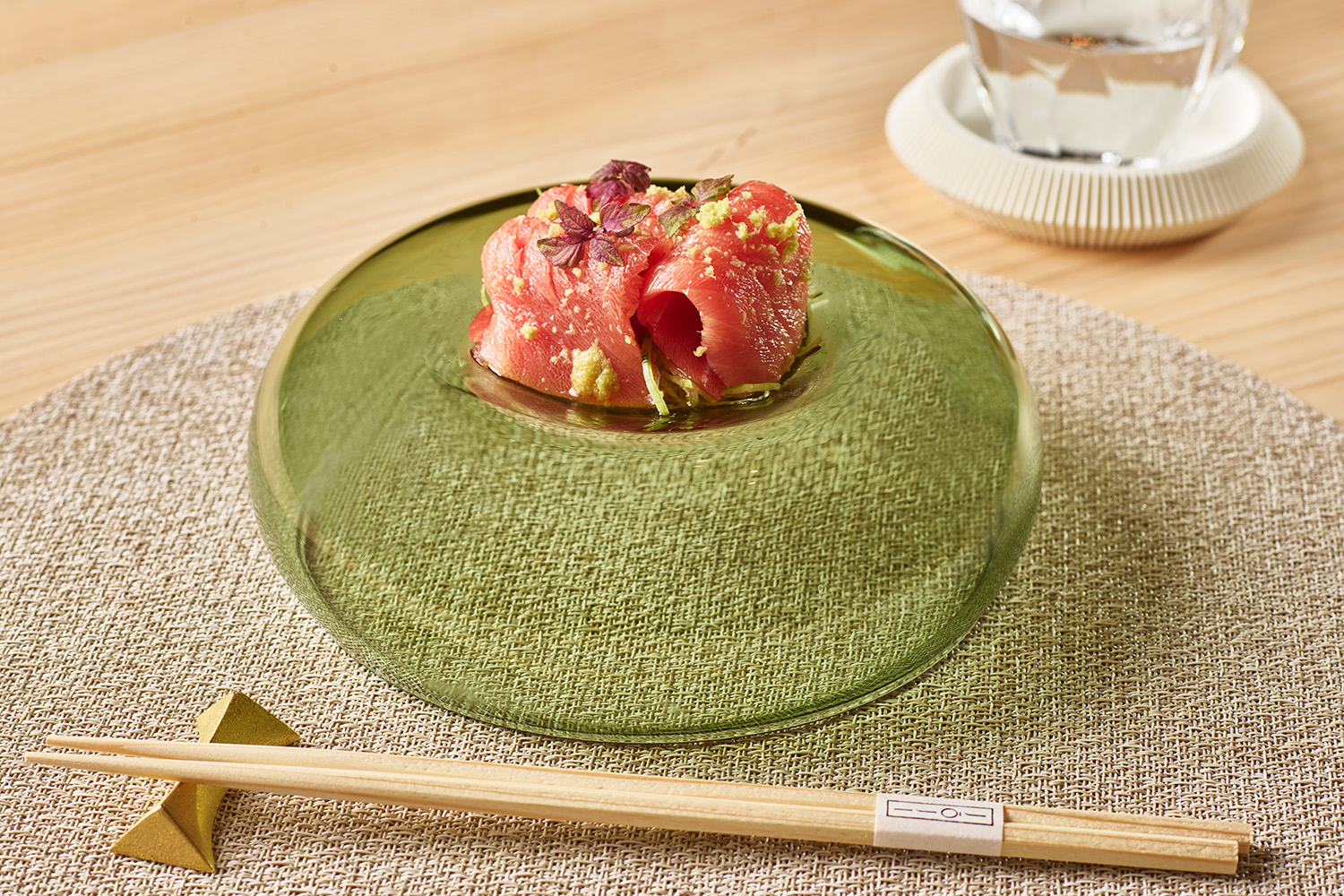 6. Jōji
Tucked away in a hidden alcove below skyscraper One Vanderbilt is Midtown's newest omakase experience, Jōji. Culinary powerhouses chef Daniel Boulud and chef George Ruan conceived the menu alongside chefs Wayne Cheng and Xiao Lin to offer an elegant take on this celebrated cuisine. In addition to the restaurant's staple space, Jōji Box, a to-go sushi counter operating out of a storefront adjacent to the restaurant, offers a pre-chosen selection of tuna maki, uni nigiri, salmon nigiri, maki rolls, and more. To complement the sophisticated menu and location, Shinichiro Ogata, founder of Simplicity Design, conceptualized a space that honors traditional Japanese design while bringing in New York City flair.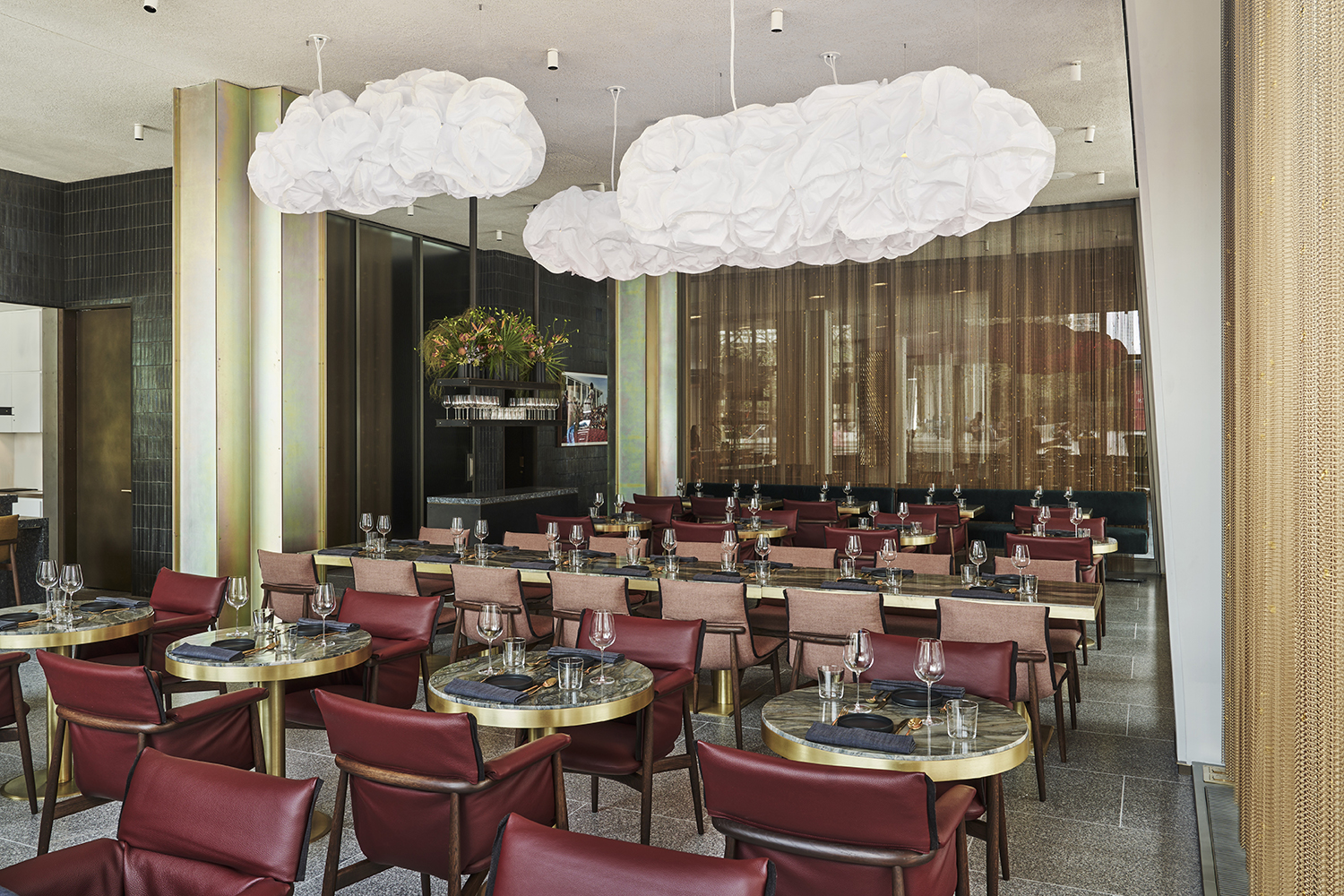 7. Tatiana
Following the renovation of Lincoln Center's David Geffen Hall, the space's new eatery Tatiana is the first New York restaurant of acclaimed chef and Top Chef alum Chef Kwame Onwuachi. The menu, which Onwuachi created as a love letter to his childhood in the Bronx, features a whimsical twist on dishes he grew up with, such as truffled chopped cheese buns made with dry-aged ribeye, smoked mozzarella, and taleggio as well as braised oxtails served with rice and peas, thumbelina carrot, and chayote squash.
For the interiors of such a historic area, architecture firm Modellus Novus sought to honor Onwuachi's blended love of food and fashion by bringing a sleek and timeless aesthetic. Floor-to-ceiling windows allow guests to admire the bustling city streets while being enclaved in iridescent glazed tiles. For seating, customized smoked oak and leather chairs sourced from Denmark join velvet upholstered banquettes. Overhead, a trio of cloudlike pendants encase the dining room with warm light.
Next Post