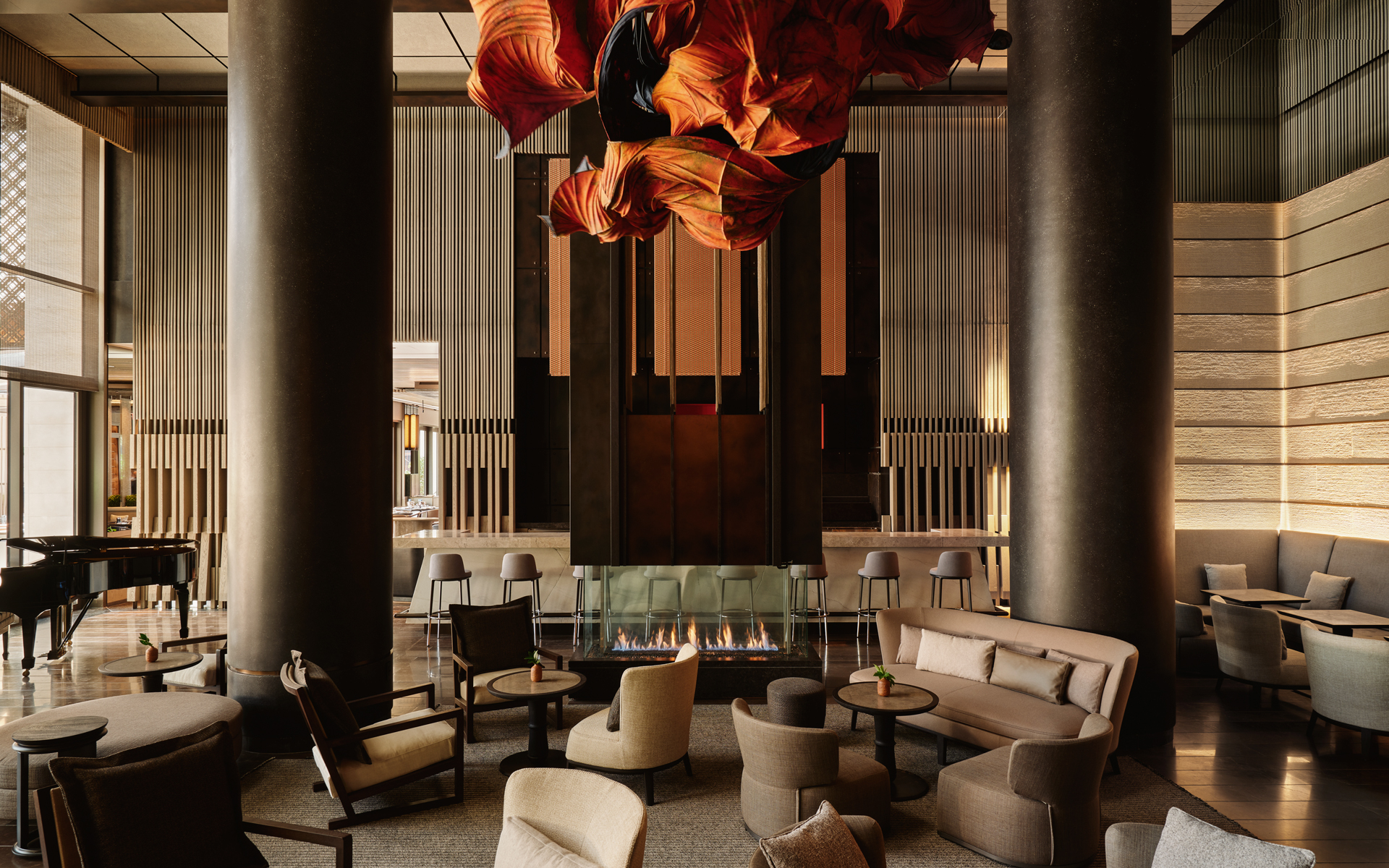 Go Inside 5 of New York City's Most Exciting Hotel Openings
From Aman Group's lavish new property on Fifth Avenue to a supremely stylish stay in the Financial District
While people flock to New York City for being the city that never sleeps, there's just something about finding refuge from the bustling crowds in a chic and comfortable hotel that's unmatched. Whether you're a visitor seeking a place to stay, or a local looking for a quick bite or drink, these new and upcoming hotels are some of the most anticipated openings hitting the city.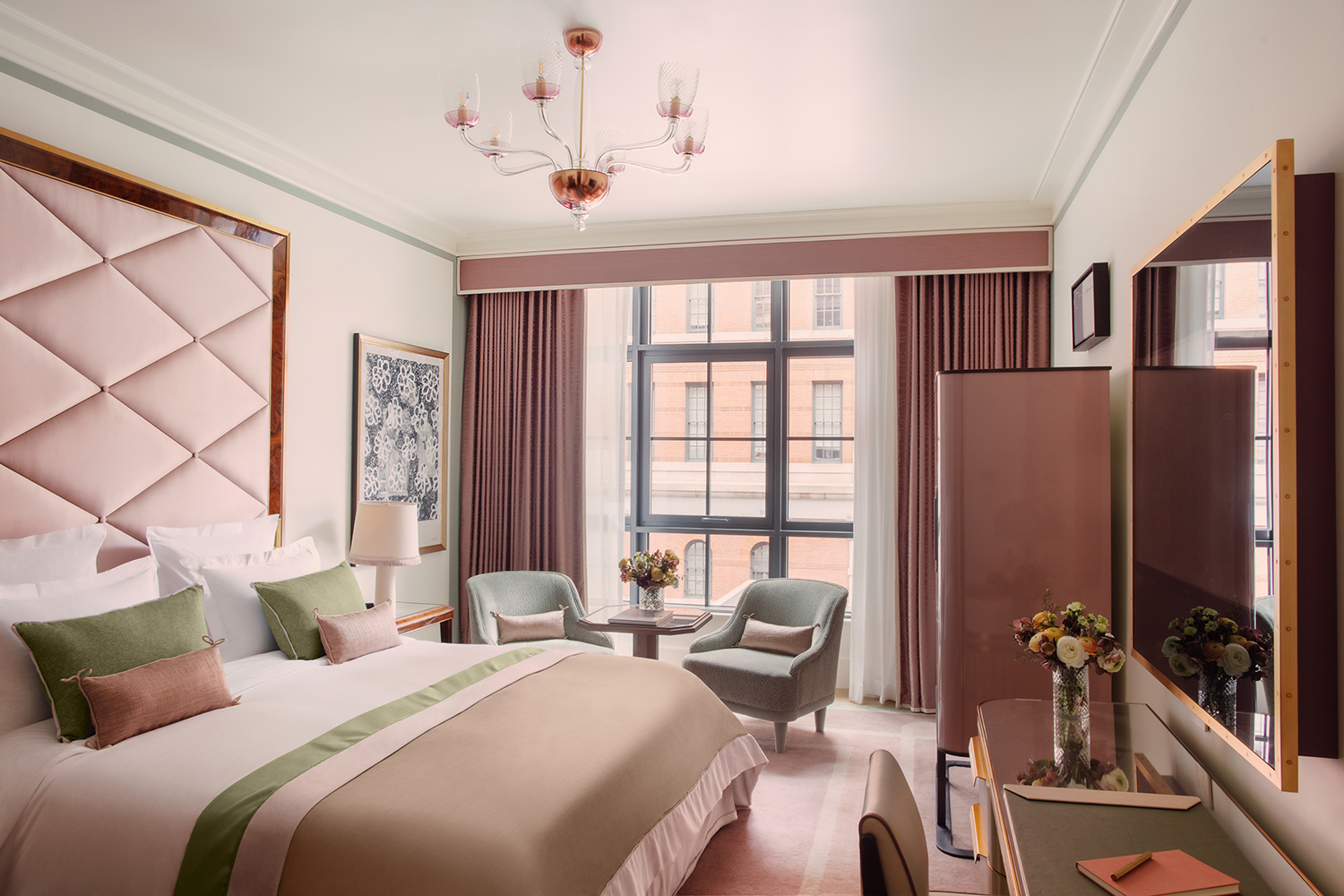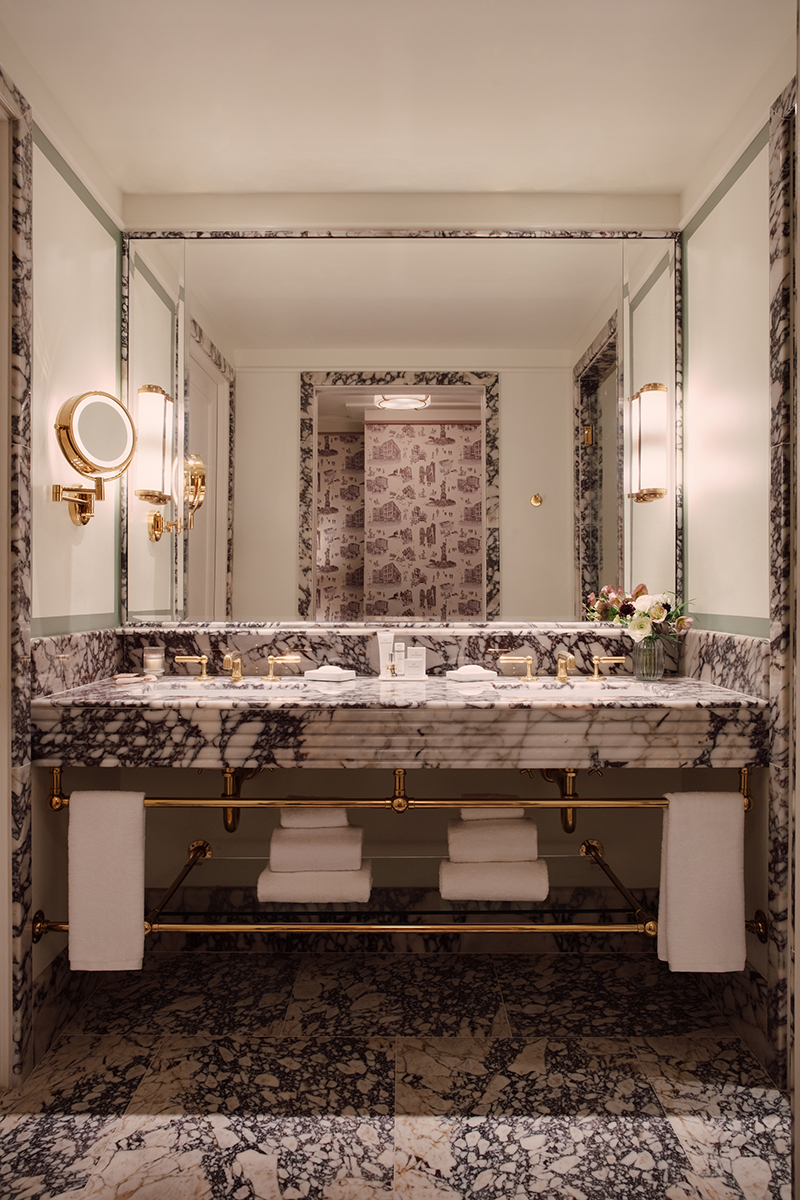 1. Hôtel Barrière Fouquet's New York
Blending chic sophistication with the cool atmosphere of Tribeca, Hôtel Barrière Fouquet's New York offers an intimate experience among one of the city's most coveted neighborhoods. The property features nearly 100 residential-style rooms and suites all conceptualized by world-renowned designer Martin Brudnizki. Yet another impressive amenity is the Spa Diane Barrière, which includes five treatment rooms, a sauna, steam room, indoor pool, gym, and water fitness circuit—all providing famous French dermo-cosmetics brand Biologique Recherche.
As for dining, an outpost of the historic French brasserie Fouquet, which is led by Michelin-starred chef Pierre Gagnaire, allows for a true Parisian experience. For a more casual feel, Par Ici Café provides a completely vegetarian menu within a picturesque glassed-in courtyard. To toast the end of the night, Titsou Bar features candle-lit tables surrounded by shades of aubergine, amethyst, and dark green for a moody atmosphere.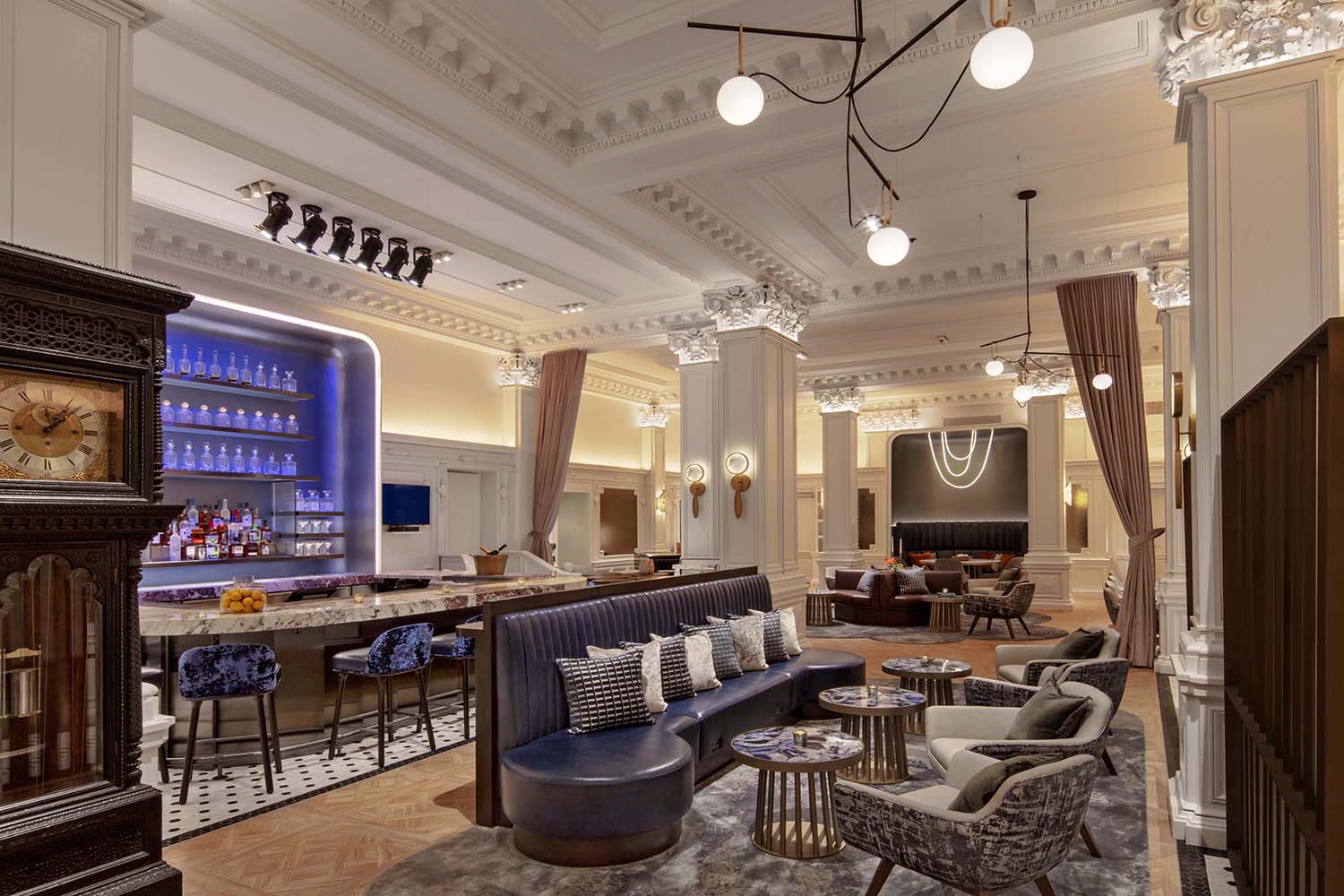 2. The Algonquin Hotel
Known as one of the oldest operating hotels in the city and originally built in 1902 by famed architect Goldwin Starrett, the 181-room Algonquin Hotel has gone through a complete transformation courtesy of New York architecture and design firm Stonehill Taylor. Overseeing both the interior design and architecture, the team gave the hotel a new look inspired by New York City's energy during the roaring 1920's, when playwrights and musicians would flock to the Algonquin as a popular rendezvous spot. In addition to the expansive hotel lobby, which boasts textured furniture, velvet drapery, and theatrical lighting, the property's famous Blue Bar holds powdered blue backlit shelves against black panels as an ode to its name. In honor of the hotel's rich history, quotes by famous patrons can be found hidden amongst the shelves.
Past the lobby and bar, the decorated hallway leads to two separate meeting rooms that can be utilized by guests. You may even come across Hamlet, the 12th resident orange tabby feline at the Algonquin. For lodging, options range from standard rooms to the Barrymore Suite, which was named after actor John Barrymore, who was once a regular fixture at the hotel.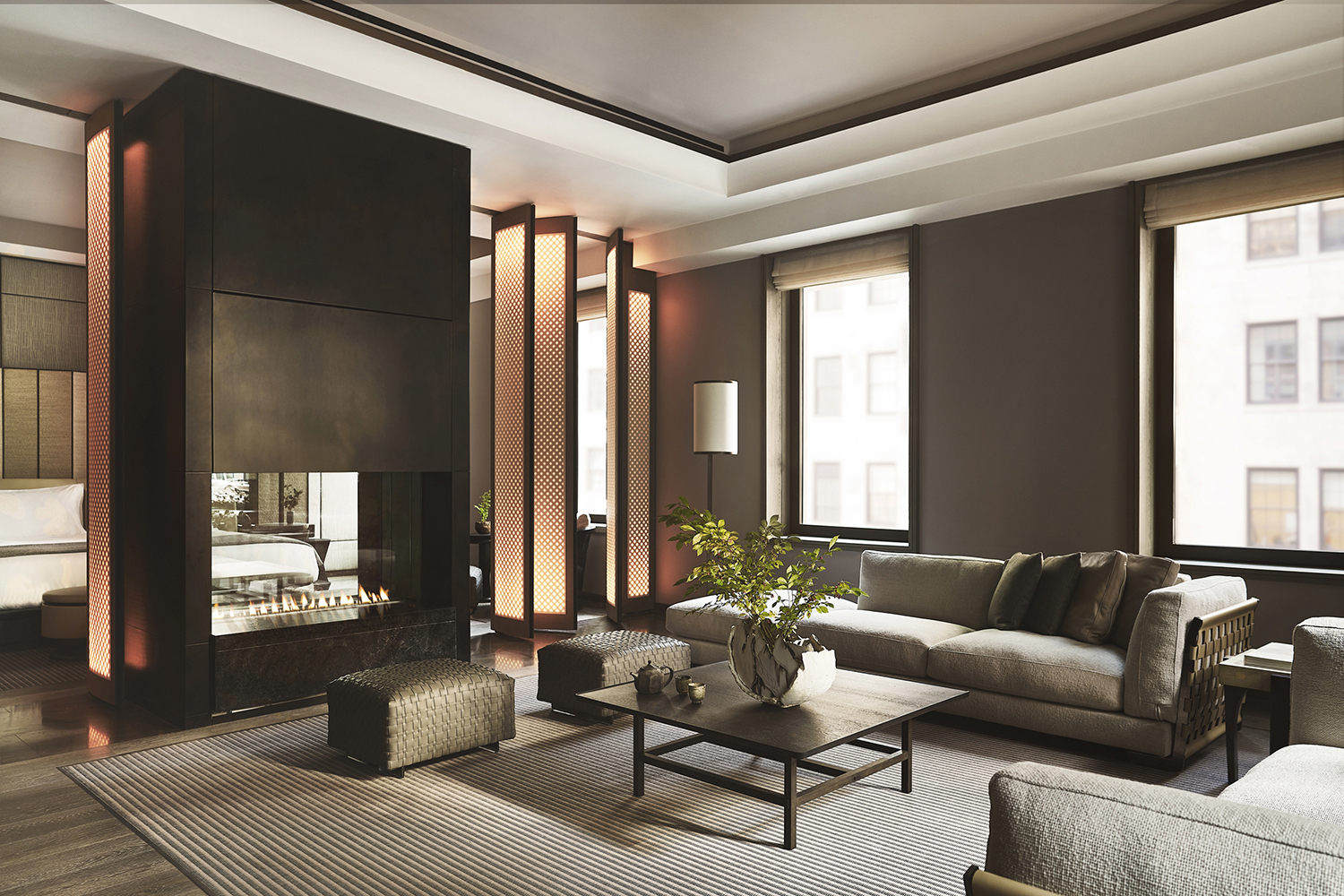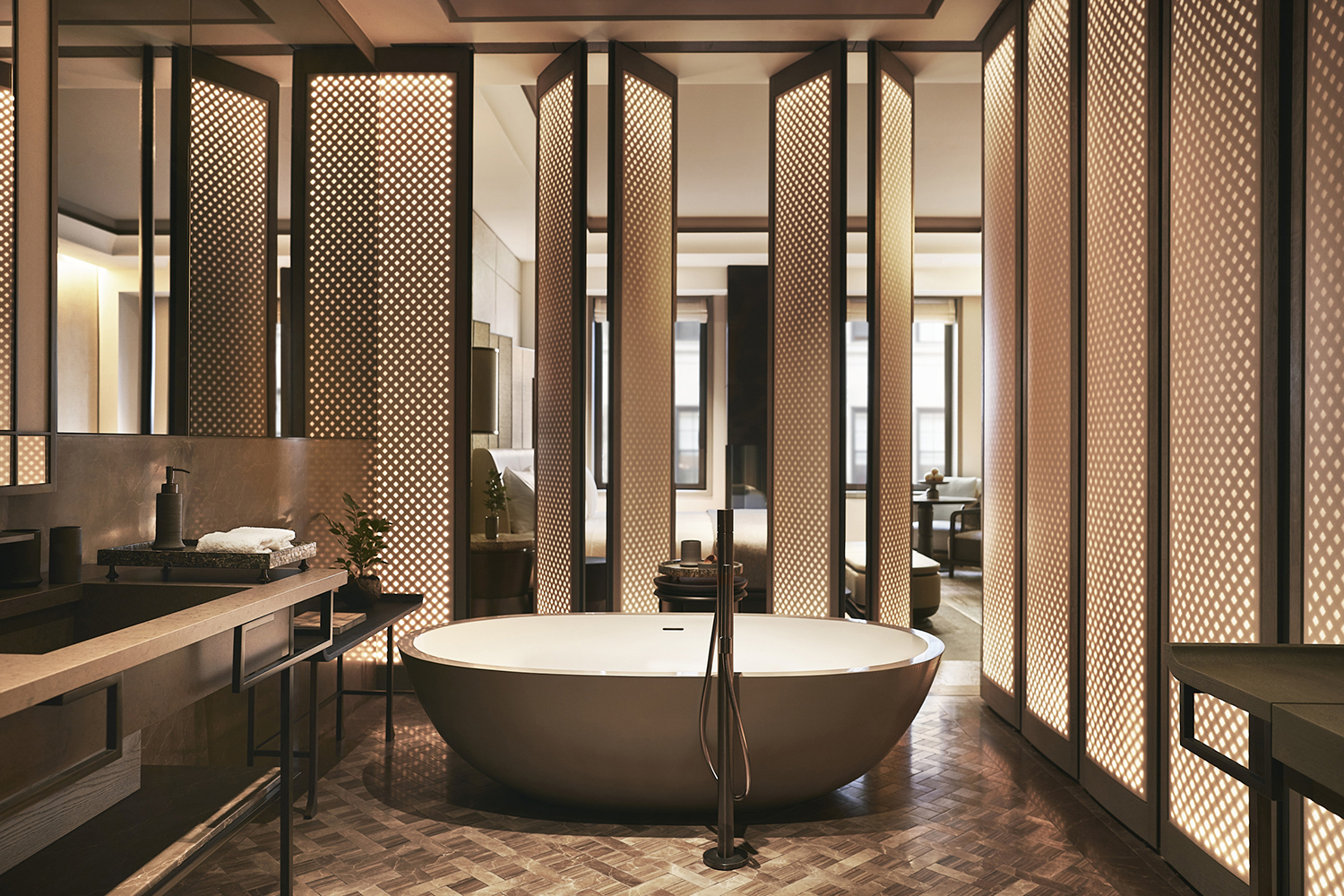 3. Aman New York
Holding over 33 properties across 20 countries ranging from Sri Lanka to Morocco, luxury hospitality group Aman has added New York to its already impressive resume. Opening August 2, Aman New York was designed by Denniston's Jean-Michel Gathy, who transformed the historic Crown Building into an urban sanctuary among the streets of Manhattan. Featuring over 80 suites, all of which include a functioning fireplace, the Japanese-inspired interiors invite relaxation to go along with its holistic amenities.
Inside the hotel, the brand has introduced its new wellness flagship concept which covers three stories of the property. The centerpiece is an indoor swimming pool surrounded by fire pits and daybeds while two impressive Spa houses are available. As for dining, Aman New York offers a variety of options including Italian eatery Avra and Japanese fine dining restaurant Nama. For light bites and libations, the Jazz Club or year-round Garden Terrace provides a moment of tranquility before hitting the bustling city streets.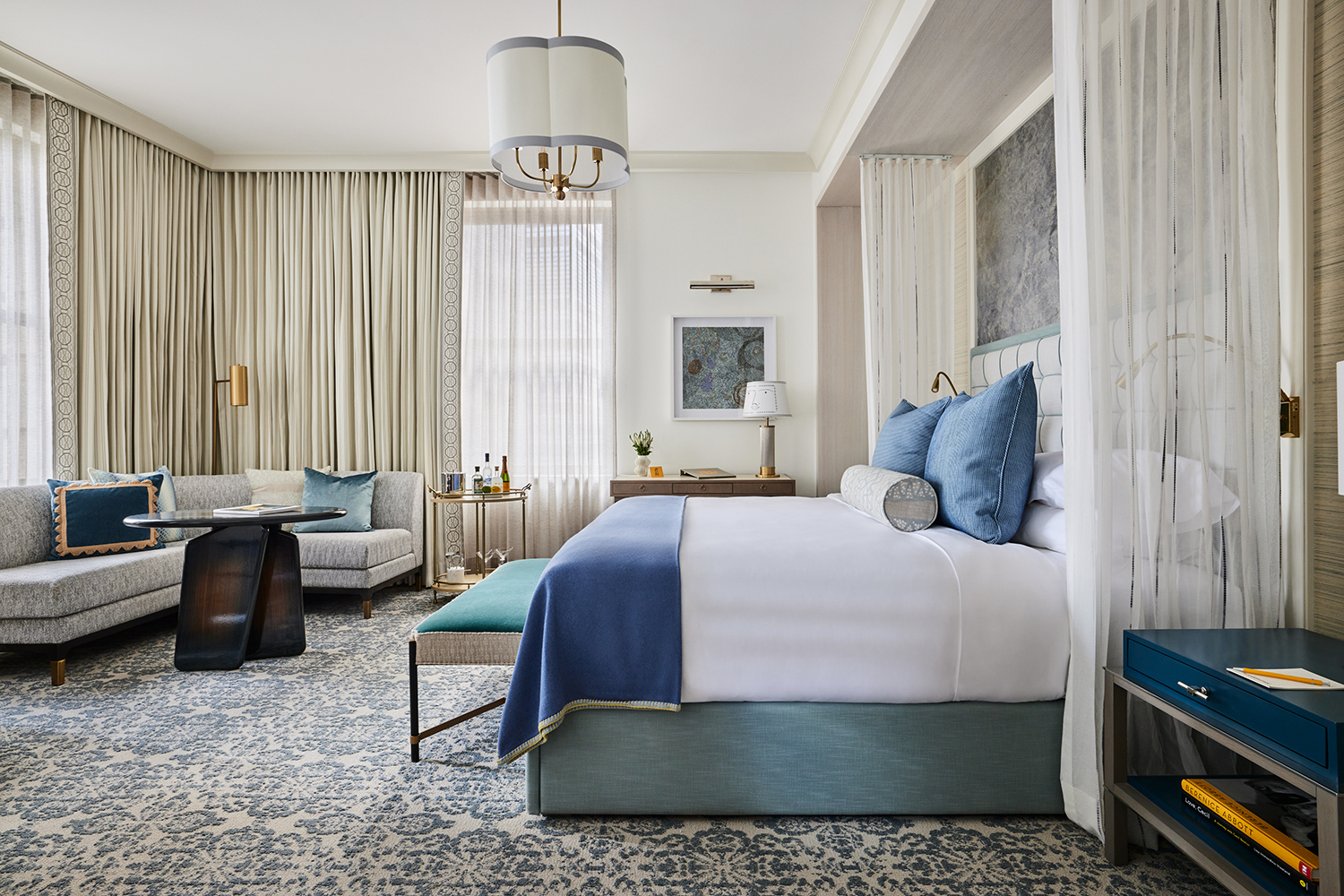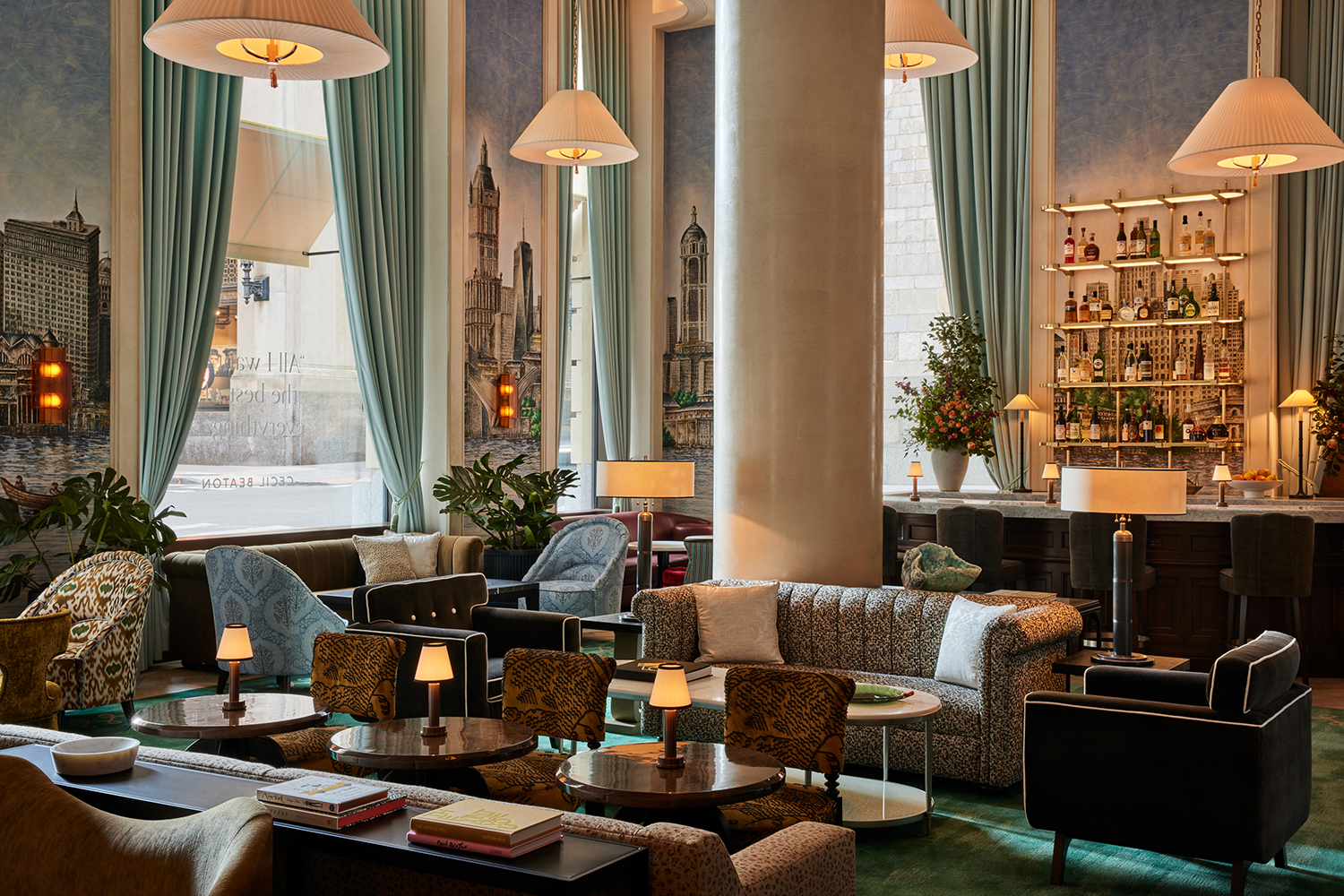 4. The Wall Street Hotel
One of the most historic neighborhoods in New York City, the Financial District was commonly known as "the center of the free world" due to its numerous seaports and mercantile buildings. Now one of the most popular tourist destinations in the world, the Wall Street Hotel offers visitors an escape through this stylish and chic stay. Designed by Ukrainian-born Liubasha Rose, founder of Rose Ink Workshop, this 180-room property is brimming with whimsical patterns and an array of beautiful artwork. "It's all about bringing a bit of glamour and richness into the downtown experience," Rose tells Galerie. Blending luxury with a residential feel, furnishings and decor in the hotel's lounge and bar area include newly-upholstered vintage furniture, custom pieces, as well as artwork in every corner. Additionally, Stonehill Taylor collaborated with Rose along with Charles & Co for an incredible architectural restoration of this historic building. While staying true to the property's immense character, Taylor incorporated changes such as making the building's façade more uniform through matching and refurbished stones.
The hotel's restaurant La Marchande, spearheaded by Michelin-star Chef John Fraser, offers a modern take on the classic French brasserie fare. Plus, for a more intimate experience, an expansive event space as well as ballroom provides the perfect backdrop for any formal event.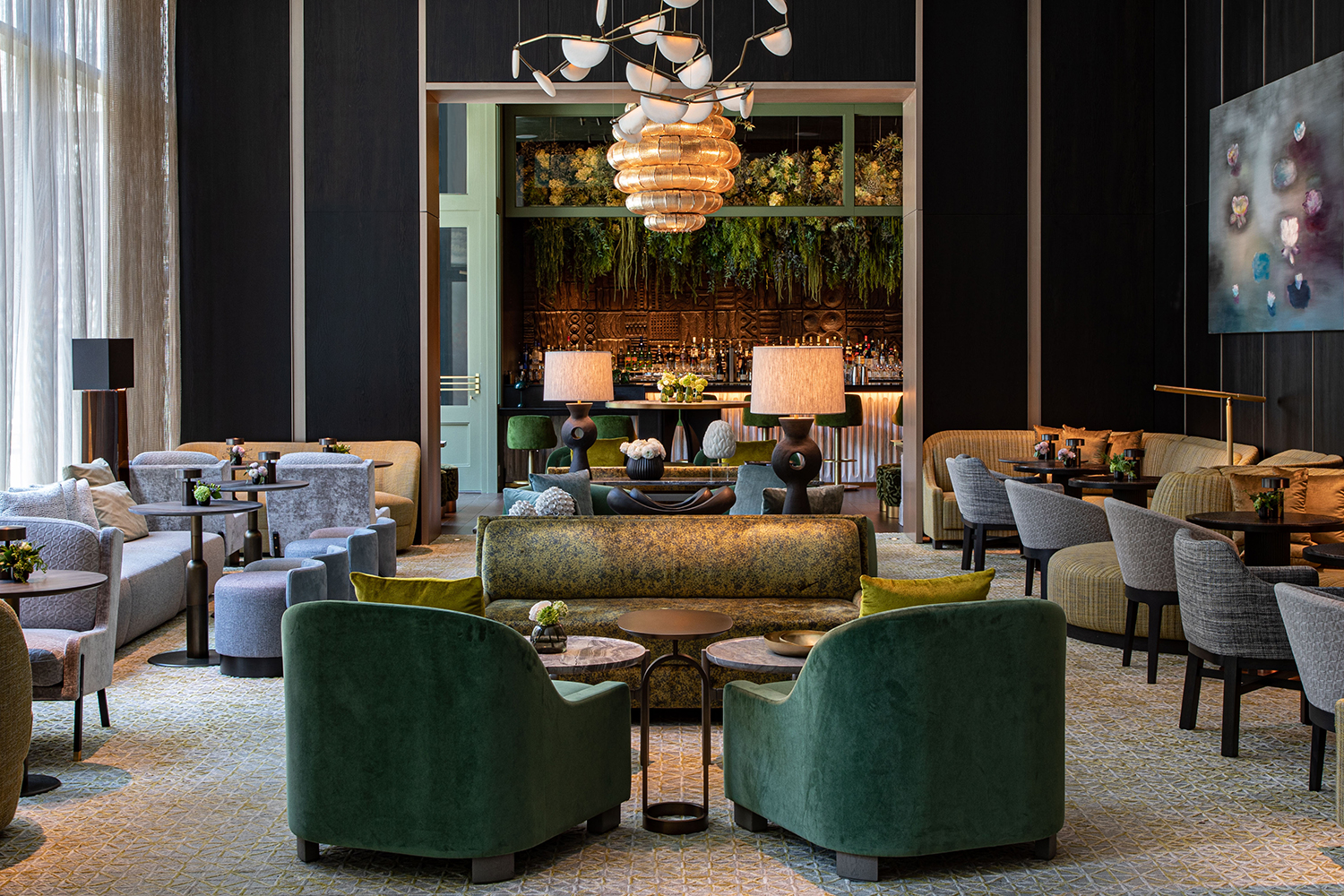 5. The Ritz-Carlton NoMad
A staple in the hospitality field, the Ritz-Carlton is unveiling its latest addition within Manhattan. Now officially open, The Ritz-Carlton NoMad offers visitors a luxurious stay through its 250 rooms, including 31 suites and 16 penthouse residences, along with the exclusive Ritz-Carlton Club lounge. Conceptualized by an elite design team consisting of Rafael Viñoly Architects, Rockwell Group, Lazaro Rosa-Violan Studio, Martin Brudnizki, and SUSSURUS International, the design of the hotel pays homage to its picturesque location in New York City's Flower District. While the hotel's atmosphere still stays true to the classic elegant feel Ritz-Carlton properties exudes, this location inspires a comfortable and relaxed feel where visitors can feel at home.
For some much needed relaxation, guests can enjoy an expansive spa featuring eight separate treatment rooms equipped with a sauna and steam room. The hotel's all-day restaurant on the ground floor, Zaytinya, designed by Rockwell Group, is led by Michelin-starred chef José Andrés, who blends Turkish, Greek, and Lebanese cuisines into one elevated dining experience. Plus, coming late 2022, a new restaurant concept by chef Andrés will be arriving to The Ritz-Carlton NoMad. The Bazaar by José Andrés, designed by Lazaro Rosa-Violan Studio, will be a high-end avant-garde dining experience where his Spanish roots will be highlighted.
Next Post