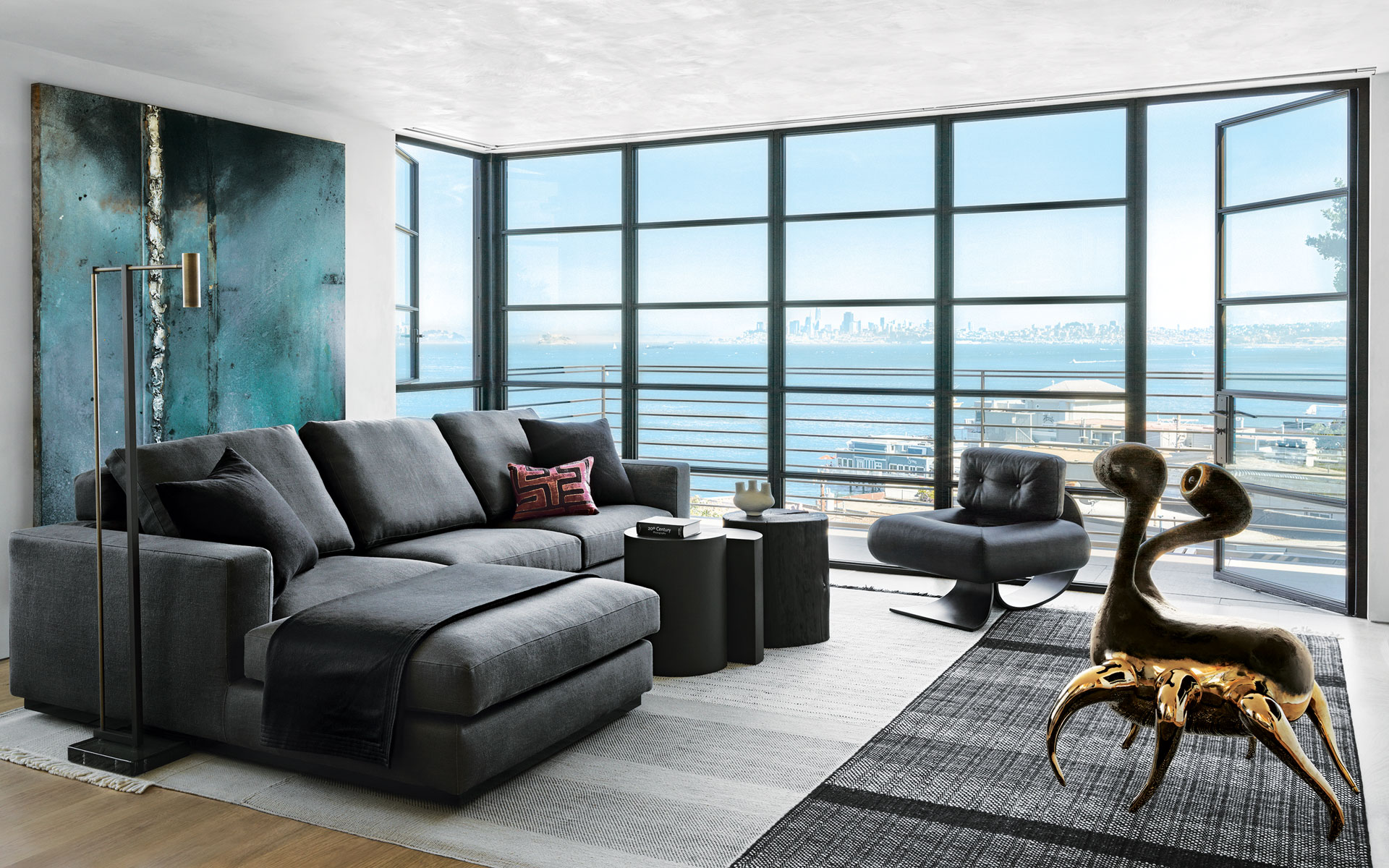 A Minimalist Revamp Transforms a Home Overlooking San Francisco Bay into a Modern Marvel
Designer Nicole Hollis teams up with John Lum Architecture to create a house that's as bold as it is reserved
San Francisco designer Nicole Hollis is well-known for interiors that are rigorously spare, favoring neutral palettes of blacks, whites, and grays. Yet her rooms never feel stark, thanks to a dexterity with distinctive materials and welcoming textures that's matched by her keen eye for high-impact contemporary art and unique furnishings, often specially commissioned from noted artisans and makers. 
Her boldly sophisticated style has made her a favorite among clients in tech and finance, including one who recently returned to Sausalito after living for years on the East Coast. His passions extend to social entrepreneurship, art, and the outdoors, and he wanted a home overlooking the bay where he could entertain friends and spend time with his grown daughters.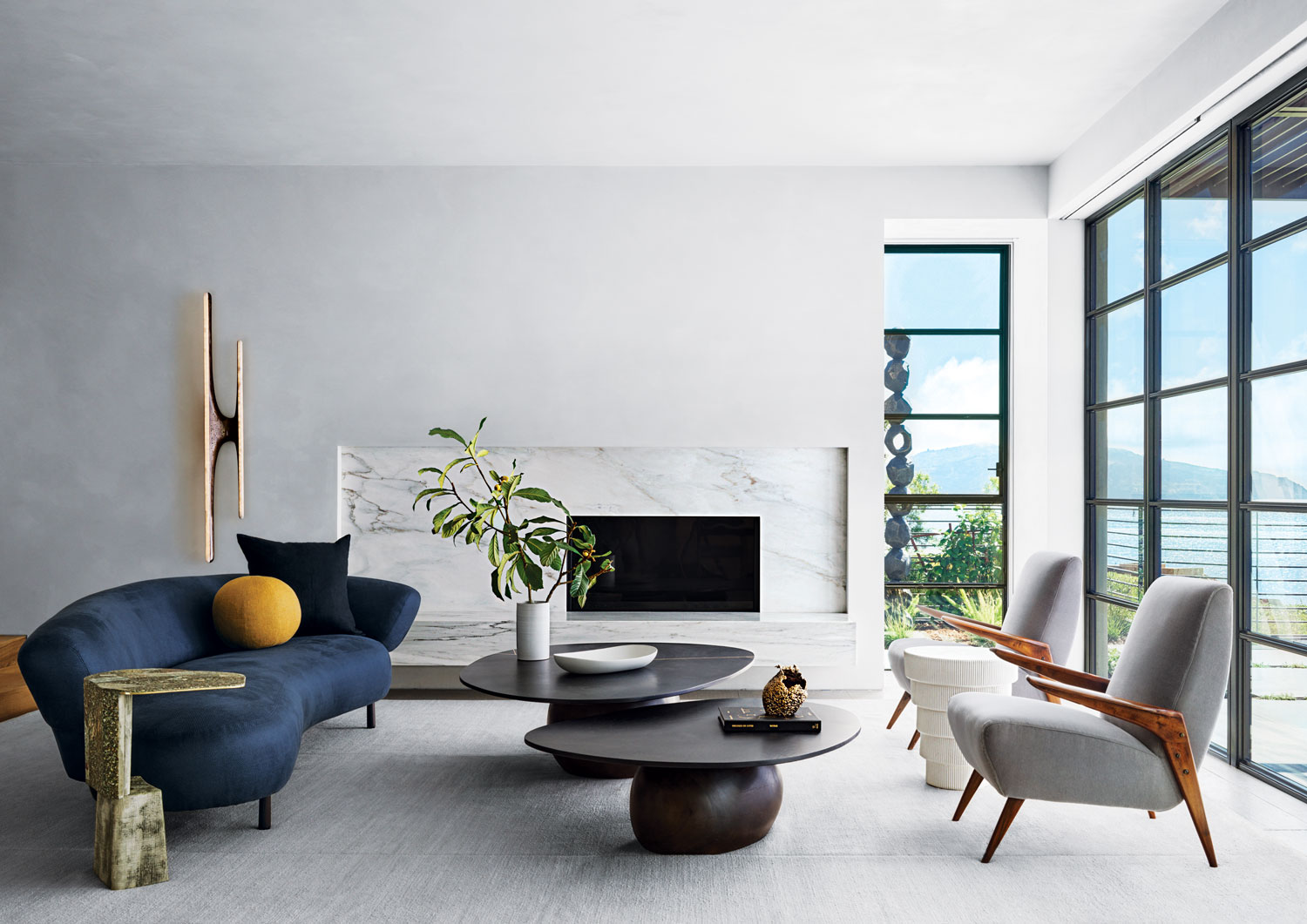 He found a house that checked most of the boxes, but its Mediterranean styling wasn't exactly what he had in mind. So he turned to Hollis, who worked in collaboration with the San Francisco firm John Lum Architecture, to give the place a sleek, modern makeover, inside and out. The goal, Hollis says, was "to pair a feeling of serenity with the spectacular view. We wanted to simplify but with good materials—taking it down and then bringing it back up."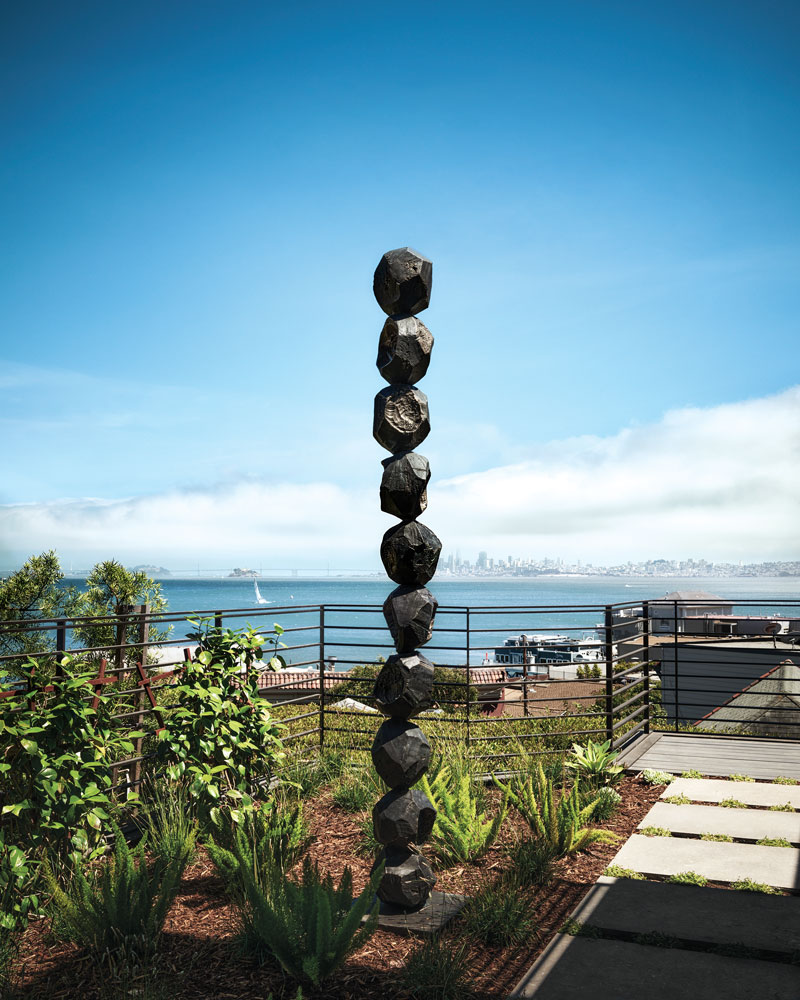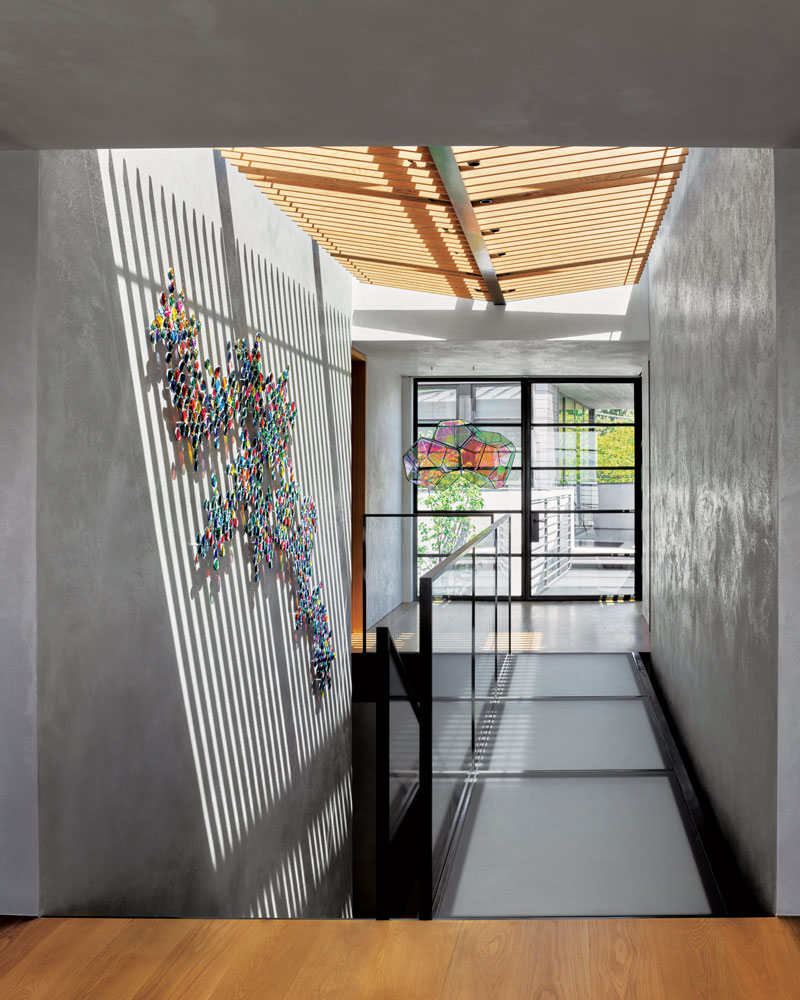 Structural changes included moving the stairs to create a strong, more central architectural element. The team also removed some first-floor walls to open up a spacious, free-flowing living and dining area, where Hollis installed limestone flooring and finished the walls in warm white plaster.
"We wanted to simplify but with good materials"

Nicole Hollis
Inset into one of the living area walls is a minimalist white marble fireplace and floating hearth that Hollis describes as the room's "star." That space's confident mix of furnishings is anchored by a curvaceous Christophe Delcourt sofa and a pair of midcentury Italian lounge chairs, with two burl-wood cocktail tables by Japanese master craftsman Nakagawa Mokkougei nestling between them. Side tables by Blanche Jelly and Vincenzo De Cotiis are striking complements. Equally eye-catching is the onyx and bronze wall sconce by Markus Haase, while outside on the terrace, visible through a nearly floor-to-ceiling window, is a towering stack of bronze spheres by artist Eva Rothschild.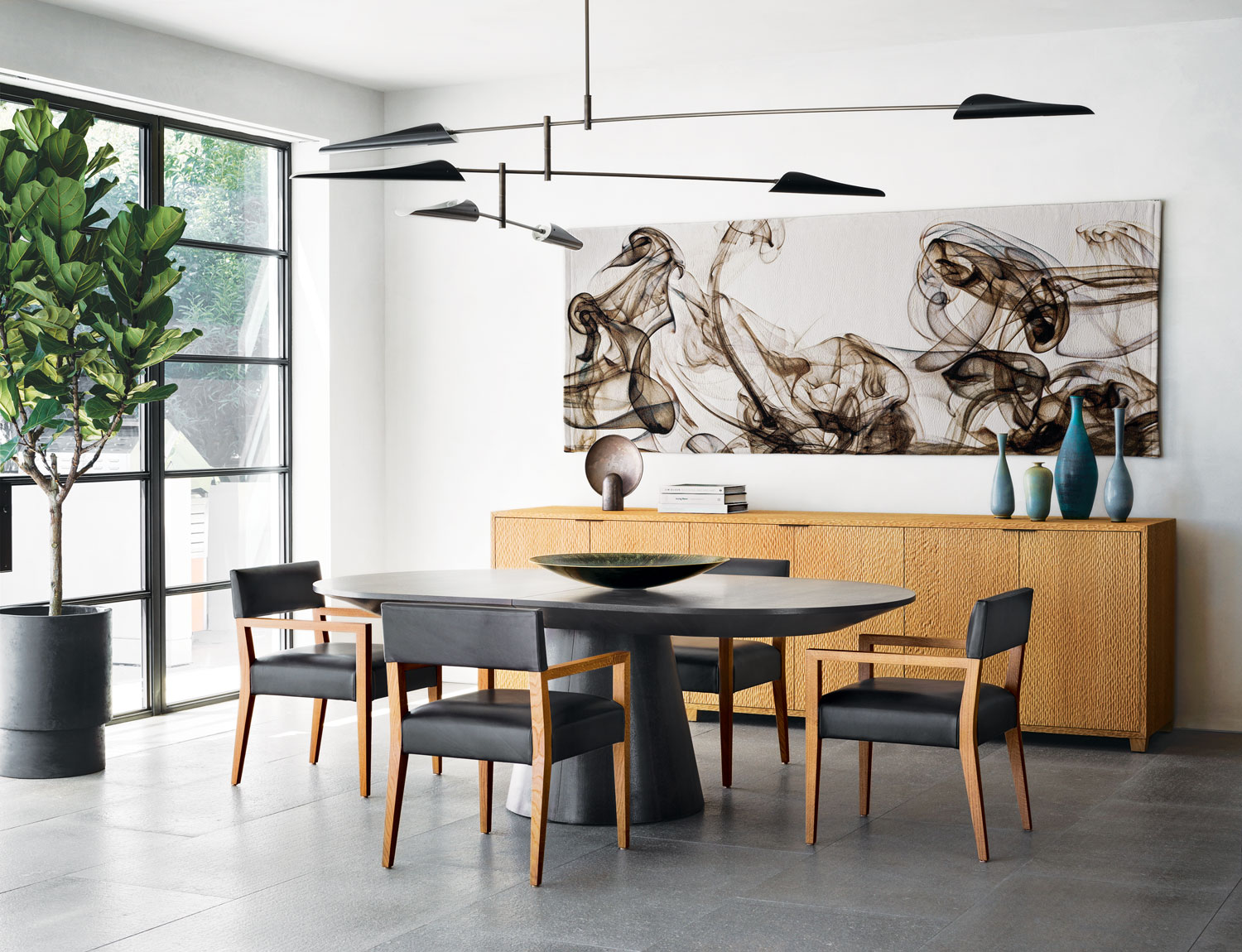 Holly Baxter & Associates advised on the art acquisitions, including the Pae White "Smoke" tapestry that overlooks the dining area. Hollis designed the fumed-oak table, keeping in mind her client's desire for it to serve double duty as a spot for poker games and meals. She also conceived the rift-cut, white oak cabinet with textured panels to accommodate a pop-up TV. As with so much of her work, the forms and compositions are crisp and edited, but there is richness in the materials and details.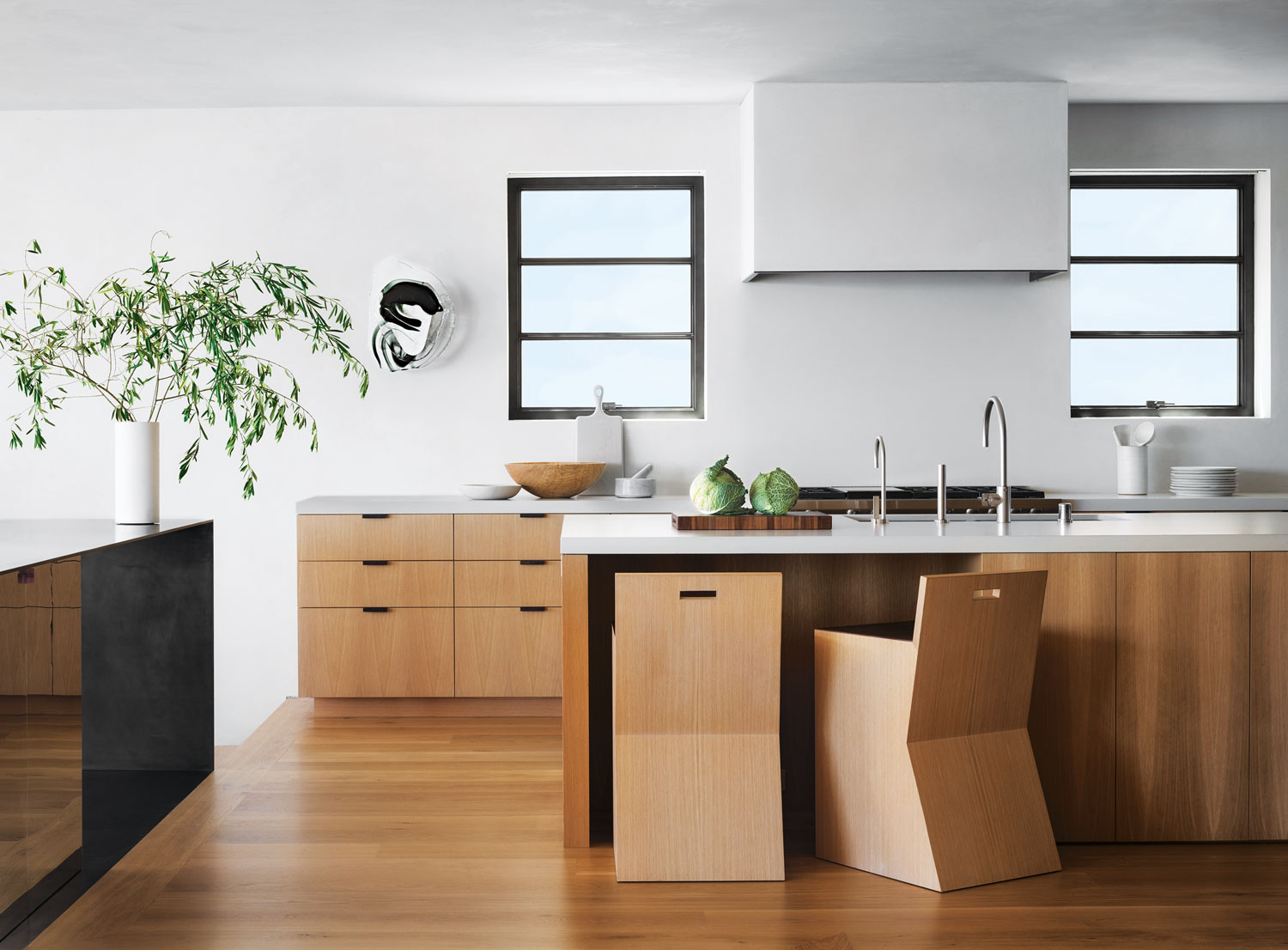 One step up from the dining area, the kitchen is outfitted with oak floors and low cabinets, so as not to interrupt the view. Murano glass and silvered brass wall lamps by De Cotiis break up the room's strong orthogonals, while walnut stools with angular backs by Hollis tuck under the island's counter.   
In the client's office, a Viktorie Langer painting in bold reds and blues stands out amid the room's predominantly dusky color scheme. (Hollis's fondness for inky hues led her to paint the exterior of her own family's 1870s Pacific Heights townhouse pitch-black.) The office's bronze and leather desk, designed by Hollis to move up and down as the client wishes, is surrounded by matching hand-carved chairs by Rooms and stands on a Christopher Farr carpet in dark charcoal silk.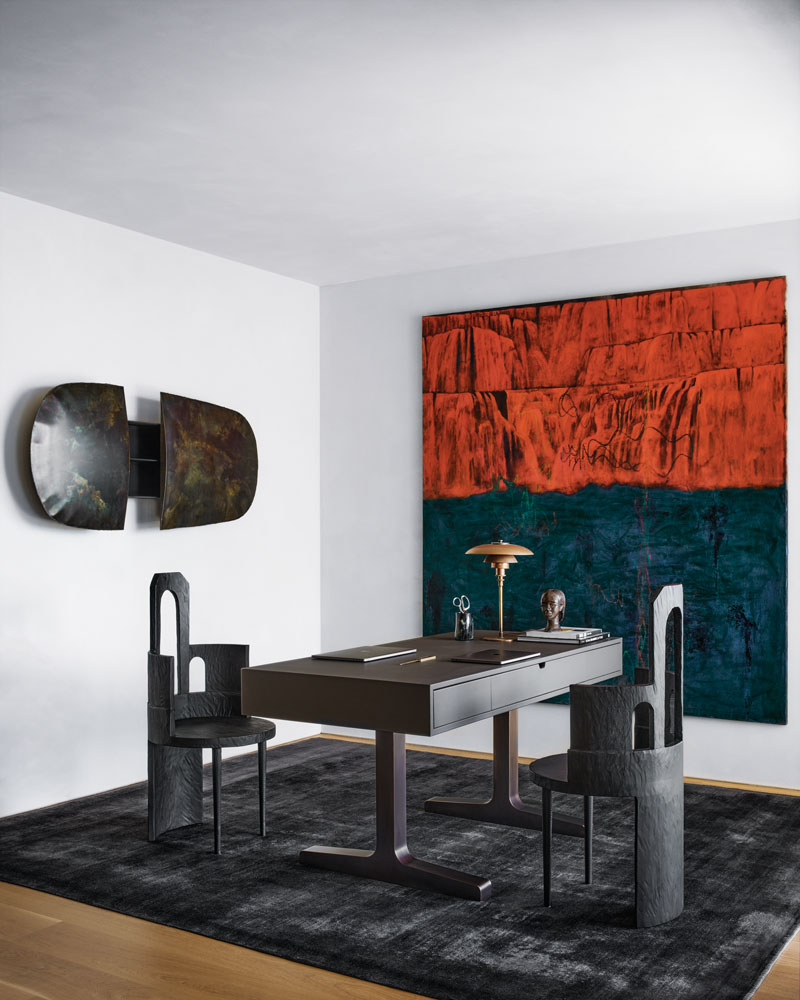 In the entry hall, at the foot of the open staircase, Richard Artschwager's sculpture Exclamation Point (Yellow) injects a playful pop of exuberance. The stairs lead to a second-floor landing with a rectangular skylight, to which Hollis attached oak fins that filter sunshine and cast graphic shadows across the gray plastered walls. Adding to the play of light are a Jim Lambie wall installation of colored sunglass lenses and a geometric hanging sculpture with tinted acrylic panels by Tomás Saraceno.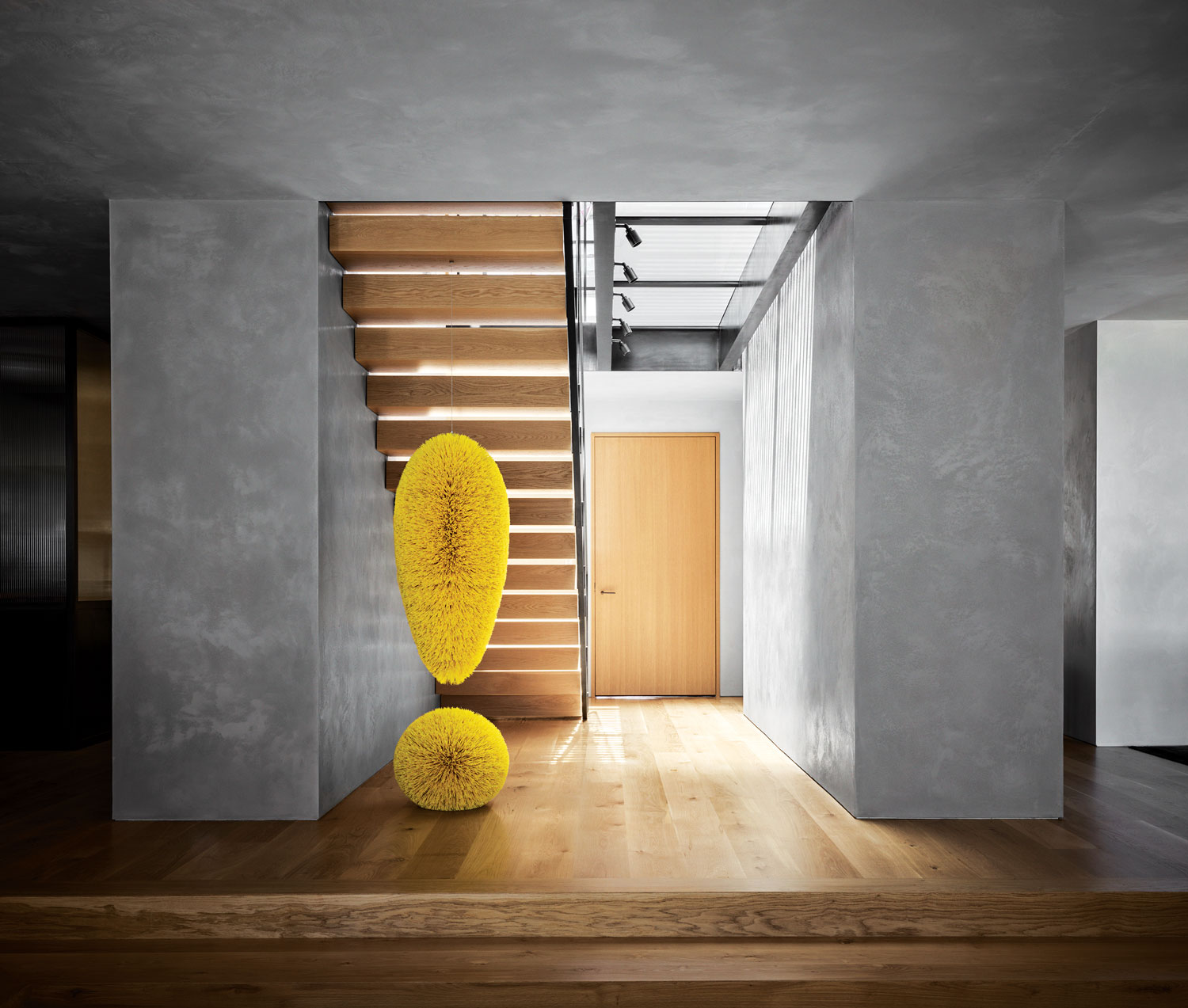 Also on the second floor, the serene primary bedroom features a custom-designed bed and otherworldly sculpted-plaster pendants by Rogan Gregory. The adjoining bath is just as cool and collected, with oak cabinets, travertine countertops, and, flanking the custom mirror framed in blackened steel, a pair of minimalist lights by Michael Anastassiades.
Hollis says that her client was deeply engaged, while "trusting our vision, which made the project so enjoyable and collaborative." She notes that the art of creating restrained interiors is far from simple or easy. "It's about gently chiseling away the unnecessary, without leaving a home feeling barren and cold," she says. But when Hollis does it, the results seem effortless.
A version of this article first appeared in print in our 2021 Summer Issue under the headline "Style to Spare." Subscribe to the magazine.
Next Post