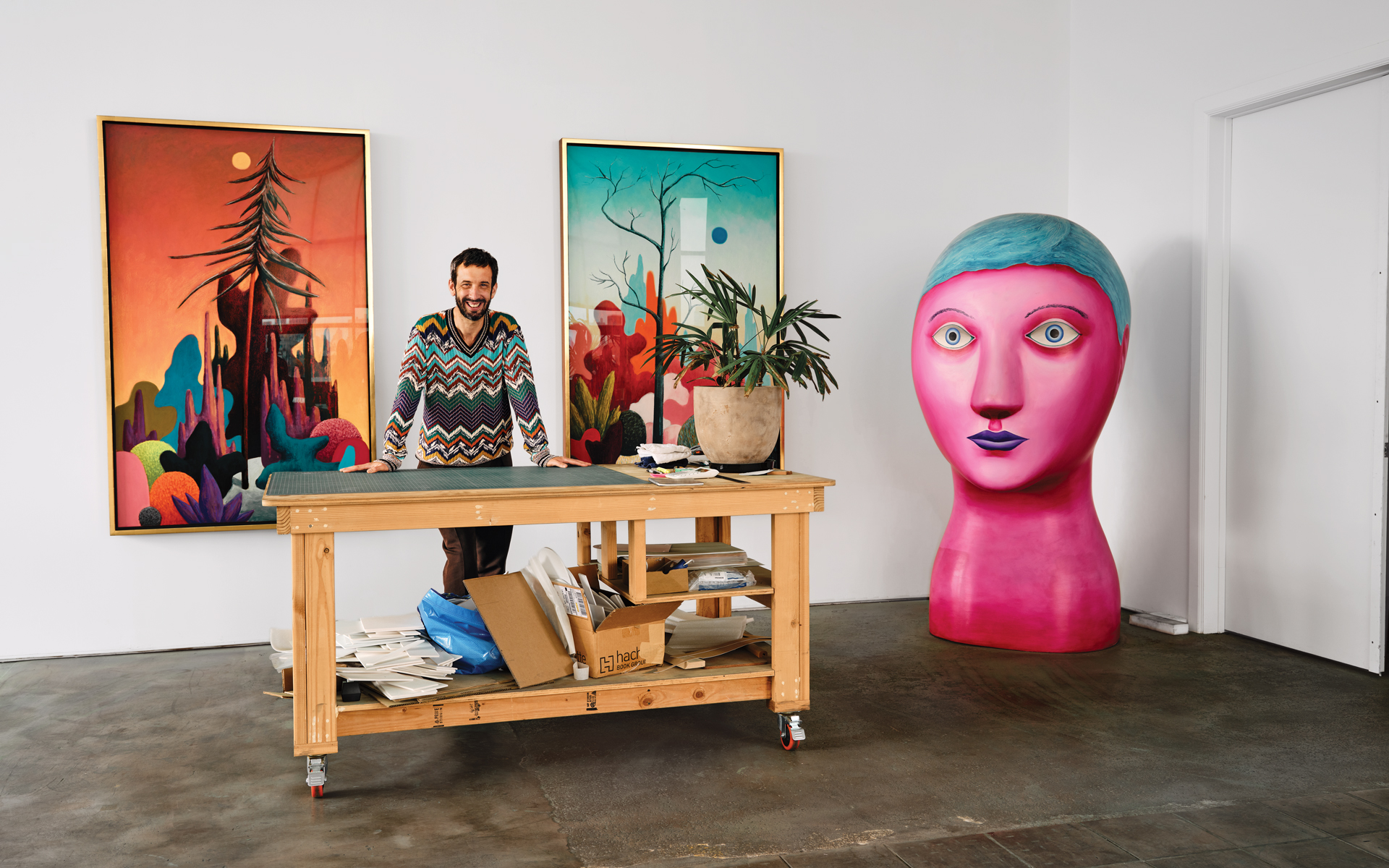 Artist Nicolas Party Opens the Door of His Brooklyn Studio
The visionary talent's expressive, jewel-tone works tapping into an array of art-historical references strike a chord with museumgoers and collectors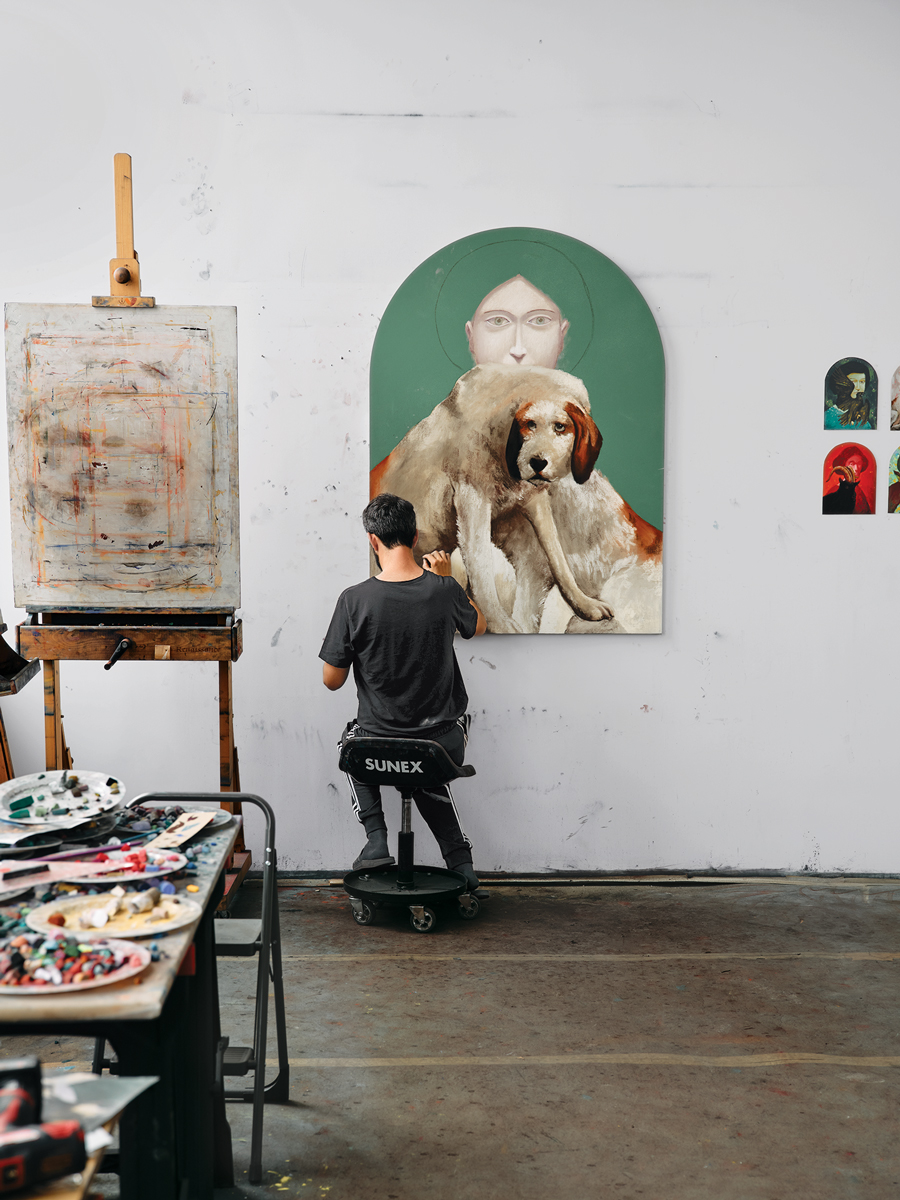 Throughout his roughly 15-year career, Nicolas Party has approached art making like a spirited time traveler, gallivanting across eras, plucking inspiration from diverse styles and movements, adopting mediums long faded from fashion. The Swiss-born, New York City–based Party is the rare 21st-century artist to have made his name painting with pastels, using flat, reductive forms in vivid hues to create idiosyncratic still lifes, portraits, and landscapes that range from playful to poetic to disquieting. Drawing on everything from Renaissance art, rococo, and 19th-century Romanticism to modernist abstraction and Surrealism, Party is a master of art historical sampling, producing eye-catching works in a language that is distinctly his own—and perfectly attuned to our post-Internet, Instagram-addicted age.
It's all "very organic and intuitive," says Party, who also makes boldly painted figurative sculptures. He is the first to arrive each morning at his Brooklyn studio, where he divides his time between a clean space for drawing, watercolor, and oil painting and an area for the messier pastels. "I'm mostly by myself, working all day on my painting, which is the part I love most, listening to a book or music, and I'm in my zone."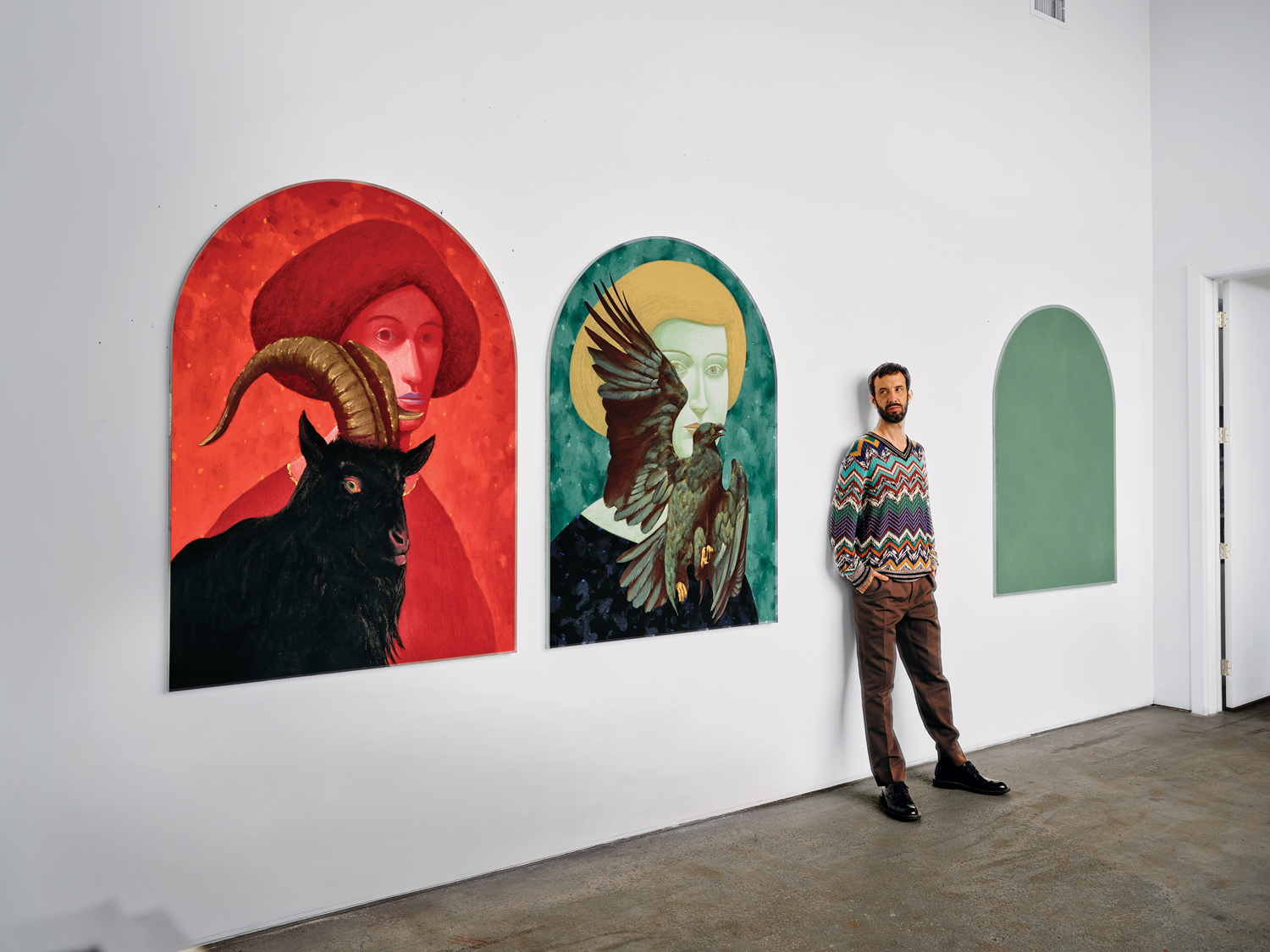 Over the past few years, Party has been turning out an impressive volume of work for a relentless schedule of gallery and museum shows, which typically involve immersive environments with strikingly painted backdrops and often include specially built walls that create transporting spaces within spaces. Plain white walls are rare in Party's exhibitions, the latest of which is an installation at the Frick Madison in New York, running through early March 2024. It pairs two of Party's portraits with one by 18th-century painter Rosalba Carriera, who is among his most cherished art heroes, owing to her pioneering use of pastels. Adding another layer, Party mounted the portraits atop pastel murals he devised featuring trompe l'oeil draperies of fabrics based on works by pastelists Jean-Étienne Liotard and Maurice-Quentin de La Tour.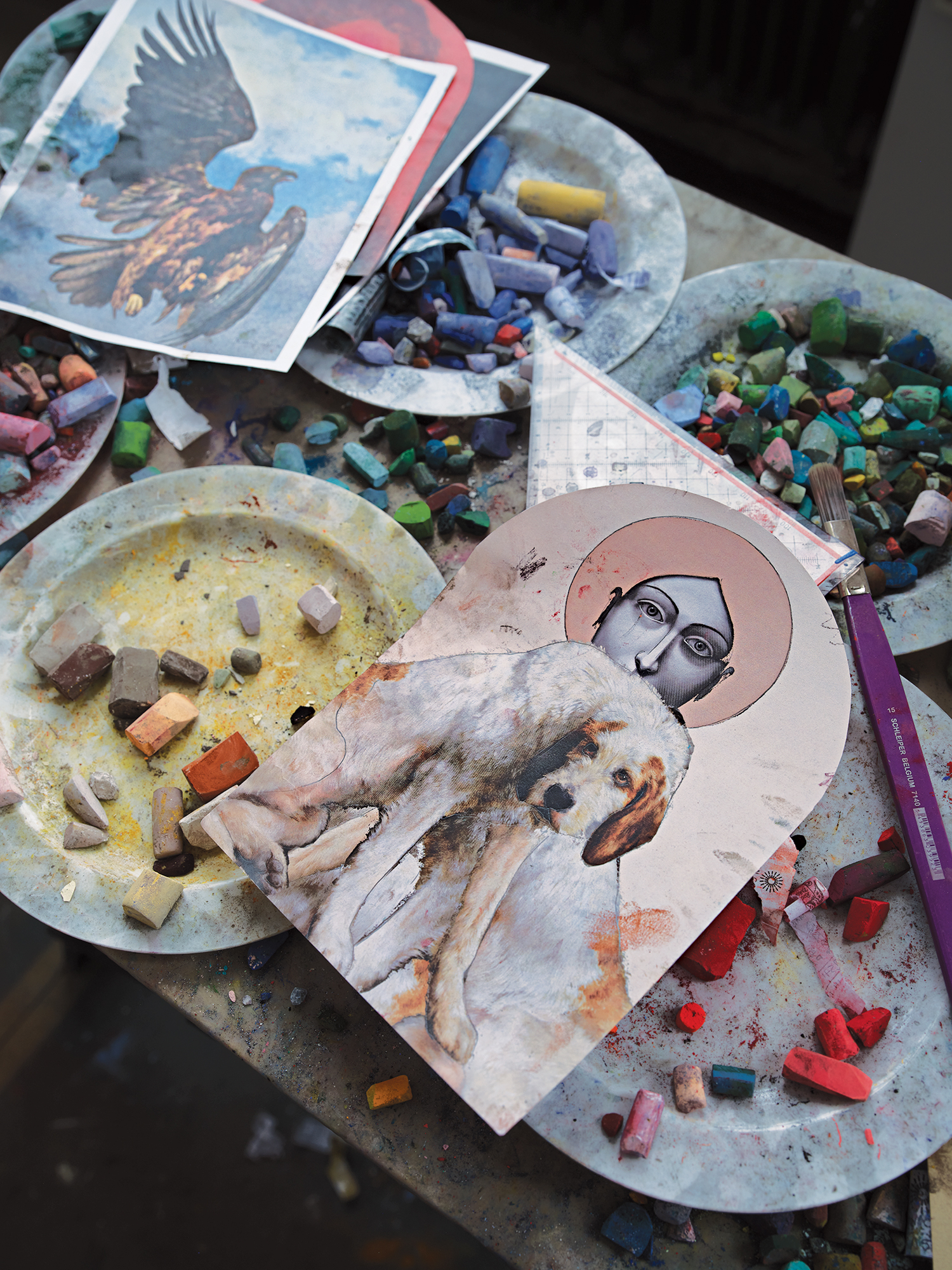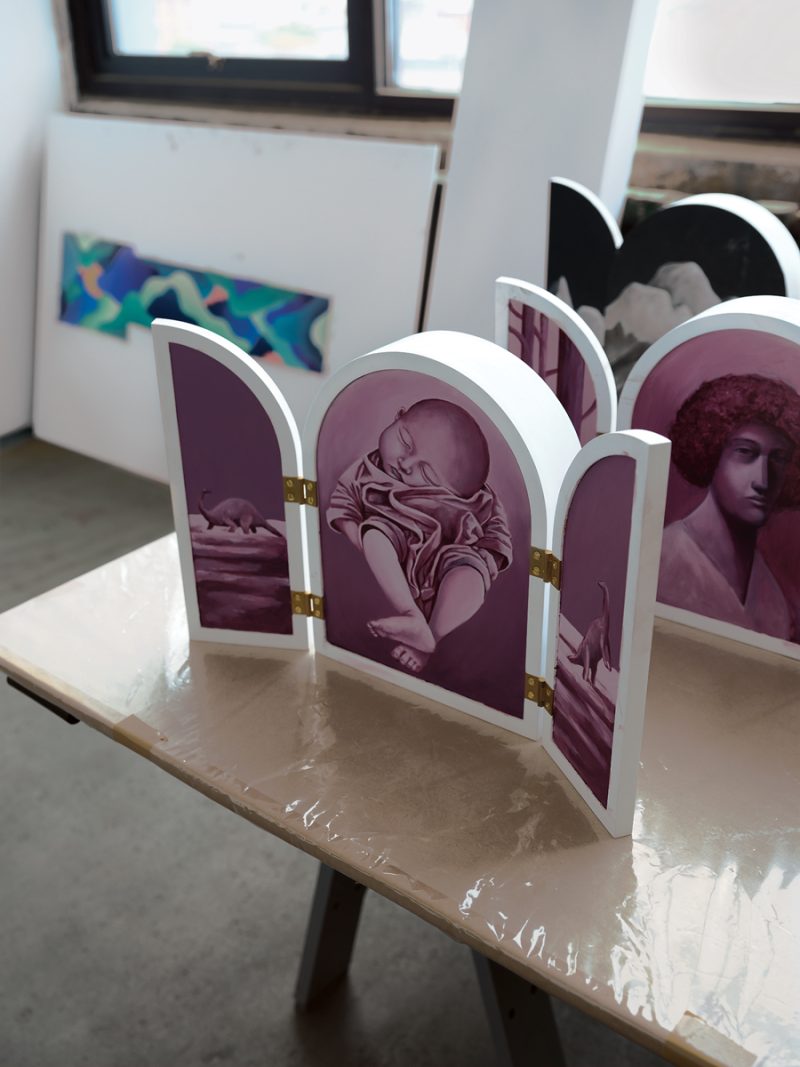 Additionally, Party has a solo show on view at Hauser & Wirth's flagship New York gallery, through October 21, highlighted by two large murals with haunting images of swamps and forest fires. Both series speak to nature's majestic beauty, while also evoking climate change and ecological devastation. "Humans are anxious about the world right now and the future," he says. "I think it's interesting how some images click straight away to our unconscious."
The Hauser & Wirth show also showcases serene, mystical landscapes inspired by Ferdinand Hodler, the Swiss modern painter known for his luminous mountain scenes, as well as portraits that borrow from 19th-century French artist Rosa Bonheur, who specialized in depicting animals. For the past few years, Party has been making hybridized portraits, superimposing shells, insects, or other natural elements onto the torsos of his subjects. In this case, those elements are a ram, an eagle, a dog, and a donkey, taken from paintings by Bonheur. Party likes the frisson that comes from an unexpected pairing, a strategy used by Surrealists such as René Magritte, another prime influence, but also has roots in ancient Egyptian and Greek art. "It's a very classic idea, mixing human and animal elements to create this chimera kind of character," says Party. "They become like spirits."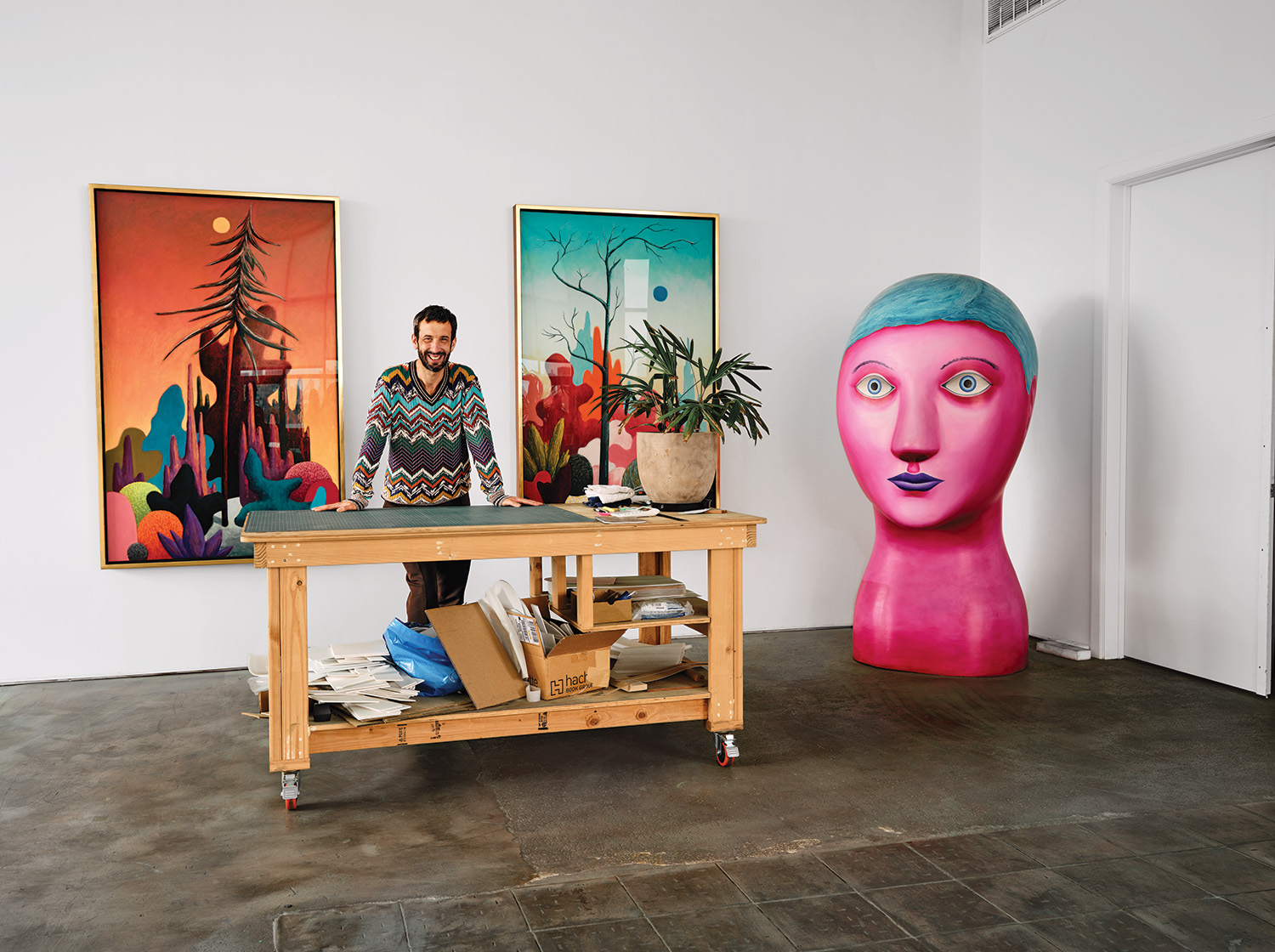 Recently Party has taken up painting in oil on copper, a practice that had its heyday in the 1600s and allows, unlike pastels, "incredible transparency and detail," he notes. Several works on small arched copper forms, echoing Renaissance ecclesiastical art, are in the Hauser & Wirth show, including triptychs with hinged panels that can be closed like portable altarpieces. One, a rendering of a cherubic sleeping baby, is based on Party's infant daughter, Swan, now a year old, with his wife, writer Sarah Blakley-Cartwright.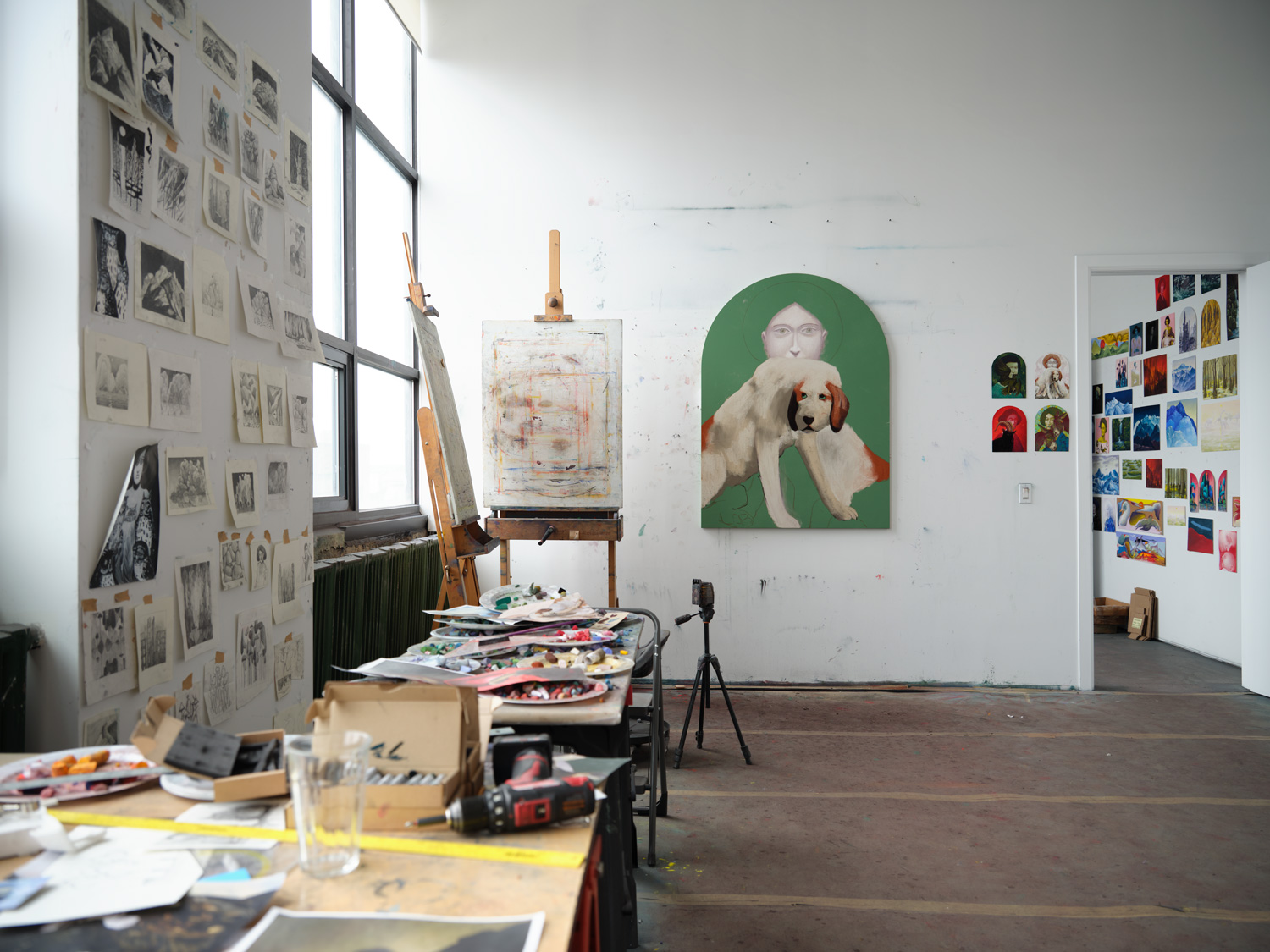 "It's a very classic idea, mixing human and animal elements to create this chimera kind of character. They become like spirits"

Nicolas Party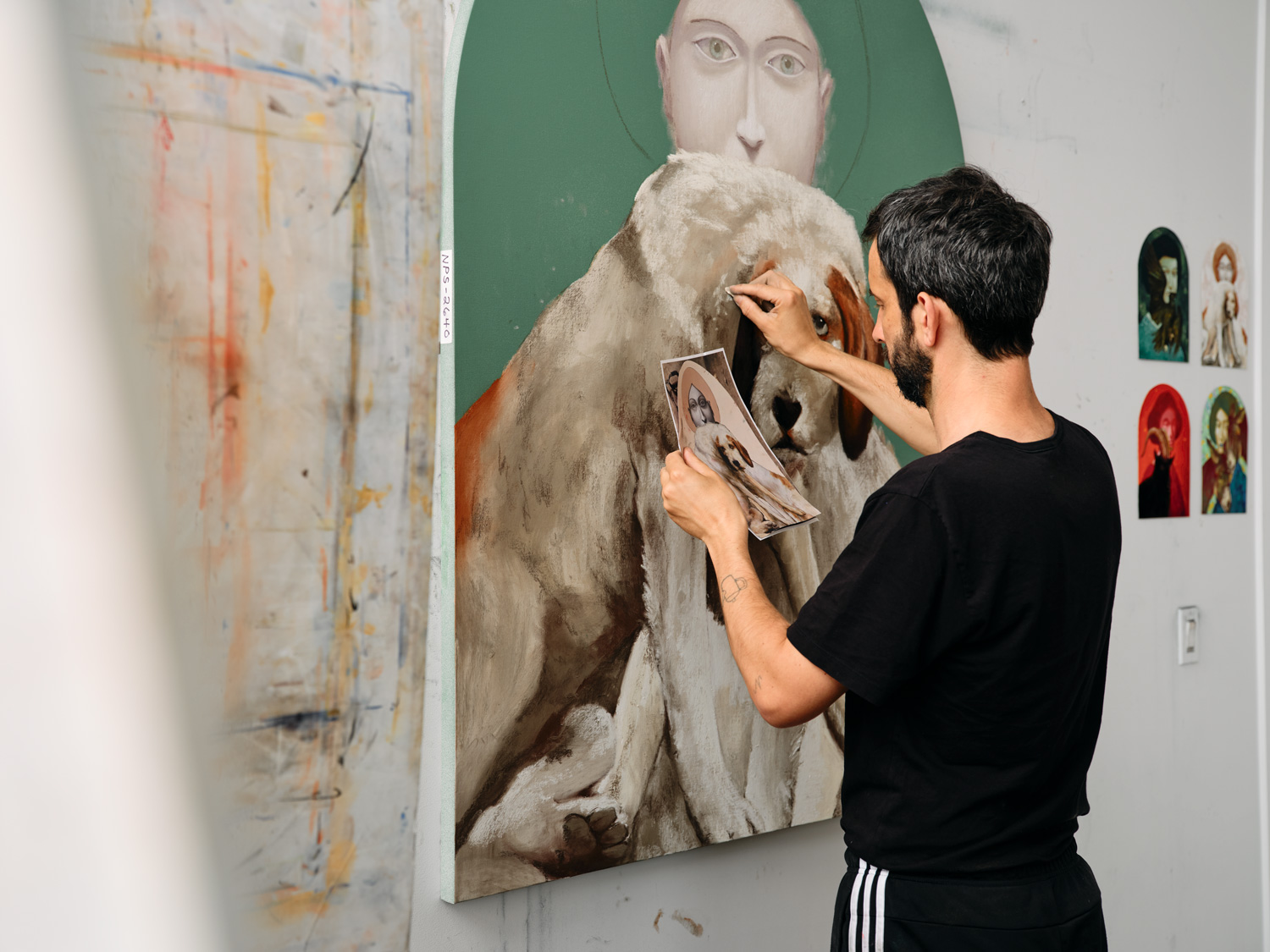 Party confesses to feeling a bit stressed about his upcoming exhibition at the Museum Frieder Burda in Baden-Baden, Germany, opening in November. His labor-intensive concept is to paint several site-specific murals, including his largest burning forest to date. The murals will constitute nearly the entirety of the show, accompanied by a few small paintings
on copper that will provide a dramatic contrast in scale—something Party likes to play with.
In deference to the museum's pristine all-white architecture by Richard Meier, the artist has no plans for temporary walls or his usual bold background colors. "It will be one of my first shows in a long time on a white wall," says Party. "You see, I'm not completely against it."
A version of this article first appeared in print in our 2023 Collectors Issue under the headline "Party Time." Subscribe to the magazine.
Next Post