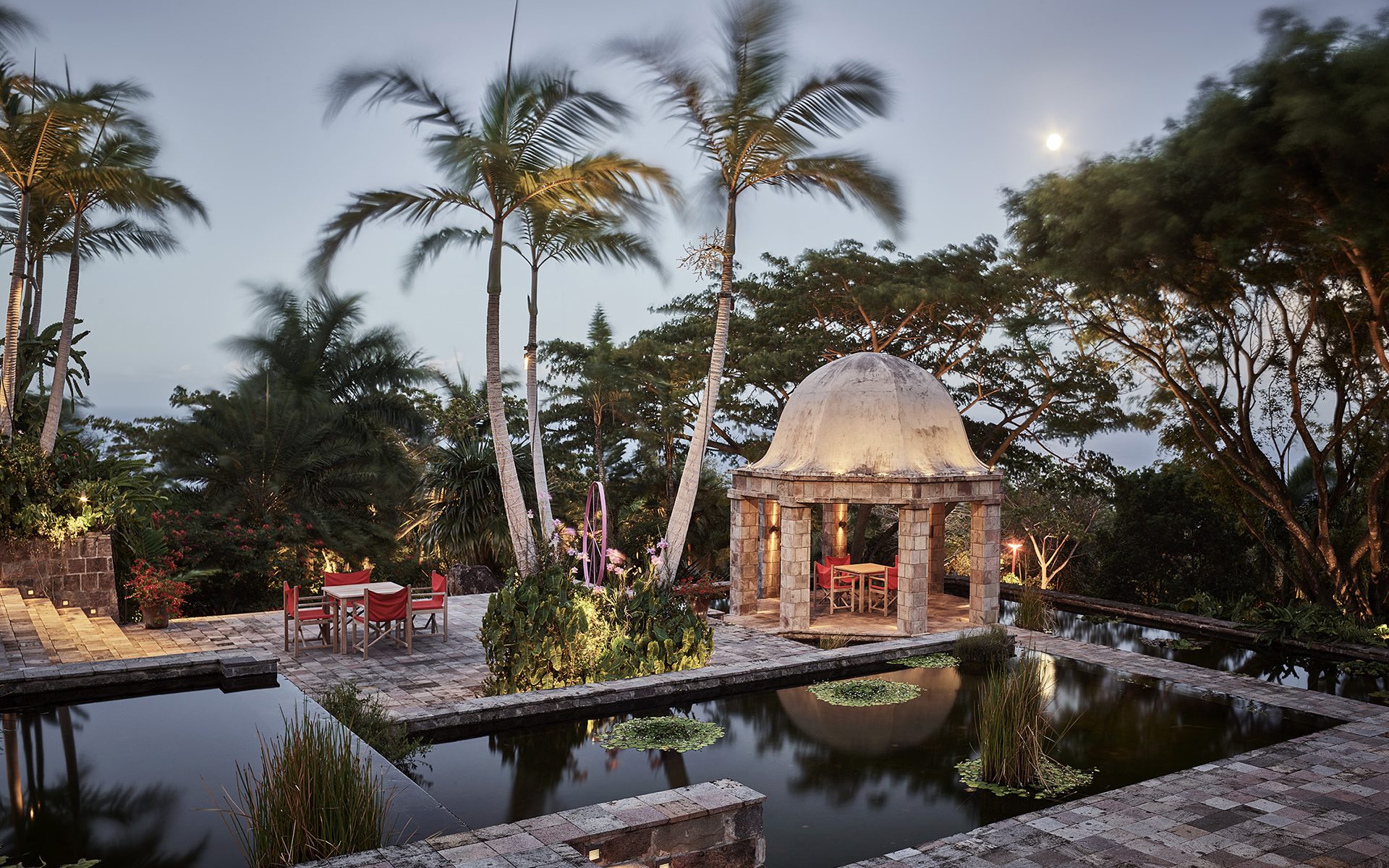 Why This Tiny Caribbean Island Is a Design-Lover's Paradise
Located in the Lesser Antilles, Nevis features a tropical hideaway owned by artists Helen and Brice Marden, decadent dining options, and a must-experience luxury spa
Among the 28 Caribbean countries, there is a destination for every type of traveler—from those seeking glitz and glamour to the ardent adventure lover. But one relatively unsung island is ripe for exploration—the tiny island of Nevis. Just slightly more than 35 square miles, this paradise located near the northern end of the Lesser Antilles archipelago is best accessed via private plane or boat charter from neighboring St. Kitts.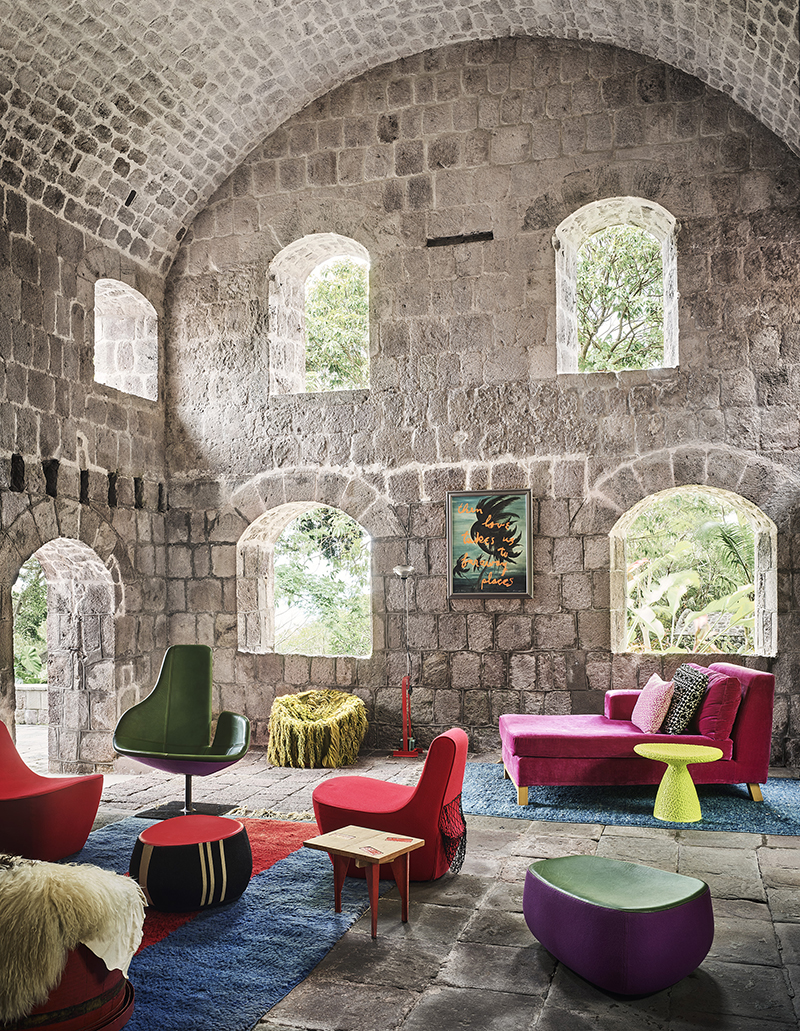 Here, design-minded visitors will be enchanted by the secluded hideaway Golden Rock Inn, which is owned by artists Helen and Brice Marden. Tucked into steep hills at the base of towering Nevis Peak, the rustic retreat is awash in the vibrant colors of the Mardens' beloved Marrakesh, with candy-colored bungalows, cobalt blue tile, and ikat linens.
A 200-year-old sugar plantation has been reimagined as the resort's common spaces including an intimate bar with a cozy lounge filled with creative design treasures, including pieces from the Mardens' personal collection like cherry-red Patricia Urquiola chairs, a pair of Fossili Moderni tables by Massimiliano Adami, and a Rene Ricard painting signed "for Helen." Outside, a picturesque pond leads to an intimate dining pavilion with a Gary Hume "Wonky Wheel" and where garden-fresh ingredients are transformed into mouthwatering meals, making the Golden Rock's restaurant—designed by famed hospitality architect Ed Tuttle—one of the most acclaimed in Nevis.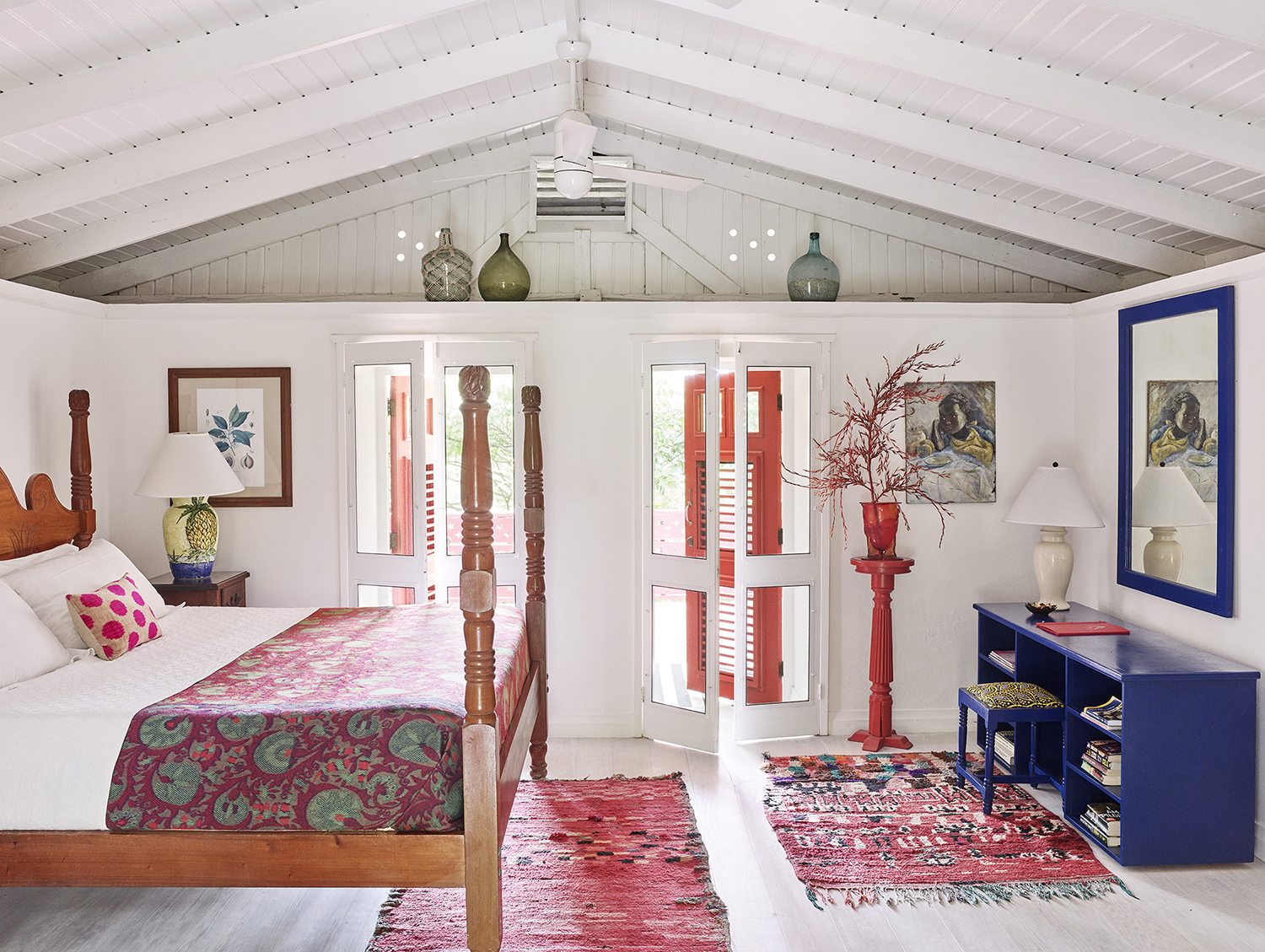 The couple also built their own private accommodations on the grounds and secured one marigold-colored cottage as an artist studio. Helen worked closely with famed landscape designer Raymond Jungles on the 50-acre property which was loosely planted with lush indigenous greenery, adding to the resort's authentic, tropical allure. Above the tranquil pool is a towering Kigelia (otherwise known as the sausage tree)—a gift from the late New York arts patron Ann Bass.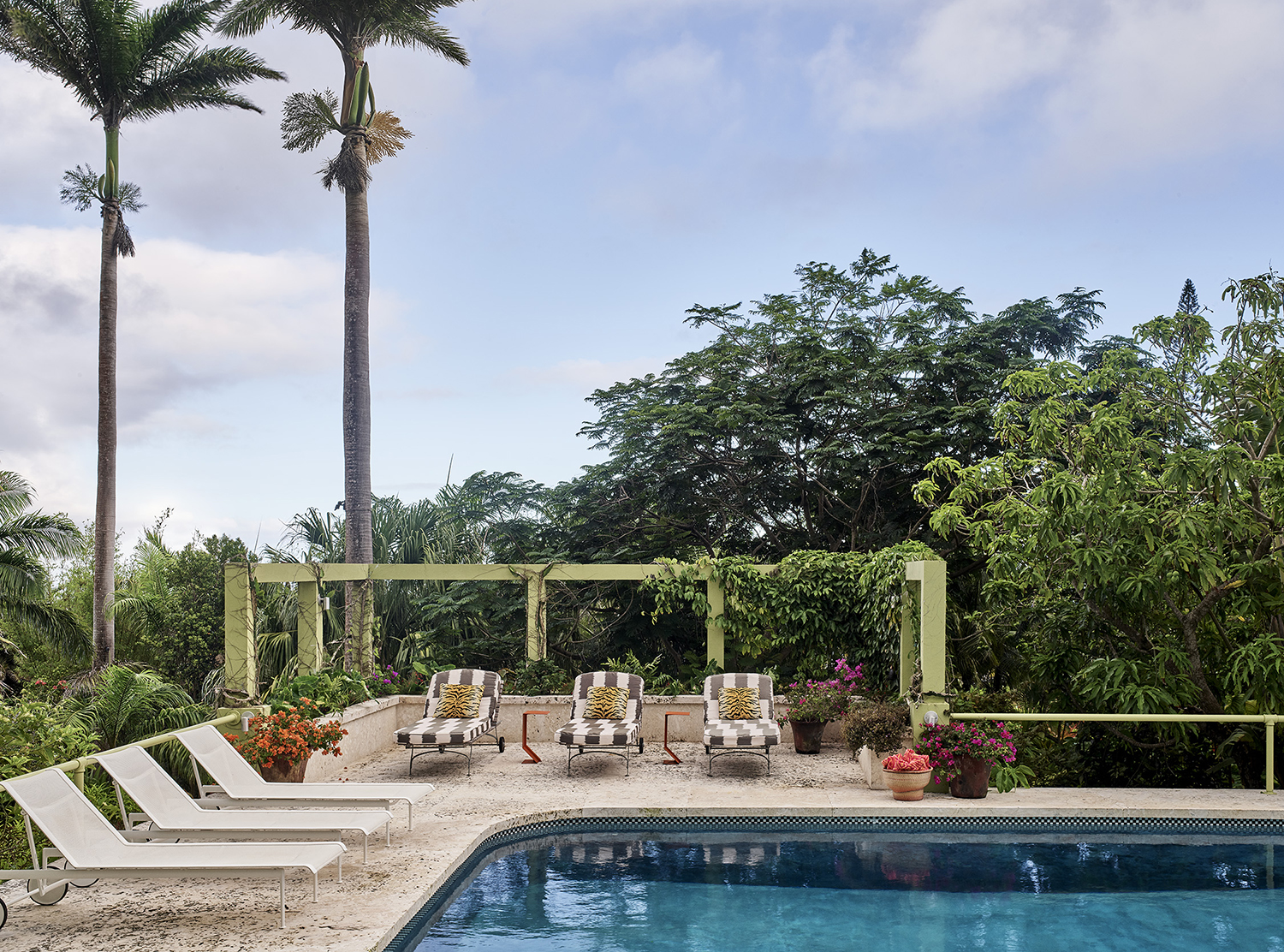 To experience the full scope of Nevis's charms, visitors may want to migrate from the bucolic boutique hotel to one of the other island resorts. Another intimate property, Montpelier Plantation & Beach, which once welcomed Lady Diana and a young Prince Harry, also hosts a gallery space for artist Kirk Mechar, whose vibrant canvases dot the walls of the reimagined estate.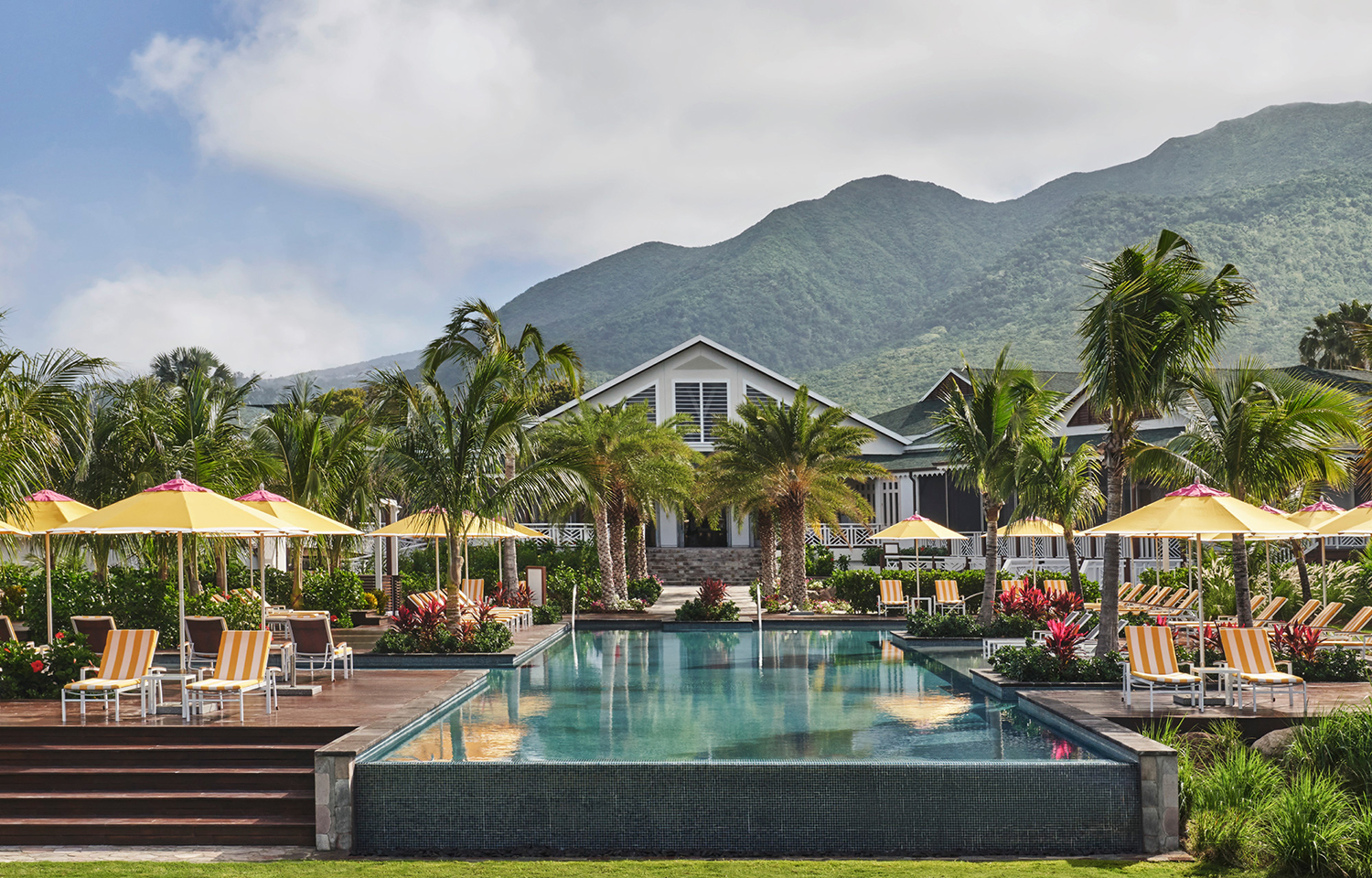 Oceanfront, the manicured Four Seasons Resort Nevis, is finally welcoming guests into the plush Todd-Avery Lenahan–redesigned suites that were completed just before the pandemic shut down international travel. Here, visitors can enjoy a championship 18-hole golf course designed by Robert Trent Jones II that stretches from the base of Nevis Peak to the Caribbean Sea, three types of tennis courts (hard court, clay, and turf), and rejuvenating spa that provides such island-paradise treatments as Spa Under the Stars, a private evening outdoor massage by the hot and cold plunge pools followed by a gourmet meal alfresco.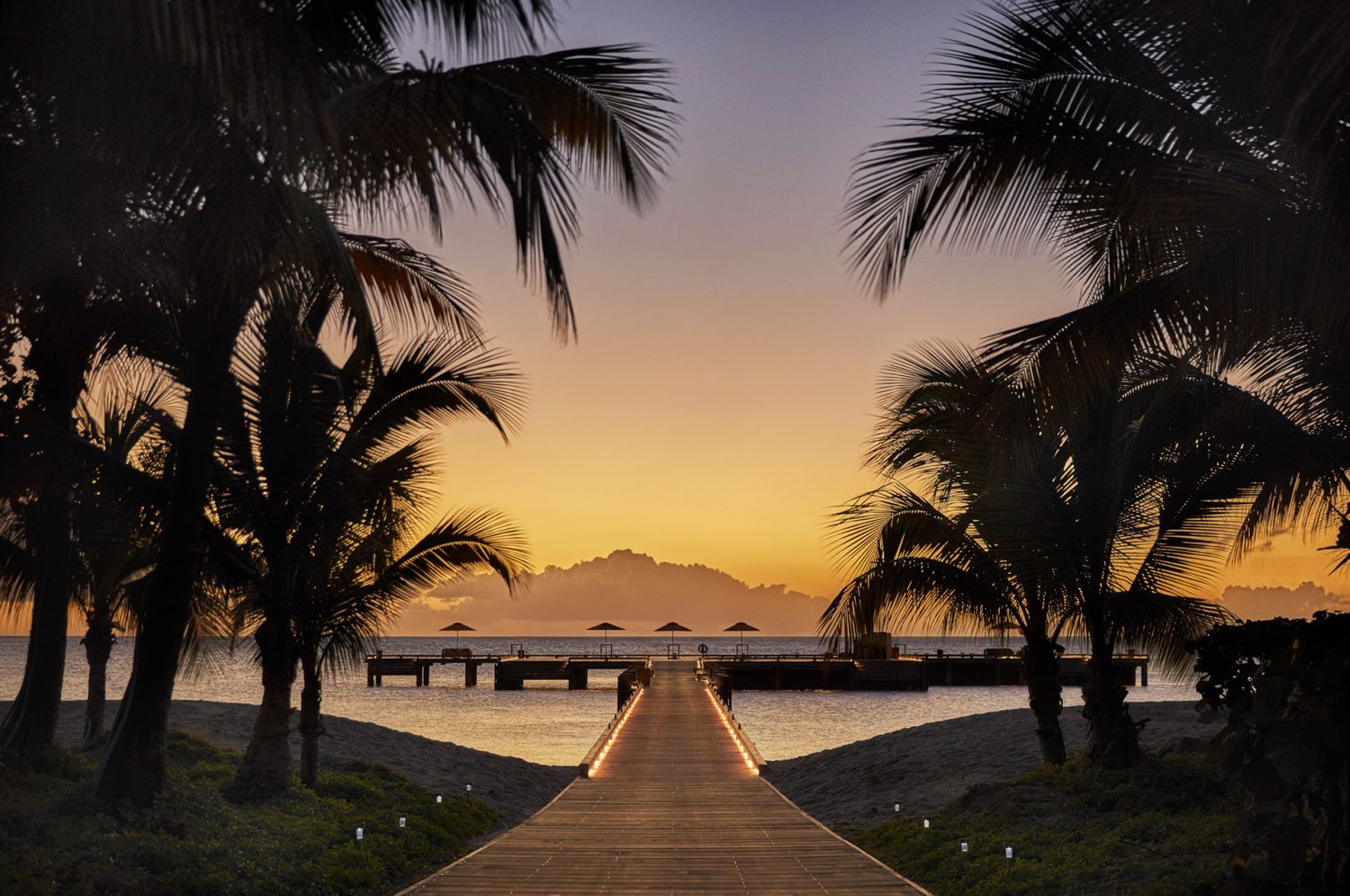 From the Artists' Village selling locally made trinkets and upcoming Culturama festival to the Alexander Hamilton Museum, housed in the founding father's birthplace, there's so much to experience on one tiny island, travelers will be happy they discovered Nevis, and they'll find it hard to leave once their vacation time is done.
Next Post