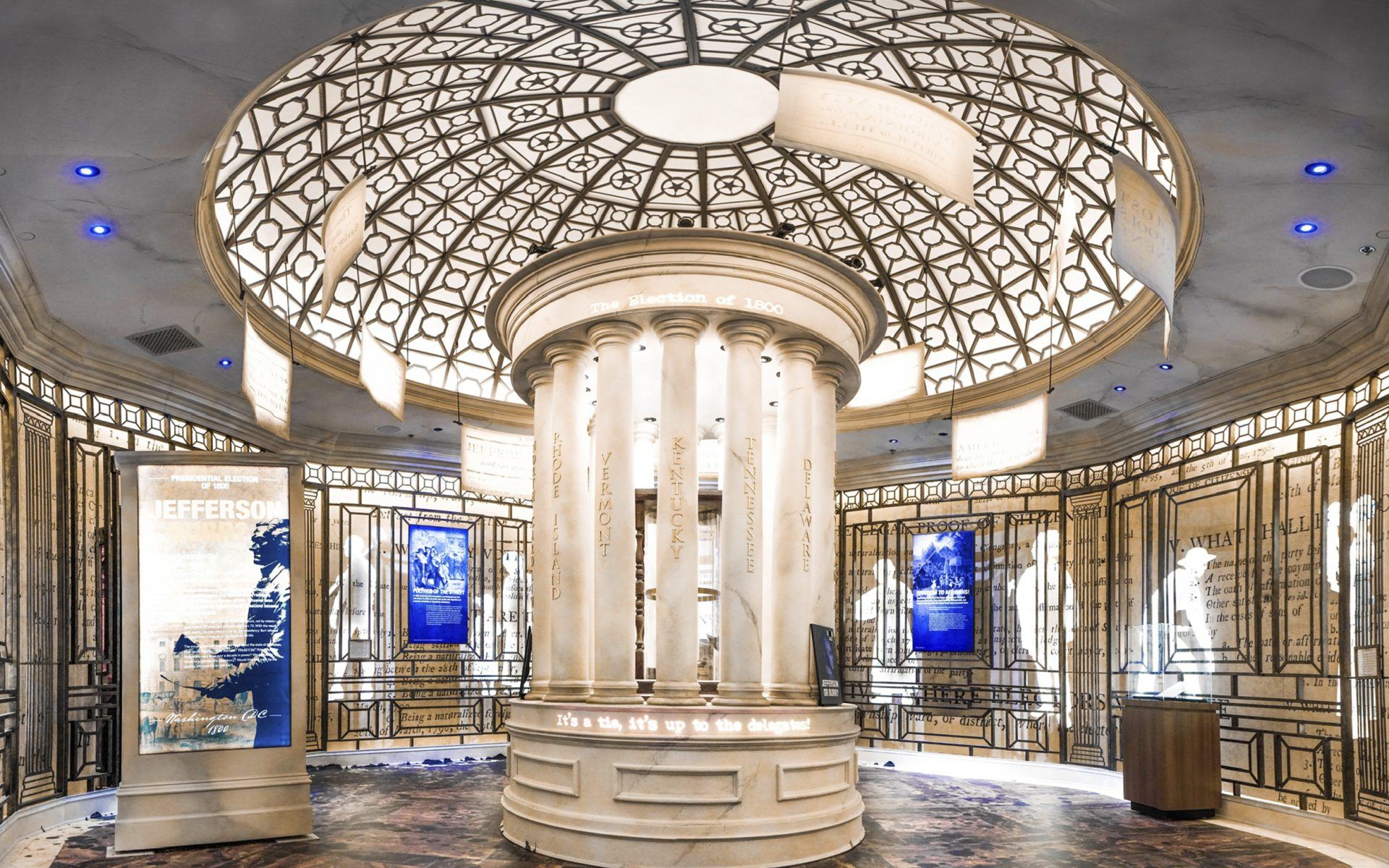 Inside 'Hamilton: The Exhibition' as It Debuts in Chicago
The team behind the Tony Award–winning Broadway smash design a massive interactive experience
Making its debut on Chicago's Northerly Island on April 27, "Hamilton: The Exhibition" gives a history lesson like only a runaway Broadway smash can—think video, lights, sets, a newly remastered soundtrack, and a narrative by none other than the multiple Tony Award–winning show's creator, Lin-Manuel Miranda.
"I did an extraordinary amount of research to put together the stage design for the show," says Hamilton set designer and creative director David Korins, who was on the creative team for the exhibition alongside Miranda, director Thomas Kail, and orchestrator Alex Lacamoire. "But the amount of care and rigor that has been done to put together this exhibition is greater by a magnitude of 100."
The seeds for the exhibition were planted when Miranda's social media feed ricocheted with posts about significant dates in Hamilton's life history, from his anniversary with Eliza to close friend John Laurens's birthday. "What we realized was the show was such a crystalizing filter and portal into early American history," Korins tells Galerie. "The exhibition seemed like an interesting opportunity because Lin had to use so much artistic compression in making the show—you can't tell 30 years of sprawling history in two hours and 37 minutes."
Recommended: Marc Chagall Takes Center Stage with Fantastical Costumes and Set Design At LACMA
At 27,000 square feet, "Hamilton: The Exhibition" allows the storytellers to go deeper and wider into the birth of the United States, offering rigorously detailed and artistically presented views into Hamilton's youth on the Caribbean island of St. Croix, as a revolutionary soldier, and as one of the Founding Fathers. Noted Hamilton and Jefferson scholars Joanne Freeman and Annette Gordon-Reed helped provide both an outline of key moments as well as facts that even cursory history buffs will find captivating.
A partnership with the Gilder Lehrman Collection (which is also the group's partner in the #EduHam series that gives students access to both the Broadway production and the history lessons behind it) provided actual artifacts that share gallery space with historical re-creations from noted fabricators ID3 Group. "I think the show has done something really extraordinary, which is it takes race, women, immigrant stories—all of these very important parts of the tapestry of America—and infuses them into a piece of entertainment," says Korins, noting that many of these issues are still hot buttons in the current political climate. "It just felt like, Let's make this thing that can help teach, help inspire, help ignite civic duty, be entertaining, but can allow us to expand a little more than compressing."
Recommended: Two New York Exhibitions Explore the Complex Mind of Jean-Michel Basquiat
During one experience, a handful of guests will walk a gauntlet of hand-carved, historically accurate cannons to be welcomed into George Washington's battlefield tent. Inside, multimedia presentations—including narration by Miranda—will outline what happened during the Battle of Yorktown and what it meant to win the battle over a "Game of Thrones meets Risk" war table. Says Korins, "It's very theatrical, but we have tried at every moment to serve up a visceral and emotional response, and then create as theatrical and as historical a re-creation of those things as possible."
Two years in the making, the exhibition will reportedly be the largest to launch in Chicago. And when it departs September 8 for a five-year tour, it will leave behind the infrastructure for a future development as Hamilton's gift to the city. Whether you spend an hour or an afternoon, whether you're a fan of the show or fan of history, Korins states the nonpartisan exhibition is an important experience for all, and it will give a surprising amount of insight into daily life through the lens of Hamilton, Madison, Washington, Jefferson, and the rest of the Founding Fathers. "We are both sides and all sides," says Korins. "It is really a true American story."
Next Post