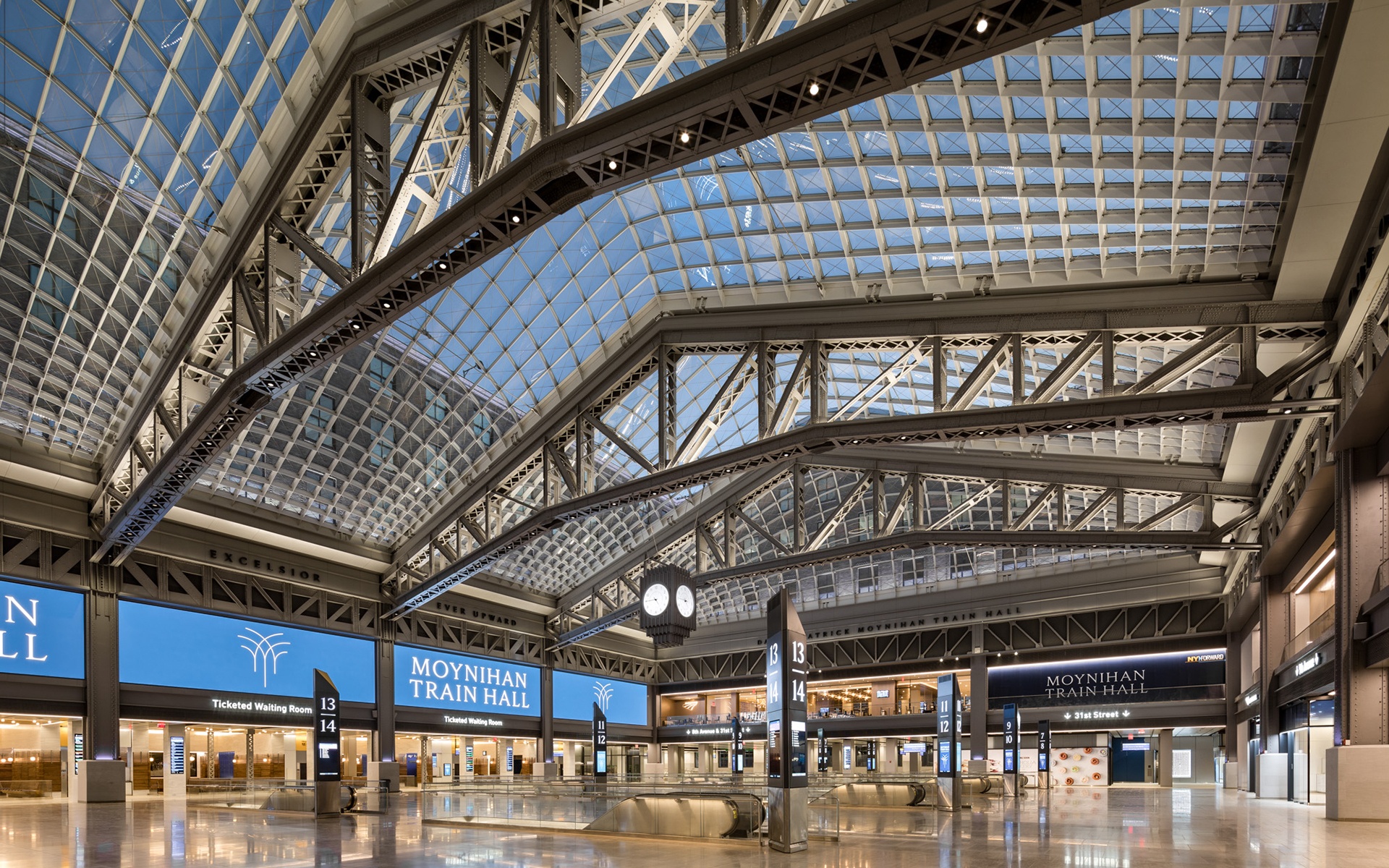 5 Key Facts About New York's Majestic Moynihan Train Hall
The newly opened transit hub has a unique history, distinguished architecture, and world-class art program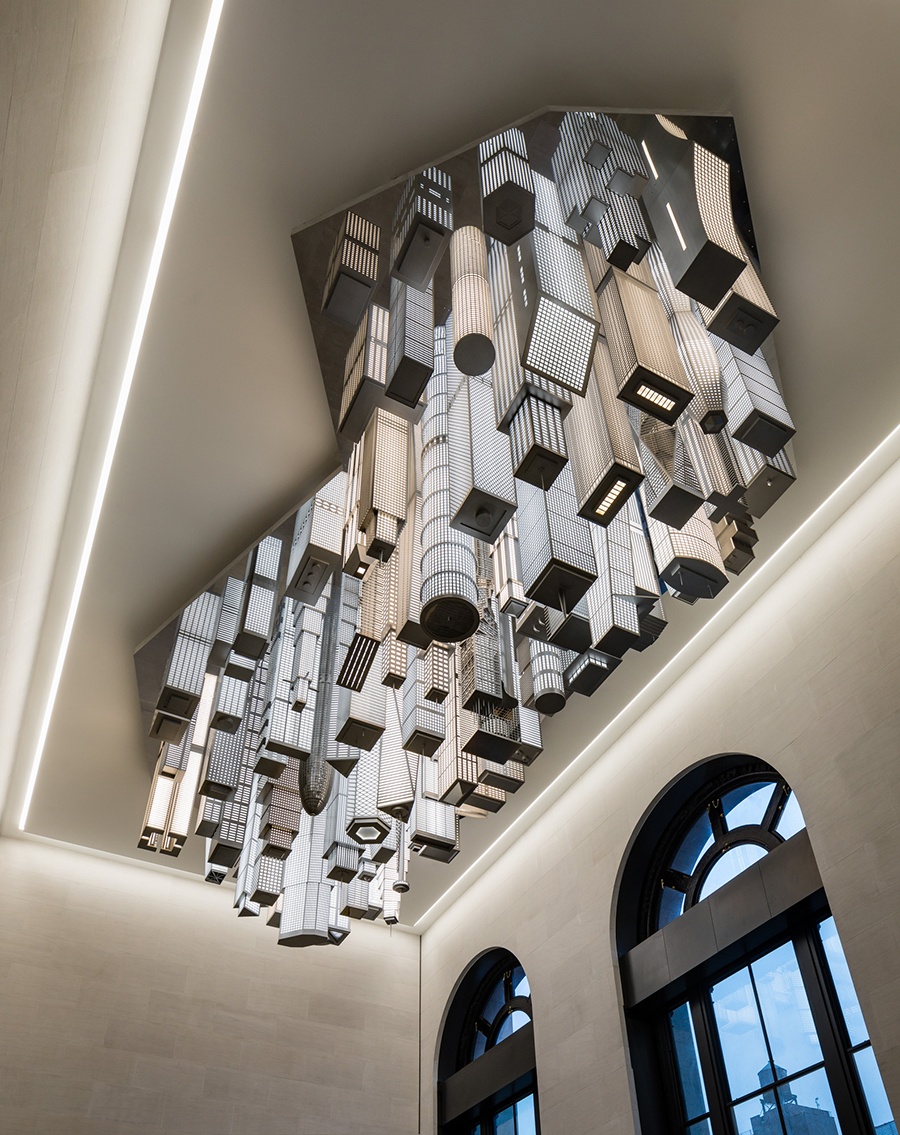 Inspired by the Roman Baths of Caracalla, the original Penn Station in New York featured a soaring interior with vaulted ceilings and a Beaux-Arts façade lined with 48 massive pink granite columns. But in 1963, just over half a century after its completion, the architectural marvel was demolished to make way for Madison Square Garden and the bustling underground labyrinth that now greets more train-weary travelers than any other station in the country. As historian Vincent Scully once opined, "Through Pennsylvania Station one entered the city like a god… One scuttles in now like a rat."
To prevent a loss of such magnitude from happening ever again, the city created the Landmarks Preservation Commission, which grants architecturally, historically, or culturally significant structures special status and regulates them after designation. One of the body's first rescues was adjacent to Penn Station—directly across Eighth Avenue: The enormous James A. Farley Building, midtown Manhattan's main U.S. Postal Service hub. Now, after three decades of planning, the 1.3-million-square-foot structure has been converted into an expansion of Penn Station, dubbed Moynihan Train Hall after Senator Daniel Patrick Moynihan, a longtime champion of the infrastructure project.
Below, Galerie has rounded up five key facts about the new hall, including its fascinating partnership with Public Art Fund.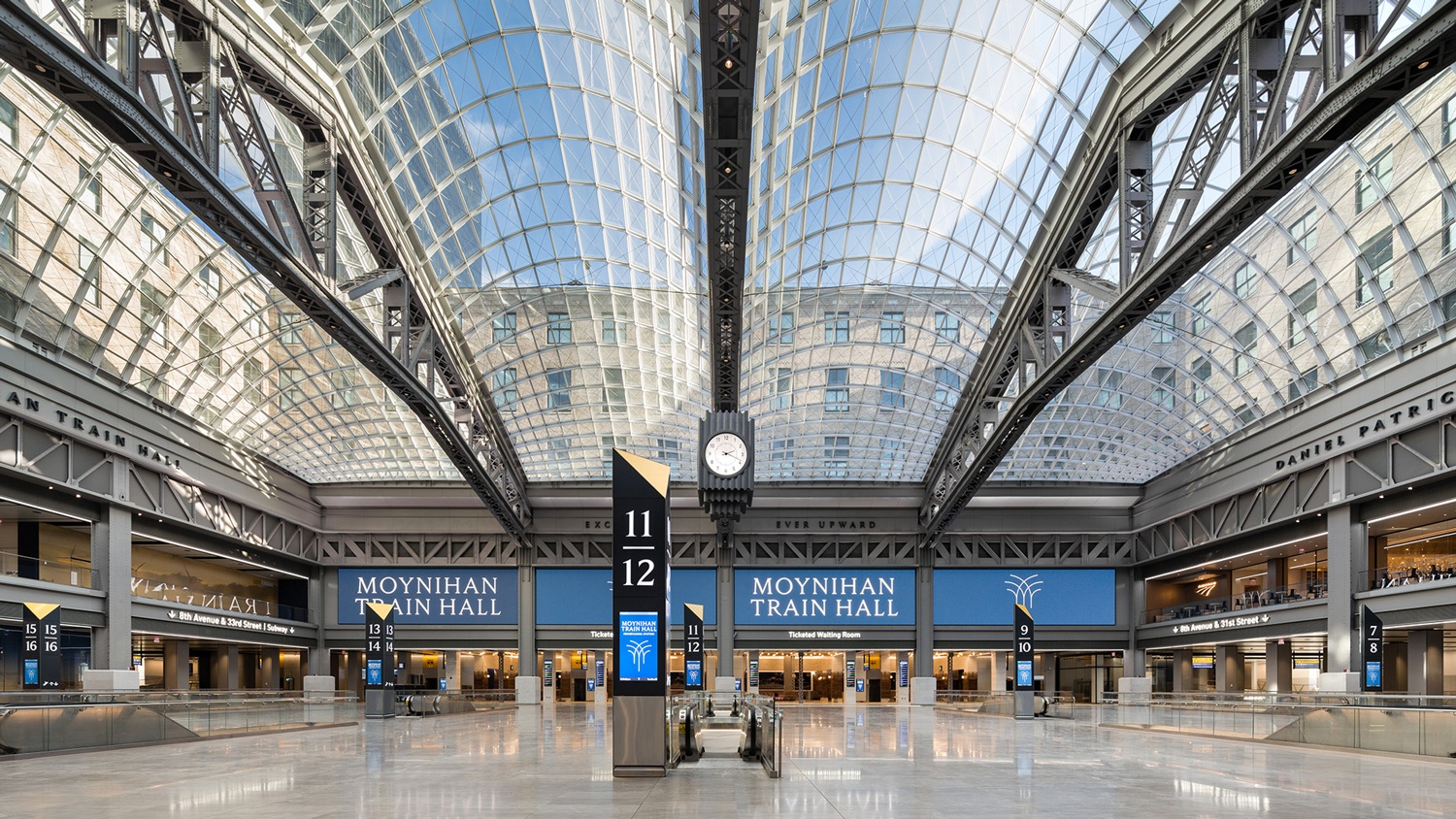 1. The same architects designed the original Penn Station
Lauded architecture firm McKim, Mead & White designed the old Penn Station in its trademark Beaux-Arts style, popular during the City Beautiful Movement of the late 19th century. (The practice also conceived such institutions as the Brooklyn Museum, Morgan Library & Museum, and Columbia University's Morningside Heights campus.) As a "twin" of the massive transit hub, McKim, Mead & White also crafted a sprawling post office next door, the James A. Farley Building. Completed in 1914, the imposing edifice was devised to match its neighbor's colonnaded façade and features an exterior staircase that stretches the entire width of the building, from West 31st to West 33rd Streets. Skidmore, Owings & Merrill (SOM) handled the renovation and conversion of the building into a new train hall, with construction work beginning in 2017.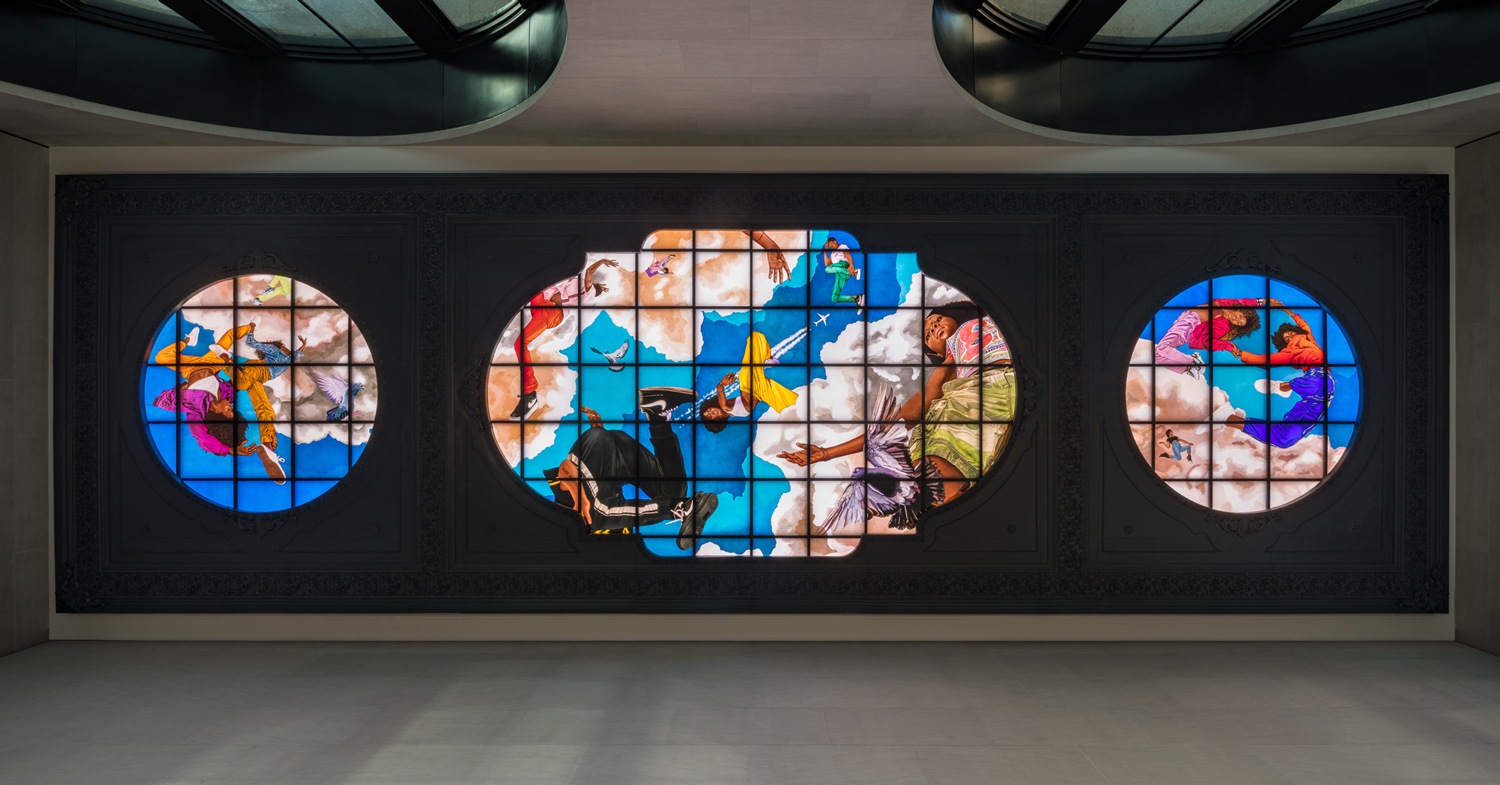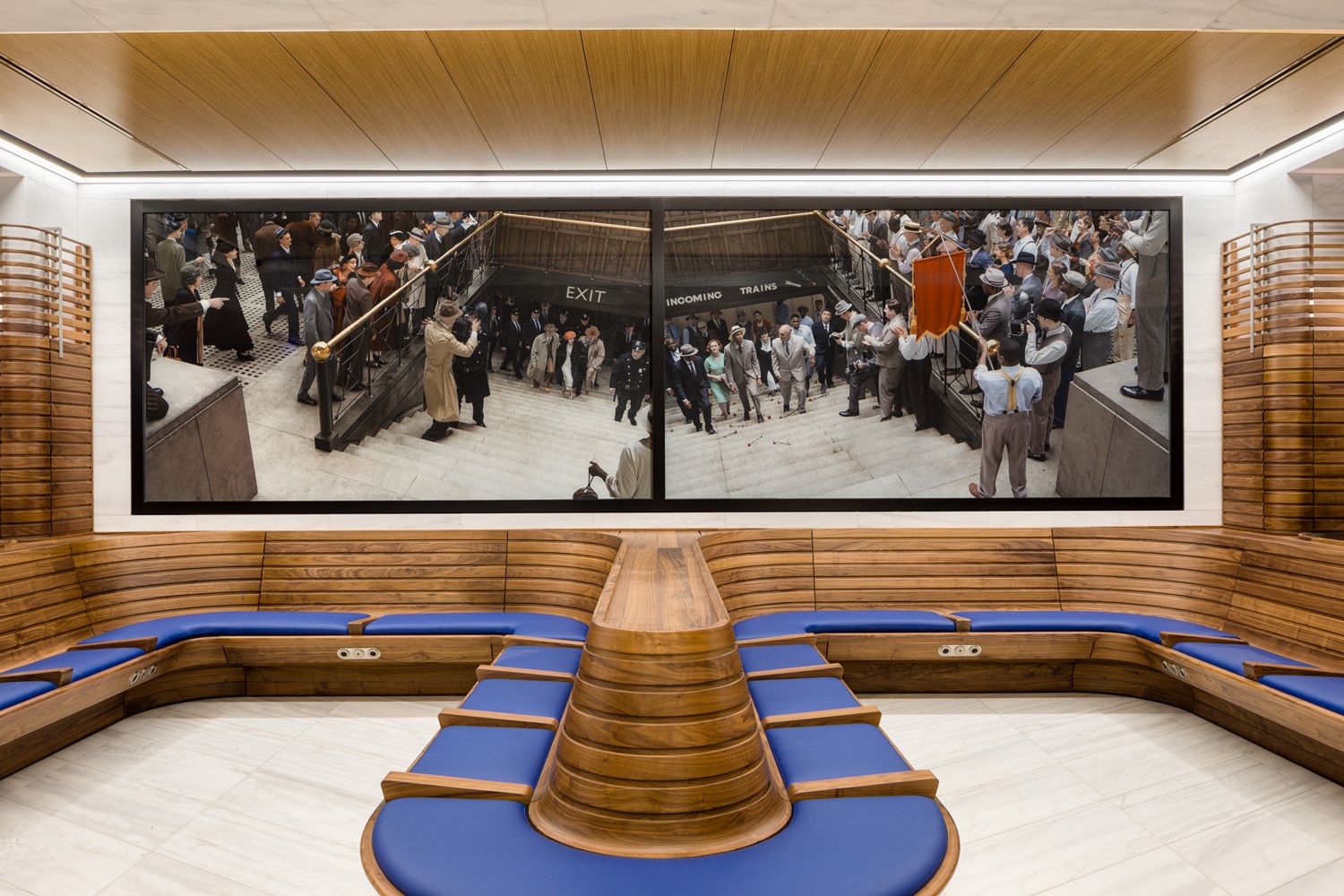 2. The hall features site-specific artworks thanks to Public Art Fund
As with most civic institutions in New York City, Moynihan Train Hall would not be complete without some monumental works of art. As a testament to the city's resilience and diversity, the Empire State Development (New York State's economic development agency) tapped Public Art Fund in 2018 to partner on commissioning some of today's leading artists to create site-specific works, ultimately selecting proposals by Stan Douglas, Kehinde Wiley, and Elmgreen & Dragset.
Douglas, who hails from Canada, sifted through historic photographs of the old Penn Station and translated them into nine panels of ceramic ink on glass that adorn the waiting rooms, which were designed by Rockwell Group. Wiley, who is most known for painting President Obama's portrait, created a stained-glass ceiling triptych featuring Black youth in a style that recalls European frescoes. Art duo Elmgreen & Dragset, meanwhile, contributed an upside-down miniature metropolis called The Hive that features skyscrapers made of stainless steel, aluminum, polycarbonate, LED lights, and lacquer.
"The sense of tremendous achievement that opening the Train Hall and revealing these site-specific commissions represents is extraordinary," Nicholas Baume, Director and Chief Curator of Public Art Fund, tells Galerie. "Not only are they individually exceptional and captivating works of art, they're also powerful symbols of our city's creativity and resilience at a moment of crisis."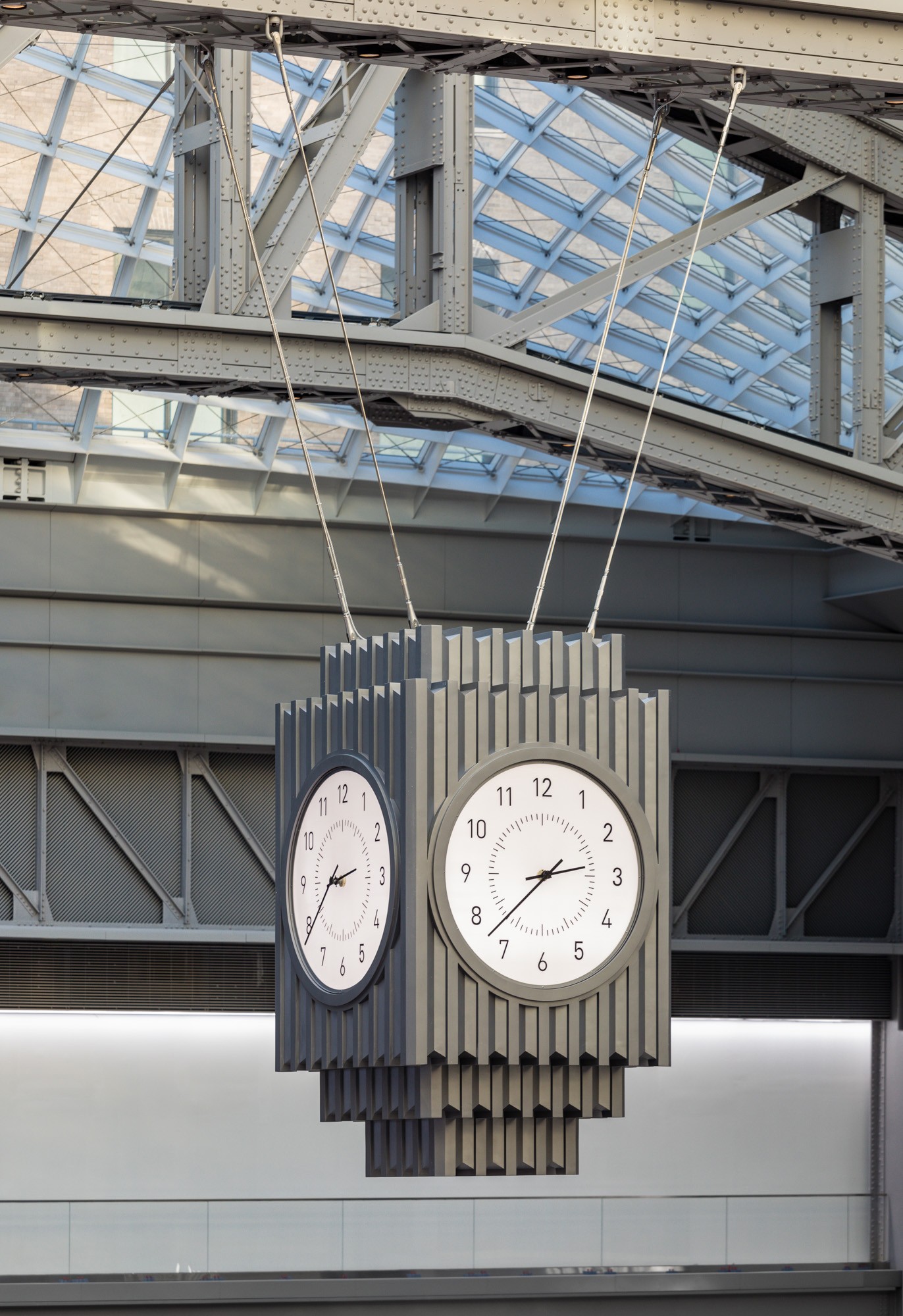 3. Architect Peter Pennoyer designed a special clock for the space
Award-winning architect Peter Pennoyer, who recently designed a dazzling duplex in a Rosario Candela building, conjured a special clock for the center of the main train hall. "Inspired by the machined angles that are found in designs from the golden age of railroad travel, our clock was designed to evoke the best of art deco, which is the modern classical style emblematic of Jazz age New York," says Pennoyer. "The fluted, echeloned forms of the clock are presented in a luminous pewter-like finish that will reflect the ever-changing light from the sky above the Moynihan Train Hall."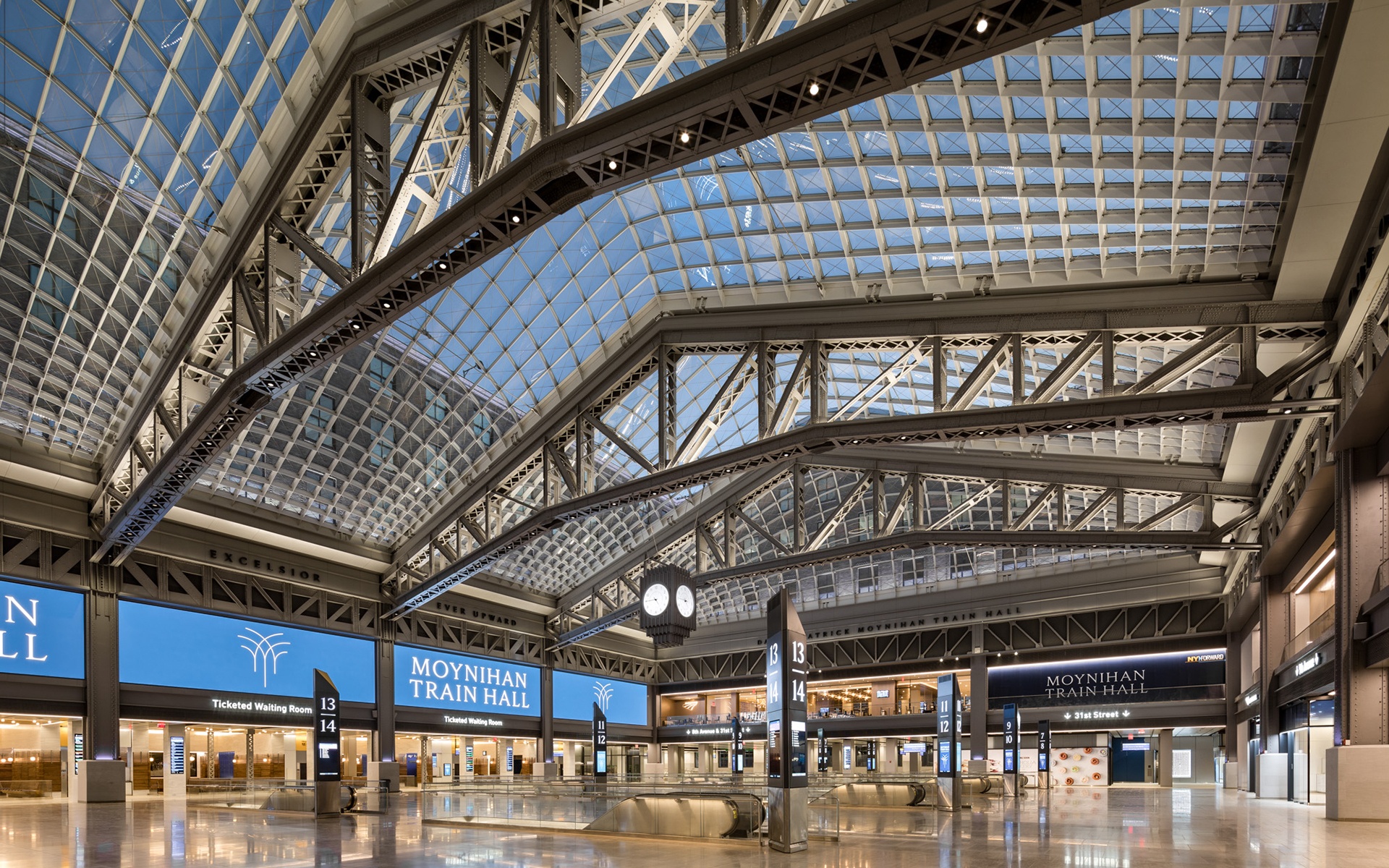 4. The ceiling uses an acre of glass
One of the most beloved features of the old Penn Station were its arched windows that ushered in streams of light—a feature woefully absent in the current Penn Station. For Moynihan Train Hall, SOM sought to help illuminate the space naturally with parabolic windows that form an undulating ceiling and utilize an acre of specialty glass. Structural trusses and columns, part of the original post office design that utilized catwalks, were left intact and add a sense of airiness to the capacious interior.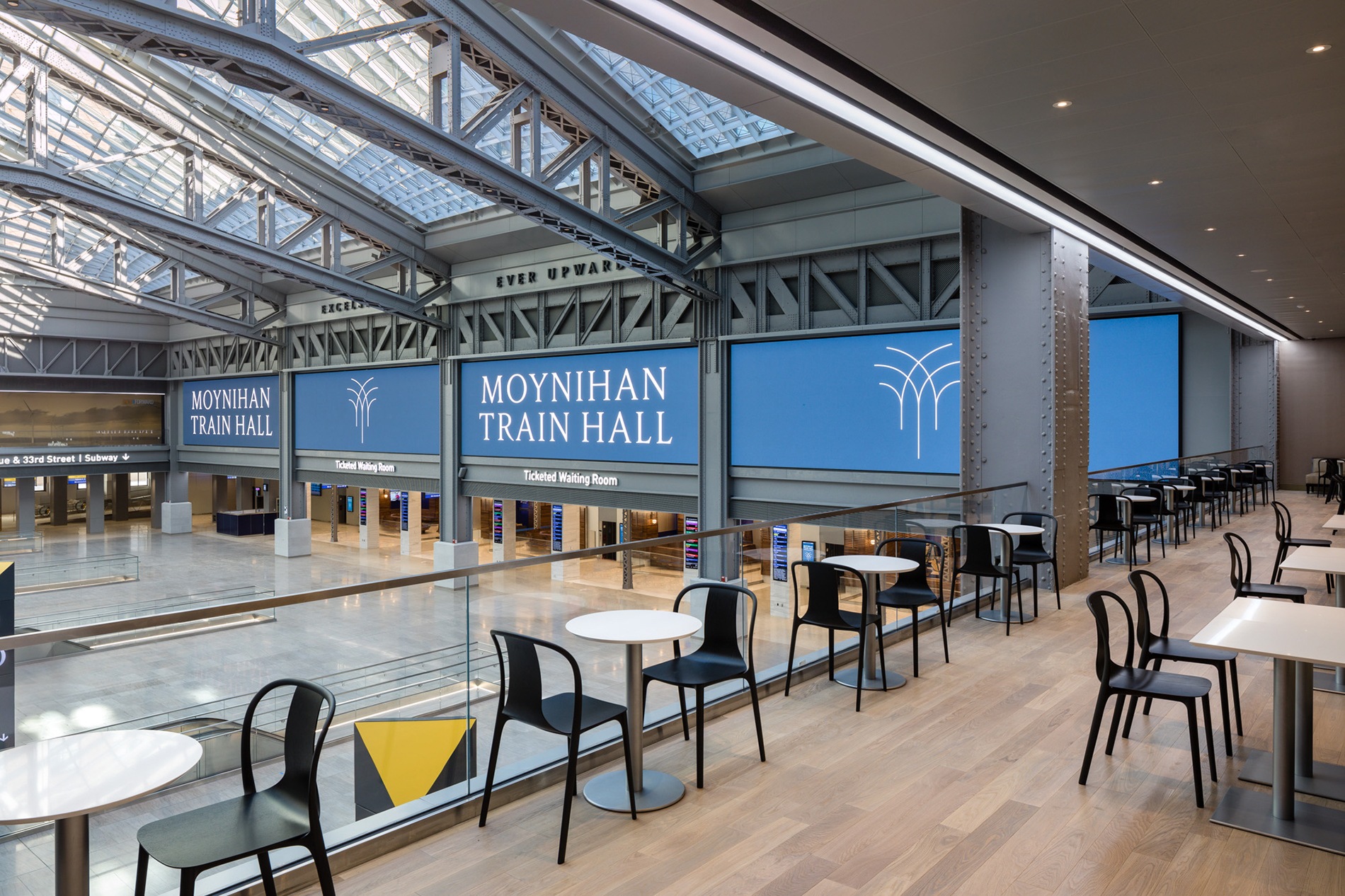 5. Facebook will be an anchor tenant
In addition to serving as a transit hub, Moynihan Train Hall also includes 120,000 square feet of retail space (Starbucks is the only tenant currently open) and over 700,000 square feet of office space. Despite the pandemic's effect on work-from-home culture, in August Facebook announced it would be leasing the entire building's office floors, including almost 70,000 square feet of outdoor landscaped parkland and a 6,000-square-foot glass pavilion.
Next Post