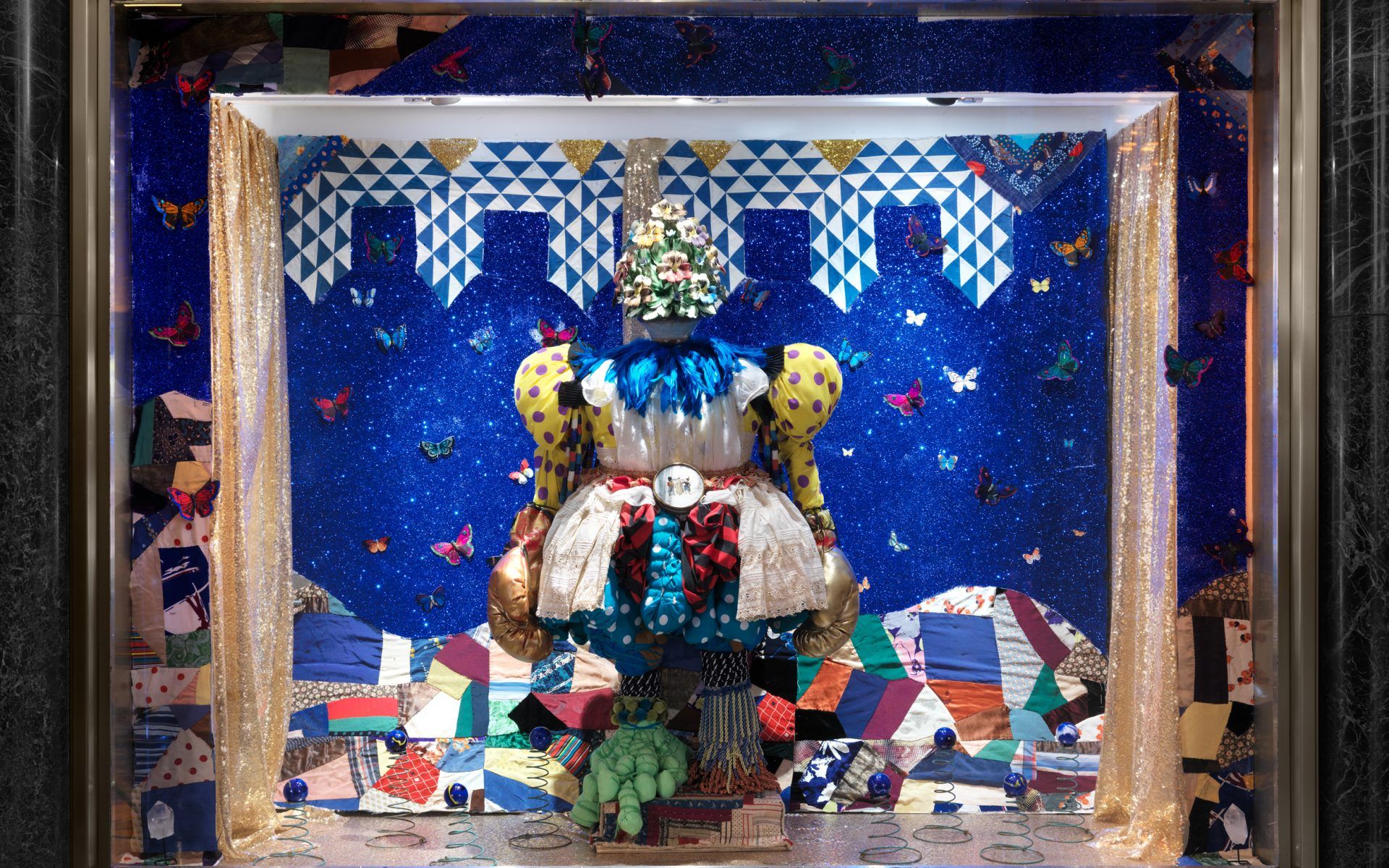 6 Thought-Provoking Public Art Projects Transforming New York in 2020
From whimsical wunderkammers at Rockefeller Center to a historic recreation on Park Avenue, these projects are sure to cause a stir
Even with all of New York City's incredible cultural institutions, some of the most dynamic artworks are found across the city's parks, plazas, and streets. These democratically accessible public works aim to engage both art-world insiders and art history novices—sparking thought-provoking conversations. This year, New York will be host to a number of monumental new public art projects from some of the most established and up-and-coming artists from around the world. Here are six installations that demonstrate the creative possibilities when artists embrace the outdoors.
1. Art Production Fund
"Vanessa German: The Holiest Wilderness Is Freedom"
When: Through April 4
Where: Rockefeller Center
For its second consecutive year, New York's Art Production Fund continues its Art in Focus program, which invites artists to create site-specific public works throughout Rockefeller Center that are inspired by and respond to the city. First up, Pittsburgh-based artist Vanessa German has conceived a series of "cabinets of wonder" that will be displayed in vitrines at 45 Rockefeller Plaza. The Technicolor vignettes encapsulate abstract concepts such as love, imagination, beauty, and nature. Utilizing a variety of recurring materials such as sequins, textiles, crystals, gems, 14K-gold leaf, and found objects, German's captivating works lure the viewer into the fantastical worlds she creates. In other locations throughout the center are a series of empowering photographs that depict her neighbors as superhero-like figures, with the same conceptual rigor and visual complexity of her three-dimensional works. Titled The Holiest Wilderness Is Freedom, it will remain on view through March 5 and will be followed by new projects by Ryan Flores, Genevieve Gaignard, and Sanford Biggers.
2. Public Art Fund
"Farah Al Qasimi: Back and Forth Disco"
When: January 29–May 17
Where: Citywide
Known for her inventive and boundary-breaking approach to portraiture and figuration, Farah Al Qasimi is debuting an entirely new series of photographs to be displayed on bus shelters throughout all five boroughs of New York. While this marks the artist's first solo institutional project in New York, Al Qasimi has risen to prominence over the past few years, with exhibitions at the Third Line, Dubai; MIT List Center for the Arts; Art Basel Statements; Jameel Art Center, Dubai; and Helena Anrather Gallery. In 2018, she won NADA New York's Artadia Award for her presentation at Anrather's booth. For this major Public Art Fund commission, Al Qasimi turns her lens toward New York for the first time to capture everyday, ephemeral moments of individuals and sites she happens upon in primarily immigrant communities. The artist, who splits her time between Brooklyn and Dubai, hopes to provide her viewers with moments of stillness in an otherwise chaotic landscape of anonymity, and these works will surely prompt one to stop and contemplate.
Recommended: 12 Must-See Art and Design Exhibitions in 2020
3. Madison Square Park Conservancy
"Maya Lin: Ghost Forest"
When: June 8–December 13
Where: Madison Square Park
This June, world-renowned artist and architect Maya Lin will debut a site-specific installation that explores the severity of our current climate crisis. The project, Ghost Forest, takes its title from the phenomenon of forests dying from the effects initiated by climate change, the rising sea levels or the infiltration of salt water in freshwater ecosystems. Lin's urgent message will be visualized through a carefully considered series of lifeless, sculpted cedar trees that create a jarring juxtaposition with the park's lush trees and plant life. The project aims to "underscore the concept of transience and fragility, and stands as a grave reminder of the consequences of inaction to the climate crisis," notes Brooke Kamin Rapaport, deputy director and Martin Friedman chief curator of Madison Square Park Conservancy. This somber, desolate arrangement of skeletal trees will have a powerful visual impact during the warm and lush summer months, hopefully urging the park's visitors to take immediate action.
4. Shandaken Projects
"Shandaken: Governors Island"
When: Summer 2020
Where: Governors Island
For the second year in a row, the prestigious Shandaken Projects residency is partnering with Governors Island to offer New York City–based artists workspaces to create major public projects that will debut on the Island this summer. The selected artists this season include buzzworthy emerging talents Zalika Azim, Jonathan González, Heidi Lau with Future Host, Jeremy Sorese, and Coco Young, whose practices span artistic mediums such as poetry, dance, performance, sculpture, and painting. The island, which boasts hundreds of thousands of visitors during the spring and summer months, will offer these artists the space and resources to research the area's history and respond by creating site-specific public projects that connect deeply with this environment in profound ways. Following the successful inaugural series last year, this group of artists is likely to present a complex, socially engaging collection of projects that have us even more eager for summer to begin.
Recommended: 10 Buzzworthy Art Cities to Visit in 2020
5. Whitney Museum in collaboration with the Hudson River Park Trust
"David Hammons: Day's End"
When: September
Where: Whitney Museum of American Art
After several years of anticipation, artist David Hammons will debut a permanent public art installation in Hudson River Park this fall, developed with the Whitney Museum in collaboration with the Hudson River Park Trust. Entitled Day's End, the work references a seminal project by artist Gordon Matta-Clark of the same name, in which Matta-Clark carved a series of openings into the walls of an abandoned warehouse on Pier 52 in 1975. Hammond's installation will employ the architectural structure of this since-demolished shed by creating a skeletal outline of the historic edifice using slender metal rods and constructing it in the building's original plot. Just a short walk from the entrance to the Whitney Museum, the minimal structure will extend over the water and pay homage to the utilitarian architecture of the Meatpacking district prevalent during the 1970s and '80s and forever memorialize its significance in the history of queer culture in New York.
6. The Fund for Park Avenue
"George Rickey"
When: Fall
Where: Park Avenue between 52nd and 56th Streets
To celebrate Park Avenue's Sculpture Advisory Committee's 20th anniversary, the Fund for Park Avenue will present a series of monumental works by George Rickey (1907–2002). Rickey was the first artists to collaborate with this storied art organization, in 2000, and this installation represents the artist's continued significance while also offering the fund a moment of reflection after 20 years of realizing major public projects for the city. Rickey, who is known internationally for his stately kinetic sculptures made primarily from polished steel, will have a series of his iconic sculptures installed along Park Avenue between 52nd and 56th Streets. Although he would typically refer to his own sculptures as "useless machines," this comprehensive installation of varying sculptures made between 1966 and 2001 demonstrates Rickey's mechanical precision and astute ability to gracefully balance heavy forms in space and will surely turn the heads of pedestrians and drivers alike.
Next Post