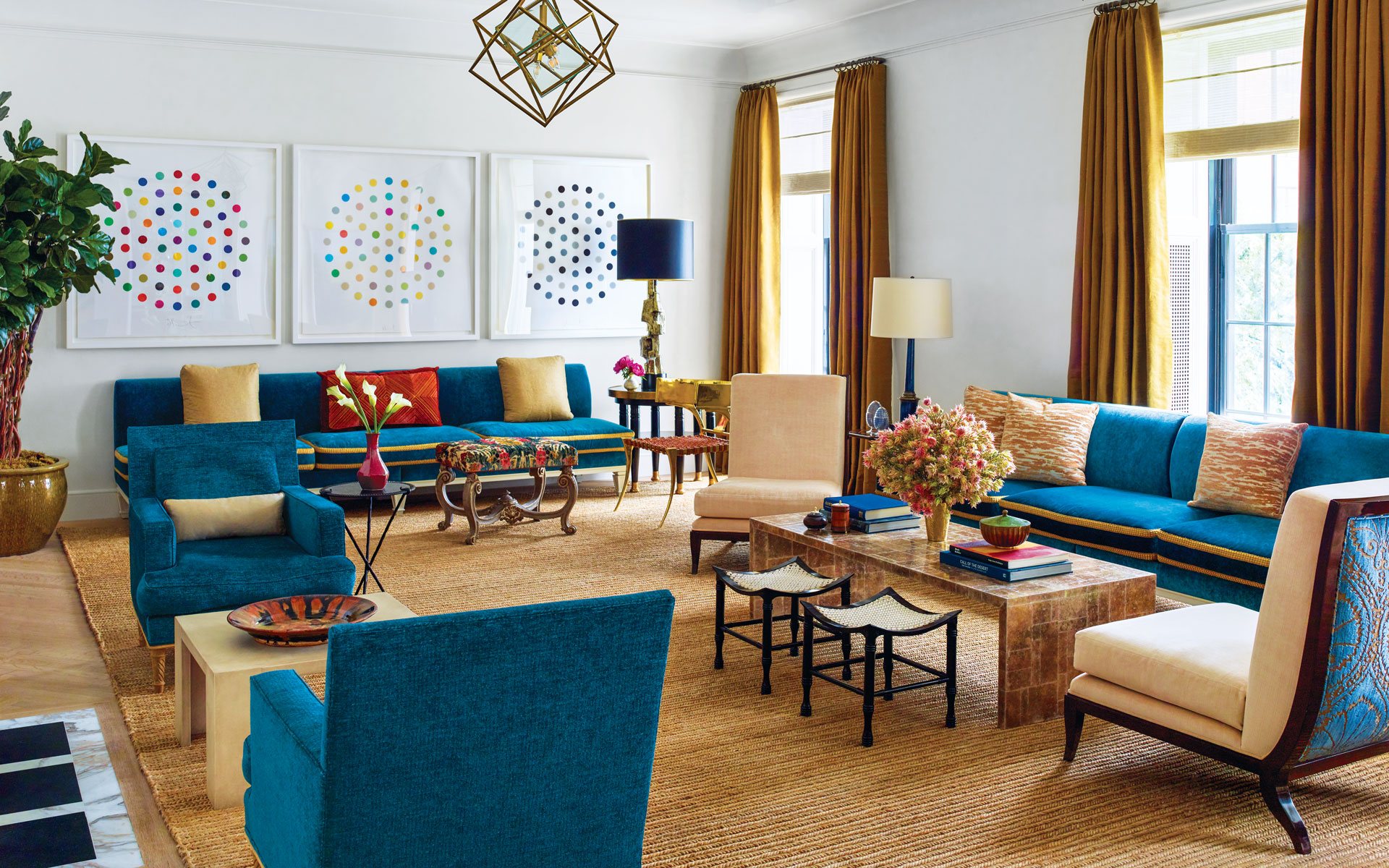 Step Inside Peter Pennoyer's Remarkable Redesign of a Rosario Candela Duplex in New York
With his trademark classical flair, the architect perfects a prewar Park Avenue residence for a modern family
For lots of architects, working with the elegant bones of a prewar New York City building designed by Rosario Candela would be a dream. And for Peter Pennoyer, revamping a Candela Park Avenue duplex for a young family with two children was also a prime opportunity to flex his considerable talent for amping up classicism while heightening refinement. Renowned as a traditionalist with flair, Pennoyer is the go-to architect for clients who want a sense of history but not to be weighed down by it.
Case in point: The apartment's original grand staircase curls as seductively as ever, but Pennoyer elevated it a notch by decorating its walls with graceful paneling—not to mention cushioning the steps with a tiger-print runner.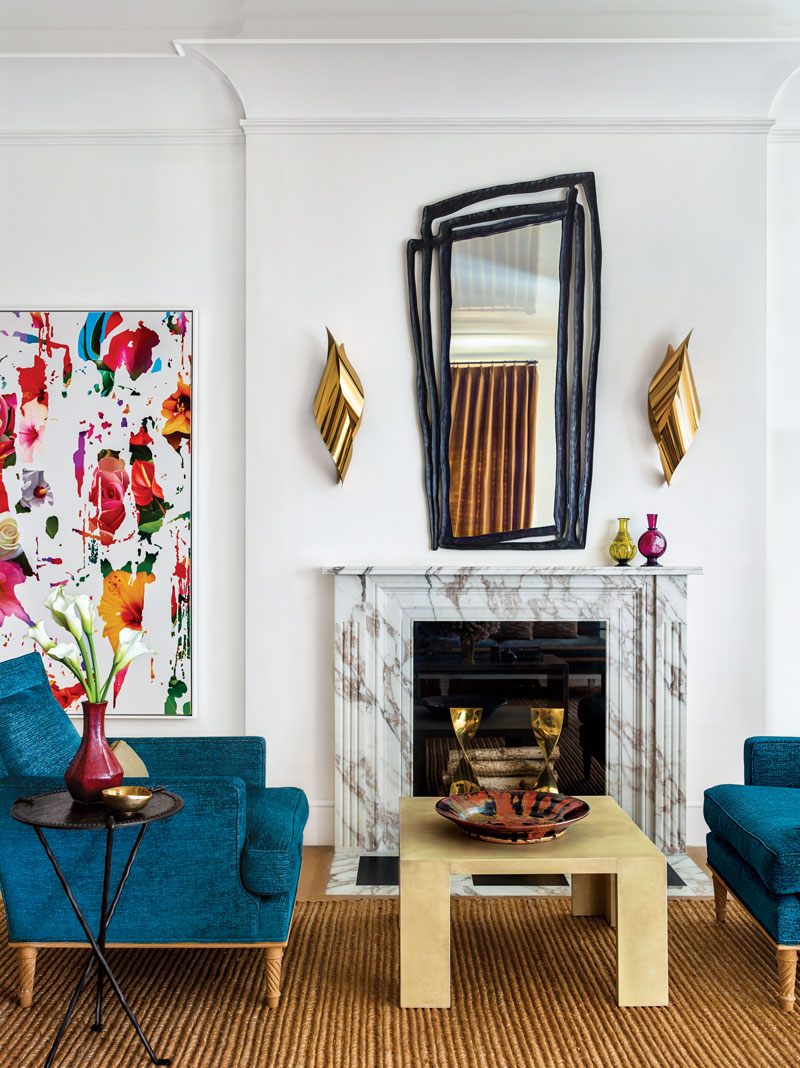 "Candela turned these out relatively quickly," he says of the numerous residential towers designed by the Sicilian American architect in the 1920s and '30s along elite Manhattan corridors such as Park Avenue, Fifth Avenue, and Sutton Place. "They're grand, but they didn't have time to think about all the details, to resolve all the geometries."
And that's where Pennoyer comes in. To tailor the four-bedroom duplex for an active family looking to maximize space, he embarked on a gut renovation that included raising the height of door openings. He also shifted the alignment of some of the doorways in the downstairs entertaining spaces to enhance the sense of flow.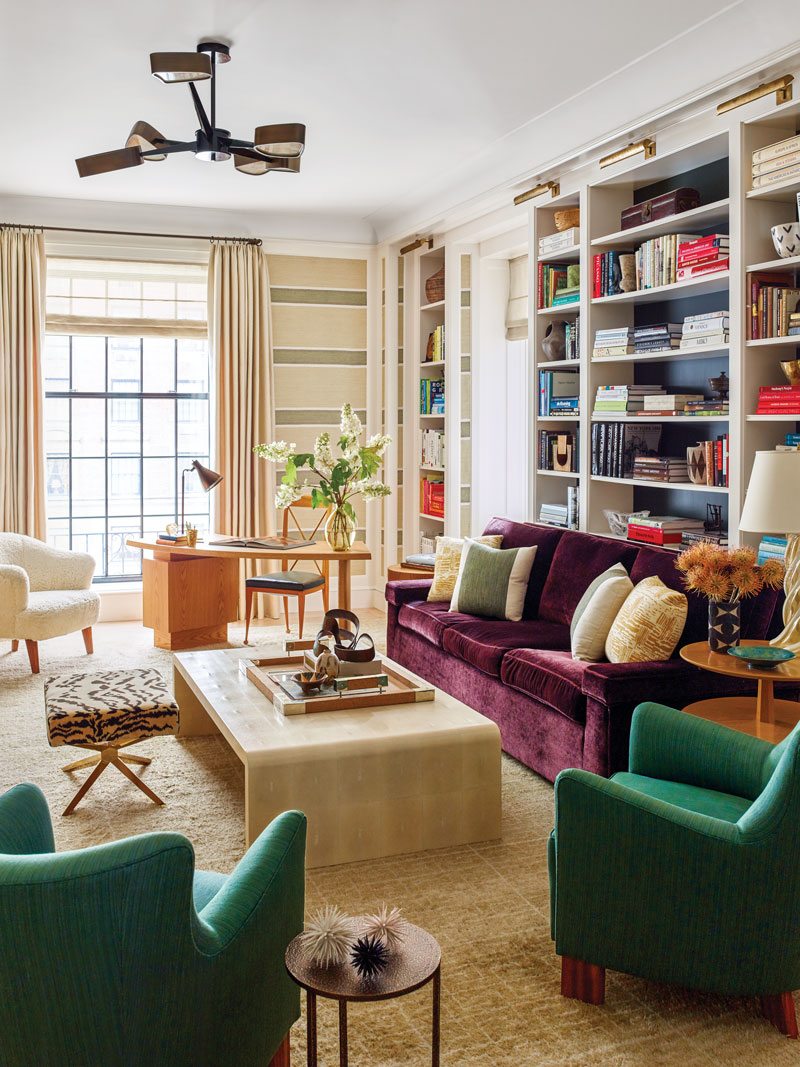 In the living room, Pennoyer took the rare step of elongating the windows by lowering the sills. "What had been conventional windows took on the proportion of terrace doors," he says. "It brought more light into the room and gave a view of the limestone balusters beyond."
A trio of Damien Hirst "Spot" prints sets a spirited tone in the living room, along with modern, squared-off furniture sumptuously clad in a mix of teal and beige upholsteries. Sconces with flamelike swirls of brass by Charles Paris flank an asymmetrical darkened-bronze mirror by Franck Evennou. Hanging nearby is an exuberant Nir Hod work related to a public art commission he created in Tel Aviv, Israel.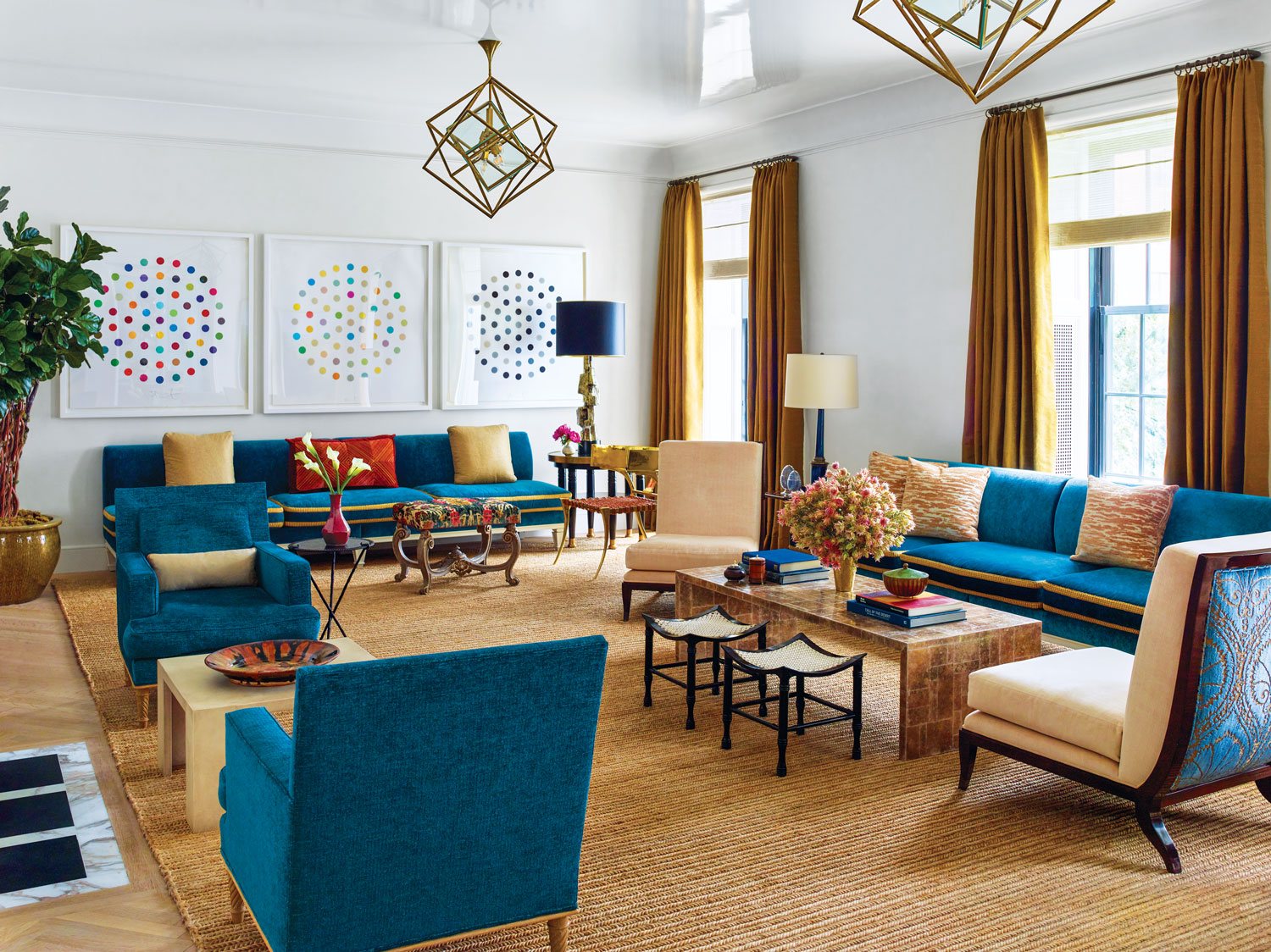 This family spends lots of time in the kitchen and wanted to make the most of the space. So Pennoyer reconfigured and expanded it by getting rid of a small service hall, installing a central island and a Carlo De Carli–style pedestal breakfast table, with rattan bistro stools and chairs. "We were also able to open up the wall facing the family room and put in big glass doors," says Pennoyer, who added visual panache to the kitchen with a pair of cubic glass-and-brass pendants and a dramatically flaring bronze-and-enamel hood over the stove. 
"Light oak is an unexpected look in a Park Avenue apartment, and the patina of age made them especially beautiful"

Peter Pennoyer
The apartment's real showstopper is arguably the dining room, with its striking blue-lacquered paneling. Like any master of space, Pennoyer is always looking for more of it; he was able to claw a little extra out of the ceiling above the dining table to create a spherical cove, which he then gilded, amplifying the enchanting effects of the Hervé Van der Straeten chandelier in bronze and rock crystal that hangs down from the center.
A swirling mixed-media abstraction by Cecil Touchon is mounted above the room's fireplace between eye-catching sconces in alabaster and gilt bronze, while a former utility closet is now a petite faux-painted zebrawood-paneled bar, thanks to a glam makeover. And the white oak dining table, sporting a shiny top made of antique mirror, matches the white oak floors throughout.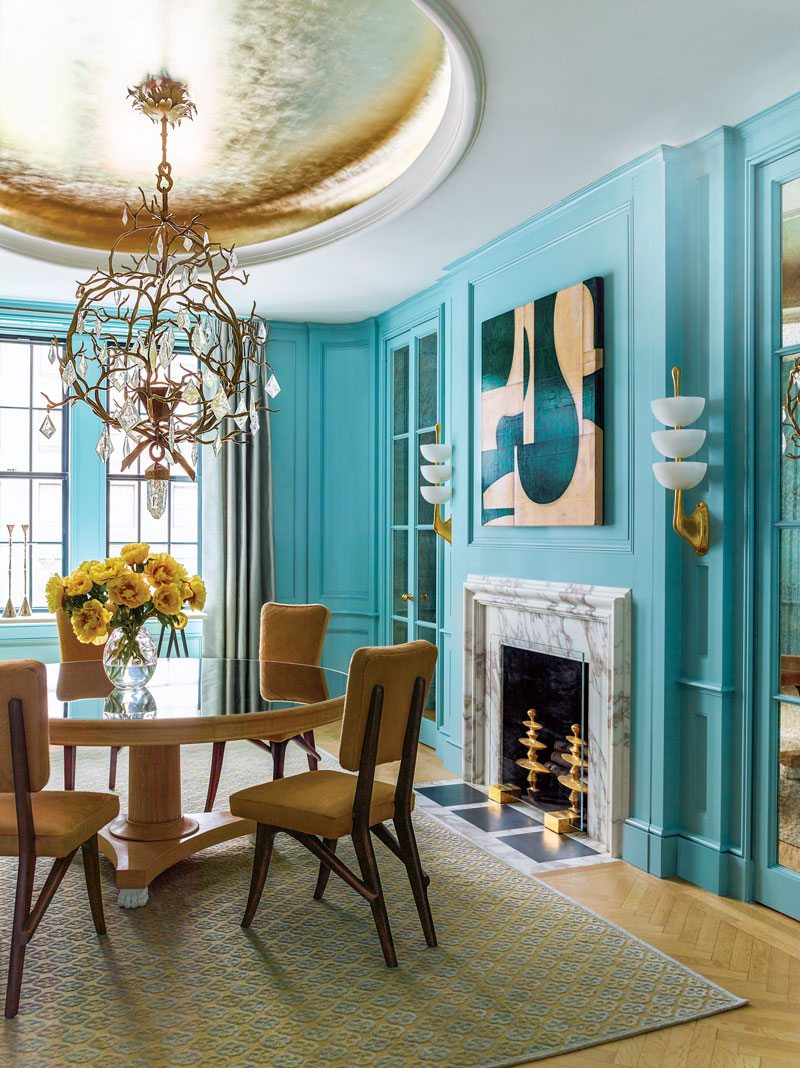 Pennoyer and his team removed the dark finish from the existing floors to lighten the decorating scheme. "They were brave to allow us to do blond floors, because people think of that as being something that was popular in the '70s and '80s," says Pennoyer. "Light oak is an unexpected look in a Park Avenue apartment, and the patina of age made them especially beautiful."
The upper floor, where the bedrooms are located, has quiet beige tones aplenty, but Pennoyer made sure to provide some visual kicks, whether it's the teal-painted contemporary chandelier by Andrea Claire Studio at the top of the stairs or the rainbow onyx fireplace surround in the main bedroom. And the hallway leading to the main suite, formerly a narrow warren, was transformed into a gently curving alcove presided over by one of Guy Dill's abstract sculptures of twisting bronze forms.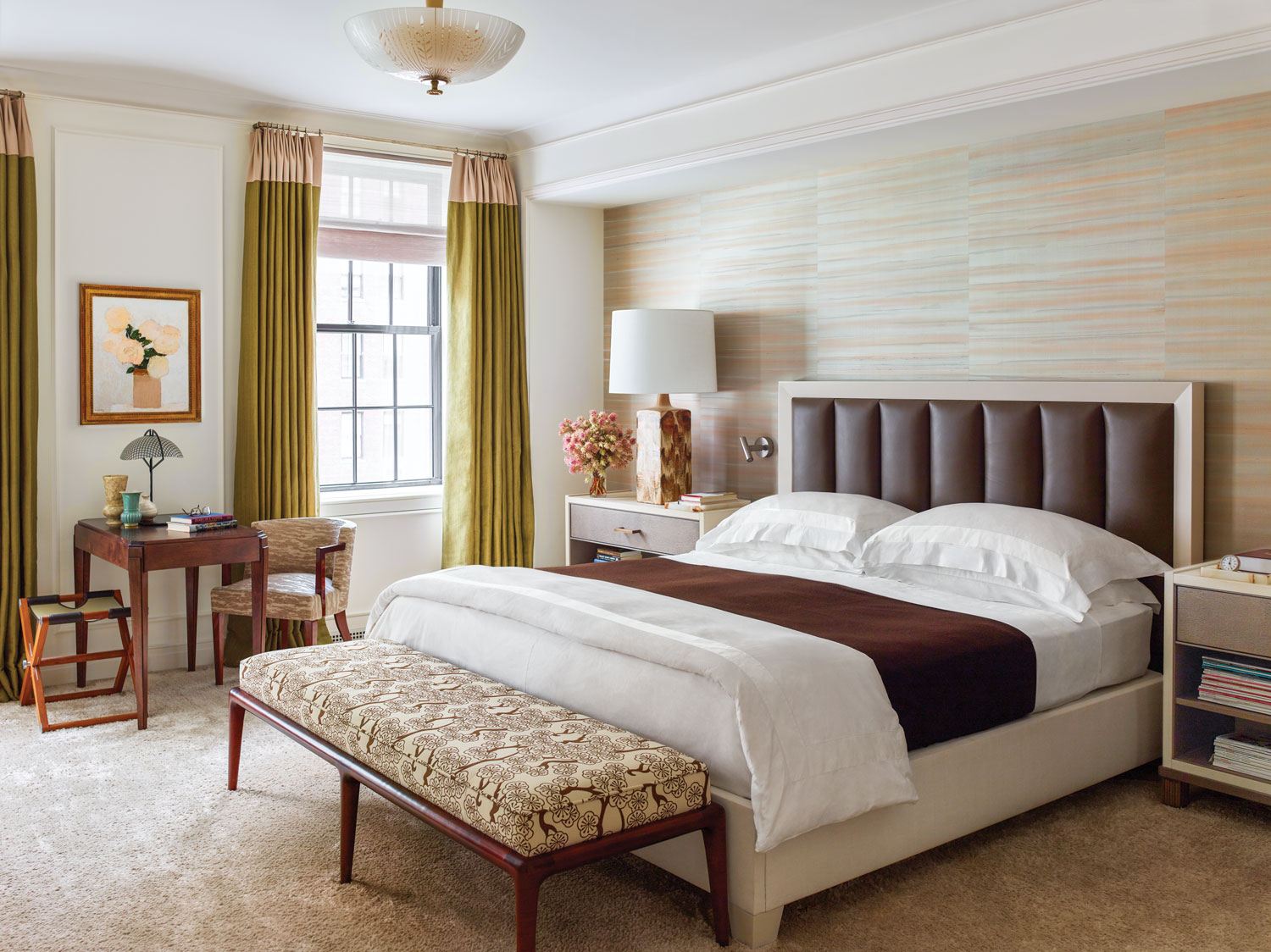 "You just want to avoid the feeling that the rooms are drawers in a bureau," says Pennoyer. "And when you can do curves, it's sort of a relief from all that orthogonal everything."
The light-colored, neutral rugs used throughout the home were part of Pennoyer's strategy to "make the whole place feel very coherent and calm," he says. It was also about not competing with the family's art or the bold new decorative elements. Or, it must be added, the apartment's great historic bones. "I don't want to get away from what this is about," says Pennoyer, "which is essentially classical architecture.
A version of this article first appeared in print in our 2020 Winter issue under the headline "Right at Home." Subscribe to the magazine.
Next Post