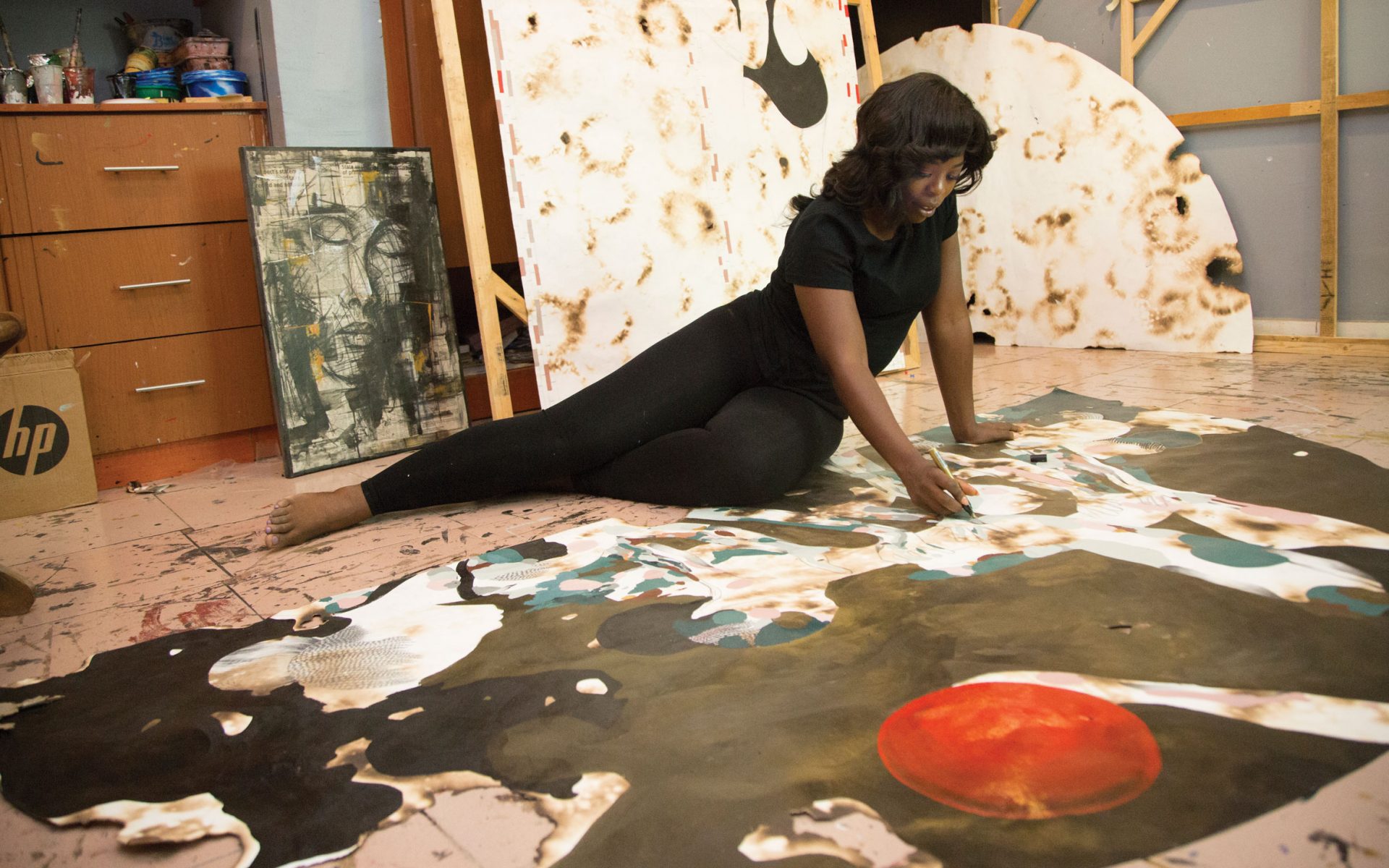 Modupeola Fadugba Causes a Stir with Her Dreamy Artworks
The Nigerian artist's fantastical swimmer artworks will be featured in a fall solo exhibition at Ghana's Gallery 1957
Since making her debut in 2014, Togo-born, Nigeria-based artist Modupeola Fadugba has been causing a stir with dreamy, intricately detailed artworks crafted in acrylic, burnt paper, gold leaf, and ink. Yet her works' sumptuous surfaces belie their serious undertones. In her latest series, "Synchronized Swimmers," for instance, young women in black swimsuits and ballerina buns kick and twist in a sea of shimmering pastel water. But upon closer inspection, their refracted limbs are a patchwork of burn holes and discoloration, and the viewer wonders: Are they swimming or drowning?
The self-taught artist is armed with degrees in chemical engineering and economics, as well as one in education from Harvard, and spent years working in research and policy in Nigeria's education sector. But, Fadugba explains, "I found myself drawing in the mornings and evenings every day, until the art started to take over, and I just jumped in. The swimmers are symbolic of my personal journey in the art world, too." Now she uses art as her platform to explore cultural identity, sociopolitical issues, and women's empowerment.
Recommended: 5 African Artists to Watch Right Now
In the wake of small solo shows in Lagos, London, and Paris, Fadugba caught the attention of collector and gallerist Marwan Zakhem, of Gallery 1957 in Accra, Ghana. He brought her work to Art Dubai in March, and his booth sold out. Next, Fadugba is heading to New York City to spend the summer with a group of senior swimmers, the Harlem Honeys and Bears, to work on her first solo show at Gallery 1957 in the fall.
A version of this article first appeared in print in our 2018 Summer Issue under the headline Seeking Beauty. Subscribe to the magazine.
Next Post