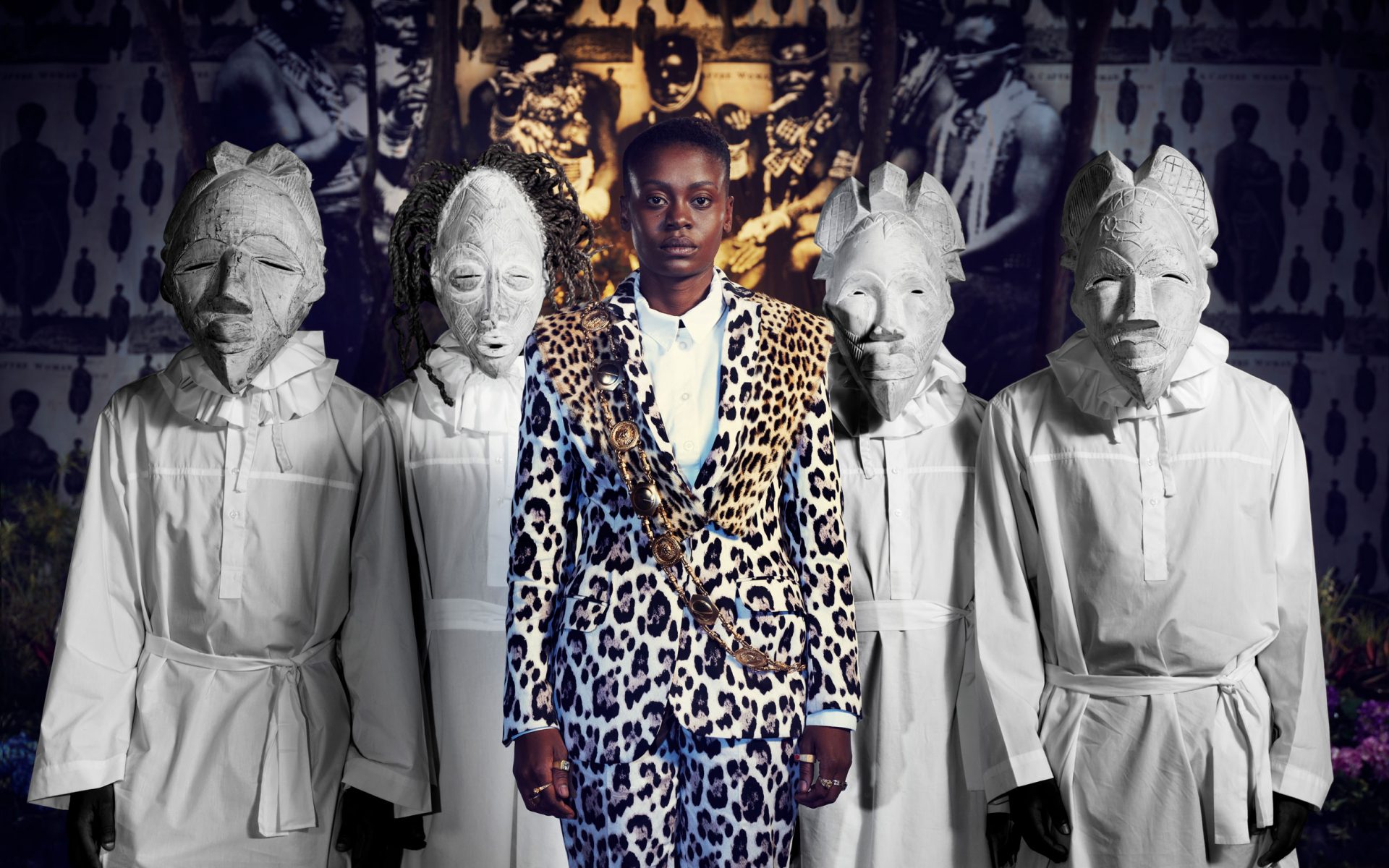 5 African Artists to Watch Right Now
There's no denying that the collectability of African art is on the rise. Here's our list of artists to keep an eye on
All eyes are on Africa. That's no secret. Last May, Sotheby's London held their first sale of art from the continent, delving into a still largely under-explored region. It's a market that's heated up considerably over the last decade and is now nearing a tipping point. Of course, Sotheby's wasn't the first in the African art game—Bonham's inaugural "Africa Now" Auction in 2009 underlined an interest in modern and contemporary African art, which mirrored the exponential economic development of the continent. Since then, Piasa in Paris and Swann Auction Galleries in New York have followed suit.
Last year, the international crowd was buzzing about Fondation Louis Vuitton's "Art/Afrique," an exhibition that showcased the Foundation's own impressive holding of African works on the top floor of their Frank Gehry–designed museum in Paris. Just a few months later, in September, the Zeitz Museum of Contemporary African Art (MOCAA) in South Africa's Cape Town opened—the first of its kind on the continent.
Now, the well-respected 1-54 Contemporary African art fair, which shows yearly in London and New York, will hold its first edition in Marrakech, starting on February 24. "African artists used to need to export themselves and live outside of Africa in order to have some sort of career," says fair director and founder Touria El Glaoui. "Now, there are institutions and private collectors on the continent, and this is changing the game." And a few days later, on February 27, the Museum of African Contemporary Art Al Maaden (MACAAL) will reopen in city, which is quickly becoming the next hub for African art.
The artists below portray Africa's multifaceted history, current socio-economic realities, and enchanting beauty through their work, prompting fresh perspective of the continent.
It's impossible to talk about the art scene in Ghana without mentioning the figurative palanquin and fantasy coffin artist Paa Joe. Born in 1947, in the country's Akwapim region, Joe is renowned as one of the most important Ghanaian artists of his generation. The fantasy coffins he conjures draw on the traditional Ghanaian custom known as abebuu adekai, in which a coffin is created to resemble a favorite object from the life of the deceased. Joe's creations take the shape of animals, boats, colorful cellphones, fish, beds, and even Mercedes-Benz cars and Nike sneakers.
The artist recently caught the attention of New York dealer Jack Shainman, who showed Joe's work last year in a two-part exhibition titled "The Coffins of Paa Joe and the Pursuit of Happiness" at the gallery's Chelsea location and at the School in Kinderhook, New York. The show explored the making and collecting of art as a means of spiritual fulfillment and transcendence. The pieces have also been exhibited at institutions throughout Europe, Japan, and the United States, and are part of major collections worldwide, including the British Museum in London. Head to Accra to visit the artist's studio and explore the role that spirituality plays in traditional Ghanaian culture.
Working across installation, sculpture, and photography, Accra-based German/Ghanaian artist Zohra Opoku often incorporates textile and design-based elements to explore the traditions of West Africa, as well as the politics of her cultural hybridity. In her latest series, Harmattan Tales, on view at Marianne Ibrahim Gallery in Seattle through March 17, Opoku explores the realities of Muslim women in Accra. On a series of delicate cotton screen prints she portrays veiled women investigating their everyday life, personal beliefs, and the intimate act of veiling and unveiling. Opoku will also take up an artist residency in Dubai at Tashkeel as part of Art Dubai 2018.
The first black student to graduate from South Africa's University of Pretoria, Zimbabwean Kudzanai Chiurai is now enjoying international acclaim. His bright and expressive oil paintings portray a utopian vision of African life, one with open borders and uncensored creativity. His work was recently included in the opening exhibition of Zeitz MOCAA, as well as in Fondation Louis Vuitton's "Art/Afrique" showcase. His politically charged and theatrical oeuvre celebrates the sub-cultures of today's world, including the Afro-punk movement. He's shown his work around the world, at institutions including London's Victoria & Albert Museum and New York's Museum of Modern Art.
After studying engineering, economics, and education at Harvard and the University of Delaware, the Togolese artist—who is based in Abuja, Nigeria—decided to focus on her art. Her delicate works on canvas address themes of cultural identity, game theory, women's empowerment, and social justice within the socio-political landscape of Nigeria, the most populous country in Africa. Her passion for education and social issues can be seen in her recent series "Heads or Tails" (2014–17), which imposed female profiles on currency to highlight missing icons and heroes in contemporary Nigerian life.
The artist's practice often materializes itself on fragile burnt paper and is innately linked to ideas of time and memory. In her series "Synchronized Swimmers" (2016–17), Fadugba portrays a group of female swimmers together with a red ball. Akin to members of a collective sports team, these women don black swimsuits and identical hairstyles, writhing and turning amidst shimmering waters interspersed with the artist's signature burnt holes. Fadugba's interactive game installation, "The People's Algorithm," was awarded El Anatsui's Outstanding Production Prize in the 2014 National Art Competition and a 2016 Dakar Biennale Grand Prize from Senegal's Minister of Communication.
Madagascar-born and Paris-based photographer Malala Andrialavidrazana boasts a strong background in architecture. She's known for her distinctive body of work incorporating strong historical imagery into a contemporary framework. The artist's photographic work acts like anthropological research. Her "d'Outre-Monde" series, for instance, captures funerary customs around the world and was awarded the prestigious HSBC Prize for Photography in 2004. Since then, she has shown her work at the Also Known As Africa (AKAA) Design and Art Fair in Paris, Art Basel's Aperature Foundation, Poland's Museum of Modern Art, and the 1:54 art fair, just to name a few.
Next Post