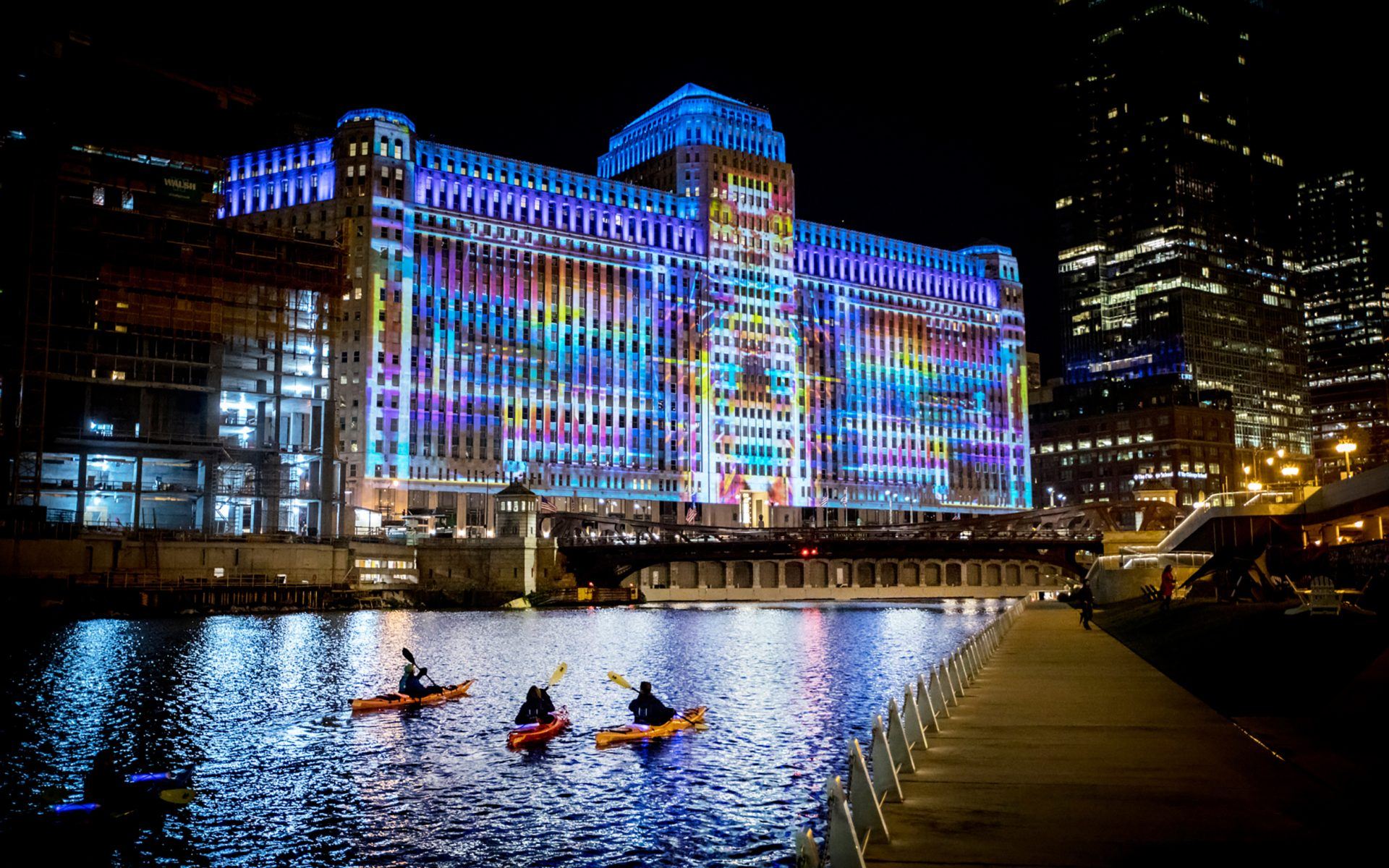 Massive Digital Projections by Charles Atlas & Petra Cortright Illuminate Chicago
Art on theMART—the world's largest permanent digital projection—will feature the two artists as well as soliloquies by John Boesche and a performance by Cheryl Lynn Bruce
While most of the noteworthy artworks in Chicago this week are tucked inside Navy Pier for Expo Chicago, the city's annual art fair, there is one exhibition that's hard to miss. Projected nightly on the 2.5-acre exterior of Chicago's iconic waterfront Merchandise Mart, Art on theMART is the world's largest public digital display and it returns for its second edition on Saturday, September 21. This year features work by esteemed video artist and film director Charles Atlas and buzzworthy young talent Petra Cortright.
"The platform should be considered less projection screen and more as a dynamic surface with a particular surface geometry," Art on theMART executive director Cynthia Noble tells Galerie. For this year's program, they looked to artists who could learn from last year's iteration and push the potential of the platform further.
Charles Atlas, who cut his teeth in the Merce Cunningham Dance Company in the 1970s before going on to become one of today's most important video artists, created a site-specific presentation that marks the artist's first opportunity with public art. His presentation will be broken down into eight-minute "chapters" displayed on the building's façade.
Recommended: 12 Reasons to Visit Chicago this Fall 
"Large-scale video installation has been one of the areas that I have explored in my recent art work and when I heard about Art on theMART, I thought, I have to do this!" Atlas tells Galerie. "I was seduced by the scale, and it was only after I started actually making the piece that I realized the challenges that it would present. The hundreds of windows that are part of the façade actually represent holes in the projected image. This suggested that I make a composition with abstract images rather than using the bodies that appear frequently in my work. Also, projecting on a textured stone façade was quite different from what I had experienced on my computer screen."
Also part of the presentation will be Petra Cortright's Webcam Still Life with Flowers: Blue, Green, and Red, a low-fi display in the artist's signature style that she hopes will offer the people of Chicago a peaceful moment of reflection. Cortright, who is represented by gallery 1301PE and featured in Galerie magazine's 2017 Winter issue, was recently tapped by Google to create a limited-edition phone cover.
"I wanted to make something simple and classic that was true to my work," she says of her project for Art on theMART. "I had been painting a lot of flower still lifes, and I wanted to incorporate that. It's been a chance for me to think about how I can move back and forth between video and painting and really blend the two mediums. I am trying to close the gap between the two, and I think that digital painting has the ability to achieve that. It's spectacular to see the work at that scale, and I love the interplay of the video with the architecture of the building, the windows, and all the people inside of the building. It feels very alive."
Recommended: Two Los Angeles Artists You Need to Know
New for this year is the alignment with the Year of Chicago Theatre; media designer John Boesche's 7 Soliloquies, which premiered in March, will be displayed in the fall projection. The multilayered program features work by significant Chicago theater artists, including Cheryl Lynn Bruce's performance of a Gwendolyn Brooks poem, which is coupled with images of paintings by Kerry James Marshall.
Last year's inaugural edition featured projections from four artists—Chicagoans Jan Tichy and Jason Salavon, as well as Zheng Chongbin and Diana Thater—that were presented using a groundbreaking display employing 34 state-of-the-art projectors totaling close to 1 million lumens. Additionally, the debut weekend included a collaboration with Override, which featured contemporary artworks displayed citywide on digital billboards, a program that will be in place again in 2019.
"With the Override images, we are exploring how stills can be activated on the platform," says Noble. "In relative terms, Art on theMART is still very new in its 30-year promise, so we are still experimental and remain curious."
Next Post