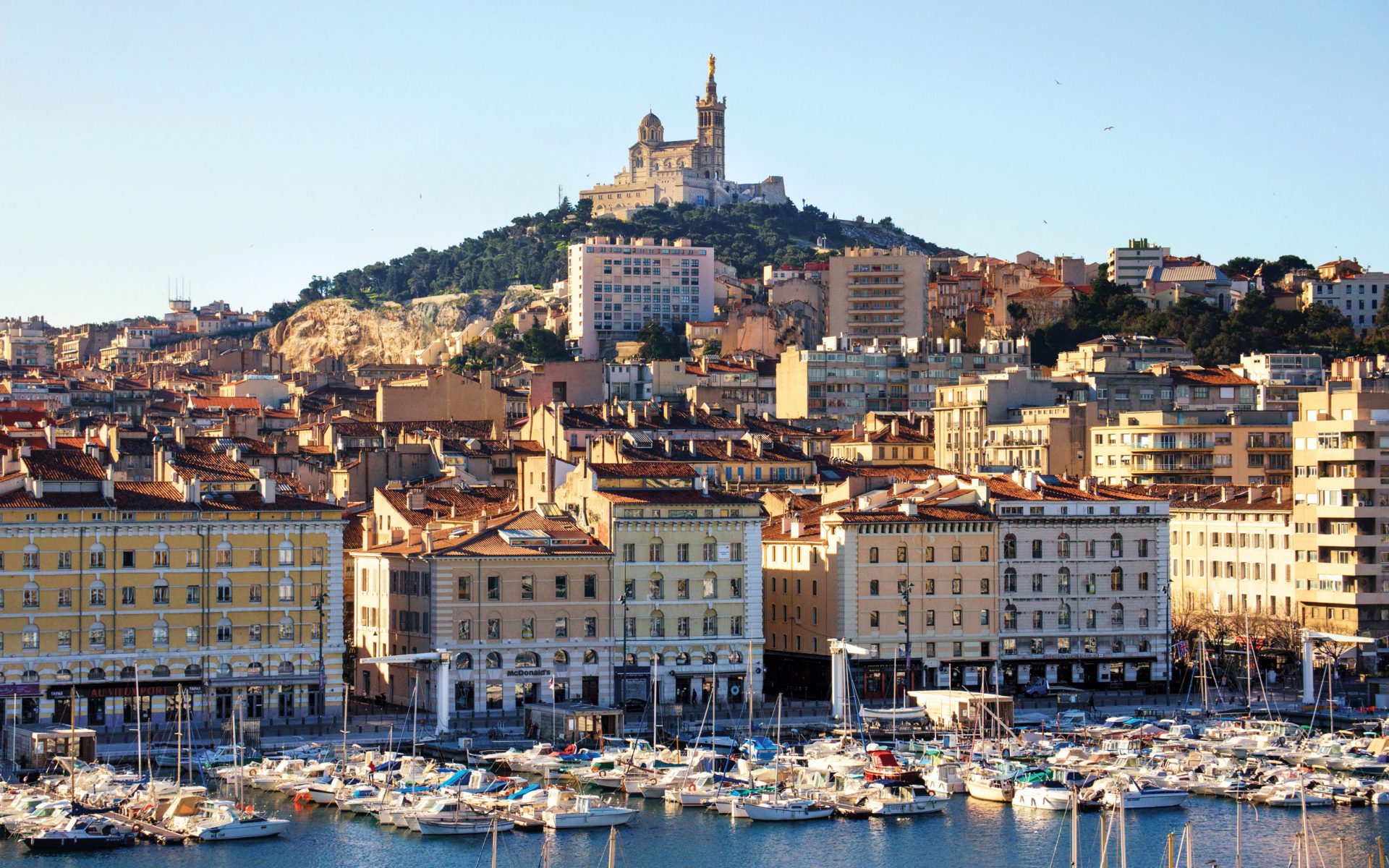 Why Marseille Is France's Hottest Arts and Culture Destination
The brawny port city has come into its own with a host of new attractions
In her 1978 book, A Considerable Town, the late American writer M.F.K. Fisher startled many readers when she fell harder for the brawny port of Marseille than for the aristocratic city of Aix-en-Provence. The preferred Provençal destinations at the time were polite and picturesque.
Today, her fascination with France's second-largest city is shared by an ever-growing number of visitors, who come for its historical and architectural treasures as much as for its transformation into one of Europe's most dynamic art and design centers. The catalyst for this urban revival was the ambitious infrastructure and cultural projects the city undertook in advance of its yearlong role as European Capital of Culture in 2013.
On a recent morning, as the train from Paris drew close to the handsome 19th-century Gare Saint Charles (the three-and-a-half-hour trip is a better choice than flying), a British professor of English literature who has lived in Marseille for 40 years volunteered his affectionate assessment. "She's a lovely old tart of a town, with very good bones," he declared. "The old gal went through a rough patch, but now she's coming out of it, and she's prettier than she's been in years."
Minutes later we arrived, and most travelers headed directly to Le Vieux Port (the Old Port), the city's iconic heart, where the most striking emblems of its dazzling renewal were obvious: Foster + Partners' dramatic redesign of the wharves, including the crowd-pleasing, open-air pavilion with a reflective polished-steel canopy, and Rudy Ricciotti's spectacular Musée des Civilisations de l'Europe et de la Méditerranée (MuCEM), whose façade is clad in a remarkably delicate veil of cement lace.
Marseille's vocation as a place of commercial and human exchange is entirely contained in Le Vieux Port. As the remains of several ancient Greek and Roman ships attest, the U-shaped harbor is where the city was born and, for centuries, earned its keep from fishing and shipping. When the Suez Canal opened in 1869, trade with France's Asian colonies added to its already thriving commerce, and Marseille became one of the fastest-growing cities in the world.
Recommended: 10 of the Most Magnificent Châteaux in France
No building better evokes the prosperity and optimism of the era than the Palais Longchamp, erected to celebrate the transformative public-works triumphs of 19th-century Marseille. Although it houses the excellent Musée des Beaux-Arts, what makes the palace itself memorable is its architecturally exuberant staircase, horseshoe colonnade, and allegorical fountains.
In our time, the MuCEM—opened in 2013 at the northwestern corner of Le Vieux Port—may be the best symbol of Marseille's renaissance. Established to examine the city's complicated relationship with the Mediterranean world, it presents compelling exhibitions, including this year's "Ai Weiwei Fan-Tan," by the world-renowned Chinese artist.
As the son of a famous Chinese poet who arrived in the West in 1929 upon disembarking in Marseille—at precisely the spot where the museum is today—Ai Weiwei was inspired to create a voyage through time and art, exploring ideas of East and West, original and copy, destruction and preservation (June 20–November 12).
Marseille's other fascinating museums and monuments can keep art and design lovers busy for a week or two, but if time is limited, make sure you see La Cité Radieuse, the vertical village built by Le Corbusier in 1947—and one of France's greatest works of modern architecture. Head up to its rooftop for spectacular city views and temporary art shows at MAMO—the current one is by Jean-Pierre Reynaud—the art space created by French designer and Marseille resident Ora Ito, whose furniture is produced by Cappellini, among others.
This is a city where you'll want a room with a view, and options abound. You can stay at the charming Grand Hôtel Beauvau at the foot of Le Vieux Port, or opt for yet a grander panorama from a private terrace at the Hôtel InterContinental, in the superbly renovated 18th-century Hôtel Dieu, which sits on a hill overlooking Le Vieux Port and was once the city's main hospital. Design and beach lovers might want to consider Hôtel C2, which features furnishings by Arne Jacobsen, Patricia Urquiola, and Ron Arad and offers a private beach club on an island in the harbor that is reachable by private shuttle.
As far as sustenance is concerned, Marseille is renowned for its earthy seafood-based cooking, notably bouillabaisse, and the best bowl in town right now is at Chez Michel. But the city has recently emerged as one of the top restaurant destinations in France, with a light, healthy style of modern bistro cooking that reflects its various ethnicities. There is the sublime contemporary seafood cuisine at Le Petit Nice, from Michelin three-star chef Gérald Passedat, as well as Alexandre Mazzia's Restaurant AM and the just-opened and in-demand La Mercerie, in the charming Noailles quarter.
Should you want to buy a souvenir, bars of the city's famed olive-oil soap remain a good bet, but a better choice may be navettes—biscuits scented with orange-flower water—from the Four des Navettes, in operation since 1781 near Le Vieux Port. Delicious with tea or coffee, they come in a charmingly retro tin that will remind you of Marseille forever.
A version of this article first appeared in print in our 2018 Summer Issue under the headline Magical Marseille. Subscribe to the magazine.
Next Post