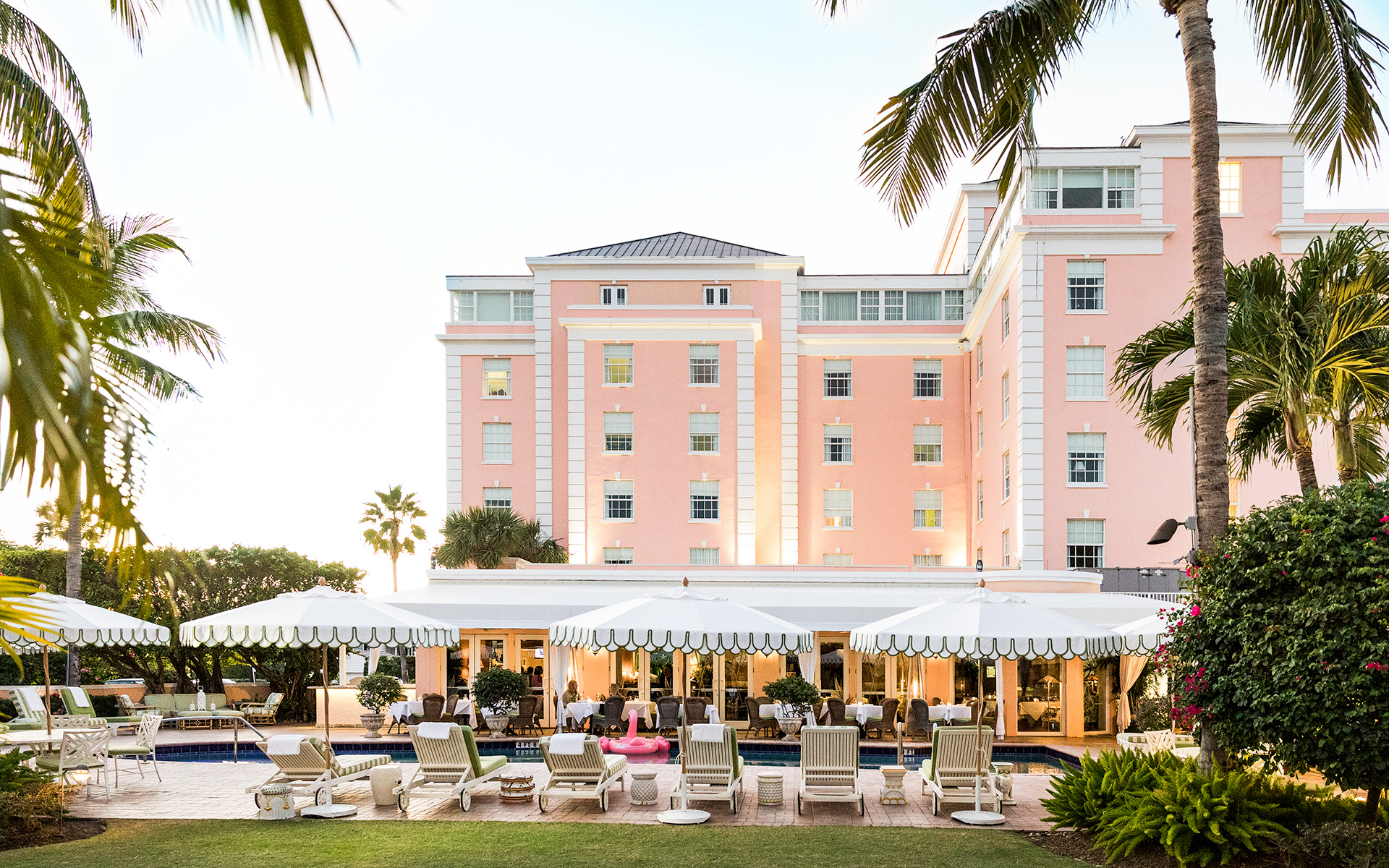 The Colony Hotel Dazzles with a Fresh Design in Celebration of Its 75th Anniversary
The quintessential Palm Beach hotel introduces newly designed guest rooms by Kemble Design, a spa residency by Dr. Barbara Sturm, and workouts with Isaac Boots
The Colony Hotel in Palm Beach may be celebrating its 75th year, but the unofficial guest house of the island has never felt more fresh. Thanks to a spirited renovation and extensive list of partnerships that mean that the Pink Paradise's legacy has been perfectly preserved while infusing its 89 rooms with an undeniably vibrant personality.
To mark this celebratory year, Sarah Wettenhall, The Colony Hotel's CEO, president, and owner along with her husband Andrew, looked both to the past and to the future as she planned for this special anniversary. In particular, she pored over photo albums from the 1960s and '70s—and found ways to tap into that nostalgia in both the design and the respect for tradition.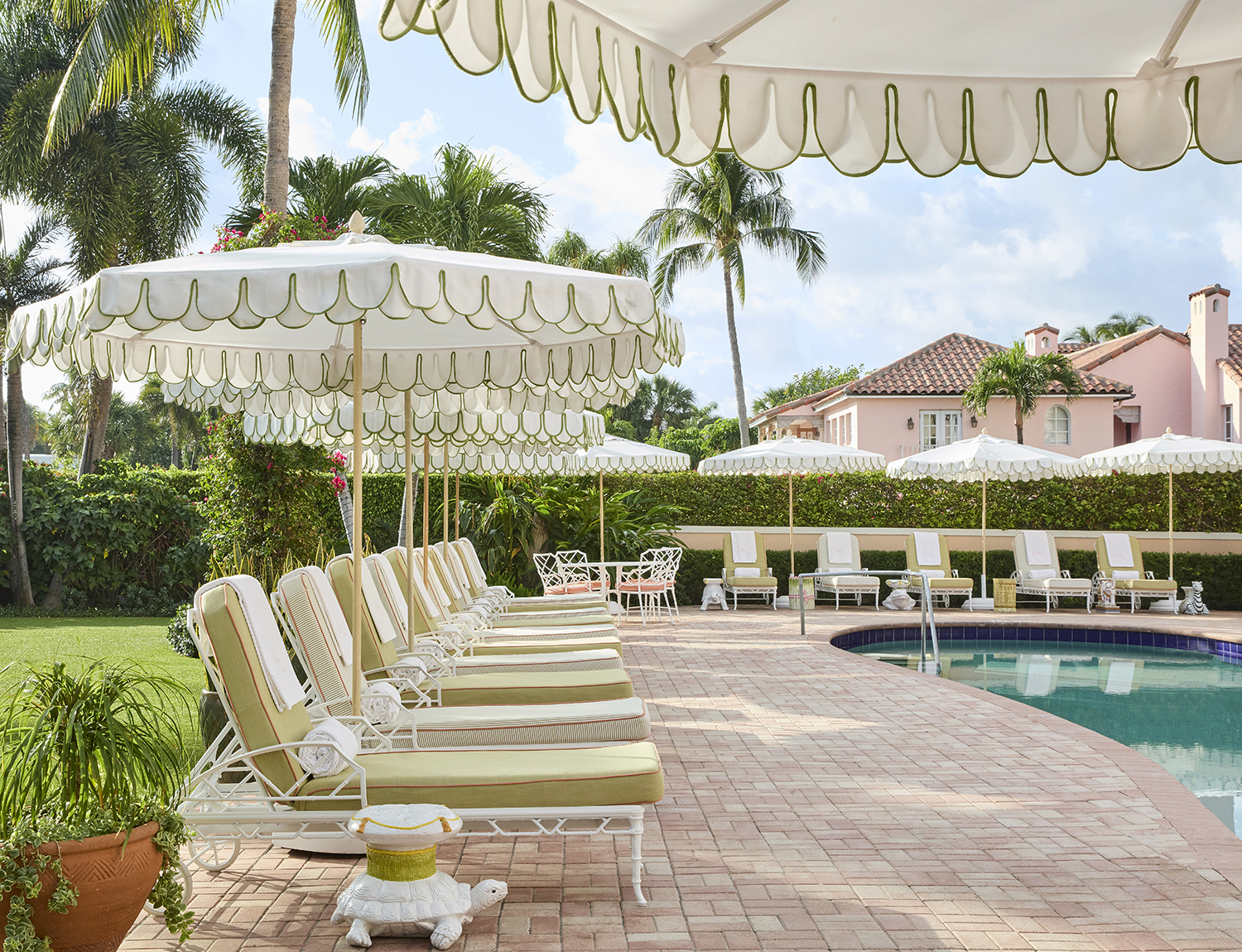 Nowhere does that delicate balance come across more than in the recently renovated guest rooms. Completely refreshed by Mimi McMakin of Kemble Interiors, the accomodations come alive with inventive design details that reference the unique spirit of the hotel's locale. "I really tried to open my eyes and look around Palm Beach through a fresh perspective," says Sarah. "The rooms have these little hints of the town around, you know, a cabana scallop with tassels from someone's poolside tent or wavy, classical scallop motifs inspired by the seawall at the end of Hammon Avenue."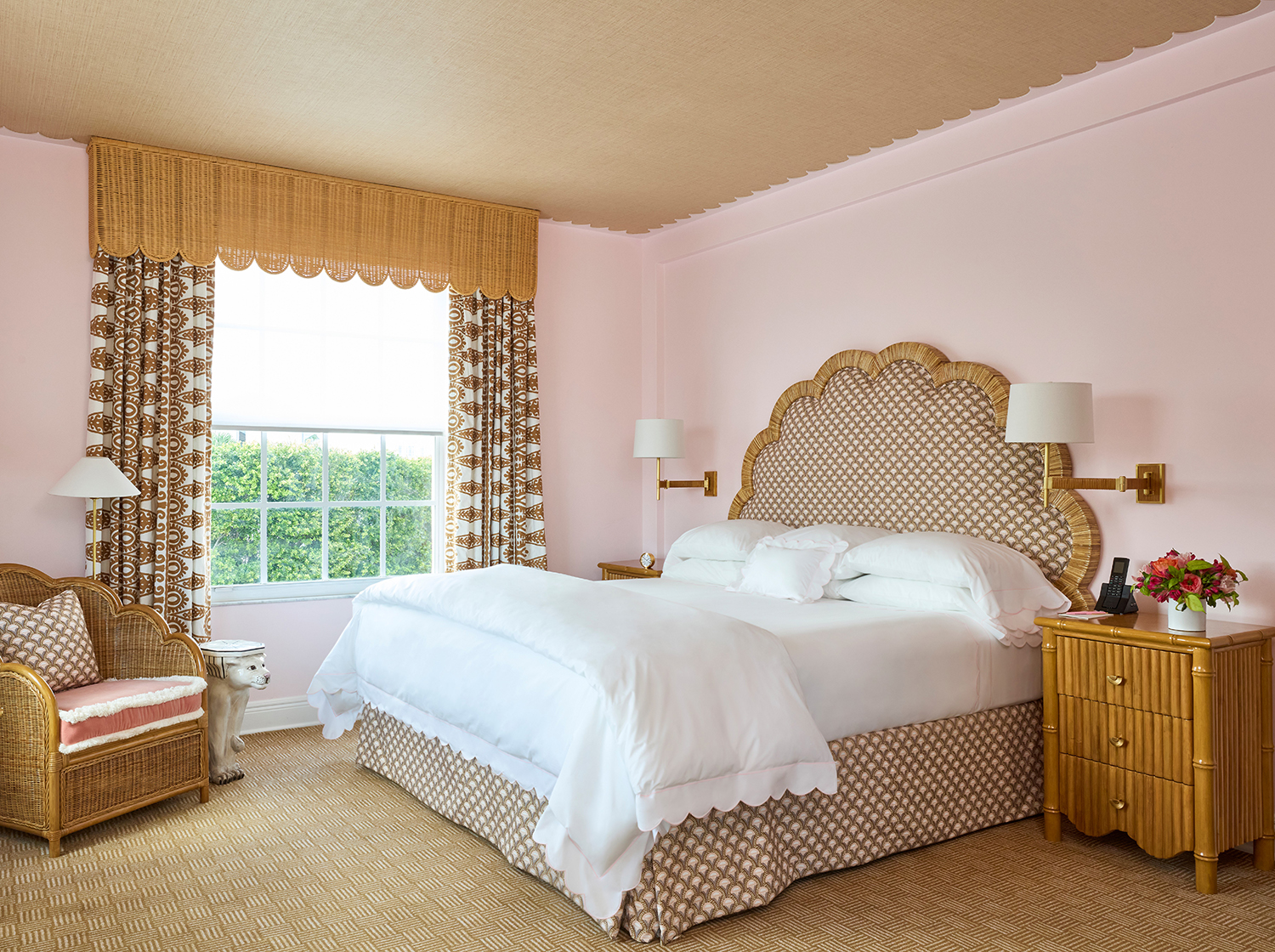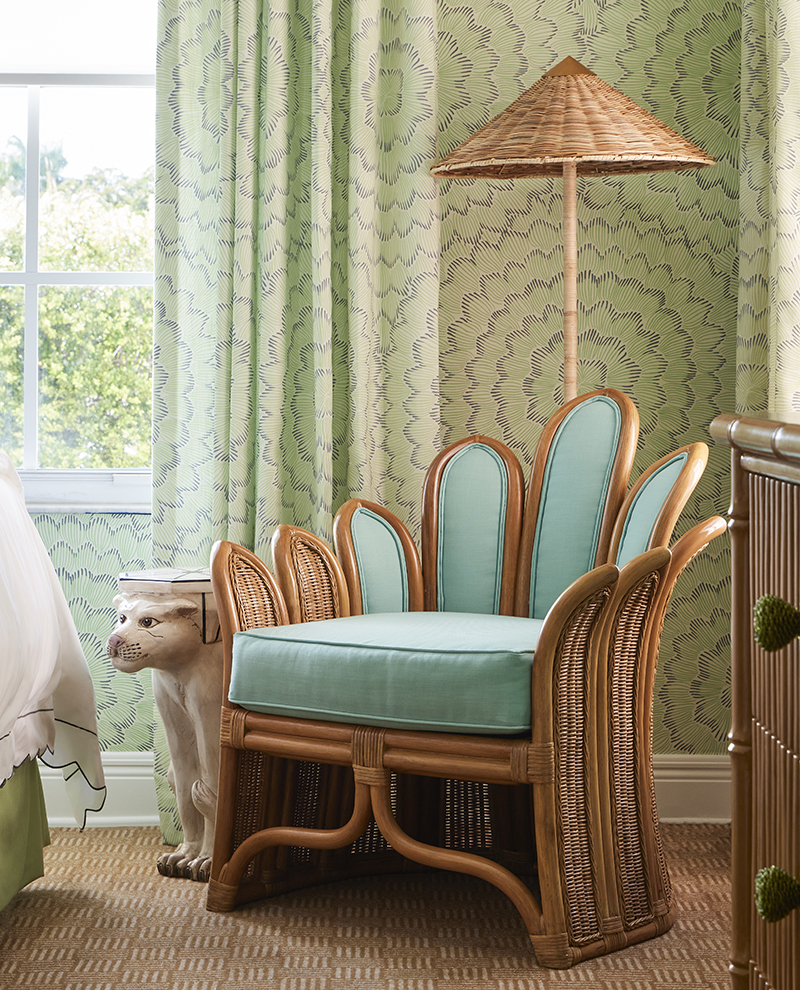 While the rooms in this historic hotel might not have a ton of space, what they do have is a ton of personality. "One of our big goals was to have there be something for your eye and your mind to feast on no matter where you are looking." Rooms comes in palettes of seashell pinks, ocean blues, and verdant greens, which are carried out through fabrics and wallcoverings by Schumacher. Just as kicky are the pieces of custom furniture by Society Social, which has partnered with the hotel on a special collection. Scallops and wicker abound, and there's even a special bamboo dresser designed by the Wettenhalls' 13-year-old son Drew. Plus, the crisp Matouk bedding with wave embroidery assures the perfect night's rest.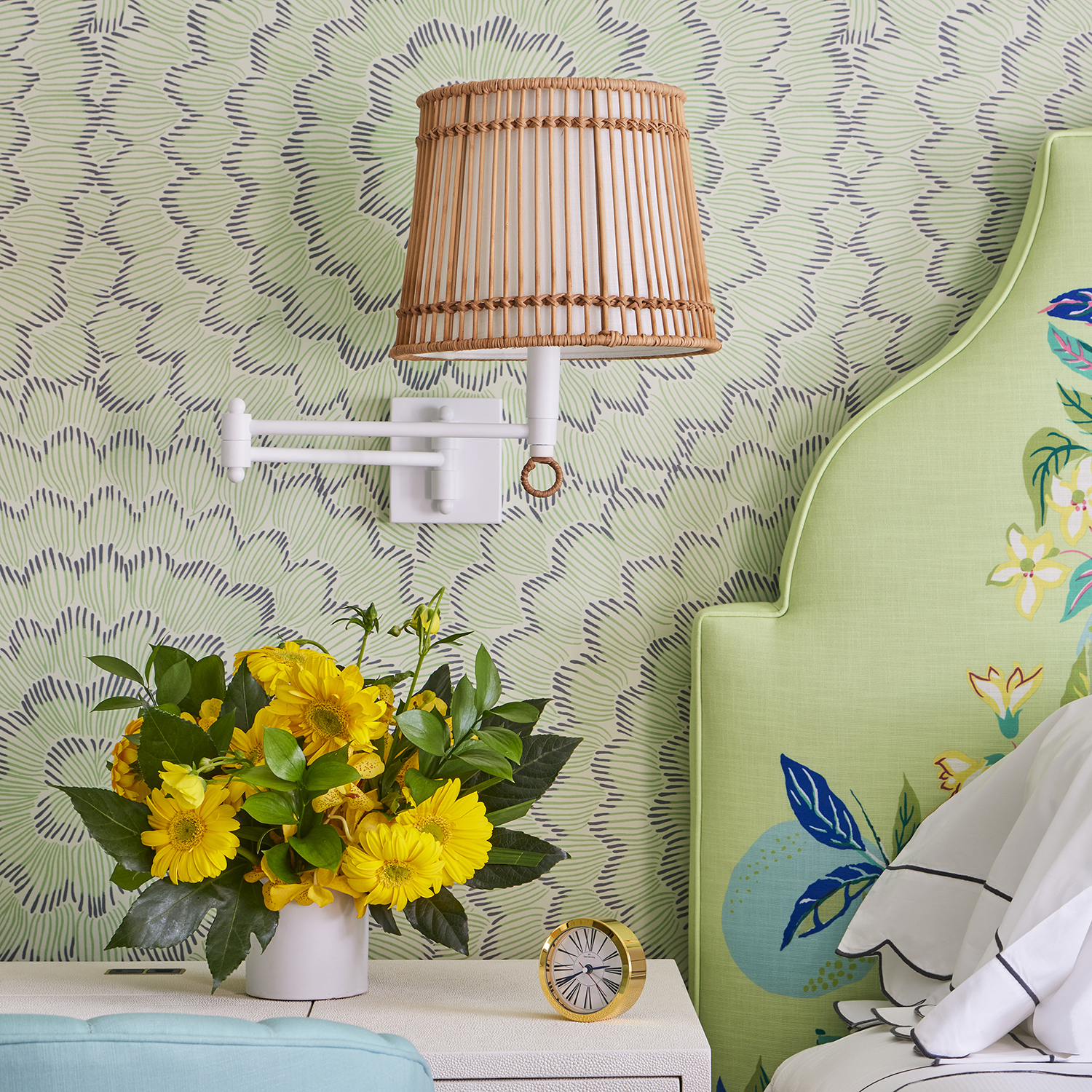 The revived design scheme carries out into the hallways and poolside area as well—with the perfect mix of yesterday and today. Hand-painted de Gournay scenic wallpaper welcomes guests on each floor with a unique Palm Beach scene, and the hallway that connects to Swifty's has a scene which includes a variety of monkeys doing all sorts of clever things. Poolside, Brown Jordan chaises longues beckon as does the menu, including the not-to-be-missed crushed avocado perfectly paired with a spicy socialite, The Colony's pepped-up alternative to a margarita. Plus, it's the perfect place to admire the refreshed exterior, now painted in a signature pink shade from Farrow & Ball. As Sarah says, this pink is "fresh and bright yet soft without being wilting." She also notes that the hotel was originally a shade of brown as seen in photos by Slim Aarons from the early '60s.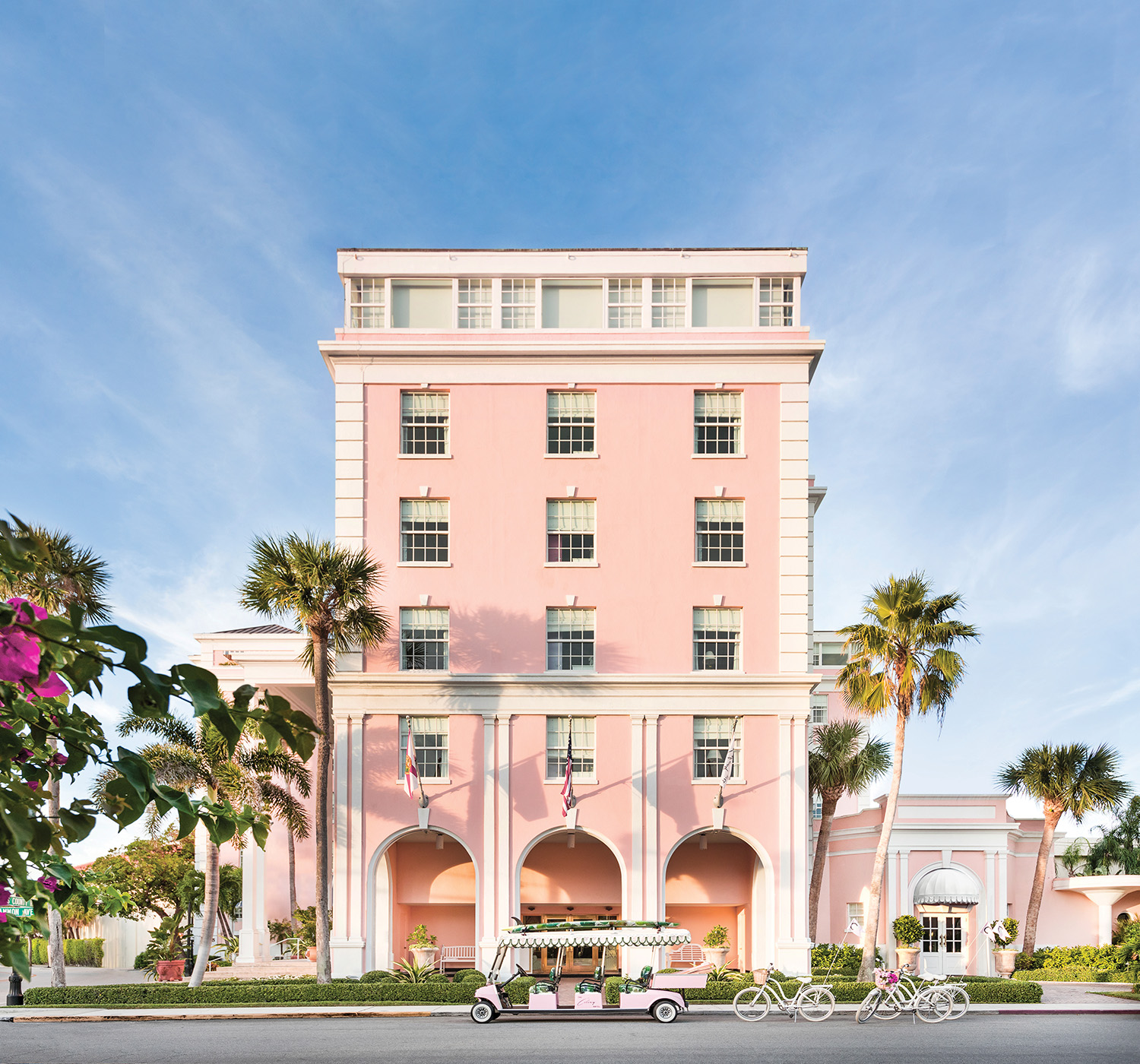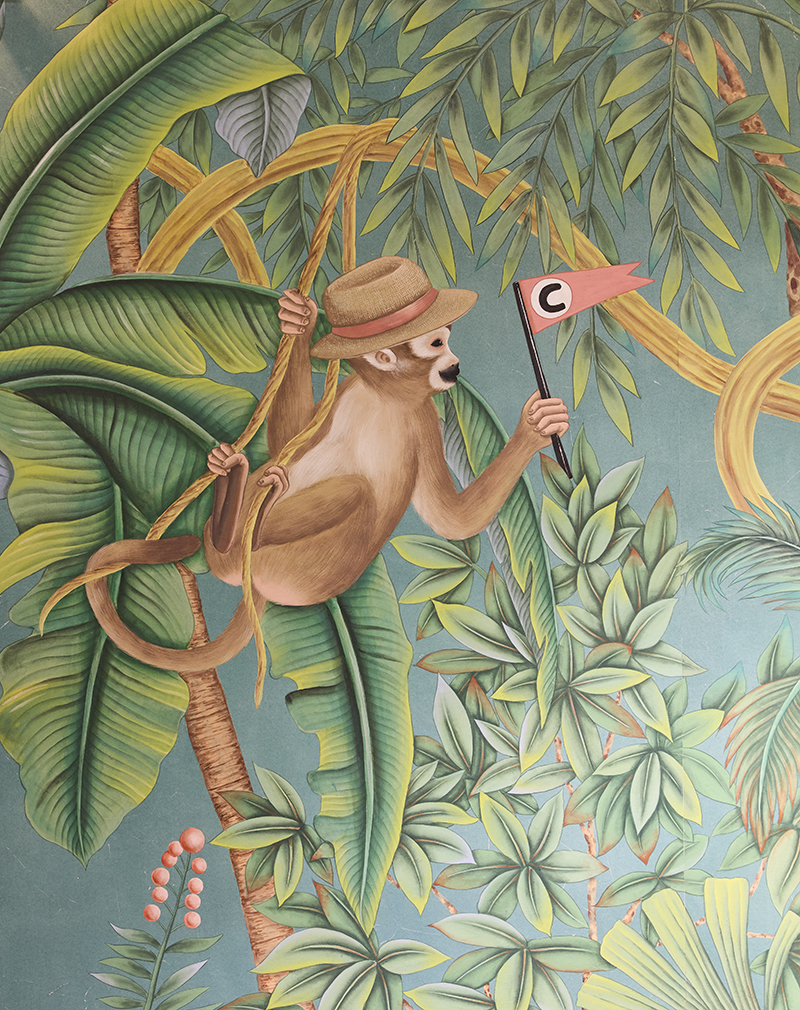 But it's not a day at the "Pink Paradise" with plenty of activities to choose from, this season's special activations include something from everyone and enough to pack anyone's stay with plenty to experience. For wellness, there's Dr. Barbara Sturm's spa residency as well as Torch'd by Isaac Boots. For shopping, there's Dolce & Gabbana at The Colony Edit as well as a special selection from Asprey. Plus, a special exhibition by artist Ashley Longshore follows a photography show by Nick Mele.
"We really tried to balance this Old-World Palm Beach feel of this historic hotel, while offering these elements that are necessary for a modern traveler," says Sarah. "Trying to dovetail those two is fundamental to our mission at The Colony."
Next Post