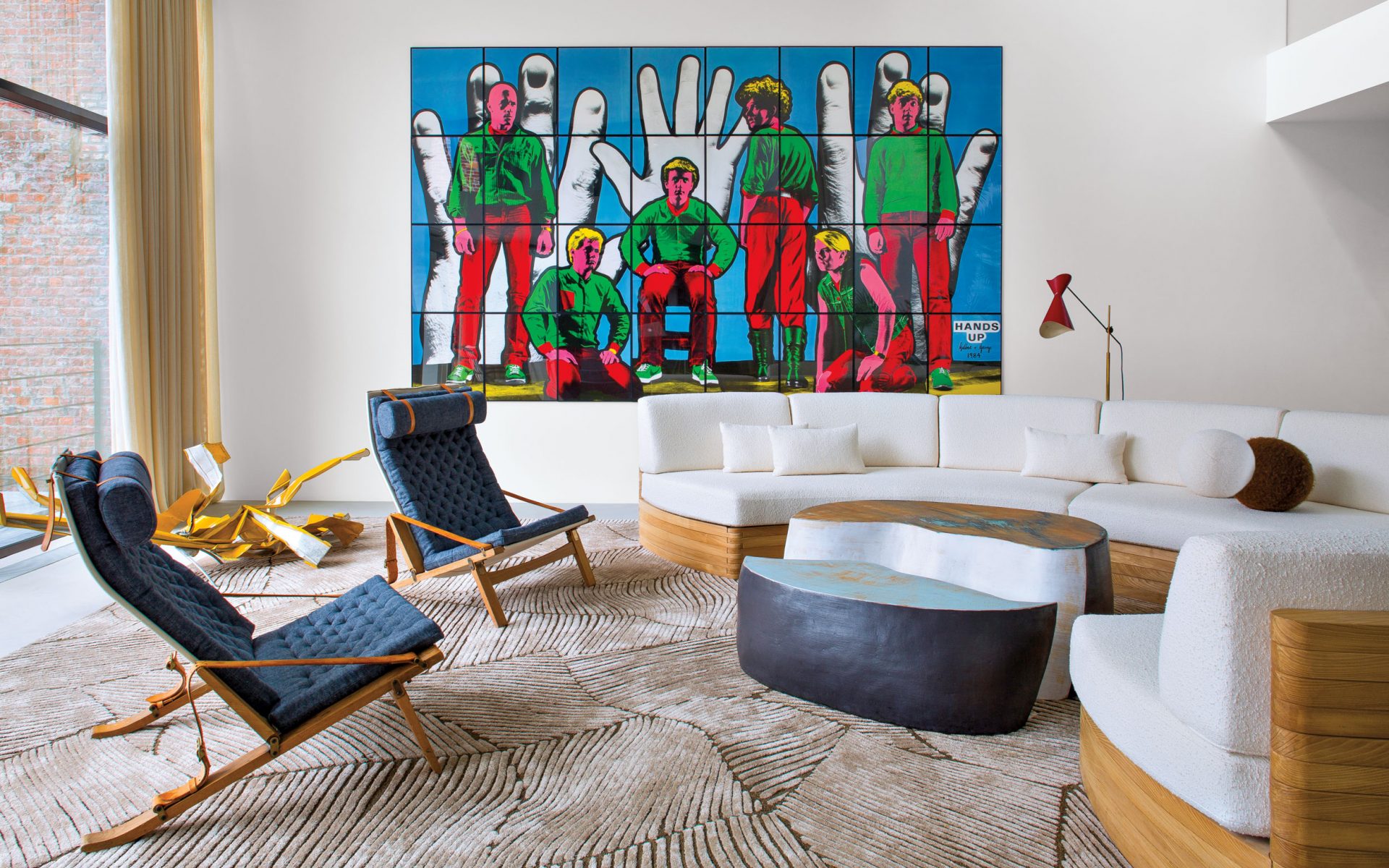 Pierre Yovanovitch Transforms a Brussels Townhouse for Major Collectors
Philippe Austruy and Valérie Bach's stunning residence boasts minimalist interiors and monumental works of art
It all began, charmingly enough, with a roller-skating rink. Several years ago, Philippe Austruy and his wife, Valérie Bach, were searching for the right designer to complete their conversion of Brussels's historic Patinoire Royale, built in 1877 as one of Europe's first skating halls, into an art gallery. Based on a recommendation from no less than the former French culture minister Jean-Jacques Aillagon, the couple hired Pierre Yovanovitch, the Paris design star celebrated for his sensuous, artisanal, luxuriously minimal interiors. Unveiled in 2015, the Patinoire Royale–Galerie Valérie Bach is a spectacular, 30,000-square-foot showcase for international modern and contemporary art.
So when Austruy, a health-care entrepreneur, vineyard owner, and real estate investor, found himself looking for a designer to take over the renovation of the couple's early-20th-century Brussels home partway through the project, he knew where to turn. "Pierre won me over with his aesthetic intelligence, clarity of vision, intuition for volumes and materials, and his attention to detail," Austruy explains.
Brussels architect Guy Melviez had already completed the major structural work on the five-story townhouse, retaining the circa-1910 façade and basic layout of the front rooms while demolishing the entire back. He reimagined the rear of the home as a series of glazed cubic volumes and cantilevered terraces arranged around a small interior garden and a concrete elevator shaft encircled by a blackened-steel staircase.
"Many of the Brussels mansions from that period aren't very convenient for modern living," says Yovanovitch. "We basically restructured the interior according to the clients' lifestyle." That meant flexible spaces in which the couple could host large parties, as well as multiple rooms for quiet relaxation with their daughter.
Click here to view more photos of the home.
The primary entertaining spaces are the light-filled L-shaped living room and the adjacent gallery-like bar and dining area, all part of the new construction. As you move around the living room, ceiling heights shift, rising to a dramatic 60 feet. To offset the room's rigorous expanses of glass, steel, and concrete, Yovanovitch designed a massive solid-chestnut circular sofa that gives a warm, organic hug to the inviting seating area, which includes a pair of 1960s Danish chairs and a sculptural ceramic cocktail table commissioned from Armelle Benoit. Everything rests on a plush carpet with a graphic, asymmetrical patchwork pattern. For Yovanovitch, the mix is key. "I don't like a total look—I always want some eclecticism," he says. "I look to combine things in a way that is unexpected."
Artwork plays a central role throughout the house, with a monumental Gilbert & George painting dominating the living room's largest wall and a Robert Rauschenberg junk-metal assemblage sprawling across the floor below. Given the couple's sizable collection—part of which is displayed at Austruy's Provençal winery, Commanderie de Peyrassol—there was plenty to work with. "The hanging process is something I do by trial and error until I've got something I like," says Yovanovitch, who turned a small mezzanine above the living room into a mini–exhibition space by pairing a jazzy Simon Hantaï abstraction with a paint-encrusted piano by Bertrand Lavier.
Click here to view more photos of the home.
In the bar area, another Lavier work, a neon wall piece, casts a glow of purple, pink, and green on the bronze-top bar, which Yovanovitch clad with panels of rippling silver-hued cast glass. It's one of numerous custom-made pieces that reflect the designer's commitment to the handcrafted and artisanal. "Craftsmanship in my work is important," he says, "because it gives a warmth and a human touch."
That aspect of Yovanovitch's work is evident in the family room, an original space at the front of the house that serves as a cozy retreat for "a quiet dinner when it's just the family or maybe a glass of wine with a friend," says the designer, who used rich, dark wood for the floor and the curved bookshelves flanking the stained-glass window. For his part, Austruy sees this room as the heart of the home. "It is a total reflection of Pierre's work in that it is simple and beautiful, yet feels completely unique," says Austruy, who subsequently hired Yovanovitch for the recent revamp of a 19th-century guesthouse at his Quinta da Côrte winery in Portugal.
The master suite also features an array of rarefied touches, like the ultimate luxuriously minimal vanity for her and the striking cylindrical terrazzo dressing room for him, plus the bathroom floor's irregular pattern of creamy-white and richly veined gray varieties of marble. "I like to create a contrast between materials that have different textures," explains Yovanovitch.
Nowhere does the designer's use of distinctive materials make a bigger impact than in the basement-level spa, which features an indoor-outdoor swimming pool, whirlpool bath, and hammam, all clad entirely in Vals stone. Inspired by Peter Zumthor's famous thermal-baths complex in the Swiss Alps, it's a gesture that manages to be simultaneously restrained, refined, and utterly arresting. In other words, signature Yovanovitch.
Click here to view more photos of the home.
A version of this article first appeared in print in our 2018 Fall Issue under the headline Less is More. Subscribe to the magazine.
Next Post