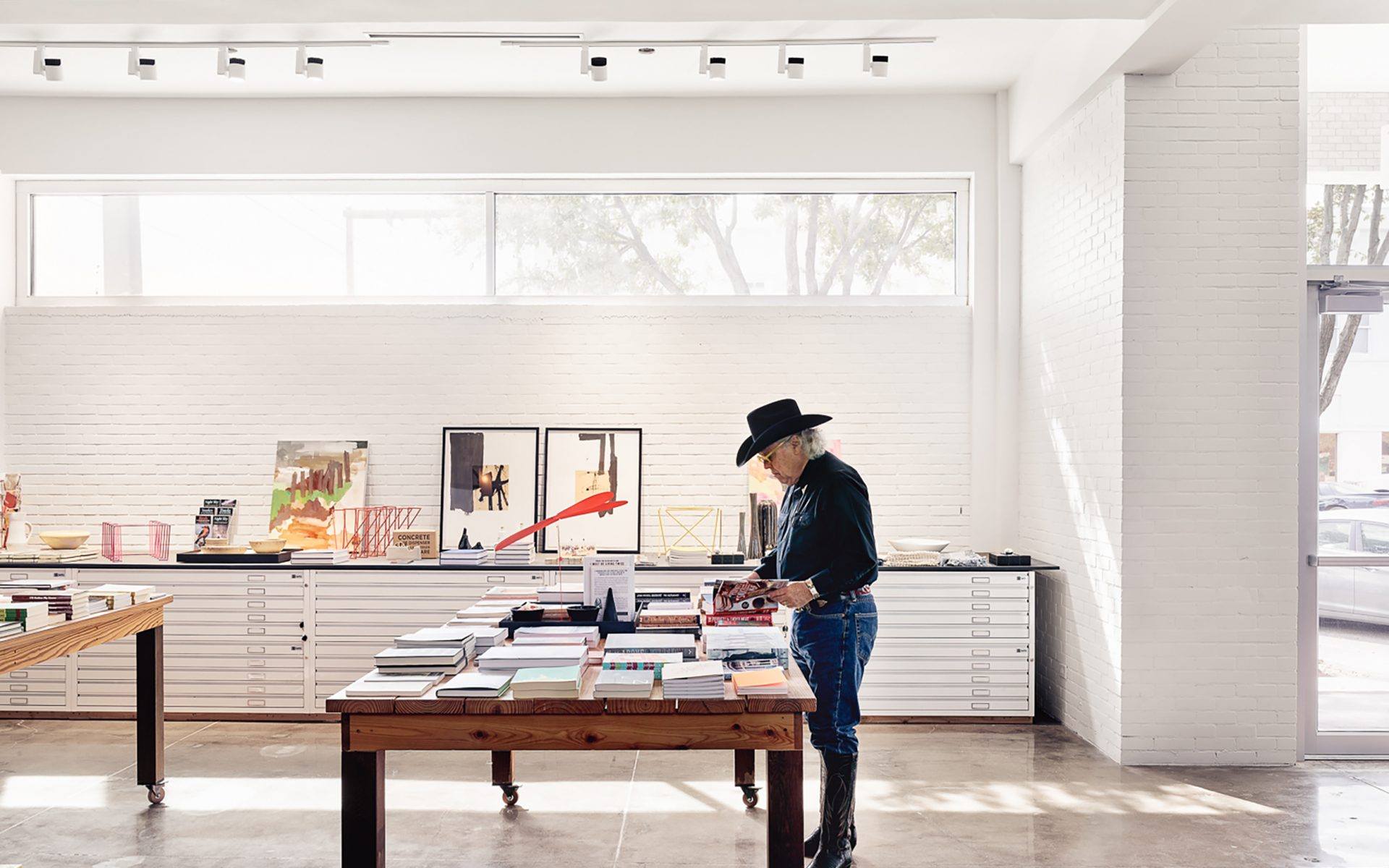 Marfa's Dynamic New Wave of Culture and Creativity
The tiny Texas town boasts a thriving art scene and a slew of unique boutiques, hotels, and restaurants
There's simply no easy way to get to Marfa. Surrounded by mountains, the one-and-a-half-square-mile West Texas cattle town sits on a Chihuahuan Desert plateau, far from any major airport—hardly the obvious choice for an international art fair. 
But Rhode Island School of Design–trained artist Michael Phelan gambled that inaccessibility was no match for great art when he launched the Marfa Invitational last spring. The bet paid off handsomely, with nearly 40,000 visitors alighting on the former railroad depot, transformed by artist Donald Judd into an ethereal landmark. Even greater turnout is expected for the fair's second edition, which was due to take place from April 2—5, but has been postponed to August. August 13—16. Galleries scheduled to take part include New York's Half Gallery, L.A.'s Night Gallery, and Cologne's Natalia Hug.
In a similiar model to its inaugural edition in 2019, ten galleries have been invited to exhibit at Saint George Hall, an event space (run by the eponymous hotel) that pays homage to cowboy culture and Texas dance halls with its soaring ceiling and reclaimed San Antonio bricks.  
"I see Marfa Invitational as the antithesis of what we have come to know and understand of the traditional art fair model," reflects Phelan, a Houston native who built strong art-world ties in New York City's Lower East Side and Chelsea neighborhoods. After relocating to Marfa, Phelan renovated a 1930s Texaco station into a modern industrial masterpiece that he now calls home.
Recommended: Go Inside the Artful Spaces Where Donald Judd Lived
A modicum of infrastructure, however, proved essential to the concept's fruition. Phelan credits the meticulous restoration of Hotel Saint George—Marfa artists like Christopher Wool, Jeff Elrod, and Mark Flood are on display throughout—with creating a suitable space for VIP attendees and a venue for booths. Be sure to also visit the Marfa Book Company in the hotel lobby.
The high-desert oasis will always be synonymous with Judd's practice, yet insiders point to a new frontier of creativity. The location is now as much of a food and design incubator as an art one. "It is such a beautiful new layer for the town," says Virginia Lebermann, cofounder of the nonprofit art space Ballroom Marfa, which focuses on commissioning artists around the globe. Ballroom Marfa has expanded the city's must-see index of outdoor art, its permanent sculpture Prada Marfa now an iconic road stop (arrive early to minimize Instagram jockeying). Commissioned with the Art Production Fund in 2005, the artistic replica of a Prada store, created by Berlin duo Elmgreen & Dragset, hearkens to the visual language of Andy Warhol's famous Brillo boxes as well as Judd's concrete cubes nearby. Meanwhile, Stone Circle, a project Ballroom developed with the British audio composition artist Haroon Mirza, conjures contemporary Stonehenge. Inspired by ancient megaliths, black marble boulders evoke patterns of electronic sound and light from solar panels.  
Lebermann is also the owner of the Capri, an haute rustic Tex-Mex eatery located in a former military hangar with a seductive desert garden, where her husband, chef Rocky Barnette, presides over the menu. "I think of the Capri as an informal extension of Ballroom Marfa because we've come to a moment where culinary art has become as relevant to people as other forms of high art," she explains. Additionally, the couple's book, Cooking in Marfa, a selection of essays, recipes, and images, embodies Marfa's eclectic modernism through the lens of food. For another taste of Marfa, cross the railroad tracks to savor an intimate evening at Stellina, with a menu rotating between Italian-infused fare and Mediterranean cuisine.
"It's something so intangible, so hard to put into words, because it's not just the art," admits photographer Douglas Friedman, a New York City expat who's been based in Marfa for nearly eight years and helped capture its essence for Lebermann's cookbook. "I tell people they need to actually have the Marfa experience to understand. The art got me here, but it's not what has kept me here." 
A version of this article first appeared in print in our 2020 Spring issue under the headline "Marfa Magic." Subscribe to the magazine.
Next Post