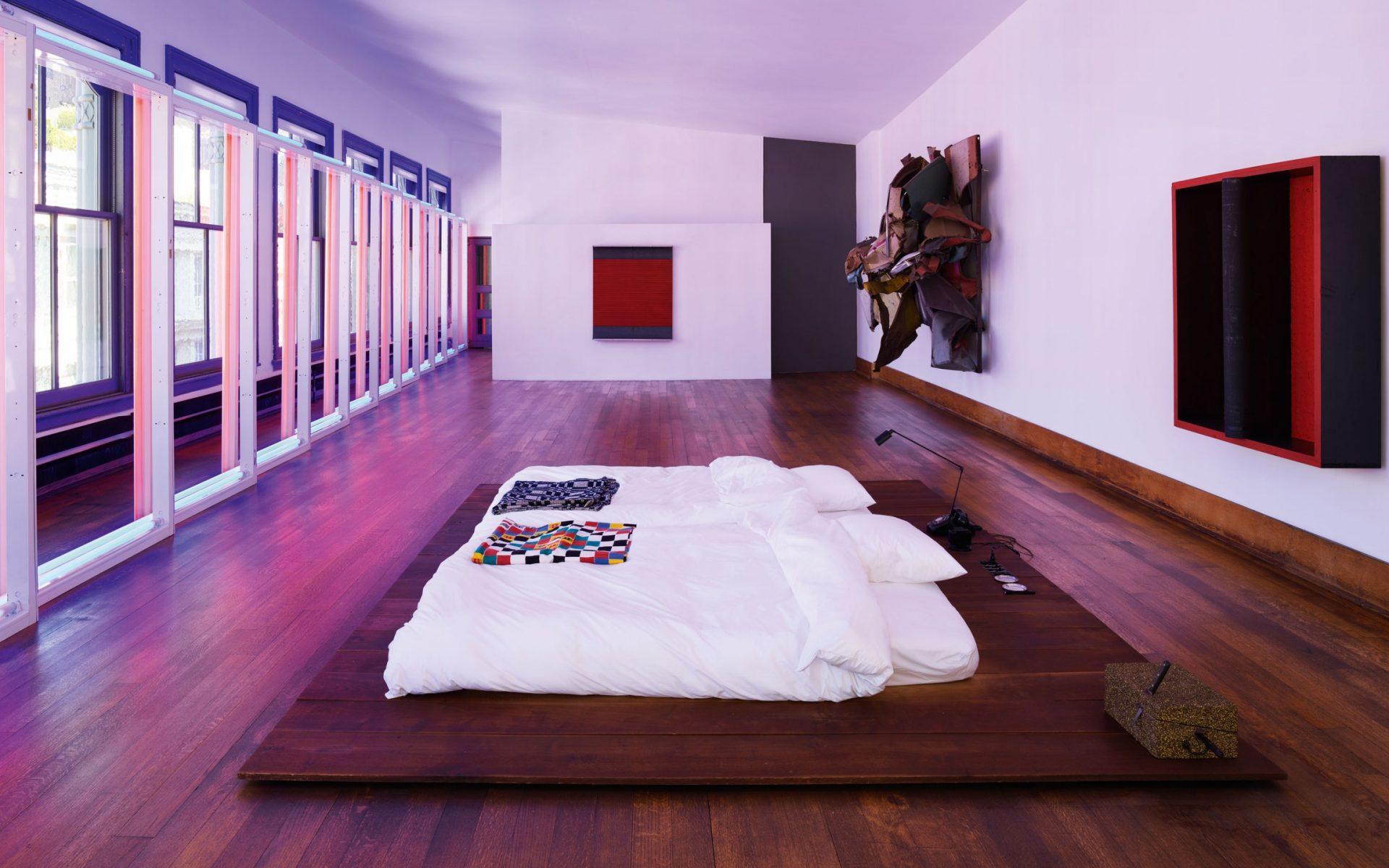 Go Inside the Artful Spaces Where Donald Judd Lived
A new coffee table tome offers a fascinating insight into how the master of minimalism lived and worked
Spring in New York kicked off as a busy season for fans of Donald Judd, the famed minimalist artist, art critic, and prolific writer. He was the subject of a retrospective at the Museum of Modern Art that opened on March 1 (it is due to be hosted online from April 23), marking the first survey of his work in the U.S. in over 30 years. Featuring 60 artworks as well as furniture, the exhibition is accompanied by a striking new monograph.
At the same time, the Judd Foundation in New York debuted "Prints: 1992," a New York show of 20 of the artist's woodcut prints completed prior to his death in 1994 at age 65. The works, printed on handmade Korean paper by Marfa's Arber and Son Editions, are curated by Judd's son, Flavin Judd. There was also an exhibition at Gagosian, which has been extended through July 11, and at David Zwirner in April, the latter which will be now be hosted in the gallery's online viewing room. 
Recommended: 12 Must-See Art and Design Exhibitions in 2020
Before they shuttered to the public, these many simultaneous events titillated existing Judd fans and introduced him to a new generation that might not be familiar with his work. But there are new surprises, which is exactly where Donald Judd Spaces, a book produced by the Judd Foundation—helmed by Flavin, who is artistic director, and his sister, Rainer, who is president—shines. The coffee table tome, available from Prestel Publishing, offers a plethora of visually arresting architecture, art, and landscapes.
The compilation showcases more than 200 photos by over 35 photographers as well as floor plans of the artist's living and working spaces, both in New York and Texas. Some, like 101 Spring Street in New York and the Block in Marfa, are usually open to the public via scheduled tours. Others, including his ranch houses Las Casas and Casa Morales in West Texas's Chinati Mountains, are never available to visitors. A third, Casa Perez, is accessible only on the singular "Ranch Day," every October. Most of the properties have been previously published, but this weighty, 400-page book marks the first time they're presented in one collection. Additional gravitas is provided by the accompaniment of Judd's writings pertaining to each place or the surrounding area.
"The number of photographs actually taken by Don were a real treat to research," says Rainer. "Later on in his life he took very few, if any, photos with his Hasselblad, so I was not aware of just how many he had taken."
In addition to the expected shots of minimalist interiors (spoiler alert: Many are wonderfully imperfect), there are humanizing pictures bearing evidence of a real life, like a stereo system with record albums, saddles piled on a table, stacks of ceramics, a pair of bamboo umbrellas leaning against a wall, and a protractor, folding rule, and other nearly extinct measuring tools neatly arranged on a desk.
Notes Rainer, "To see people, adventures, and his spaces through his eyes, and those close to him, like Jamie Dearing [Judd's assistant of 15 years], Julie Finch [his ex-wife and mother of Rainer and Flavin], and Lauretta Vinciarelli [an Italian artist and architect who was Judd's partner in the 1970s], is something we wanted to share."
A version of this article first appeared in print in our 2020 Spring issue under the headline "All About Judd." Subscribe to the magazine.
Next Post