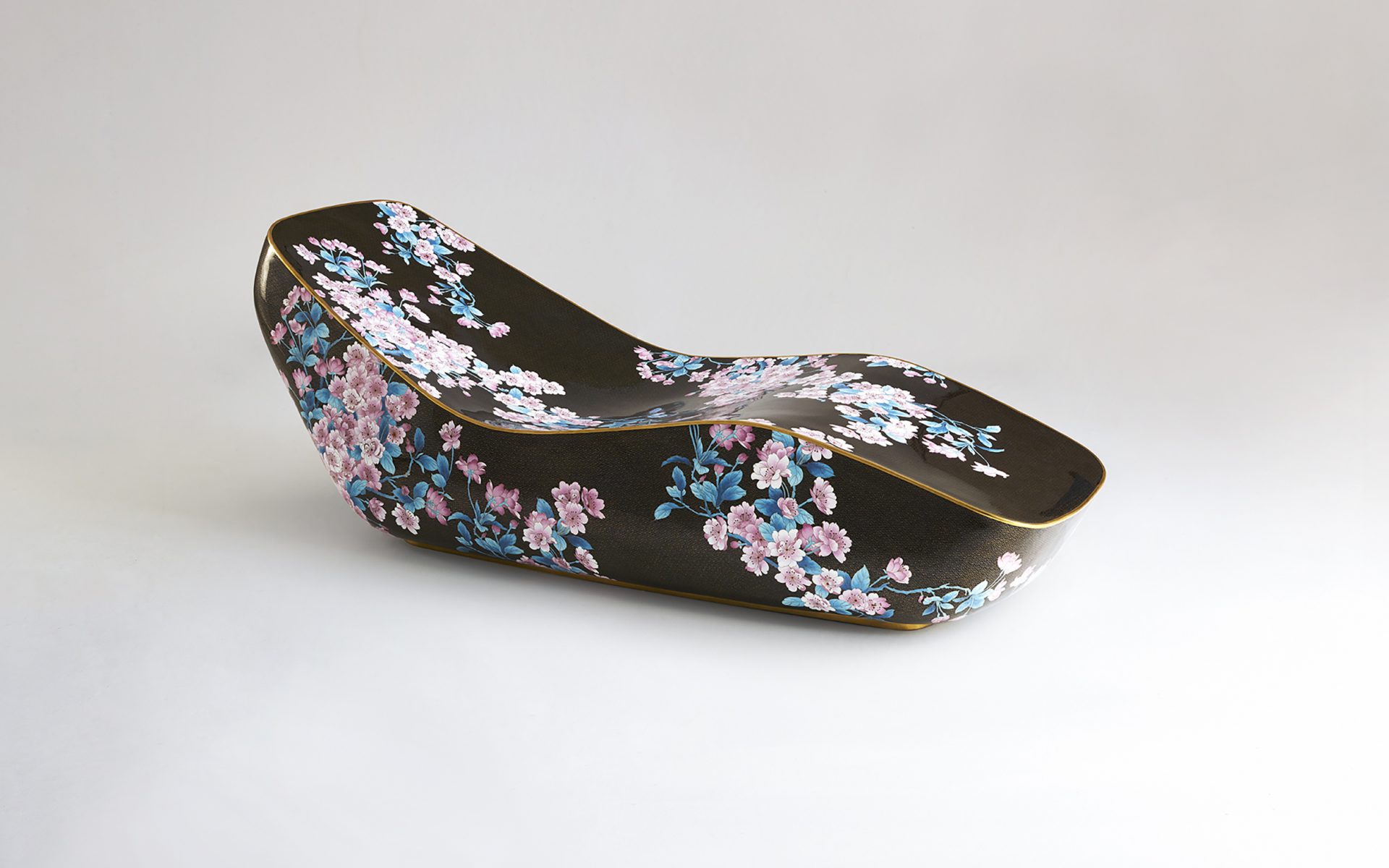 Marc Newson Gives New Life to Ancient Techniques for His First Furniture Show in a Decade
The acclaimed designer turned to China, Italy, and the Czech Republic for his new show at Gagosian
In a new exhibition at Gagosian gallery, acclaimed designer Marc Newson's first furniture show in over a decade explores rare, time-consuming decorative techniques from three disparate corners of the earth—China, Italy, and the Czech Republic—and takes each of them to a new, unprecedented scale.
For a collection called the "Murrina" works, Newson utilizes an intricate Venetian glassmaking technique to create oversize desks, tables, and consoles. Acid-colored panes of glass are dotted with cell-like spots, made by fusing glass rods together and then slicing them to reveal patterned cross-sections. Newson compares aspects of the technique to baking, saying that in its early stages the glass resembles a marble cake, with the liquidy colors all swirled together, before being layered in "a massive baking tray and placed in an oven." It's a process that takes months and months, and, Newson adds, "for every piece that you make, one breaks." The method is more traditionally used to make trinkets, not desks that would make LeBron James feel small. As Newson says, "I just wanted to make something huge with it." 
Recommended: 8 Incredible Art Exhibitions Closing This Week
Born in Sydney in 1963, Newson has been described as one of the most influential designers of his era. He gained global attention in 1986 with a piece called Lockheed Lounge, an aluminum chaise that was featured in his first solo show. In the intervening years, Newson has collaborated with some of the biggest brands in the world, like Apple, Louis Vuitton, Hennessy, and Hermès, and his work has been shown at museums, including the Museum of Modern Art, Centre Pompidou, and the Victoria and Albert Museum, among many others. He's currently the only designer represented by Gagosian.
A highlight of the new exhibition is a series of cast-glass chairs made in the Czech Republic, for which Newson placed two hollow hemispheres on top of each other, with cloudy, colored tops resting on clear bases.  
Recommended: Lalique Unveils Stunning Sculpture Collection by Artist Arik Levy
For another collection of desks, chairs, and lounges, Newson—who was awarded a Commander of the Most Excellent Order of the British Empire by Queen Elizabeth in 2012—used a Chinese enameling technique called cloisonné. Dating to the 13th century, the labor-intensive process involves inlaying enamel into patterns on metal, usually on a small scale. To ensure his vision for furnishings could be brought to life, Newson even oversaw construction of a kiln in Beijing. Several of the patterns and motifs seen on the finished furnishings reflect the heritage of the technique, with cherry blossoms and magnolias emblazoned across some of the most stunning pieces.
Also included in the spirited exhibit are a series of aluminum surfboards inspired by the nickel version that Newson created for the American tow-in surfer Garrett McNamara and presented at Gagosian New York in 2007, as well as an Aikuchi sword made by the swordsmith Saburo Nobufusa Hokke, a Japanese Living National Treasure from the renowned Tōhoku region. Newson was asked to collaborate on the sword by the Japanese government, as part of a larger effort to promote Tōhoku, which was devastated by an earthquake and tsunami in 2011.
"A number of swordmakers who had been doing this for generations were located in this one region, and they had their livelihoods taken away from them," Newson says of his collaboration on the Aikuchi sword. "I've always loved Japan. I've lived in Tokyo. I've always been obsessed with Japanese culture and I'm passionate about craft and I like working with people who are really good at what they do."
"Marc Newson" runs at Gagosian, West 21st Street in New York through February 20.
Next Post