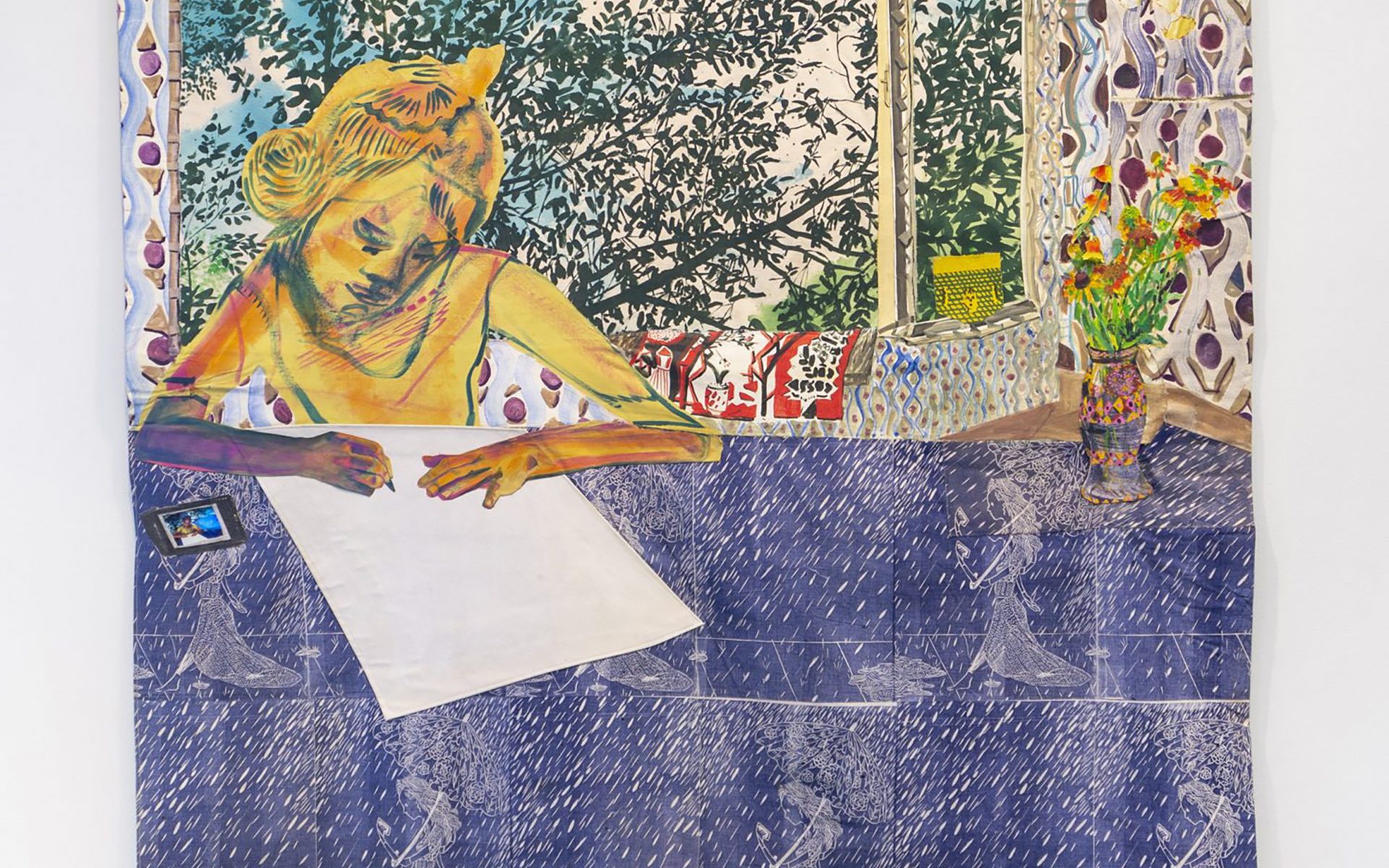 8 Incredible Art Exhibitions Closing This Week
Among them are a survey of work by Kai Althoff at the Museum of Modern Art and an installation of "solid light" by Anthony McCall at Sean Kelly Gallery
Closing in New York this week are a survey of works by Kai Althoff at the Museum of Modern Art and an installation of "solid light" by Anthony McCall at Sean Kelly Gallery. Here are a few more that we recommend you check out before they close.
1. Kai Althoff: And Then Leave Me to the Common Swifts (und dann überlasst mich den Mauerseglern)
Museum of Modern Art, 11 West 53rd Street
Through January 22
This show surveys the work of the Cologne, Germany–born artist and musician, with some pieces dating back to his early childhood.
Recommended: The 9 Most Expensive Penthouses in New York City
2. Cynthia Talmadge: 1076 Madison
56 Henry, 56 Henry Street
Extended through January 22
Now extended through January 22, this exhibition centers on the storied Frank E. Campbell funeral parlor on New York's Upper East Side (which handled the funerals of Jacqueline Onassis and John Lennon).
3. Walter Robinson: Salad, Candles, and Money
Johannes Vogt, 958 Madison Avenue
Through January 26
Burgers, beer cans, and covers of pulp fiction novels are some of the subjects that artist Walter Robinson has been fond of over the course of his career. Though he stopped painting in the late 1980s to work as a critic and editor, Robinson reemerged as a painter in 2008 with a show of his "Romance" series at Metro Pictures and has since followed that up with numerous exhibitions, including his first New York survey at Jeffrey Deitch in 2016. Robinson's current crop of paintings features the wonderfully quotidian subjects of salad and spa candles.
4. Paula Wilson: The Light Becomes You
Denny Dimin Gallery, 261 Broome Street
January 27
In her work and installations, Paula Wilson combines printmaking, painting, sculpture, and video (some paintings have video embedded in them) revisiting art historical styles and imagery, including monuments, self-portraiture, and ancient Greek pottery. A striking new video shows the artist dancing on a controversial Confederate monument in New Orleans before its planned removal. She was escorted off the monument within moments of her performance.
5. Signals: If You Like I Shall Grow (Part II)
Kurimanzutto, 22 East 65th Street, 4th Floor
Through January 27
This show of works by artists like Sergio de Camargo, Lygia Clark, Gianni Colombo, and Mira Schendel harks back to the original Signals London, a cross-disciplinary gallery that served as an institutional model for the Mexico-based Kurimanzutto. Show curator Dr. Isobel Whitelegg drew from the work of artists who exhibited at Signals in the 1960s, when their careers were just beginning.
Recommended: See Artist Claudia Comte's Eye-Popping Wall Works
6. Anthony McCall: Split Second
Sean Kelly Gallery, 475 10th Avenue
Through January 26
Sean Kelly Gallery presents one of Anthony McCall's immersive "solid-light" installations, which employ a haze machine and a projector to create shapes from beams of light.
7. Liliana Porter: Other Situations
El Museo del Barrio, 1230 Fifth Avenue
Through January 27
This first museum solo exhibition of Liliana Porter's work in over 25 years surveys her career from 1973 to 2018. Porter uses cultural figures such as Elvis Presley, Che Guevara, Jesus, and Mickey Mouse to explore themes of representation, politics, and celebrity.
8. Klara Liden: Grounding
Reena Spaulings Fine Art, 165 East Broadway, 2nd Floor
Through January 27
Taking the 1991 music video for Massive Attack's "Unfinished Symphony" as a starting point, Liden's work shows the artist walking around Lower Manhattan, intermittently falling and getting up. What's fascinating about the installation is that it's projected onto a sloping plywood wall with a trapdoor. Step through the intriguing presentation and discover scaffolding and another smaller video. This has been extended through January 27.
Next Post