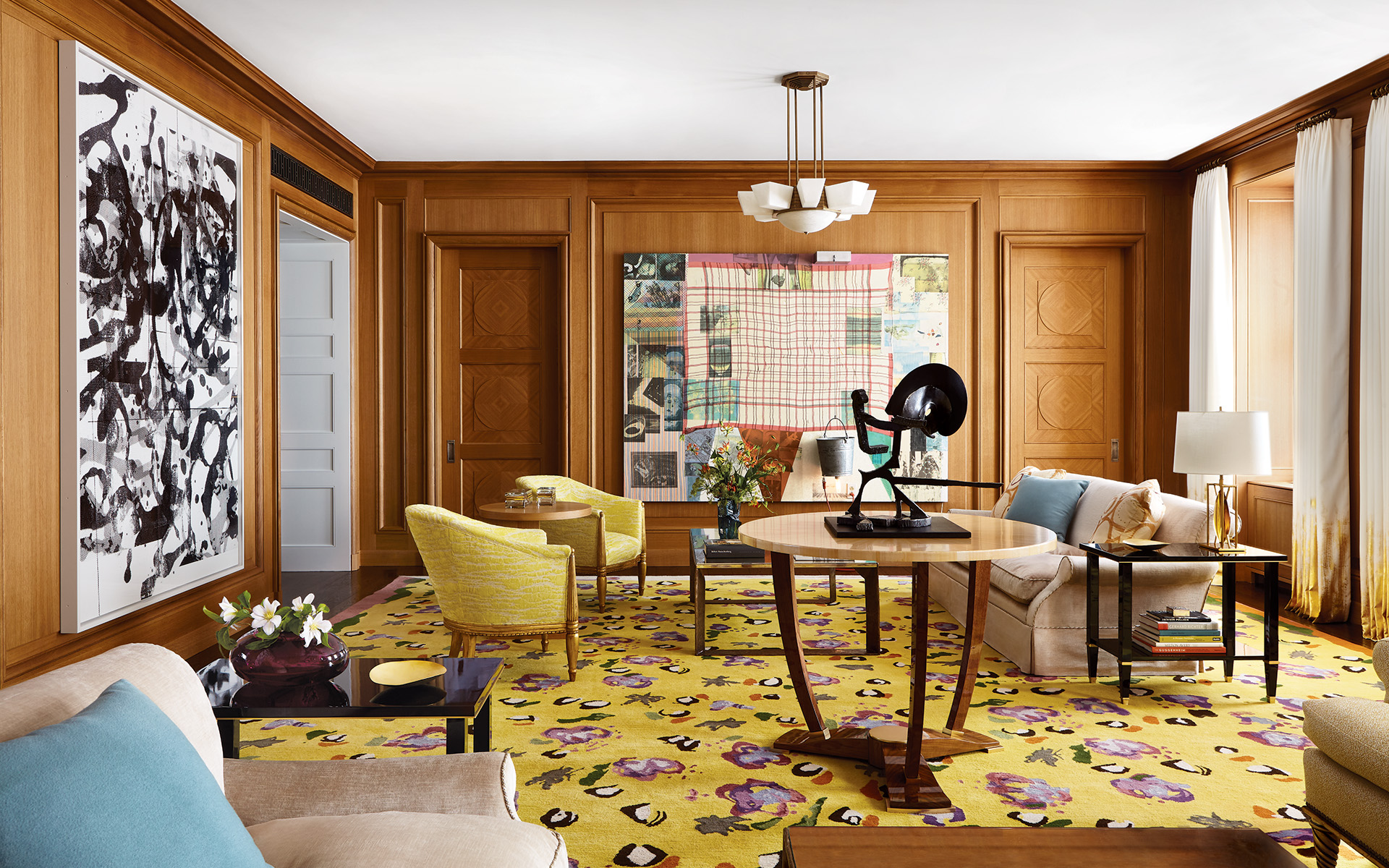 Equal Parts Cozy and Cosmopolitan—Cullman & Kravis Design a Manhattan Pied-à-Terre
Susanne and Bill Pritchard's New York apartment has become a dashing showcase of their expansive collection of art thanks to designer Ellie Cullman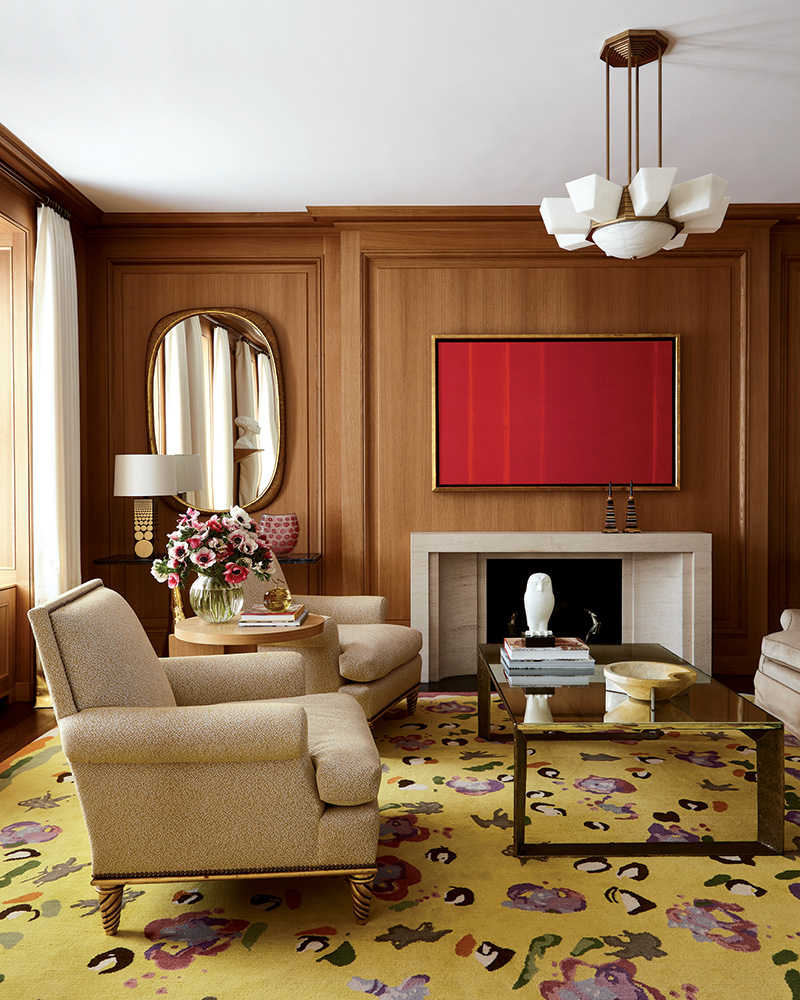 People switch apartments in New York City for all kinds of reasons. They desire more space or crave better light and views. Sometimes they just want a change of scenery. Susanne and Bill Pritchard, a Houston-based couple whose jewel-box pied-à-terre had served them well for a decade, happened to love their Upper East Side neighborhood, but they—and their art—had outgrown their quarters.
With four adult children and incoming grandchildren, the couple set their sights on a larger residence where the family could spend time together. Plus, their ballooning collection of Abstract Expressionist and contemporary works required a lot more wall space.
For help the Pritchards turned to their longtime designer and trusted aesthete, Ellie Cullman. A founding partner of the firm Cullman & Kravis Associates, she had handled the decoration of their Texas residence and Manhattan apartment, as well as offices for Bill, a geologist in the oil and gas business. It was Cullman who found the couple's new address, a 4,500-square-foot, high-floor unit in a 1937 Art Deco building by Rosario Candela, the preeminent prewar residential architect. "It's my favorite building in New York," Cullman declares.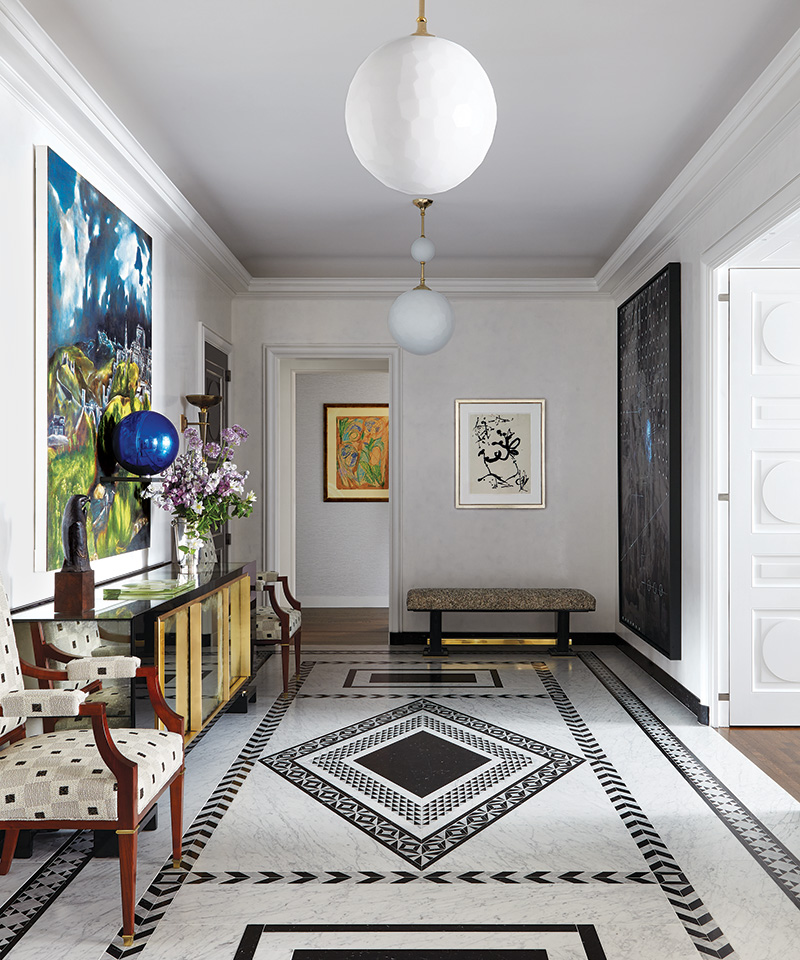 Renovations of the interiors, which hadn't been touched in decades, were conceived as a contemporary interpretation of Art Deco, with Nelson Rockefeller's art-filled Fifth Avenue home, boldly decorated by Jean-Michel Frank, providing inspiration. The architecture firm Ferguson & Shamamian updated the spaces in pitch-perfect style. Staff quarters were commandeered for a large guest room—the apartment now has four en suite bedrooms—and what had been a compartmentalized kitchen was transformed into an inviting eat-in spot. Oak panels, some with intricate inlaid patterns, were artfully deployed from floor to ceiling in the living room.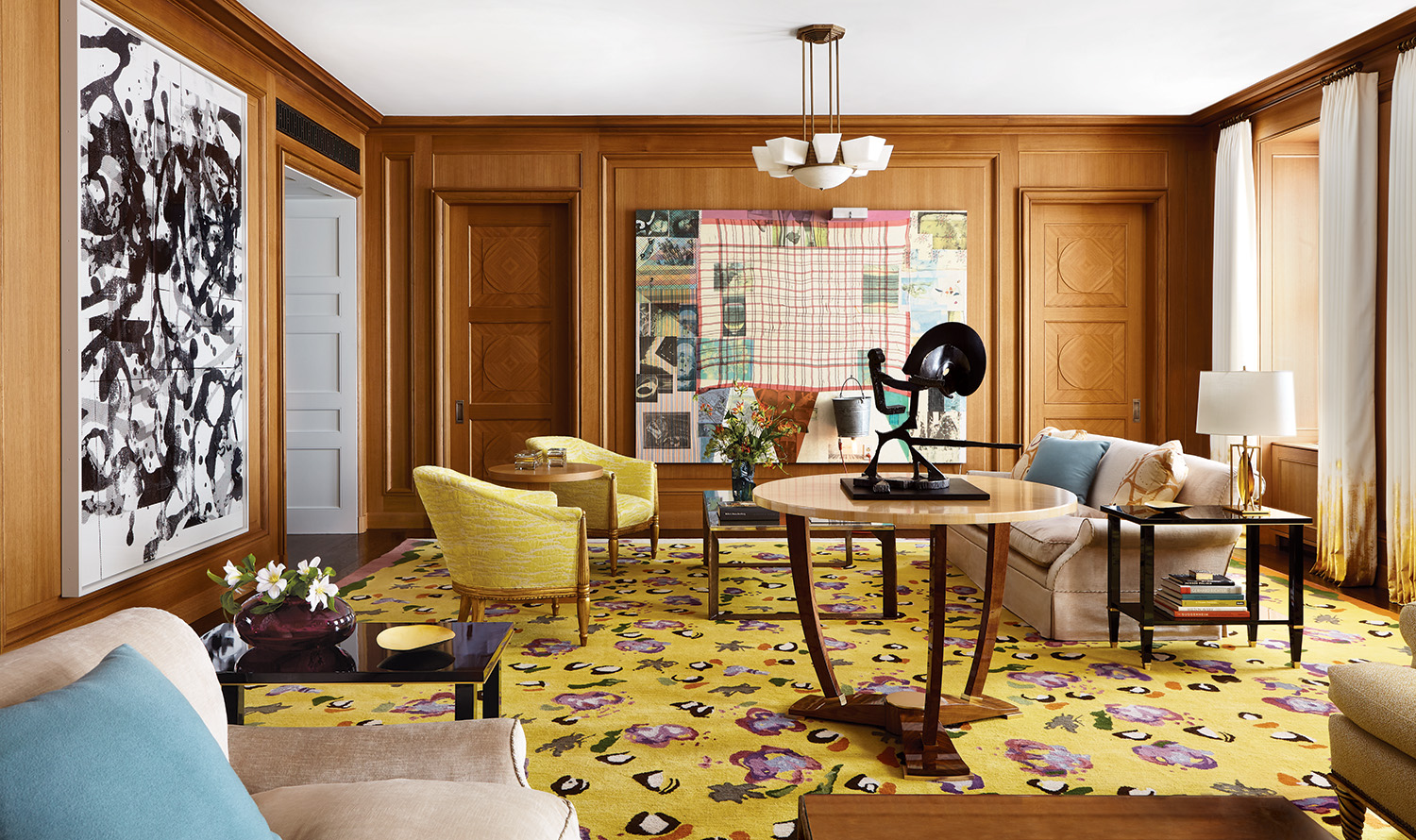 "The large panels were designed to accommodate the artworks and give the room an airy feel," explains Mark Ferguson, the principal architect. "It's a way of tailoring a classic treatment to have a more contemporary look."
A photograph the Pritchards took of a floor in Vienna's Kunsthistorisches Museum was the launching pad for the graphic geometric-pattern marble flooring in the gallery. That central space connects the main living areas, and the doorways aren't completely symmetrical, which adds complexity to the configuration. "Making it look ordered and effortless was a challenge," Ferguson admits.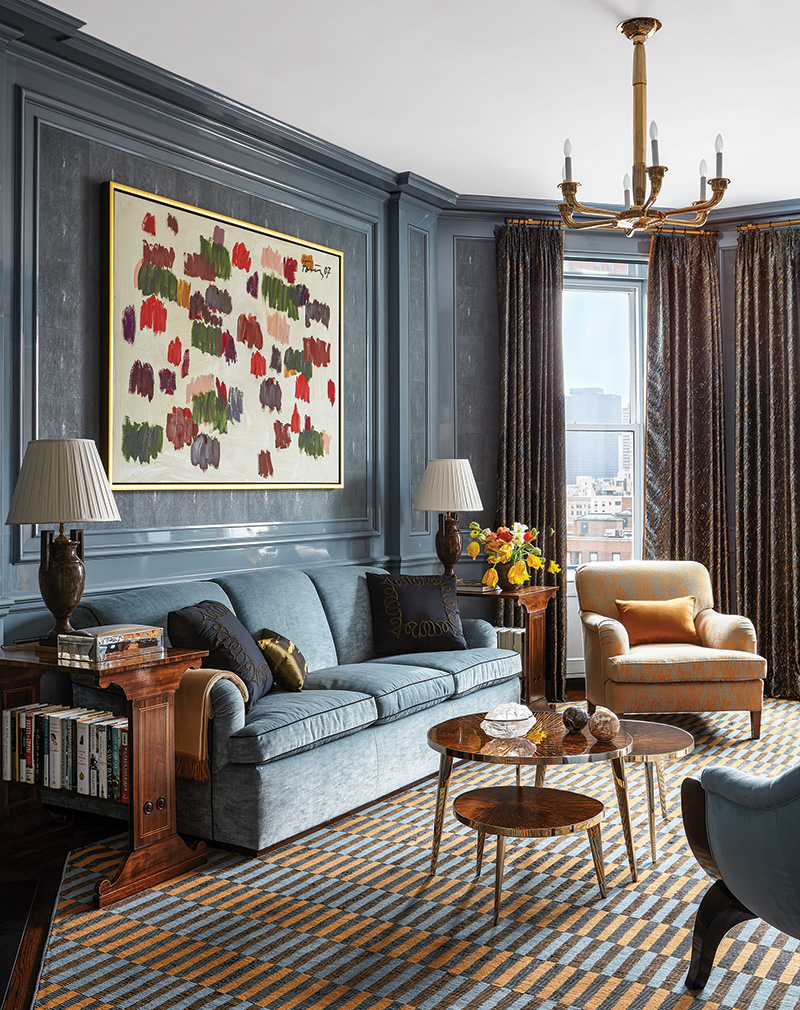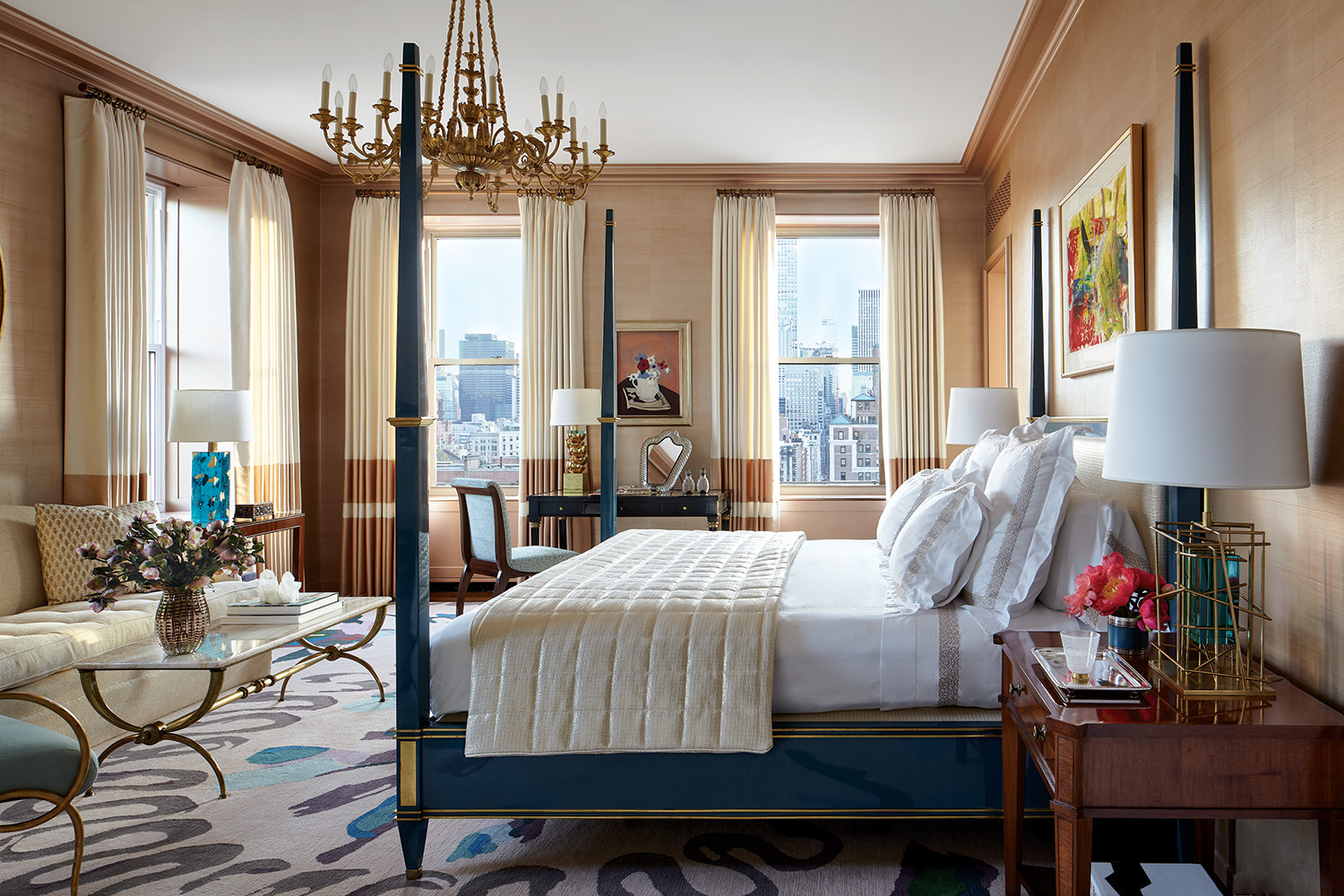 Cullman's previous decorating schemes for the Pritchards have featured neutral backdrops to spotlight the collection that the art patrons—she is a trustee at the Museum of Fine Arts, Houston, and he at the Menil Foundation—have amassed over the past decade and a half. This time around, however, exuberant hues prevailed. "When they were new to collecting abstract art, they wanted a pale envelope," Cullman says. "Now they want color."
"When they were new to collecting art, they wanted a pale envelope. Now they want color"

Ellie Cullman
Working with her firm's longtime associates Alyssa Urban and Katie Sutton, Cullman traced the original Rockefeller rug back to Cogolin, the French company that made the residence's floral rugs, designed by fashion illustrator Christian Bérard. A color-splotched reproduction with a lemon-yellow background sets a joyous tone in the living room, beneath large-scale artworks by Christopher Wool and Robert Rauschenberg. "It's bold, it's exquisite," Ferguson says of the setting. "Your eye has a lot to look at, and each piece plays a role."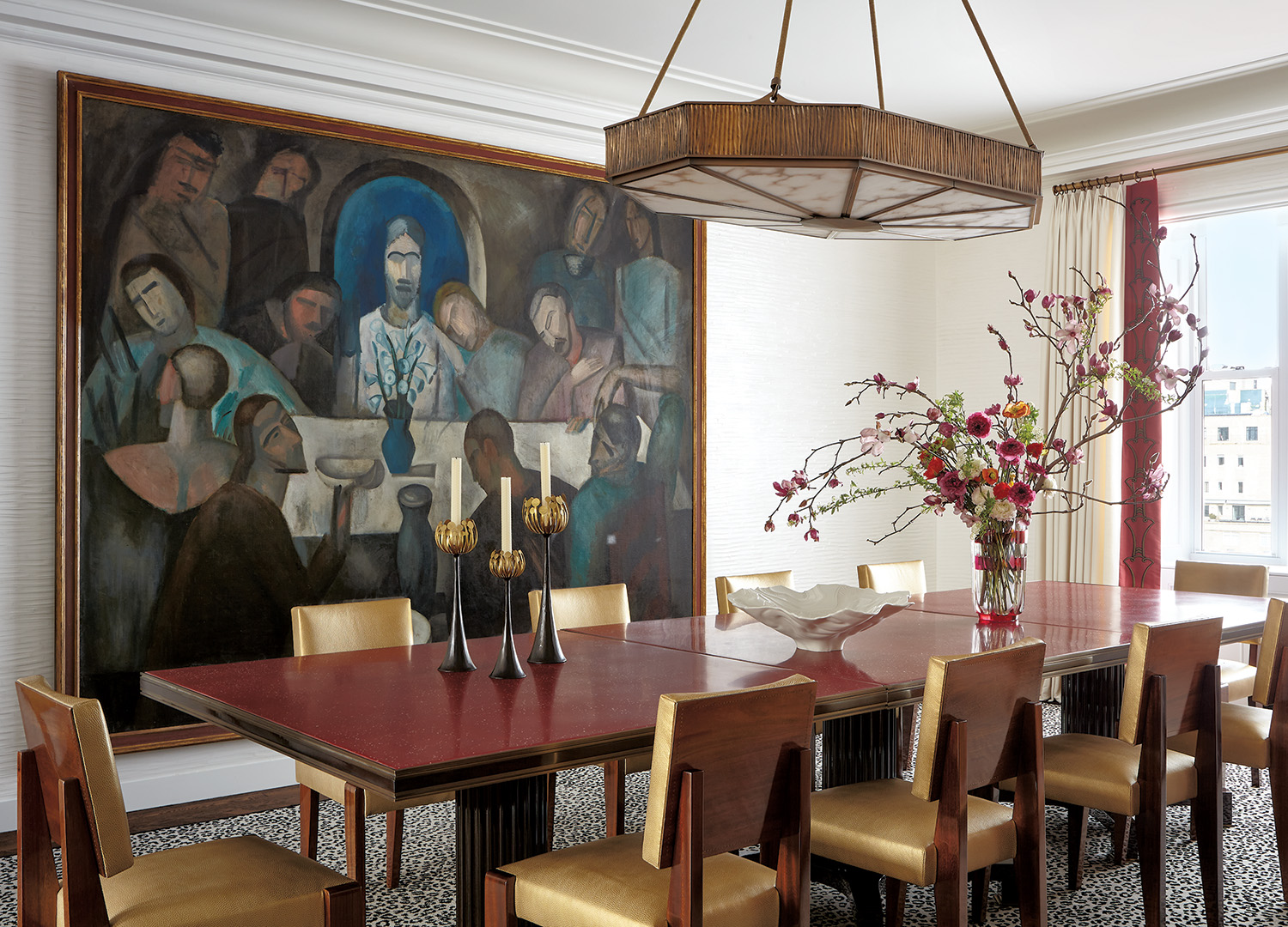 Cullman commissioned numerous custom furnishings, including period-inspired lighting by the London studio of Charles Burnand. In the dining room, the firm crafted the light fixture in alabaster and patinated bronze that hangs above the mahogany table with a faux-porphyry top and elegant 1930s André Sornay chairs upholstered in gold leather. "They didn't want everybody's brown table with a pedestal," Cullman recalls. Presiding over the room's glamorous furnishings is one of the Pritchards' masterpieces, André Derain's circa-1913 painting La Cène, a modernist interpretation of Leonardo da Vinci's The Last Supper.
"The furnishings and finishes are part of the collection," Cullman says. "Our goal was to design a dynamic envelope commensurate with their outstanding art." Her clients' aim, meanwhile, was just as succinct. "Our desire is to never have to remodel," says Susanne. "Cullman & Kravis interiors don't go out of style."
A version of this article first appeared in print in our 2023 Collectors Issue under the headline "A Perfect Fit." Subscribe to the magazine.
Next Post