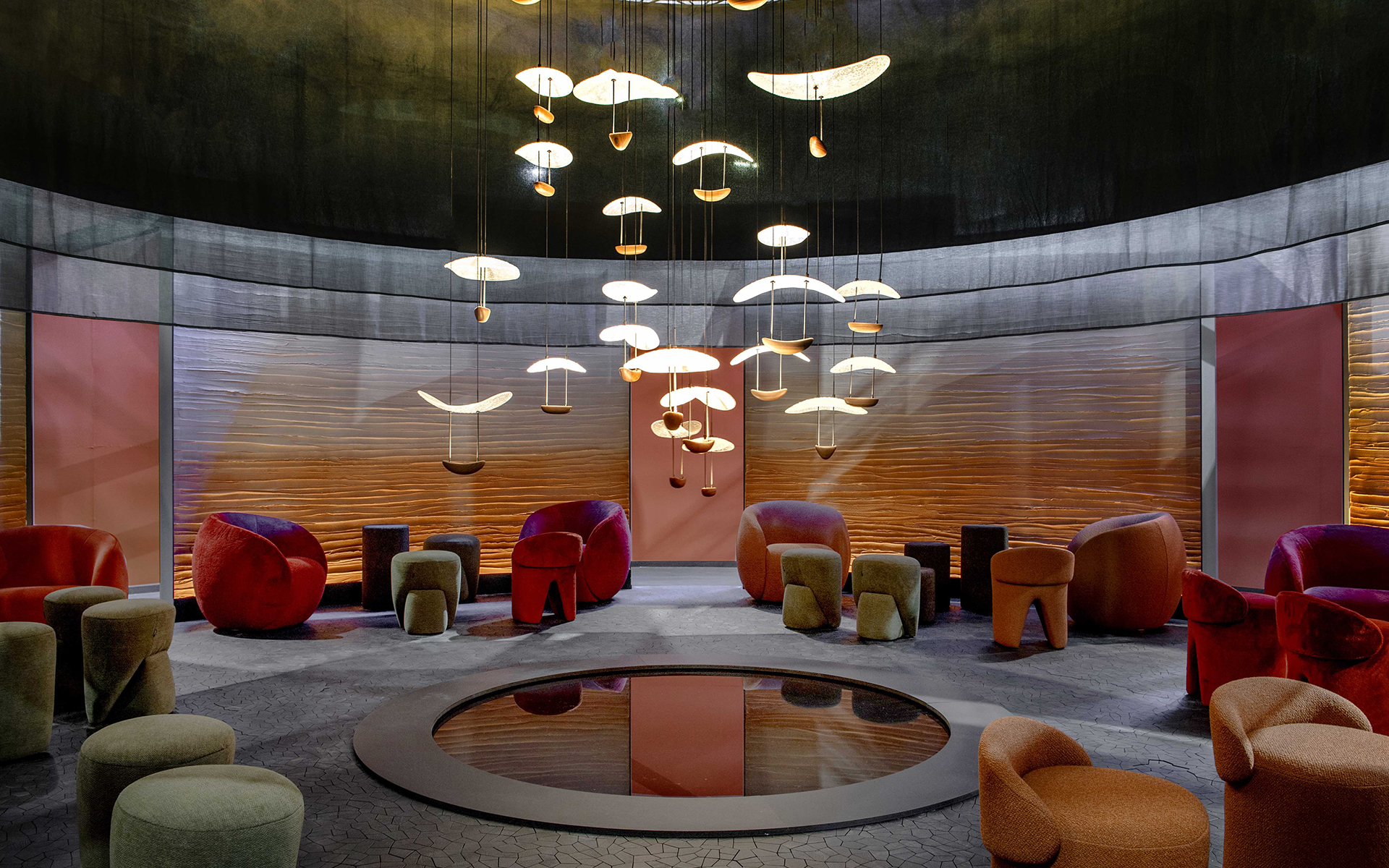 Paris When It Drizzles: See the Best Discoveries from Maison & Objet and Deco-Off
Joyful colors and plush velvets were plentiful while French brands celebrated their heritage with Instagram-worthy installations
Transit strikes, pouring rain, and frigid temps didn't dampen the mood of the 2023 edition of Maison & Objet. From January 18 to 23, the semi-annual design and home decor show at Paris Nord Villepinte Exhibition Center inched closer to pre-pandemic attendance levels, with more than 67,000 visitors from 144 countries. Designers, industry insiders, and retailers packed the cobblestone streets of Rive Gauche and Rive Droit perusing new fabrics and furniture at Deco-Off and M&O's "In the City" showrooms. Colors were joyful, with brights dominating the scene.
Fabrics had a tactile quality, as did wall coverings, such as those presented by Fromental and deGournay, embellished with hand-stitching and embroidery. Recognizable names like Royere, Perriand, and Leleu issued furniture reproductions in the spirit of the 20th century, while French brands including Atelier Vime and Pierre Frey celebrated their heritage with Instagram-worthy installations behind a secret courtyard and inside a 1770 château.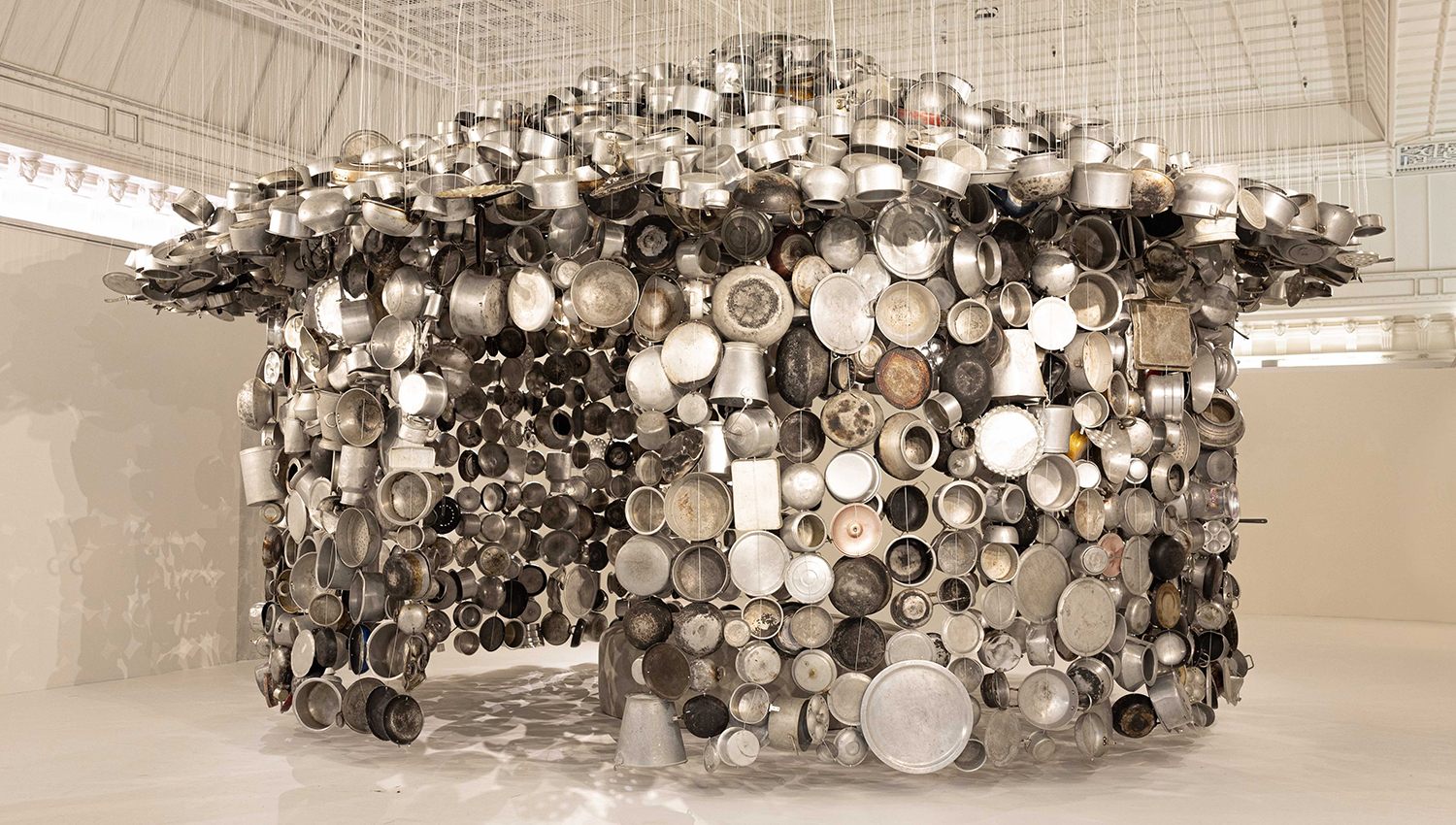 Indian artist Subodh Gupta debuted a series of artworks called Sangam at the fabled Le Bon Marché Rive Gauche as part of Carte Blanche, a contemporary artist's series presented each January. The department store was a fitting location to present Gupta's large-scale contemporary sculptures constructed from pots and pans. In Hindi, Sangam signifies three rivers converging, while the exhibition symbolizes the intersection of art and commerce. The presentation will be open through February 19.
At Deco-Off and around town, vivid shades of reds and oranges evoking a sunset were seen upholstered on chairs and sofas, while prints and solids in blues, yellows, and greens adorned accessories and furnishings. Velvet in many guises—from crushed to panne, printed, and hammered—all oozed luxury, including Cascadia from Jim Thompson and Chromatica from Osborne & Little. Cotton velvets were omnipresent, including Rubelli's iridescent Seltz and a jacquard velvet repeat pattern Tigerbeat, on display at Dedar.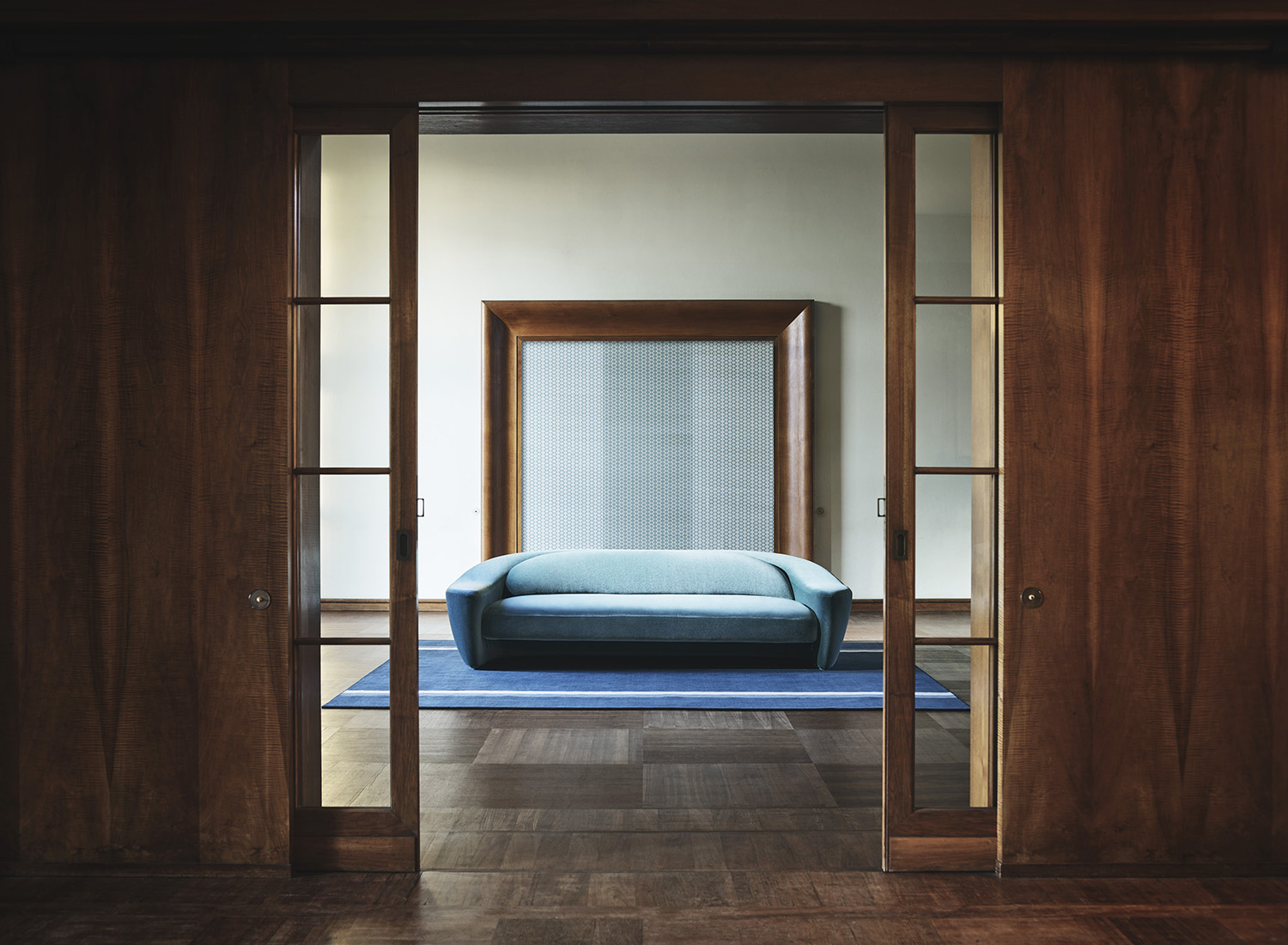 Raphael Navot, one of Galerie's Creative Minds, was awarded Maison & Objet's 2023 Designer of the Year following his recent exhibition "On The Same Subject," last month at Friedman Benda, New York. The Israeli-born creative studied at the Design Academy Eindhoven before following his mentor, Li Edelkoort, to Paris and launching a multidisciplinary career that straddles both commercial and collectible markets. "I have no market strategies. I enjoy the idea of what is a collective memory of comfort," he says, describing the concept for his immersive Apothem Lounge installed at the fair. In March, his new sofa Acrostic, upholstered in cashmere and silk, will debut at the TEFAF fair in Maastricht. Adds Navot, "I keep an independent artists status. It gives me more liberty."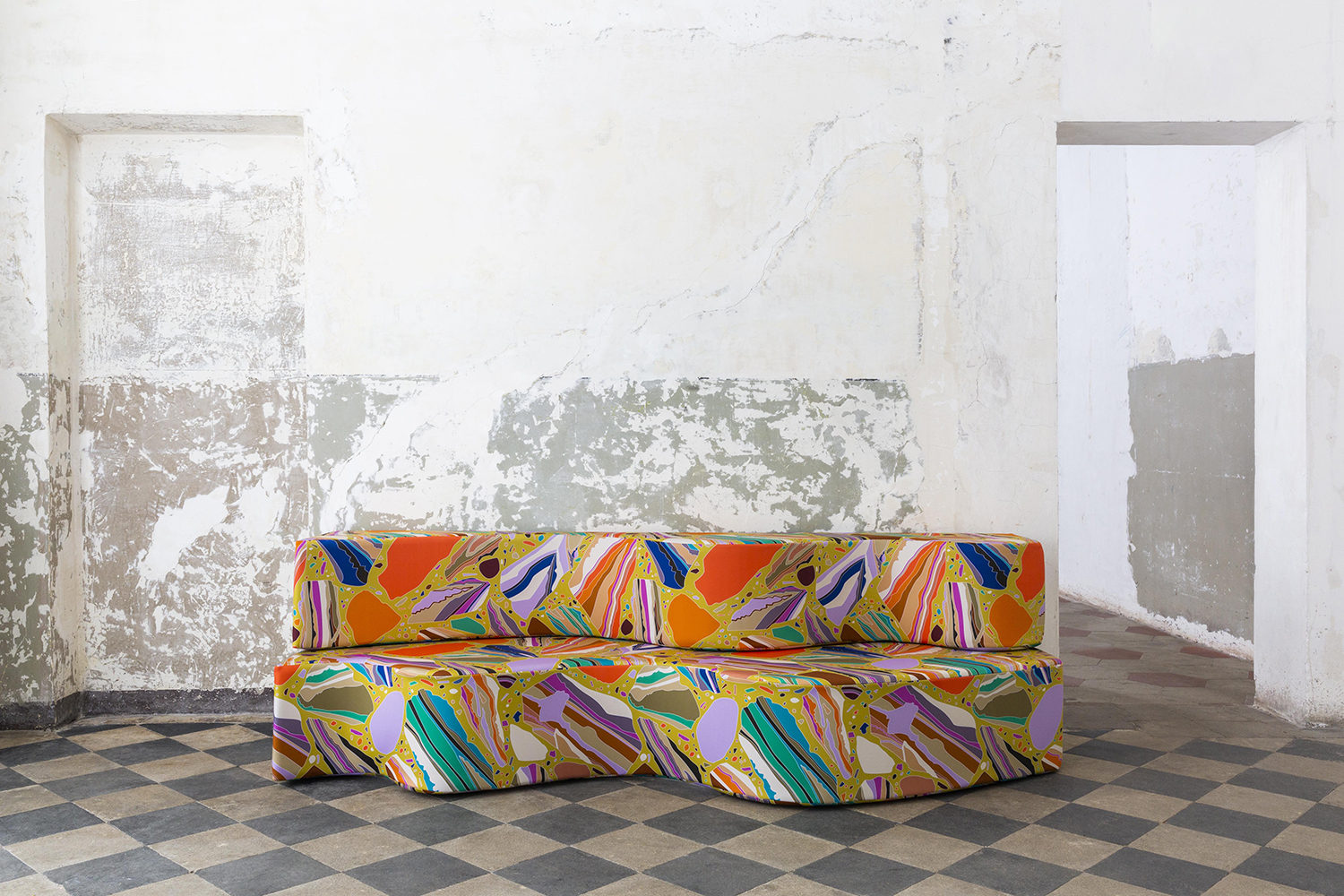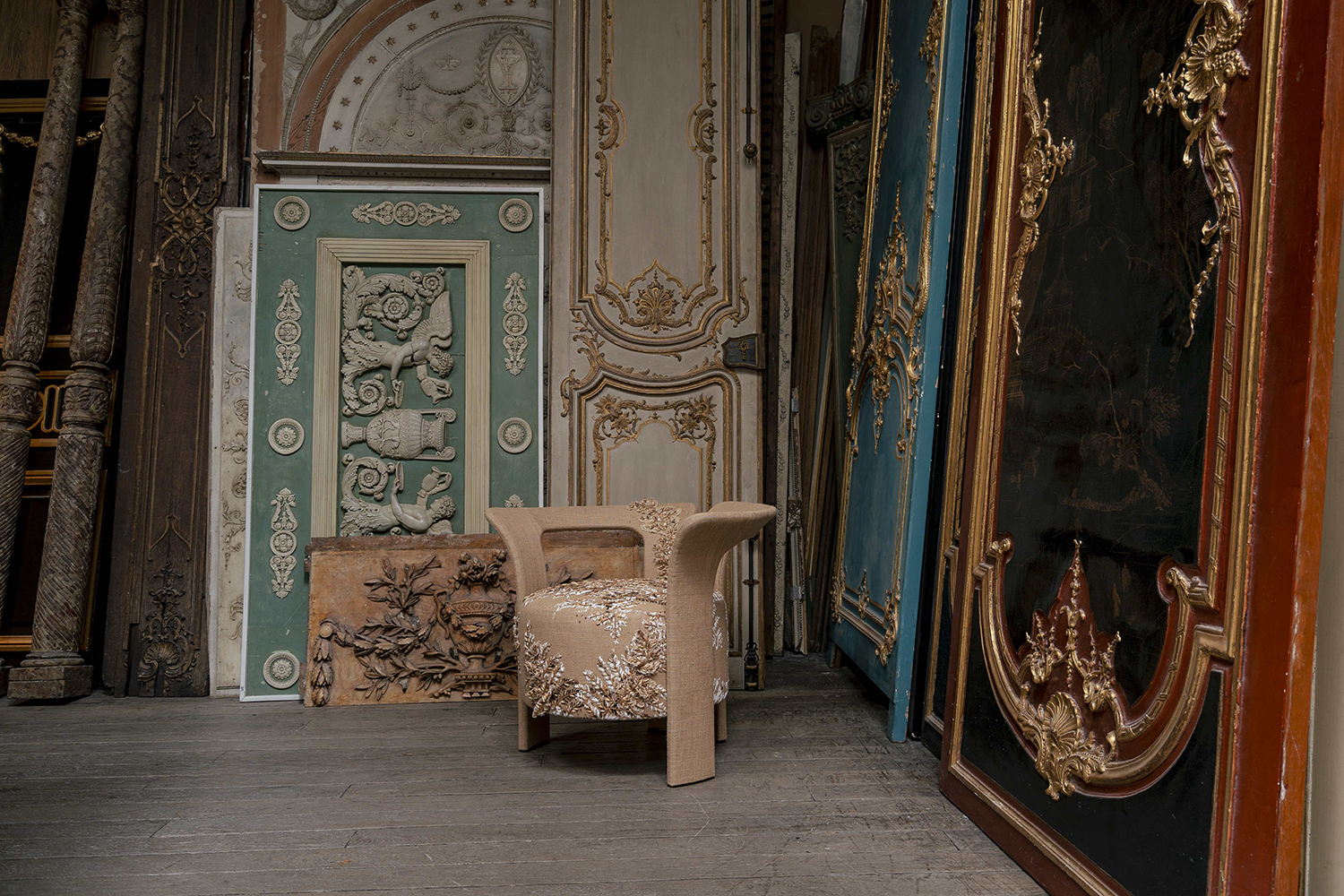 Also seen at Villepinte and in town, reproductions from iconic designers included Archizoom's Superonda modular sofa, manufactured in 1966 by Poltronova in Italy and now upholstered in British designer Bethan Laura Wood's playful multi-colored Terrazzo pattern fabric. Famed furniture designer Jules Leleu's great-granddaughter Alexia decided to pay homage to her late great-grandfather by launching Maison Leleu in 2018, producing custom editions of original designs along with pieces she created in the spirit of Art Deco. The Mava Chair, now in the collections of the Mobilier National, was presented during the Invisible Collection's presentation at the showroom of Féau & Cie.
Fashion labels launched new collections highlighting home including Moroccan-French designer Jean Charles de Castelbajac, whose presentation at Maison & Objet featured several products as well as a new tabletop line for Gien, in blue and white porcelain with whimsical motifs highlighted in primary red, yellow, and green. Christian Lacroix Maison celebrated the 30th anniversary of the brand's Creative Director Sacha Walckhoff—who began working for Lacroix in 1992—with a stunning installation of his newest fabrics and wallpapers emphasizing tropical and far away landscapes. British fashion plate Alice Temperley held a chic luncheon at the Four Seasons introducing her home line produced in partnership with fabric company Romo, offically launching in March.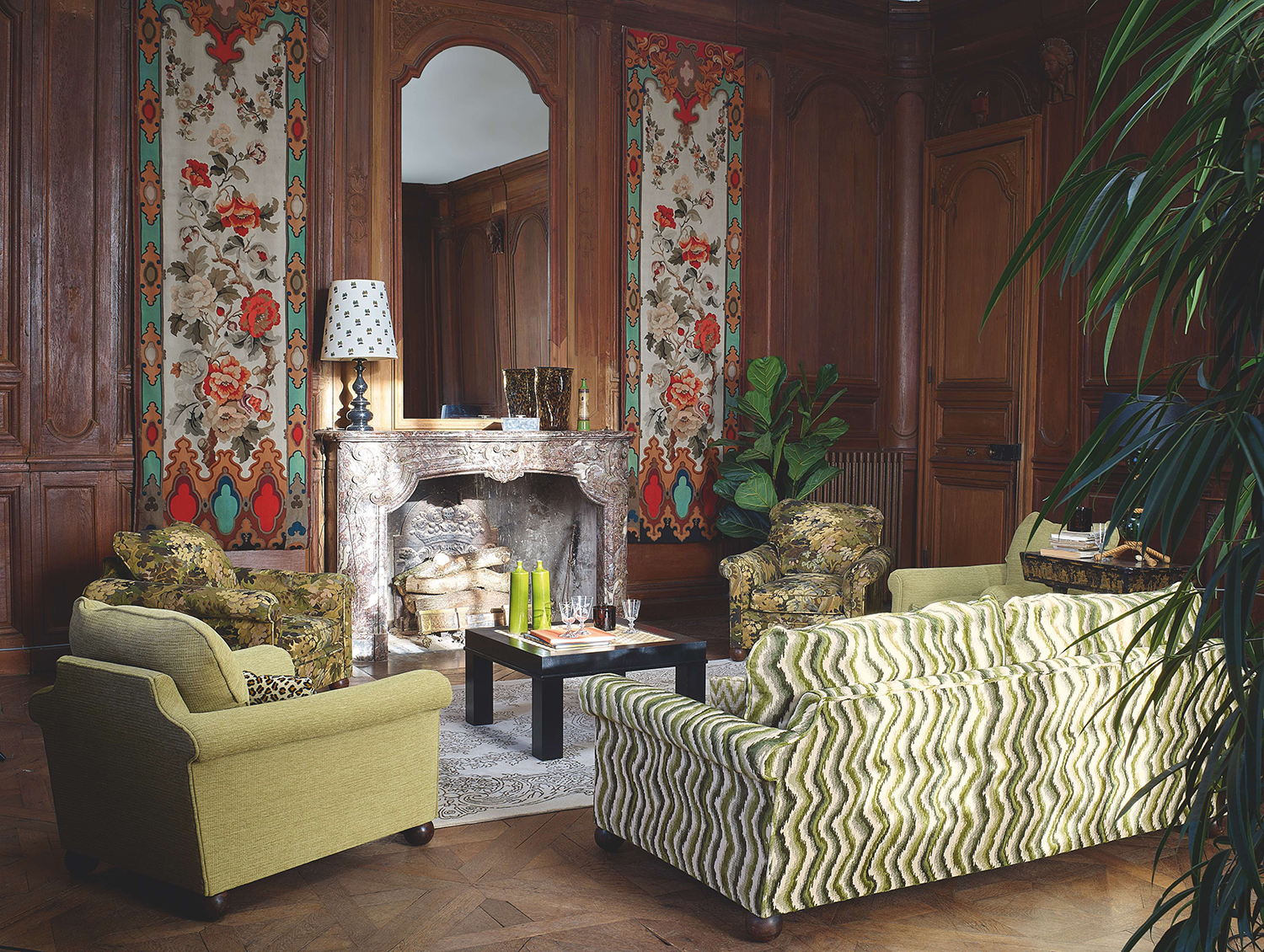 Over the weekend, fabric house Pierre Frey invited 600 clients, designers, and guests to celebrate two centuries of Maison Braquenié, a heritage brand that the Freys acquired in 1991. Known for its printed cotton, silk and hand-woven rugs, the brand re-imagined and installed historic textiles in a château in Normandy. "Leave it to Pierre Frey to unveil the fabric of my dreams: adorned on a sofa at the Château De Louye. Braquenié's Brissac Foret perfectly blends an appreciation of the past while not missing out on what's happening here and now," says New York decorator Rayman Boozer when commenting on the stylish interpretation of a chiseled velvet with an ikat river pattern he spotted in the upstairs Salon Boiseries (shown). All in all, it was a perfect afternoon in the country and an ideal end to an inspirational week.
Next Post