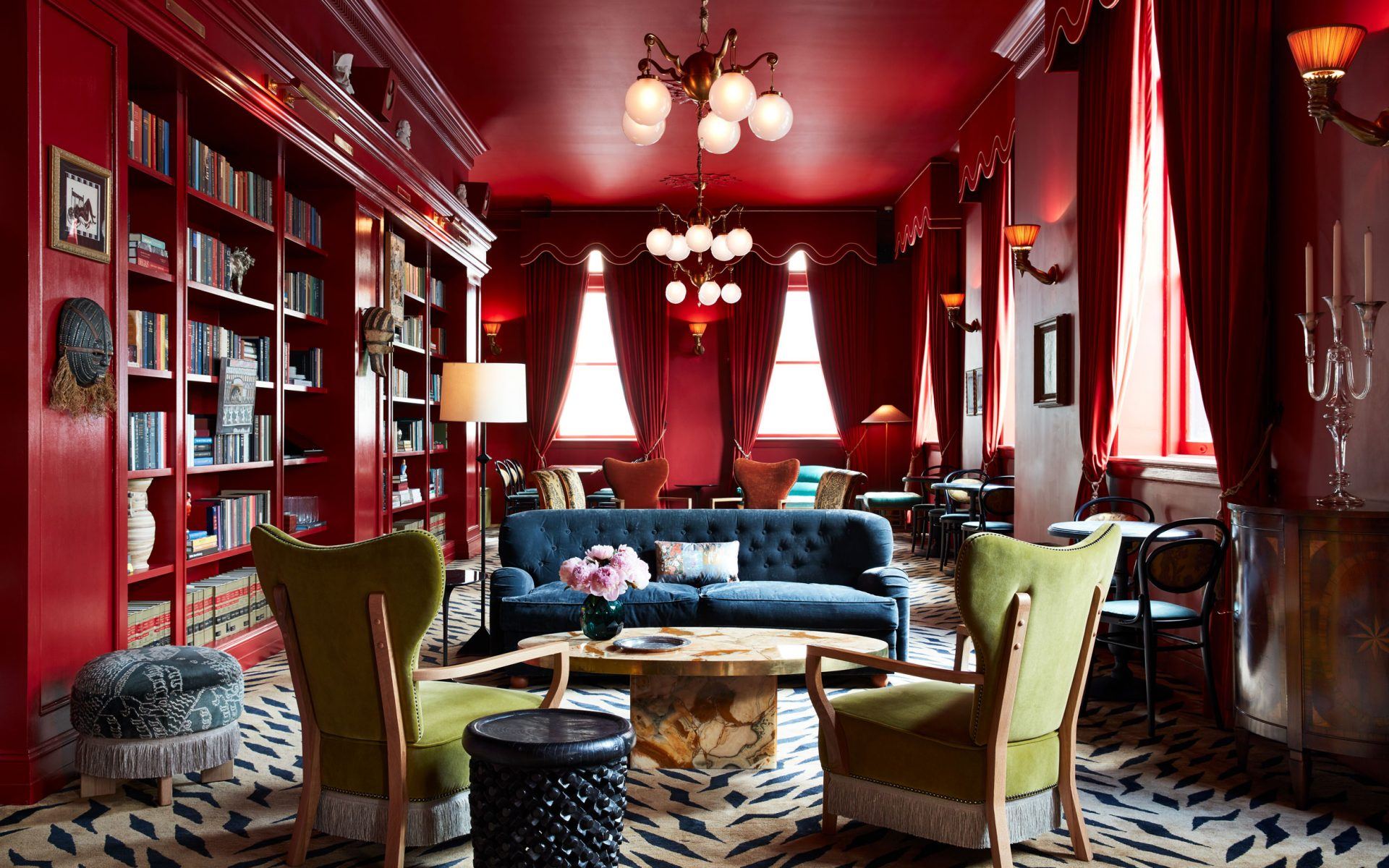 See Inside the Dazzling Maison de La Luz Hotel in New Orleans
The 67-key guesthouse by Studio Shamshiri and Atelier Ace combines refined interiors, blue-chip art, and European elegance
A tranquil auberge located in the former Town Hall Annex in downtown New Orleans, the new Maison de La Luz combines the essence of Southern hospitality with international flair. The 67-key guesthouse is the latest collaboration between hospitality firm Atelier Ace and Los Angeles–based Studio Shamshiri, which enlisted local artisans to create custom furnishings and decorative artworks, allowing guests to privately indulge in a refined French atmosphere while experiencing vibrant Southern culture.
The recently unveiled cocktail lounge, Bar Marilou, is situated next door, within the old Town Hall Library space. Lined with literary classics and decorated in elegant red hues, this cocktail lounge is open to the public and represents the first endeavor by Quixotic Projects in the U.S.
Below, Galerie offers a glimpse into the stunning private interiors of Maison de La Luz, which Kelly Sawdon, chief brand officer of Atelier Ace, has described as "a traditional, refined respite, imbued with elements of luxury, grace and a bit of rebellion."
1. Guest Lounge
When entering the guesthouse, visitors encounter dynamic animal motifs and stunning antique furnishings reminiscent of the eclectic interiors of acclaimed film director Wes Anderson. "We dreamed up a woman of the world who has traveled and immersed herself in numerous cultures, collecting pieces which help define her vision along the way. Upon return from her travels, she opens up her guesthouse, a space filled with precious personal findings," design principal Pamela Shamshiri has stated.
2. Breakfast Room
Resembling Dutch tin-glazed earthenware, the wallpaper of the guests-only breakfast room details the ebb and flow of seaweed, a staple plant within the underwater ecosystems of Louisiana.
3. Entrance Foyer
Focusing on finding beauty within the details, multiple artists worked together to create the ornaments that adorn Maison de La Luz. In the foyer, however, artist Clare Crespo worked alone to create an intricate piece where snake motifs emerge from nautical objects.
Recommended: Florida's Baker Museum to Unveil $25 Million Expansion in Wake of Hurricane Irma
4. Deluxe Studio Suite
Themes of mutability and resurrection emanate from the works that mount the bedroom walls. Rebecca Rebouché's painterly rendition of "eat or be eaten," as shown in the image above, illustrates the circle of life within local wild habitats. These plush rooms are flooded with natural light and include stone-inlaid bathrooms with soaking tubs perfect for relaxation and rejuvenation.
5. Bar Marilou
Pairing the eccentric cocktails of New Orleans and lively Caribbean spirit with European apéritif culture, Bar Marilou, Sawdon has revealed, "takes its name from that particular French quality of irreverence and playfulness, with Marilou being the shortened version of the proper Marie-Louise. It's like calling an old friend by nickname, the friend whose apartment you always visit for cocktails and revelry."
Recommended: The 11 Most Spectacular High Jewelry Creations from Paris Couture
6. Private Salon
Before entering the playful space of Bar Marilou, a plush and cozy salon awaits. Seating only a dozen guests, the space is a more private, intimate setting while surrounded by renowned literature and regional craftsmanship.
Next Post