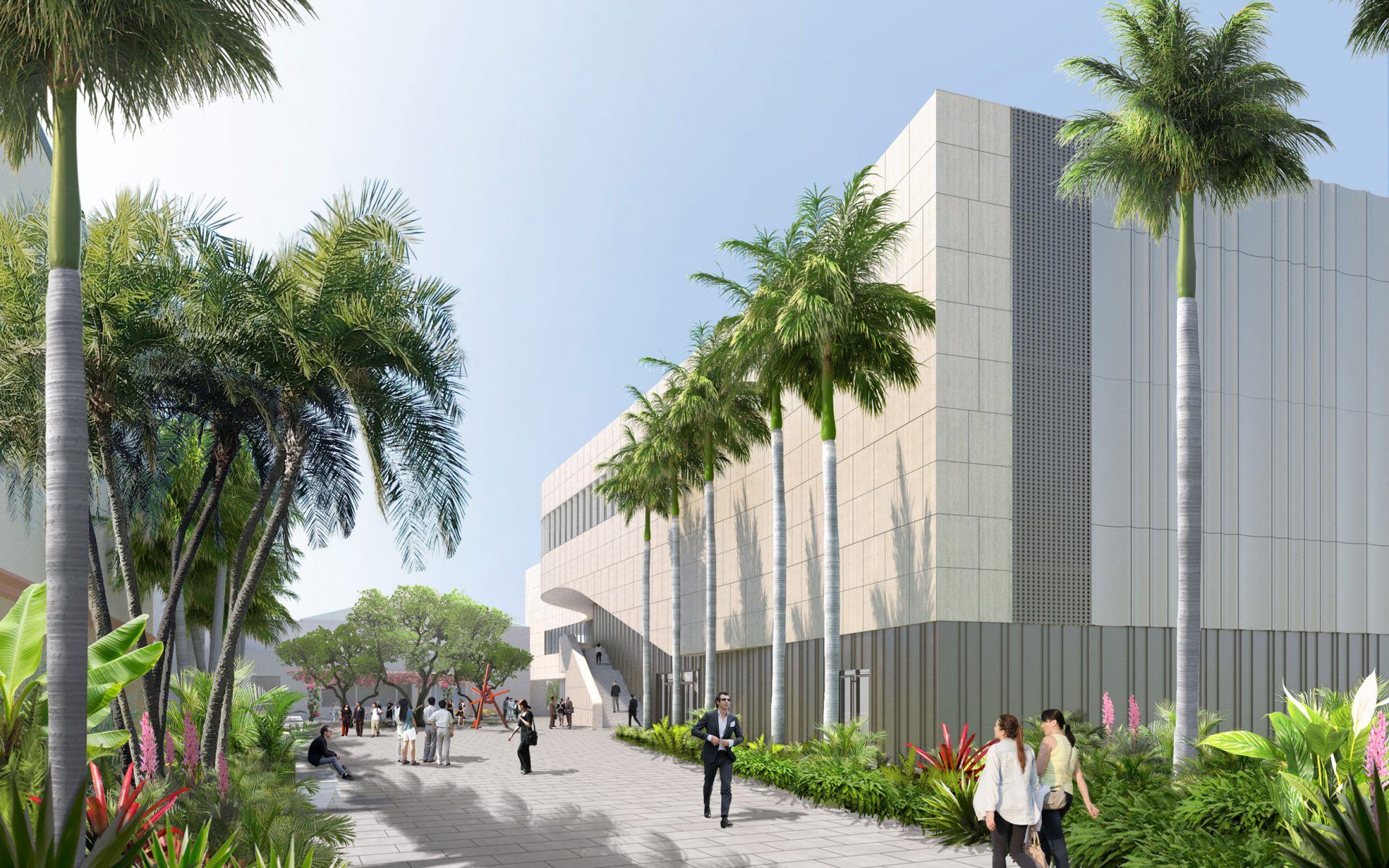 Florida's Baker Museum to Unveil $25 Million Expansion in Wake of Hurricane Irma
Two years after the hurricane forced it to shutter, the Baker Museum is set to unveil a stunning revamp by Weiss/Manfredi
For two years the Baker Museum in southwest Florida has been shuttered since Hurricane Irma barreled across the Caribbean in late August 2017 at speeds topping 180 miles per hour causing upwards of $70 billion in damages.
In early December, the 19-year-old arts institution—founded as the Naples Museum of Art—will christen its new $25 million home designed by multidisciplinary design firm Weiss/Manfredi. Prior to the hurricane, the New York studio had been tapped to better integrate the Baker into the surrounding Artis-Naples cultural campus, which includes two performance halls, an education center, and the Naples Philharmonic. But in the wake of Irma's devastation, firm principals Marion Weiss and Michael Manfredi (who are also married) devised a campus-wide redesign aimed at boosting the resiliency of the structures while improving public access to the art and programming.
Among the most significant changes is the addition of the Norris Courtyard, which literally and figuratively replaces the Figge Conservatory as the heart of the complex. Lined with native flora, the gathering space provides a welcoming entry to the Baker and performance halls, as well as an outdoor staircase that leads to the second-floor balcony.
Recommended: Three Curators Pick Highlights from The Shed's Emerging Artist Exhibition, 'Open Call'
The original building's façade, badly damaged by Irma, has been replaced by a streamlined mix of dense German limestone and high-performance aluminum, specially reinforced to resist hurricane-force winds. In addition, a newly installed rain-screen system features waterproof lining and a vapor barrier to mitigate potential water damage.
Art lovers will be pleased that there's also 61 percent more exhibition space (45,000 square feet in total), thanks largely to a three-story addition that replaces a parking lot.
Recommended: See the 2019 Serpentine Pavilion by Architect Junya Ishigami
That extra breathing room will make it all the better to showcase the institution's 35,000-piece trove of 20th- and 21st-century art, which will feature prominently in one of the four inaugural exhibitions. "The museum's permanent collection has reached a significant level of maturity, reflecting the cultural vibrancy of our community and the knowledge of our local collectors," chief curator Frank Verpoorten said in a statement. "With the doors of our museum reopening, it's exciting to be able to show off these confidently collected works under a celebratory umbrella."
Among the artists featured in "Iconic Works from the Permanent Collection" are Pablo Picasso, Roy Lichtenstein, Pat Steir, Alexander Calder, Louise Nevelson, and Diego Rivera. The other exhibitions slated to launch with the reopening are "Looking at Words: A Poetry of Shape," "Monet to Matisse: French Masterworks from the Dixon Gallery and Gardens," and "Color Field."
"This achievement represents a remarkable coalescence of resilience, philanthropic support, and sincere appreciation for the arts," said CEO and president Kathleen van Bergen in a statement. "We couldn't be more thrilled to share these important exhibitions and reintroduce the Baker Museum as the cultural jewel it is to the community. We are so pleased to be once again operating with the full power of our multidisciplinary mission."
Next Post