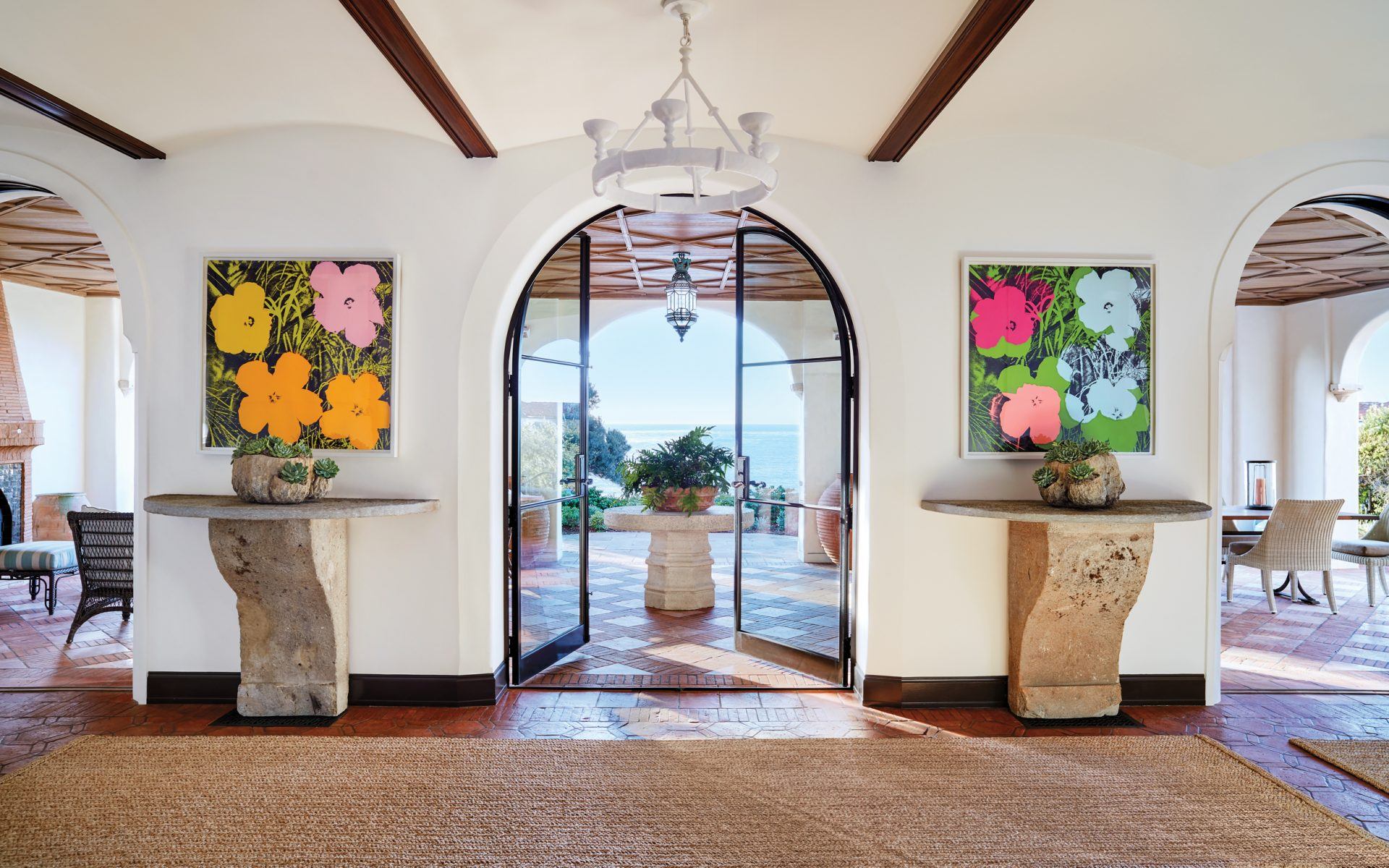 Madeline Stuart Reimagines a Storied La Jolla Landmark
The 1920s Spanish Revival manse is now an open, airy space with room to display a collection of refined furnishings and artworks
During a 1921 visit to California, a New York businessman named Philip Barber fell in love with an area along the San Diego coast he envisioned as an American Riviera. In short order, he ditched his position with his family's shipping company and acquired 12 acres of oceanside property stretching from La Jolla Village to Windansea Beach. He then set about developing it into a neighborhood of luxury homes, including a sprawling Spanish Revival manse, nicknamed The Dunes, for his own family of six, on one and a half prime acres.
[See more photos of this historic La Jolla residence by Madeline Stuart]
Designed with architect J. H. Nicholson, The Dunes was the development's crown jewel, though financial troubles forced Barber to sell it during the Depression. Years later, in 1963, the house took on a second notable, Hollywood-tinged life when it was purchased by Oscar-winning actor Cliff Robertson, who renamed it Casa de la Paz (House of Peace). It remained in his hands for more than four decades, during which time he made a number of changes, including an expansion and interior renovation by architect Thomas Shepherd as well as extensive additions of decorative tiles.
Despite those alterations, the city of San Diego designated the residence a landmark in 2002, three years before Robertson sold it. By the time Los Angeles designer Madeline Stuart received an out-of-the-blue call from the current owner—explaining that she was the person to usher in the third act of this historic home—the residence could be summed up in two words: hot mess. At least, that was Stuart's first impression of it.
Recommended: William T. Georgis Revamps a Midcentury Marvel in Southern California
"Cliff Robertson must have enjoyed getting high and going to Mexico to pick up funky tiles and just slotting them all throughout the house in a haphazard way," Stuart says with a laugh. But quirky tiles weren't the only issue. The layout was awkward, and portions of the house were in awful condition. In the end, everything was demolished except for the Spanish Revival façade, which the local Historical Resources Board stipulated had to be preserved.
"One day we walked up, and there was nothing but the exterior wall between us and this enormous open expanse that led all the way down to the ocean," Stuart recounts. "We had this Hollywood film set experience of getting to invent a history for the house."
That revisionist history began with the distinctive Moorish keyhole arch at the entry, which might have left some designers feeling boxed in. But for Stuart—then fresh off a trip to Morocco—it served as a kind of "rabbit hole" into which she and her associate Amy Flynn Socci gamely ventured. Together, they conceived nearly every element of the reimagined 10,000-square-foot, four-bedroom, 11-bath residence, while adhering to the client's desire for a casual beach house where friends and family could gather and not feel intimidated by overly decorated rooms.
"We chose to explore this language without it being ironic or a Moroccan fantasy," says Stuart. "It needed to have a modernist element, but we also wanted the house to feel as if it had been built in an earlier time." Each room has distinguishing details, such as hand-waxed butternut or oak ceilings, geometric-patterned zellige tiles, and cast-bronze hardware. For the decidedly Hispano-Moresque family room, Stuart commissioned Holroyd Studios to produce a pair of Spanish lanterns similar to those that hang in the Santa Barbara County Courthouse.
[See more photos of this historic La Jolla residence by Madeline Stuart]
"It was an old-fashioned approach—everything was done in a way that wouldn't have been unusual in the 1930s," says the designer, whose first monograph, No Place Like Home: Interiors by Madeline Stuart, will be published by Rizzoli in September. "Much attention was paid to artistry and craft."
She and Socci also took great care in sourcing vintage and antique furnishings and consulted on works of modern and contemporary art. "The client didn't want anything off-the-rack or predictable," Stuart says. The first piece purchased for the home was the living room's 1957 Spanish Prado rug, whose vibrant black-and-cream pattern is echoed by the iron-and-milk-glass lantern overhead and the pair of Welsh-made triangular black chairs. Paintings by Frederick Hammersley and Richard Diebenkorn around the 19th-century Italian mantel provide contrasting hits of color.
Recommended: Artworks from the Sonnabend Collection Find a Home in a La Jolla Bungalow
In the gallery hall overlooking the loggia, Andy Warhol "Flowers" are installed above stone consoles from 18th-century Italy. The mix in the client's study marries a Lee Mullican abstraction, a Pablo Picasso ceramic plate, and a couple of acoustic guitars with a 1960s French leather desk and a 19th-century Oushak carpet. A massive Richard Misrach photograph of the sea presides over the dining room, which features a table hewn from slabs of claro walnut that spent years in storage at the client's Montana residence. Also retrieved from the client's cache was a French marble tub that now graces the master bath, which offers private vistas of the Pacific—and the home's resort-worthy swimming pool.
Stuart's favorite find emerged on a fateful trip to London to see the Victoria and Albert Museum's David Bowie exhibition. While paying a visit to an antiques dealer she found on 1stdibs, she learned that pieces she had admired online weren't in the shop. "So his wife drove me to this funky part of London, and we walked into a warehouse with furniture piled up so high you couldn't really see anything." In one corner, however, she encountered a 19th-century Spanish Colonial–style chest embellished with exquisite ebony, mother-of-pearl, and tortoiseshell inlays that were "so beautiful I nearly fainted," recounts Stuart, who ultimately placed the piece in the master bedroom opposite a four-poster rosewood bed. "That was probably my most extraordinary find and the thing I am most proud to have discovered."
Well, that and the out-of-nowhere client who convinced her to dream up this once-in-a-lifetime project. 
A version of this article first appeared in print in our 2019 Fall Issue under the headline "Fresh Outlook." Subscribe to the magazine.
Next Post