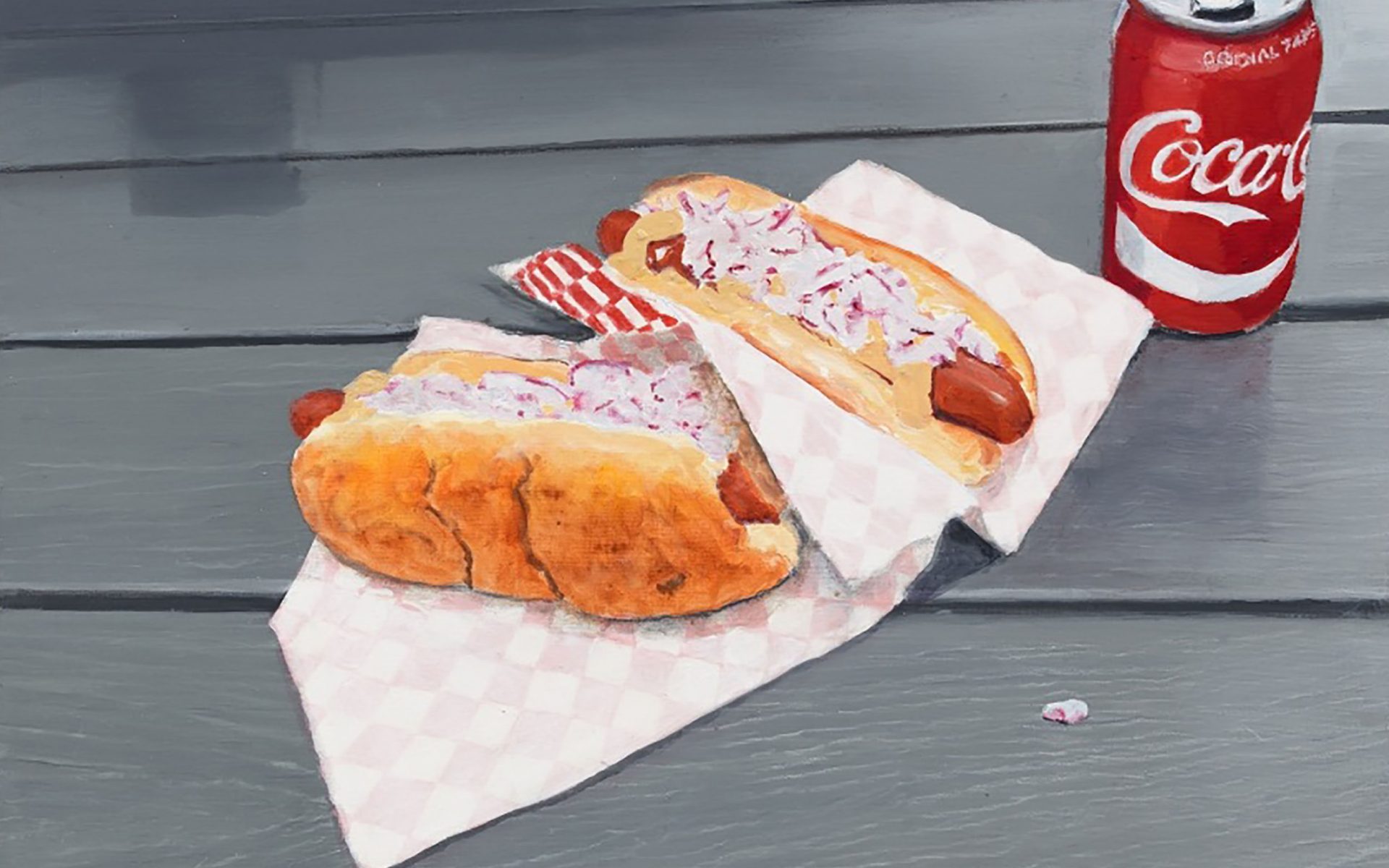 See These 20 Great Exhibitions Before They Close
From Keith Haring to Betty Tompkins, here are a few of our favorite shows closing out 2018
If your New Year's resolution is to catch more art shows, you may need to start early—most of New York's best galleries will close for the holidays, and when they open their doors again, it will be with new works on view. From Keith Haring at Gladstone Gallery to Betty Tompkins at P.P.O.W. (Tompkins was among the recent winners of the Anonymous Was a Woman Award), here are a few of the top exhibitions closing out the year.
1. Diane Arbus: Untitled
David Zwirner, 537 West 20th Street
Through December 15
Sixty-six photographs from the last few years of Arbus's life illustrate life at a residence for people with developmental disabilities.
Recommended: 6 Great Holiday Gift Ideas for Art Enthusiasts
2. Dr. Lakra
White Columns, 91 Horatio Street
Through December 15
Previously unseen collage works by the Oaxaca, Mexico–based artist mark the artist's second-ever solo show in New York.
3. Lisa Yuskavage: Babie Brood: Small Paintings 1985–2018
David Zwirner, 533 West 19th Street
Through December 15
The gallery presents an extensive survey of the artist's small-scale paintings.
4. Richard Prince: High Times
Gagosian, 522 West 21st Street
Through December 19
The appropriation artist debuts a body of work that reimagines drawings from early in his career.
5. Barbara Kruger: 1978
Mary Boone Gallery, 745 Fifth Avenue
Through December 21
Works that Kruger made in 1978 are reexamined 40 years later.
6. Keith Haring
Gladstone Gallery, 515 West 24th Street
Through December 21
Collages and large-scale works offer an intimate view of the last few years of the celebrated artist's life.
7. Dike Blair
Karma, 188 East 2nd Street
Through December 21
Small-scale photorealistic paintings depict everyday observations.
8. Stanley Whitney: In the Color
Lisson, 504 West 24th Street
Through December 21
New gridded abstract works celebrate the artist's style, which he has been developing since the 1990s.
9. Agnes Martin: Agnes Martin/Navajo Blankets
Pace, 537 West 24th Street
Through December 21
Large-scale abstract paintings are juxtaposed with blankets created by Navajo women in the 1800s.
10. Aaron Garber-Maikovska: Postpartum
Clearing, 396 Johnson Avenue, Brooklyn
Through December 22
Large-scale gestural canvases by the contemporary artist manifest traditions associated with Abstract Expressionism.
11. Louise Bourgeois: Spiral
Cheim & Read, 547 West 25th Street
Through December 22
An exhibition spanning roughly 60 years focuses in on one of the artist's most iconic motifs.
12. Works from the Collection of John Ashbery
Kasmin, 297 Tenth Avenue
Through December 22
This exhibition collates paintings, drawings, and collages from the collection of the late, lauded New York poet John Ashbery. The selection includes works by Alex Katz, Jane Freilicher, Helen Frankenthaler, and more.
13. Phyllida Barlow: Tilt
Hauser & Wirth, 548 West 22nd Street
Through December 22
The British artist presents large-scale sculptures and installations following her critically acclaimed presentation at the 2017 Venice Biennale.
14. Ellsworth Kelly: Color Panels for a Large Wall
Matthew Marks, 523 West 24th Street
Through December 22
The gallery displays Ellsworth Kelly's never-before-seen copy of his largest work, Color Panels for a Large Wall.
15. Genesis Belanger & Emily Mae Smith: A Strange Relative
Perrotin, 130 Orchard Street
Through December 22
Sculptor Genesis Belanger and painter Emily Mae Smith join forces in this humorous, somewhat provocative exhibition.
16. Betty Tompkins: Will She Ever Shut Up?
P.P.O.W., 535 West 22nd Street
Through December 22
New work by the artist explores themes of the female body, sexuality, and desire, and in one series subverts historic Western works by appropriating images by Jan Van Eyck, Vermeer, and Richard Avedon.
17. Emily Mullin: Woman on Top
Jack Hanley, 327 Broome Street
Through December 23
Mullin's first solo exhibition with the gallery explores the tradition of still life painting with wall-mounted reliefs of ceramic vessels and flowers.
18. Bianca Beck: Body Double
Rachel Uffner Gallery, 170 Suffolk Street
Through December 23
At the heart of Beck's latest solo show are large-scale papier-mâché sculptures, which draw inspiration from Greek mythology, political protests, and the human body.
19. Eric Yahnker: Factory Reset
The Hole, 312 Bowery
Through December 23
Yahnker's witty photorealistic paintings call upon imagery from politics and pop culture.
20. Cynthia Talmadge: 1076 Madison
56 Henry, 56 Henry Street
Through December 23
Paintings of the storied Frank E. Campbell funeral parlor on New York's Upper East Side (which handled the funerals of Jacqueline Onassis and John Lennon) by Cynthia Talmadge are the heart of this show, which is done in collaboration with architecture and design firm Charlap Hyman & Herrero (which recently got a lot of buzz in Art Basel Miami Beach with its expansion of Nina Johnson Gallery).
Next Post